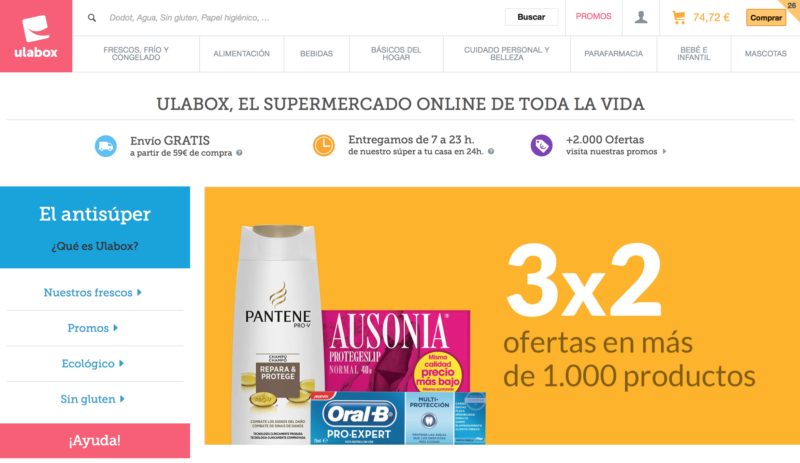 In Spain there are several big supermarkets that have good quality products. In general I'm really happy with the products on offer and the supermarkets themselves. We usually buy all our food fresh but also need the usual household from supermarkets such as cleaning liquids, paper for wrapping foodstuffs, drinks etc.
For a while after settling here in Barcelona, I used to look forward to going to the supermarket, especially since I was still exploring the area and trying out different supermarkets. It grew old after a while though, and as always I turned to the fantastic online world to find a solution to this weekly problem. Thankfully, we have several sites in Spain where you can do your online shopping at your favourite supermarkets and have it delivered at your home within 24 hours or less.
My favourite site for online supermarket shopping is Ulabox. It has a very clean user interface, great search facilities and also good support if you need it. They have some very good offers on product combinations, and you will likely also find some discount coupons that will grant you a significant discount and make the total price you pay less than if you had actually gone to the supermarket yourself.
Use this link to create an account and make your first purchase on Ulabox and you will get €10 off your first purchase.
I am really happy to have found a good way to get my supermarket shopping done conveniently from the comfort of my couch, especially since I don't own a car and transporting heavy bags back home is quite an annoyance.
Considering that supermarket shopping is something that I do at least once a week, shopping online saves me a lot of time and is much more comfortable. I would therefore wholeheartedly recommend Ulabox if you're interested in saving time and money on your supermarket shopping.
Another good option is Deliberry. The latter also works with many of the biggest supermarkets in Barcelona, so you try both and see what works best for you. In my case, Ulabox offered more of the products that I usually buy than Deliberry, but I wouldn't hesitate recommending both of them equally.