Are you interested in making a full-time income by blogging online? Then this book review should definitely interest you.
If you are into blogging as a hobby, or just want to learn how to write more effectively, Successful Freelance Writing Online, an ebook by Tom Ewer, should also be on your reading list.
If you don't already know who Tom Ewer is, let me introduce him briefly. He belongs to that scarce breed of honest bloggers who write exceptionally well about any topic you throw at them.
I came to know him through the informative posts he started writing on two leading WordPress blogs, WPMU and ManageWP. Back when he had started out on these blogs I had immediately remarked to myself how engaging his posts where, and as a consequence started following him via his website Leaving Work Behind.
Tom only started blogging seriously a little over a year ago, so you can really identify with him if you're just starting. On the other hand, it can be sometimes difficult to compare yourself with other established bloggers who have been in this business for many years. How can little me start blogging and generate enough income to support myself, where is my reference point?
Well, you finally found one. Tom is a great role model for all those who are new to blogging and are serious about it. The great thing is that he has kept an honest journal of his blogging and other online efforts on his blog. He posts a monthly income report which has been immensely popular, so you can get the honest, inside view on a career in blogging.
As you can tell, I'm a big fan of Tom and his work, so I was very pleased when he announced that he was writing an ebook about freelance writing and blogging. Once he released it I devoured it in a few days, it goes without saying that it met my expectations.
Here's a photo of me reading Tom's book on my Kindle in Malta.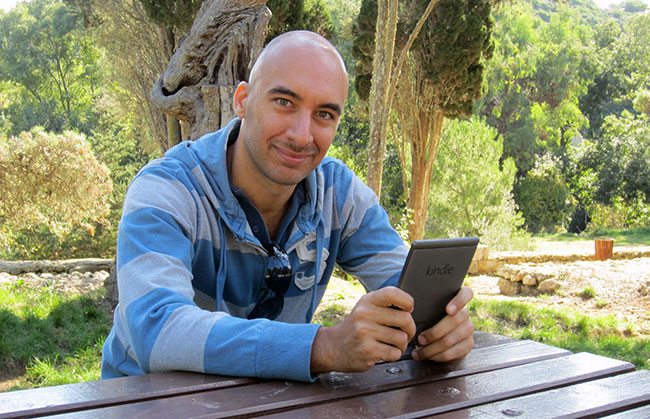 Yes this photo was taken in November, weather is still really great here on the island (read my post about why Malta is the perfect place for digital nomads if you want to know more).
And yeah, that mustache probably does look silly on me, but it's all done for a good cause – Movember. I actually got the idea to leave that mustache from Tom's October monthly income report, needless to say Tom is now in my girlfriend's black book for giving me such ideas 🙂
OK, back to Tom's book, aptly entitled Successful Freelance Writing Online.
Here's the book's chapter breakdown:
A Brief History of Blogging
Why Freelance Blogging?
How to Write Great Blog Posts
Starting Your Own Blog
Social Media
How to Find Client
Rates
Your Contract
Time Tracking and Billing
Working With Clients
Building Your Business
As you can see already from the chapter titles, this book is a really comprehensive one, and deals with all the aspects of blogging, from the motivations for blogging to the nitty gritty of time tracking and dealing with clients.
I identified with many of the things Tom writes about in his book, I totally agree with his takes on writing great blog posts and promoting your blog. I've been using the same techniques for the past two years I've been blogging on WP Mayor, with great success. On the other hand, I haven't done much client work, so the final chapters about working with clients, rates etc. where particularly interesting for me.
The part about defining a contract was a particular eye-opener, and has some great ideas which you can implement for your own agreements with clients.
I would in fact suggest that Tom releases some things from this book, such as a contract template, and also his template for keeping track of clients contacted. These two alone are probably worth the price of the book in terms of the time and hassle they can save you further down the line.
This ebook actually comes in a bundle with the main PDF file containing the book and two other documents that are very useful for searching out new clients.
One of them is entitled Blogs that Pay and contains a numerous collection of blogs and the rates they typically pay to their writers, along with some information about each blog.
The other document is called Blog Post Checklist and is a one page checklist you can print and keep handy. You have a convenient list of all the tasks you should complete before hitting the 'Publish' button, and is especially useful for new bloggers.
In Successful Freelance Writing Online, Tom manages to create an informational product that is well-adapted both for newcomers to the blogging world, and those who have been in it for longer and would like to step up their efforts on their own blogs or find some great clients.
This ebook comes highly recommended from my end, you surely won't be disappointed by getting it, and I guarantee that you will learn a few new things. It is so hard nowadays to find genuine, honest guides among all the noise and fanfare out there. This is one of those gems of a book that you will want to keep handy for reference even after you've read it the first time, so a big well done to Tom, and looking forward to more great stuff from him.