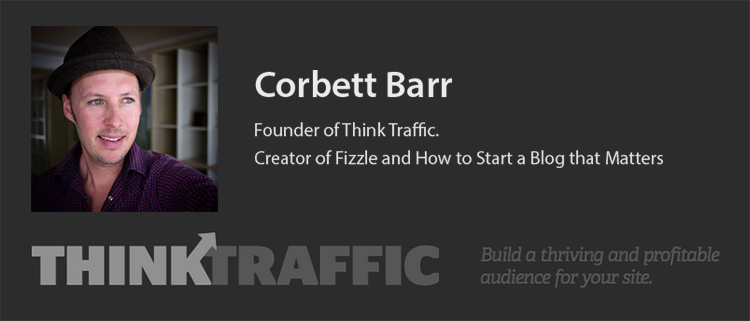 Corbett Barr is one of the most inspirational figures in the blogging industry today. He is the founder of Think Traffic, a very popular blog that teaches about techniques to grow your blog's audience. He is also the creator of a very successful online course, How to Start a Blog that Matters, which can help you go from zero to hero with your blog.
I love Corbett's work because he has built a sustainable and balanced lifestyle, in fact he is known as a lifestyle design entrepreneur.
Let's learn more about his work, lifestyle and upcoming projects.
How many years have you been blogging and what got you started?
I've been blogging for nearly four years now. I started my first blog while on a six-month road trip / sabbatical with my wife in Mexico.
While on that trip we met lots of people who weren't rich or retired, but somehow had figured out ways to spend months living in a foreign country. I started my blog to chronicle our trip, tell the stories of these people we were meeting, and to ask myself hard questions about what I wanted from my life and career.
You've tried quite a number of different online ventures, what's your advice for those starting out? How can someone find his ideal way of making money online?
My best advice: find a problem that needs solving. Figure out how to solve the problem in a unique way, and become an expert at providing your solution.
You have created an online course entitled 'How to Start a Blog That Matters'. I know that it is already hugely successful and many are already great results, can you tell us more about it?
Sure, that course is based on everything I learned from creating three successful blogs (which now attract well over 200k monthly visitors), and from teaching hundreds of students and clients how to create meaningful and popular blogs. We developed a 13-week action plan for the course that walks students through everything they need to know to start and grow a blog that makes an impact.
I totally dig the design of your blog ThinkTraffic. Can you share with us the thought process that went into the redesign?
Thanks! The Think Traffic design was a collaboration with a talented designer friend of mine (and now business partner) Chase Reeves. Chase and I wanted a fresh, bold design that made a statement about how hard we work to deliver results at Think Traffic.
What would you say were your top three decisions business-wise in recent years?
First: the decision to start Think Traffic. I saw a need in the market for an honest, straightforward site with effective strategies for growing an online audience.
Second: the decision to put lifestyle and fun ahead of profits. I'm having a blast running this business in a way that a business solely focused on profits couldn't allow.
Third: the decision to move from services to online products. We're simply able to affect far more people with products than services.
Is there an average time it takes for a blog to become successful in a basic way (say traffic over 10,000 and income of $1,000 per month)?
The average time is infinity, because most blogs never reach that level of success. For those that do become successful on that level, it usually takes between six months and three years.
Tell us more about the way you combine work and travel and how that helps to create the perfect lifestyle for you.
My wife and I spend about six months living in San Francisco (our home base), three months in Mexico for the winter, and the rest of the time traveling elsewhere. This semi- location independent lifestyle is really the best of both worlds for us.
Why did you choose WordPress as your platform of choice when building blogs?
I originally chose WordPress because it's the platform behind 95% of the biggest blogs online. Now I choose it because I'm familiar with it and know how to bend it to my will 🙂
Are there any tools (software/hardware) you use on a daily basis and are part of your workflow?
Absolutely. For my daily to-do list I use TeuxDeux. For customer support we use Zendesk. For project management we use Basecamp. We also rely heavily on Google Docs for document sharing and collaboration.
What are your next plans business and lifestyle wise?
We're just about to launch our latest project, and the thing I'm most proud of over the past few years. It's called Fizzle, and we're working hard to make it the premier learning platform and most supportive community for online business builders. Check it out.
A big thanks to Corbett for his time and awesome insights!
Has this interview inspired you? I will definitely be keeping Corbett's answers in mind during the year as I strive to build my own online businesses.