I love Gmail.
With every new online endeavour I'm involved in, there is invariably a new email account I need to keep tabs on. Till now all I did was create a new Google for Business account and redirect all mail to my main @gmail account. Lately however, I have embarked on a mission to better organise my way of doing business, as well as to separate work related matters from personal ones. Email is of course one of the main things that comes into play when doing such an exercise.
To expand on the background for this exercise, here are some notes:
I have around 12 email accounts to manage, 3 of them which are very active daily.
Since I'm very familiar with the way Gmail works, I wanted to keep all the functionality I use in Gmail.
I prefer to have an online interface rather than having an app on my Mac. Two reasons for that, one to save space on my Macbook air's smallish drive, and secondly for security purposes in case the laptop ever gets stolen.
Most but not all email accounts are managed through Google Apps for Business. The ones that are were created in the good times when Apps for Business were still free. I had to create another two email accounts for new domains after Apps became a paid service, and I chose Zoho Mail instead, as the volume of emails for these new accounts didn't justify paying Google for the email service. I also prefer an email hosting service rather than use the server's mail capability, I trust Google's or Zoho's backup services more than I trust the ones of shared hosting providers I guess.
Starting off with research, I found that the online interface goal wouldn't be reachable, unless I was content with switching accounts with the Gmail interface itself, which isn't so comfortable.
I therefore started looking at the most popular mail apps for Mac. Some conventional apps use folders for organising emails, while Gmail uses the labels system, which leads to some complications. I tried to find something more native to Gmail and came up with the following two options:
Mailplane 3 is basically just a wrapper around Gmail accounts, in essence a browser dedicated to Gmail accounts. Each tab hosts a Gmail account. This was very convenient for me since I could retain all the functionality from Gmail itself, but have more convenience.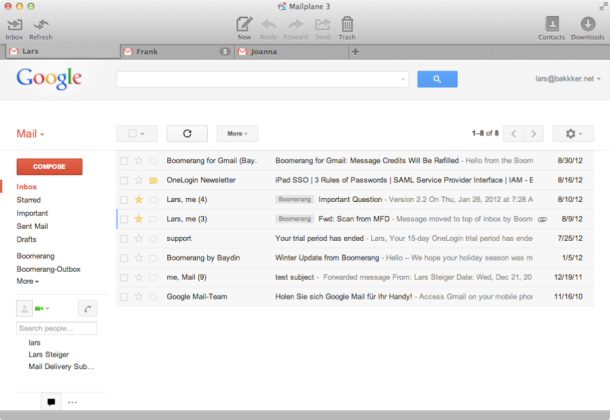 It has a good notifier system and also integrates with Gmail plugins such as Boomerang and RightInbox. Google Calendar is a perfect match for Gmail and Mailplane combines them in one app. The disadvantage is that I cannot use my Zoho hosted email with this app.
AirMail has the advantage of being usable not only with Gmail accounts, but also with others such as Zoho Mail or Office 365. The downside is that it still is a beta version and not quite something you could rely on totally. It has a very nice minimal interface though and I'll definitely want to keep tabs on it going forward.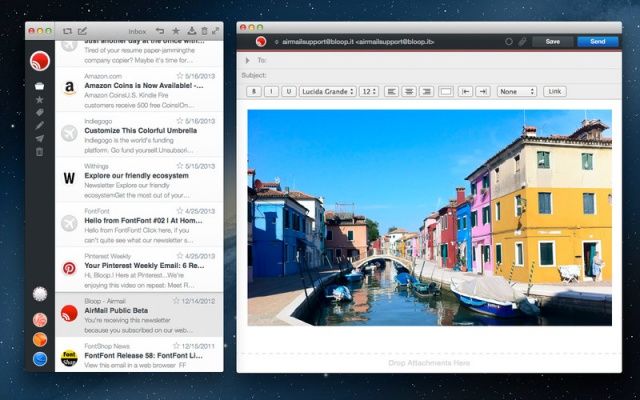 My Solution
I decided to go for Mailplane to handle all my Gmail accounts, while using AirMail for the Zoho hosted accounts. In this way, I retained all Gmail functionality for my main accounts, while I can keep tabs on AirMail while also having a good and handy interface for my Zoho accounts.
Do you have a similar, or totally different setup? Let me know in the comments section.