Polkadot is probably the crypto asset I'm most excited about besides the big two Bitcoin and Ethereum.
It has had a fantastic run since its launch in August 2020, up by 998% as of February 2021.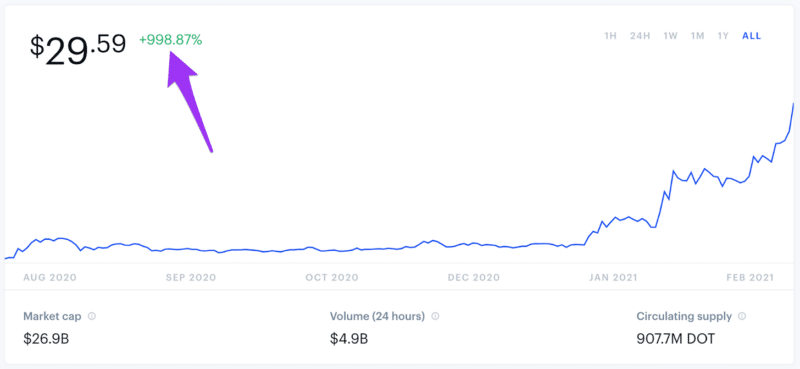 Polkadot is a new open-source interoperable blockchain technology that addresses speed and scaling.
Polkadot achieves this by using parachains, essentially a different chain for every application — so heavy usage in one app doesn't slow down usage in another app — sort of like having different AWS servers for every big application.
Polkadot's creation is being led by Gavin Wood, one of the main co-founders of  Ethereum. Gavin left the Ethereum team in 2016 to begin working on Polkadot after having a slightly different vision from Ethereum's main leader, Vitalik Buterin.
Polkadot's technology is being designed to be interoperable to Ethereum. Polkadot launched its first genesis block in May 26, 2020 and is fully live. It uses a combination of parachains, relay chains, and bridges to enable interoperability and scalability — based on a belief in a multichain future.
Read more: The best crypto trading apps/exchanges in 2021
Polkadot's token DOT began trading on August 21, 2020 at $2.69. It is up 998% since launch, and now trades at $29.59 per DOT token. As of today, Polkadot (DOT) has a market cap of $27B compared to Ethereum's market cap of $212B. Considering it's still not even listed on Coinbase, there is considerable room for growth.
You can currently get hold of DOT tokens on Binance or Kraken, apart from other less prominent exchanges.
Once you buy Polkadot, make sure you stake your DOT in order to maximize the returns. You can use Kraken or CEX to stake your DOT and earn more than 10% interest in the process.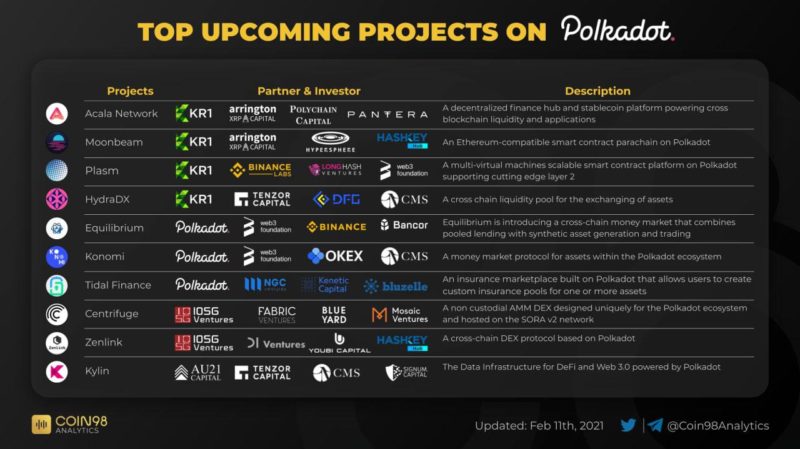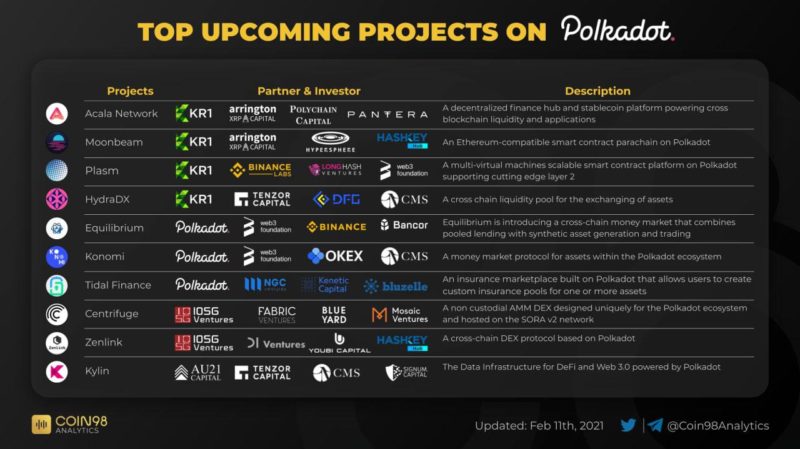 I think it has an amazing future and I love what the Polkadot team have done with regards to branding.
The main competitor to Polkadot is Cardano, the latter also being led by an ex-member of the Ethereum founding team. However, developer activity is much higher on Polkadot than on Cardano. Developer count and overall project activity is one of the key metrics used in valuing a cryptocurrency, due to the price of many cryptos currently being based on network effects more than anything else.
Traditional institutions are also in on the Polkadot game. Goldman Sachs, ICAP, JPMorgan, and UBS have bought the first exchange-traded product (ETP) that offers exposure to Polkadot's DOT cryptocurrency for clients, according to Bloomberg terminal data reviewed by CoinDesk.
These banks and brokerages purchased small amounts of shares in Switzerland-based 21Shares' ETP, the data shows. The shares debuted Feb. 4 on the SIX Swiss Exchange at a price of $22-23 and have since climbed to $30.
I'll probably be writing more about this cryptocurrency but in the meantime, have a look at these links: