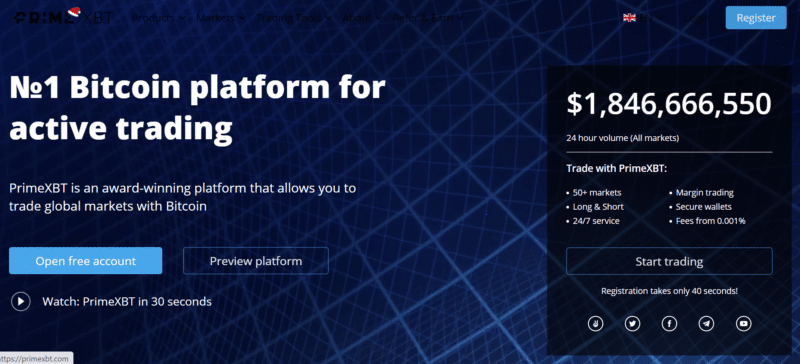 PrimeXBT is an online trading platform that only accepts Bitcoin deposits and withdrawals. No fiat currencies (EUR, USD, GBP etc.) are used.
In turn, this offers a number of benefits that fiat-currency brokers cannot rival. In particular, this includes the ability to open an account and trade anonymously – as well as apply high levels of leverage.
While PrimeXBT won't be for everyone, the platform supports a full selection of asset classes. This covers forex, commodities, indices, and of course – cryptocurrencies.
If you're keen to find out more about whether or not PrimeXBT is right for you – be sure to read my in-depth review. I cover everything from tradable assets, deposits/withdrawals, fees, commissions, and ultimately – the safety of your funds.
What is PrimeXBT?
Launched in 2018, PrimeXBT is an online trading platform. It covers four key asset classes – forex, commodities, cryptocurrencies, and indices. According to the platform itself, PrimeXBT generates just over half a billion dollars in daily trading volume.
As noted above, PrimeXBT is different from a conventional online trading platform – as it only accepts Bitcoin as a deposit and withdrawal method. In turn, all account balances, profits, and losses are displayed in BTC.

While at first glance you might be wondering why a Bitcoin-denominated trading site is worth considering, PrimeXBT does offer several benefits. For example, you can obtain leverage of up to 1000x, meaning a $100 deposit gives you access to $100,000 in trading capital.
Additionally, as PrimeXBT does not directly touch fiat currency, it has chosen to avoid traditional KYC procedures. In other words, you will not be asked to enter any personal information when you register, nor will any documents be requested from you.
In terms of trading fees, commissions are very competitive at PrimeXBT. This starts at just 0.001% when trading forex, 0.01% on indices and commodities, and 0.05% on cryptocurrencies.
What can you Trade at PrimeXBT?
PrimeXBT offers just 50 financial markets on its platform – which is very light on the ground. However, it does offer instruments from four key asset classes – which I elaborate on in more detail below.
Forex
If you want to trade forex from the comfort of your own home, PrimeXBT supports a relatively good blend of majors and minors.
This includes the usual suspects of EUR/USD, GBP/USD, and AUD/JPY. However, the platform also supports a number of exotic pairs. This includes pairs containing the Mexican pesos, South African rand, and Turkish lira.
Commodities
When it comes to commodities, PrimeXBT supports just four assets:
Gold
Brent Crude Oil
WTI Oil
Natural Gas
As such, if you're looking for the likes of silver, copper, corn, wheat, or sugar – you will need to look elsewhere. eToro, for example, offers 16 commodity trading markets – if this is something you are interested in.
Indices
You can trade 11 different stock market indices at PrimeXBT.
This includes:
NASDAQ 100
Dow Jones
SP 500
Germany 30
Japan 225
FTSE 100
Australia 200
and more
With that being said, you won't be able to trade individual stocks at PrimeXBT, which is a bit disappointing.
Cryptocurrencies
It goes without saying that as a Bitcoin-only platform, PrimeXBT supports a good selection of digital currency markets.

Firstly, each and every cryptocurrency instrument comes in the form of a CFD. This means that you do not own the underlying asset. However, as I cover in more detail later on, this does come with certain benefits – such as being able to short-sell and apply leverage.
Nevertheless, PrimeXBT offers two types of cryptocurrency markets – fiat-to-crypto and crypto-to-crypto. In terms of the former, this includes major currencies that can be traded against the US dollar.
For example:
BTC/USD
LTC/USD
EOS/USD
ETH/USD
XRP/USD
You can also trade the exchange rate between two competing cryptocurrencies, with pairs including:
LTC/BTC
ETH/BTC
EOS/BTC
XRP/BTC
Leverage
When it comes to leverage at PrimeXBT, the limits available to you are very high. Ordinarily, those in regions such as the UK and Europe are capped to a maximum leverage amount of 1:30 on major forex pairs, and less on other asset classes.

However, as PrimeXBT does not support fiat currency deposits or withdrawals, it appears to be able to bypass these restrictions.
In turn, you can get the following leverage limits at PrimeXBT:
Forex: 1:1000
Gold: 1:500
Non-Gold Commodities: 1:100
Cryptocurrencies: 1:00
As you can see from the above, these leverage limits are above and beyond what you would be able to get at a traditional online trading platform. In fact, even if you were classed as a professional client, your limits would still likely be lower than what is on offer here.
As an example, a balance of just $50 would allow you to trade with $50,000 if you applied the maximum amount of 1:1000. However, this does come with huge risks. At the forefront of this is being liquidated.
For example, if you applied leverage of 1:100 when trading Bitcoin, this means that your margin amounts to just 1% of the overall position. As such, if your Bitcoin trade went against you by 1%, PrimeXBT would keep your margin.
PrimeXBT Fees and Commissions
In terms of trading fees, PrimeXBT utilizes a variable commission structure. The specific commission will vary depending on which asset you are trading.
For example:
Forex

: 0.001%

Indices and Commodities

: 0.01%

Cryptocurrencies

: 0.05%
As you can see from the above, these commissions are very competitive. For example, let's suppose that you placed a $1,000 trade on EUR/USD. At 0.001%, this would cost you just 1 cent.
Similarly, at just 0.05%, trading $500 worth of BTC/USD would amount to $0.25 in commission. Not only does this allow you to trade small amounts without getting hammered by flat fees, but it is also conducive for targeting ultra-low profit margins.
On top of trading commissions, you also need to factor in overnight financing fees. This is because all financial instruments at PrimeXBT are CFD trading markets.
As such, you need to pay a fee for each day that you keep your position open overnight. This is a percentage fee that will vary depending on the asset and whether you are long or short.
PrimeXBT Trading Platform
PrimeXBT offers its own proprietary trading platform that has been built from the ground up. At first glance, it appears easy on the eye – with a suitable black background and red/green charting indicators.
However, you can fully customize your trading layout to the 't' at PrimeXBT – which is great if you are a seasoned trader.
Technical Analysis
In terms of charting tools, PrimeXBT offers a fairly comprehensive list of features. Not only does this include a full selection of chart drawing tools, but you will have access to over 50 technical indicators.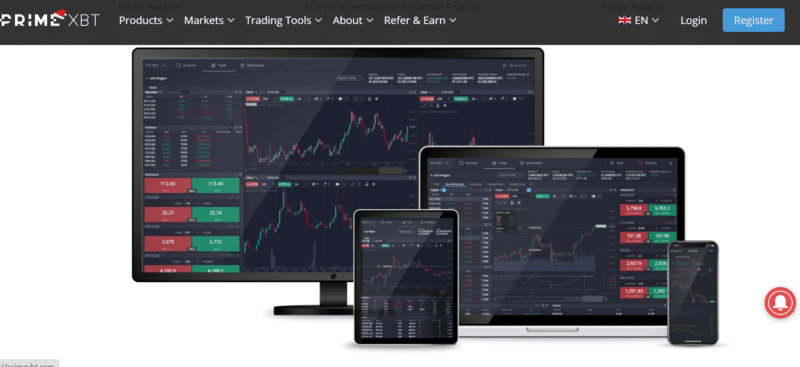 This means that the platform is highly conducive for performing in-depth technical analysis – so there's no need to use a third-party platform for this purpose.
Order Types
Irrespective of which asset class you are trading, PrimeXBT offers a good range of order types.
For example, when it comes to entering the trade, you can choose from a Market or Limit order. Then, you can choose from a GTC (Good Til Cancelled) or Day order.
The latter means that your limit orders remain in play until your target price is triggered or you manually cancel it yourself. The latter means that the order will remain in play for a certain number of hours – as specified on the order box.
When it comes to risk-management tools, PrimeXBT supports both Stop-Loss and Take-Profit orders.
I should also mention the One-Cancels-Other (OCO) order that might be of interest. This is a conditional order that essentially places two orders concurrently – once a pre-defined metric is triggered.
For example, let's suppose that you are long on BTC/USD – which is currently in an upward trajectory.
You feel that the pair will hit a ceiling at $24,000.
As such, your OCO order consists of a limit sell order at $24,000 – which will cash out your original position.
But, the OCO also includes an additional stop-loss order, which allows you to catch the downward trend – should your prediction come to fruition.
All in all, whichever trading strategy you have in mind, it is likely that the suite of order types at PrimeXBT is sufficient to meet your needs.
Online or Mobile
If you are a seasoned trader that is looking to perform advanced technical analysis, then it is likely that you will do most of your bidding via a desktop computer. However, there might come a time when you are away from your main device and you wish to enter or exit a position.
As such, it is notable that PrimeXBT also offers a fully-fledged mobile app. This is available on both iOS and Android devices. Both versions of the app come with the same tools and features as the main PrimeXBT website, which is good.
However, I must note that the app is poorly rated on both app stores. For example, the PrimeXBT app has a rating of just 2.6/5 on Google Play – which is across 456 reviews. The app carries a slightly higher, but still poor, rating of 2.9/5 on the Apple Store. This is, however, across just 20 individual reviews.
PrimeXBT Core Features and Tools
So far, I have discussed tradable assets, fees and commissions, and the PrimeXBT trading platform. In this section, I am going to unravel some of the core features and tools that you will have at your disposal by opening an account.
Short-Selling
As PrimeXBT focuses exclusively on CFD instruments, this allows you to engage in short-selling.
In other words, if you believe that an asset is overvalued and that it is due to go down in price, PrimeXBT allows you to profit from this. All you need to do is open your position with a sell order.
Copy Trading
You might have read about Copy Trading in my eToro review – as the broker is arguably the market leader in this field. However, PrimeXBT also offers a Copy Trading feature of its own. Put simply, this allows you to copy the trades of a PrimeXBT user like-for-like.

This will be at a proportionate amount. For example, if the trader risks 25 of their portfolio on a GBP/USD sell order, you will place an identical position. Then, when the trader closes their GBP/USD position, you will do the same.
In terms of selecting a trader, PrimeXBT notes that there are hundreds to choose from. You can view key metrics such as their historical trading performance and preferred strategy.
The minimum amount to use the Copy Trading feature at PrimeXBT is just 0.001 BTC, so it's suitable for all budgets. The platform notes that the trader in question will make a commission from all profitable positions, albeit, it doesn't state what this actually is.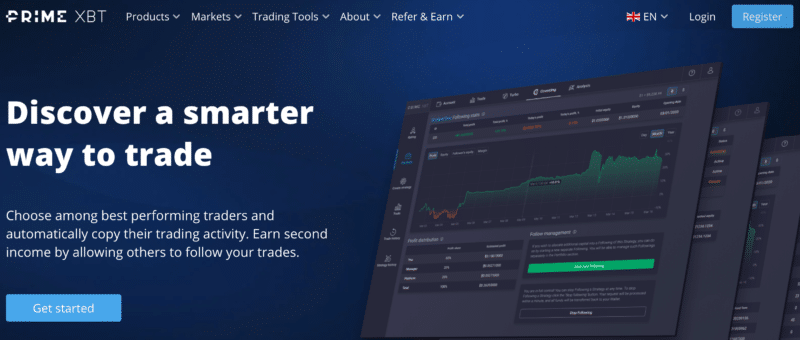 Covesting, an innovative copy trading platform, is now available on PrimeXBT. As a result of an ongoing B2B partnership in cooperation with a Europe-based fintech software developer, the platform connects traders with followers, enabling them to profit from one another.
Covesting is a global fintech company incorporated under the laws of Gibraltar, which offers the broadest array of software solutions for retail and institutional customers worldwide. Covesting has become one of the world's first companies to receive a Distributed Ledger Technology License (DLT) from regulatory authorities in Gibraltar.
Covesting allows traders to create funds with their trading strategy in a transparent way in which users can verify the track record and how much capital is invested in each fund. Traders can build a reputation and a second source of income by attracting followers. Users can browse different traders, check their results, and invest in the one they like, this provides a way to earn money passively without any trading skill or market knowledge.
As we know, most traders are not profitable, mainly because they can't control their emotions and stick with a trading strategy. Covesting is a perfect solution for every type of trader and investor because it benefits both sides of the market. New traders can track the profitability of highly successful traders, while experienced traders can earn more by building a following.
Checkout out Covesting on PrimeXBT
Risk disclaimer
When following the manager's strategy you are highly exposed to market risk. When a strategy manager trades in volatile instruments it can result in a loss of a part or all of your capital. Please do not allocate funds to following the strategy that you are not ready to lose. Please diversify and do not allocate all of your funds to one strategy. Following a strategy is as risky as trading yourself.
PrimeXBT Payments, Deposits, and Withdrawals
As noted throughout this guide, PrimeXBT only deals in Bitcoin. As such, if you already have some Bitcoin available to you, it's just a case of transferring the funds to your unique PrimeXBT wallet.
However, PrimeXBT does allow you to indirectly make a deposit with your debit/credit card, too. It does this through a third-party platform – CEX, meaning it is not directly handling the transaction.
Effectively, you are buying Bitcoin CEX and then the funds are instantly transferred to your PrimeXBT wallet. However, as you will be using your debit/credit card, this does mean that CEX will ask you to upload a copy of your ID.
Irrespective of which method you use, PrimeXBT credits deposits after 3 blockchain confirmations. This means that the funds should be available to use within 30-40 minutes.
Withdrawals
In terms of withdrawals, PrimeXBT processes cash out requests once per day. It does this between 12:00 and 14:00 UTC. As such, if you request a cash out before the cut-off point of 12:00 UTC, you will benefit from a same-day withdrawal.
The funds will, of course, be sent as Bitcoin to your chosen wallet address. If you are using a Bitcoin wallet address that is different from the one used to deposit, you will need to confirm this via email. There are no withdrawal fees charged by PrimeXBT, other than the blockchain mining fee.
Is PrimeXBT Safe
As a platform that offers leverage as high as 1:1000 to retail clients – it goes without saying that PrimeXBT is not regulated.
As such, you can never be 100% sure that your money is safe. Instead, everything is built on trust. This could be problematic in the event that PrimeXBT was hacked.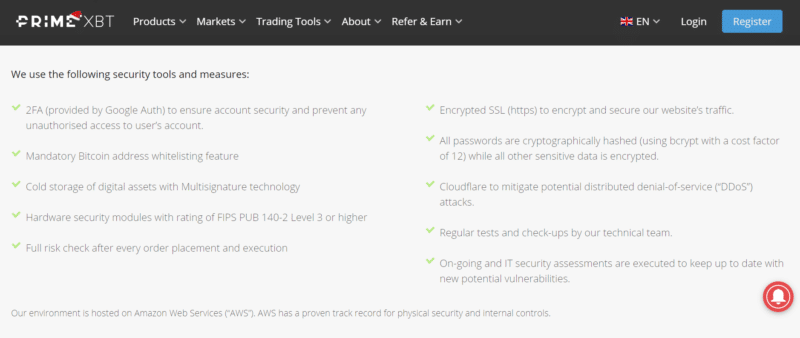 With that said, PrimeXBT does offer a range of safeguards that it claims – ensures you are able to trade in a safe and secure ecosystem.
This includes:
Two-factor authentication (2FA)
PrimeXBT allows you to set up 2FA via Google Authenticator. This means that every time you log in or attempt to make a withdrawal, you will need to obtain a unique code from the Google Authenticator app.
Crucially, unless somebody has access to the respective phone, it would make it very difficult for somebody to log in to your account remotely.
Cold Storage
PrimeXBT notes that the vast majority of its client funds are held in cold storage. This means that they are stored in wallets that are not connected to an online server.
A small amount of funds are kept in hot wallets. This is to facilitate daily withdrawal requests and ensure the platform has sufficient liquidity.
Ultimately, while both 2FA and cold storage are notable safeguards, you must understand that PrimeXBT operates in a 100% unregulated space.
If this makes you feel uncomfortable, you might want to consider eToro – which is regulated by the FCA, ASIC, and CySEC.
PrimeXBT Customer Support
PrimeXBT offers customer support 24 hours per day, 7 days per week. This is facilitated by a live chat feature.
Alternatively, you can also send an email to [email protected]. If you use Telegram, you can also contact a PrimeXBT support agent via the app.
How to Join PrimeXBT Today
If you've read my PrimeXBT review up to this point and you wish to process with an account – follow the steps outlined below.
Step 1: Register
To get the ball rolling, you will first need to register with PrimeXBT. Unlike a traditional brokerage account application, the process at PrimeXBT takes seconds.
This is because you only need to provide your email address and mobile number. This means there is no requirement to provide any personal information – such as your name, home address, or date of birth.
Step 2: Deposit Funds
Next, you need to deposit some funds. The easiest way to do this is to copy the Bitcoin deposit wallet address from within your PrimeXBT dashboard. Then, head over to your private wallet and transfer the Bitcoin over. Expect to wait 30-40 minutes before the funds are credited to your account.
If you don't have any Bitcoin to hand, you can deposit funds with a debit/credit card via CEX. This will, however, require you to upload a copy of your government-issued ID  – as per anti-money laundering laws. Then, the Bitcoin that you purchase via CEX will be transferred to your PrimeXBT account.
Step 3: Start Trading
As soon as your Bitcoin deposit has been credited, you can start trading straight away. There is no requirement to download or install any trading software, as everything is facilitated via your web browser. You can also download the PrimeXBT app if you wish to trade on the move.
Step 4: Withdraw Funds
When you get around to making a withdrawal, you simply need to specify the wallet address that you want to funds sent to. If it's an address you haven't previously used, you need to confirm this via email.
If the withdrawal request is made before 12:00 UTC, the funds will arrive in your private Bitcoin wallet the same day.
PrimeXBT Review: The Verdict
All in all, PrimeXBT does stand out for several reasons. Not only can you trade from just 0.001% per slide, but you will have access to leverage of up to 1:1000. Additionally, its Copy Trading feature might appeal to those of you with an appetite for passive investing.
If you are a seasoned trader that likes to perform advanced analysis, the PrimeXBT platform comes packed with drawing tools, technical indicators, and the ability to customize your screen.
On the other hand, it is important to remember that PrimeXBT is an unregulated platform. As such, you won't have the backing of a reputable body if things go wrong.