London House Exchange (formerly Property Partner) is arguably one of the better-known real estate crowdfunding platforms in the UK. The platform was founded in 2014 and gives you the opportunity to enter the UK property arena with an investment of just £1,000.
With property prices – at least in the case of London, much heftier than much of mainland Europe, this is ideal for those of you that want to gain exposure to UK real estate without breaking the bank. London is also where the super-rich all clamor to by some real estate, and I would argue it's the most prestigious real estate market in Europe.
In this review, I look at the Property Partner platform from top to bottom. This includes an in-depth overview of how the platform works, the types of property you can invest in, how much you should expect to make, and what risks you need to consider before parting with your funds.
What is London House Exchange?
At first glance, the Property Partner business model is relatively straightforward. The provider will actively search for UK-based properties that meet a strict set of investment-based criteria. Then, once the building is listed on the Property Partner website, you and your fellow platform members will have the chance to make an investment – from just £1,000.
Once the fundraising campaign has reached its target, Property Partner will proceed to complete the deal. Moving forward, you will (hopefully) earn income in two key forms. Much like any other real estate crowdfunding site, this includes your share of monthly rental payments. Similarly, you will also be entitled to your share of appreciation – as and when the property is sold.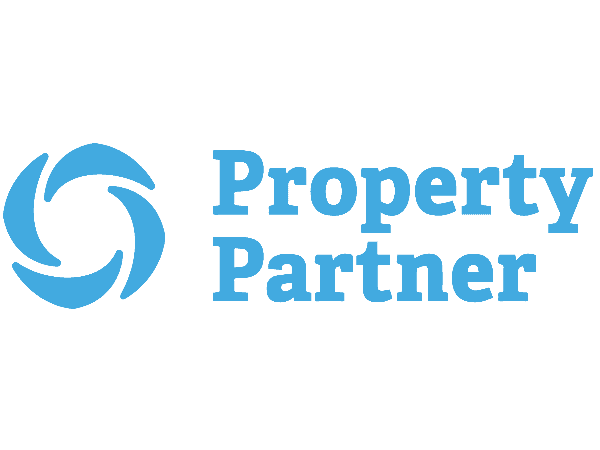 In terms of the fundamentals, Property Partner was first launched in 2014 by Daniel Gandesha. The vast bulk of properties made available to investors are residential units. This might be a stand-alone house, block of apartments, or a fully-fledged student accommodation unit.
Either way, all properties are rented out to third-party tenants. Once you make an investment, the team at Property Partner takes care of the rest. That is to say, the provider facilitates all of the tasks associated with buy-to-let properties – such as due diligence, legalities, rent collection, and more. Of course, and as I cover in more detail later, this does come at a fee.
Types of Investment Properties
As noted above, the vast bulk of properties at the platform are residential properties. This is either a conventional house, block of apartments, or a student lodging. The platform also covers development loans, albeit, this is only available to accredited investors.
Nevertheless, the investment process works on an 'equity share' basis.
In simple terms, let's suppose the property is worth £100,000
We'll also suppose that each share is worth £1,000, leaving 100 shares up for grabs
You decide to invest £10,000, so you have 10 shares
In theory, you won 10% of the property
It's a lot more complicated than this, as there are lots of other factors to take into account. But, I wanted to explain the gist of how Property Partner works before outlining some juicier examples.
So, each and every property at the platform is situated in the UK. Each investment opportunity will come packed with a portfolio of projections, which is useful in selecting deals on a do-it-yourself basis.
Let's look at a couple of example investments to help clear the mist.
60 Student Studios: Bangar, Wales
The image that you see above relates to a Property Partner deal that was recently funded. The building itself – which is based in Bangor, Wales, consists of 60 individual student studios. The value of the property stands at £4.6 million.
Before I expand on that, it important to note that the team at Property Partner are strong proponents of studio complexes – and for good reason. This is because the vast majority of tenants that fill such properties (i.e. students at the nearest university) receive funding from the UK government (via Student Finance).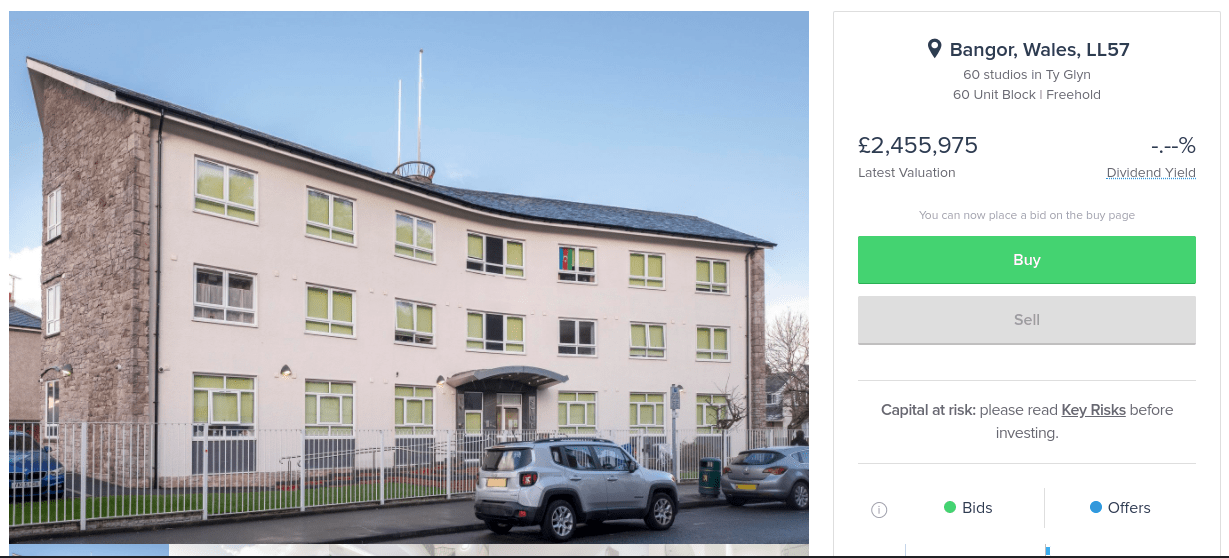 From an investment perspective, this vastly reduces the risks of non-payment. It also reduces the risks of below-par occupancy rates, as demand significantly outweighs supply in the UK student housing arena.  As such, you will find lots of student accommodation investment opportunities at Property Partner.
So, this deal in particular – which was purchased by Property Partner for £4.6 million, has a mortgage of just over £2.2 million.
Then, you have just over £133,000 in amortised purchase costs.
This means that (at the time of writing) Property Partner investors own a market value of just over £2.4 million.
With 1 million 'shares' distributed, this works out at 245.60p each.
This share price will go up as and when Property Partner performs a reassessment of the market. This might be an adjustment based on an increase in valuation, or an increase in rental income. The share price can, of course, go down if market conditions move in the wrong direction.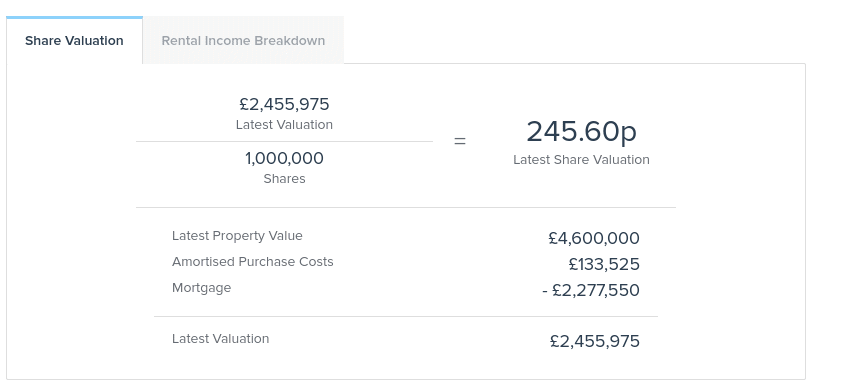 Residential Property: Croydon, London
At the other end of the spectrum, here we have a London-based residential property. Located in Croydon, this is a 3-bedroom property that the platform purchased for £272,000. What you will notice about this particular deal is that unlike the previously mentioned student complex, this property has been purchased without a mortgage.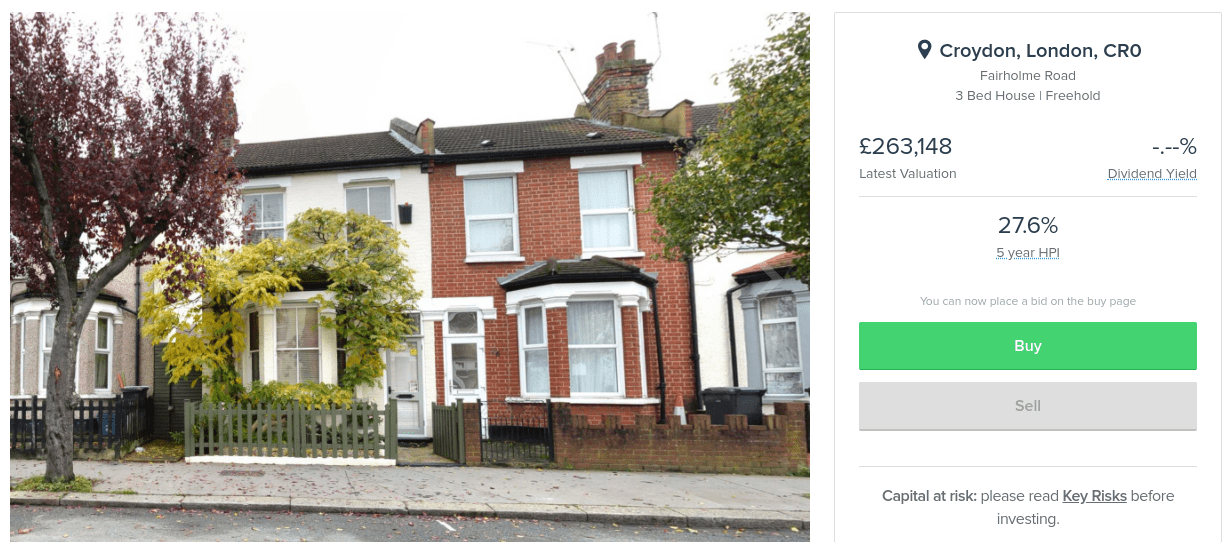 The investment fundamentals work largely the same, as you will be entitled to your share of monthly rental payments. In terms of projections, the team at Property Partner note that they expect a 27.6% increase in market value on the property in question – in five years' time.
Making Money at Property Partner
As previously noted, injecting money into a Property Partner deal will yield two income forms – rental payments and appreciation.
Monthly Rental Payments
The fundamentals here work much the same as any other real estate buy-to-let investment. That is to say, once the platform has purchased a property on behalf of its members, the units will then be rented out to tenants. The process can vary depending on the type of property.
For example, the student units will only accommodate university attendees – which will typically remain in the property for no longer than 1-3 years. In residential properties, this will be rented as a full unit in the case of a house, or individually if it's a block of apartments. Either way, you will have no involvement in the tenancy process.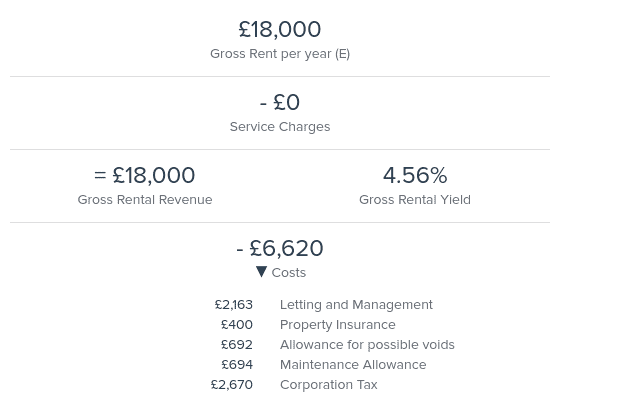 On the contrary, Property Partner will utilize the services of a local property manager, which will take care of everything from vetting tenants, running credit checks, collecting deposits, and of course – collecting rent. From your perspective as an investor, you will receive your share of rental payments on the 5th of each month.
So, irrespective of how many individual properties you have invested in, all of your payments will collectively be distributed on the 5th.
As you can see from the screenshot above, there are several costs that must be taken into account when assessing your rental payments. This includes everything from letting and management fees, property insurance, maintenance, and corporation tax.
Another interesting point about investing in the UK is the developments in the corporation tax rate over recent years. At Summer Budget 2015, the government announced legislation setting the Corporation Tax main rate (for all profits except ring fence profits) at 19% for the years starting 1 April 2017, 2018 and 2019 and at 18% for the year starting 1 April 2020. A further reduction to 17% for the year starting 1 April 2020 was announced at Budget 2016.
COVID-19 Suspension of Dividend Payments
It is crucial to note that in March 2020, Property Partner announced that is would be suspending rental dividends with immediate effect. Although this was initially planned for three months, the suspension was subsequently extended until the end of September 2020.
The platform notes that any "net income that is earned during this period of dividend suspension is accumulating within each property's bank balance, for the benefit of that property's capital reserves".
Property Partner also makes reference to 3/6 month payment holidays that have been offered by its respective banks, albeit, it is still in negotiations regarding the terms on this.
If you are planning to invest money into the platform, my suggestion would be to keep regular tabs on the updates that the Property Partner CEO frequently publishes on the site.
Appreciation
On top of rental income, you also stand the chance to make money in the form of appreciation. This is where the value of the home is sold for more than Property Partner initially paid – less fees. There is no hard and fast as to how much your investment will appreciate by, as there are simply too many variables in play.
After all, the growth of the property's value will ultimately be dependent on market forces. But, it is notable that the team of Property Partner does provide some really in-depth market projections. At the very least, this gives you an idea as to how much yield is being targetted.
What you can also do is look at the wider UK market. According to Property Partner, UK homes have returned 9.1% (annualized average) each year over the past two decades. In comparison, the UK's FTSE All-Share Index has returned 5.7% over the same period.
How Much Does Property Partner Charge in Fees?
On the one hand, Property Partner is ideal for those of you that want a completely passive income stream. Crucially, once you inject money into your chosen property(s), there is nothing else to do until the home is sold. On the other hand, this will, of course, come with fees.
This comes in several forms – which I outline in more detail below.
Transaction Fees – 2%
Property Partner charges a somewhat hefty transaction fee of 2% on all investments. So, if you invest £5,000 into a property, then this will result in fees on £100. There are a couple of ways that you can reduce this fee.
Firstly, if you invest in a newly listed property during the first 7 days of live funding, you can get this down to 1%.
Secondly, if you have a Premium Client account and you invest during the Early Access window, you won't pay any transaction fees at all.
Assets Under Management Fee – Up to 1.2% per Year
This particular fee only came into play in August 2019. It is an asset under management (AUM) fee that is based on the amount of money that you have invested at the platform. This stands at 1.2% for everything up to the first £25,000, and then 0.7% thereon. The fees are charged on a monthly basis, and calculated before dividends are paid.
There was a bit of a commotion about the introduction of the AUM fee. You can still see some negative comments about this if you scroll through reviews on the web.
I reached out to Property Partner to get their thoughts on these negative comments, and here's what they had to say:
Since the introduction of the AUM fee, existing investors have invested over £10 million which shows confidence in the platform. While we do acknowledge that the new fees have put off some investors, most of our investor base is still investing in our products because (i) they understand the reasons behind these changes and that it was in their best interest that these changes were made, and (ii) we continue to deliver value.
They have also told me that less than 1% of their 10,000 investor base have expressed dissatisfaction about the AUM fee and even a lower number expressed dissatisfaction publicly on these forums.
Personally, I'm not too worried about the negative reviews. It's quite normal for people to react like that when there are unexpected (but unavoidable, in this case) changes. The fact is that many people invest without really understanding how platforms work. This also explains the tons of 5-star reviews awarded to platforms that are ridden with problems. People are happy that they are making high profits through the abnormally high-interest rates offered, only to be all up in arms later when the platform inevitably goes bust due to its unsustainability.
Account Fee – £1 + VAT per Month
Although more of a token payment, it is worth noting nonetheless. Property Partner charges all account holders a monthly account fee of £1 + VAT per month. If you don't have sufficient funds in your account at the time of the payment, this will be settled the next time you have a cash balance.
Sourcing Fee – 3% + VAT
This particular fee is often overlooked by investors, but it is crucial that you take it into account. In a nutshell, Property Partner will collect a sourcing fee of 3%+ VAT of each property that they source. This is always reflected in the projected yields that you will see upon reviewing a funding opportunity, which is good.
No withholding tax
There are no withholding taxes applied in the UK before the money is distributed to investors. The investors are expected to declare this income in their own tax returns and pay taxes in their country of residence. This is a positive thing about investing with Property Partner, since other real estate crowdfunding platforms sometimes apply withholding tax, which further reduces investors' returns.
Is Property Partner Safe?
As is the case with any crowdfunding site, it is imperative that you spend some time exploring how safe the respective platform is. In order to do this with Property Partner, we first need to look at how the deals are structured.
Special Purpose Vehicles (SPVs)
As per UK Land Registry laws, no more than four people can be listed on the title deeds of a residential property. As a means to bypass these restrictions, Property Partner utilizes what is known as a special purpose vehicle (SPV). In its most basic form,  an SPV is a company that is set up for a particular purpose.
This can come in the form of an LLP, partnership, or a limited company. Each SPV will be individually structured depending on the property investment in question. For example, if 1,000 investors collectively inject £250,000 to buy a London property, the SPV will be structured in such a way.
So what does this mean for the safety of your investment?
Well, the crux of the matter is that were the worse to happen – and Property Partner ceased to exist, then the platform cannot touch your stake in the SPV. In other words, your personal (and your fellow investor's) funds cannot be used to settle creditor debts.
With that being said, this isn't a 100% sure-fire guarantee that your investment is safe, so it's crucial that you do some independent homework to ensure you have a full understanding of the risks.
Regulation
Property Partner – under its trading name London House Exchange Limited, is regulated by the Financial Conduct Authority (FCA). The FCA is the UK's financial services watchdog and is arguably one of the most reputable licensing bodies globally.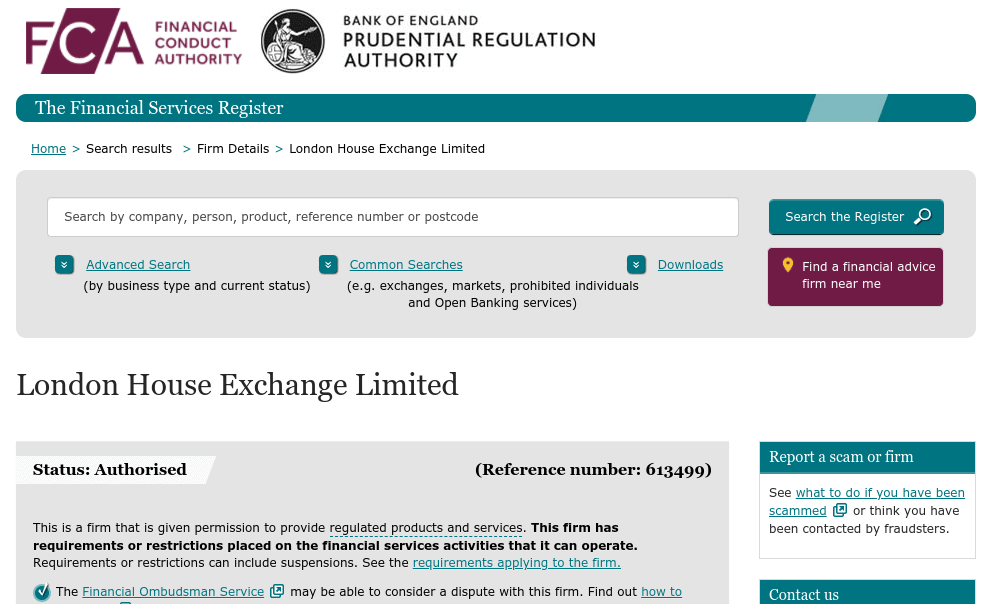 Among many other safeguards, its FCA license ensures that client funds are held in segregated bank accounts. Once again, this means that the platform cannot use your cash balance to fund its own operations.
Risk of Loss
Crucially, there is no guarantee that you will make money at Property Partner. As is the case with all investment classes, there is every chance that you will get back less than you invested. With that being said, the UK real estate arena is one of the strongest property markets in the world. Unlike other European locations, the UK's domestic housing space recovered from the 2008 financial crisis very quickly, and now continues to prosper.
However – and as I covered earlier in this review, Property Partner suspended all rental dividends in March, and this will continue to be the case until at least September. Don't forget, many of the deals facilitated by Property Partner are leveraged up with a mortgage. During times of economic uncertainties, this in itself presents a risk.
Team
One of the big plus points of this platform is the strong management team that is in place. Most of the communication with investors is handled by Robert Weaver, the chief investment officer, who also creates YouTube video presentations about properties to explain to investors the reasoning behind his decision to offer a particular property on the platform.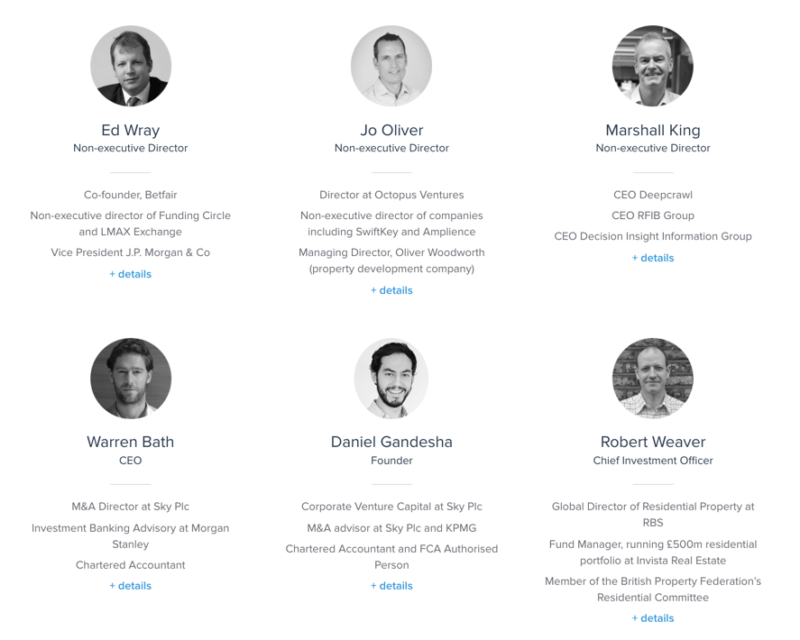 All the members of the management team are fully qualified for the job and have years of experience in related fields and enterprises.
This is in stark contrast to other platforms (such as Housers) that are basically a marketing machine designed to offer up as many offers as possible and earn fees on the money they manage to gather for the developers.
The founder of Property Partner, Daniel Gandesha, even decided to step down from the CEO role a few years back, in order to bring in someone better suited for running the big platform that Property Partner had become by then. I took that to be a good sign that the platform is being put in first place rather than the ego of the founder.
When do you get Your Principal Investment Back?
The golden question of all questions – at least in the case of Property Partner, is when you get your money back. That is to say, your money will be tied up in real estate, so naturally, you are putting cash into one of the most illiquid asset classes in the investment space.
So, the main gist of it is as follows:
The team at Property Partner have full discretion over when the property is put on the market for sale. For example, if the platform purchases a block of flats, and it feels that selling each unit off individually is the right thing to do (as per market conditions), then it will not hesitate to proceed.
With that being said, if the home hasn't been sold within five years, Property Partner will then give you the chance to exit your position.
It does so by re-listing the property on the platform for new investors to obtain a stake. You are, however, under no obligation to sell your stake. So, if you want to keep your money tied up in the property, you can do so for as long as Property Partner wishes to keep it.
In theory, this means that you can exit your position after five years.
However, it is important to note that there might not be enough interest from new investors when the property is re-listed. If this is the case, Property Partner notes that it will list the property for sale in the traditional sense.
To clarify, let's suppose that you wish to exit your investment after the five year period is triggered. You, and all of the other investors that wish to exit the project, will need to have the entire investment covered by other, new investors. If this cannot be realized, then the property must be sold.
As is the case with any real estate listing, there is no knowing how long this will take. Once again, this is fully dependent on local market conditions.
The good news is that Property Property has a fully-fledged secondary market, which I discuss in more detail in the next section.
Property Partner Secondary Market
In its most basic form, the secondary market at Property Property follows the same principles as a traditional stock exchange. This is because there are both buyers and sellers, and each deal must be matched by both parties at an agreed price.
You might remember how I mentioned earlier that each investment opportunity at the platform is based on 'shares'. So, the secondary market allows you to list your shares at any price of your choosing, with the hope that somebody will purchase them from you.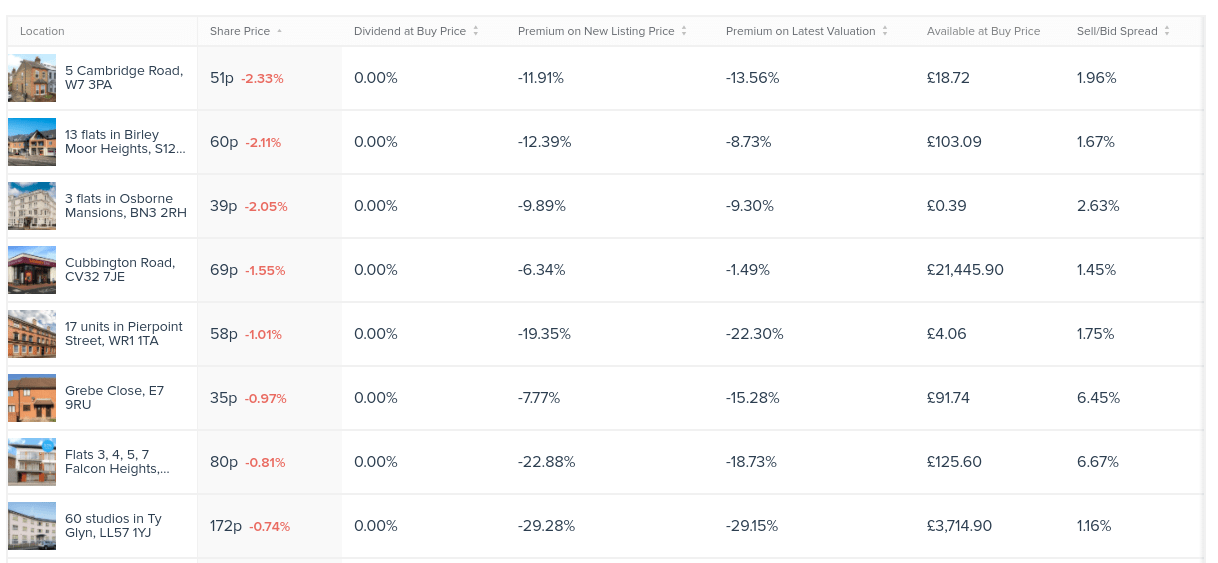 In order to grasp how this works, below I have listed a super-basic example.
Let's suppose that you invest £20,000 in a property that is worth £500,000
Property Partner issues 1 million shares
This means that each share is worth £0.50. (£500,000/1 million shares)
As such, you currently hold 40,000 shares (£20,000 / £0.50)
Let's then suppose that you wish to sell half of your shares on the secondary market. When you decide to do this, the value of each share is now £0.55 – representing an increase of 10%. This is because of the appreciation that has taken place since you originally made an investment.
You are selling 20,000 shares at a market value of £0.55 each
This works out at a total of £11,000
Buyer 1 purchases £5,000 worth, meaning that you still have £6,000 listed
A few weeks later, Buyer 2 purchases the remaining £6,000
As per the above example, you sold your 20,000 shares at your desired market price, and so you still have 20,000 shares invested in the respective property. However, things are unfortunately not this simple on the secondary marketplace, as there is no guarantee that you will find a buyer.
Discount Shares
You will find a plethora of listings on the secondary market that are selling at a discount. In simple terms, this means that the seller is happy to take an amount that is lower than the market price (remember, this market price is determined by Property Partner).
While there might be an underlying reason why the shares are discounted, equally, it might just be a case of the seller wanting to cash out their investment in the quickest time possible. If this is the case, then, in theory, you are potentially buying the respective proportion of real estate at a discounted price.
Premium Shares
At the other end of the spectrum, you will also find shares on the secondary market that are listed at a premium. As such, sellers are looking to sell their shares at a higher price than that of Property Property's perceived value.
This is often the case with student properties that generate a higher-than-average rental yield. In other words, these types of deals are highly sought after by Property Partner members, so sellers are confident they can sell at a premium.
The Property Partner Investment Process
It is important to have a firm grasp of how the investment process works at Property Partner, so below I have listed the main steps that you will need to follow.
Note: Property Partner accepts most nationalities – apart from those of you based in the US. 
Step 1: Opening an Account
First and foremost, you will need to head over to the Property Partner website and elect to open an account. As an FCA-regulated entity, the platform is required to collect some personal and financial information from you.
This includes:
Personal details – such as your full name, address, date of birth, contact details
Tax information – where you are resident for tax purposes, alongside your national tax identification number
Your historical experience with investments
Your net worth threshold
If you are from the UK, Property Partner will attempt to electronically verify your identity. If it is unable to do this through third-party sources, you will need to provide documentation (government-issued ID and proof of residency). If you are from outside the UK, then you will certainly need to provide documentation to bypass the KYC process.
Step 2: Funding Your Account
When it comes to funding your Property Partner account, you now have just one option – a bank transfer. You used to be able to fund your account with a traditional debit card, but the platform notes that this was not financially viable, so it recently scrapped this.
If you're from the UK, Property Partner notes that most transfers are credited within a couple of hours (when going through the Faster Payments Network). Expect to wait a couple of working days if the transfer is being made from an overseas bank account.
You will need to deposit at least £1,000 – and £5,000 if you plan to use the automated diversification service (more on this below).
Step 3: Making an Investment
Once your account has been funded, you are now ready to make any investment.
You have two options at your disposal in this respect, which are:
Manual Investing
If you want to invest on a do-it-yourself basis, you will need to inject at least £1,000 into your chosen deal. You will be selecting which properties you wish to back, so you are advised to spend some time assessing each deal in great depth. For example, while some deals are more suited to those of you seeking higher rental income, others are geared towards appreciation.
Investment Plans
If you don't want to spend the time researching deals yourself, then you might want to consider the Investment Plan. You will need to meet a minimum investment of £5,000. In doing so, Property Partner will distribute your funds into 20 different properties.
Step 4: Re-Investing Your Dividends
As discussed earlier, your dividend payments will be paid into your Property Partner account on the 5th of every month. You do, however, have the option of automatically reinvesting the funds into the same deal. This will increase your stake in the property. You can do this by switching the auto-invest feature on from within your account balance.
If not, you can simply withdraw the funds back out to your bank account. Take note, there is a minimum withdrawal policy of £50. But, if your balance is less than this and you wish to cash out the entire amount, this is fine. For example, if you have a balance of £45 and you want to withdraw the full £45, this isn't an issue.
My Results with Property Partner
I've been investing in UK properties with Property Partner for 5 years and am happy with the results. I've learned a lot about real estate through the various projects I invested in.
Like any other real estate investment, you need to keep in mind that there are market cycles that you might not be able to anticipate. For example, after touching highs in mid-2015, the UK market (especially around London) took a slight downturn and then got a further big hit by the unexpected Brexit results. In 2020 things took a further hit with the COVID-19 crisis. The flipside is that now it might be a good time to invest as we are at a very low point in the valuation of British property, and I can only see things improving from here.
The changing fortunes of the British market didn't really worry me too much as I am in this for the long haul. This is the same concept as those who make long term investments in the stock market. There can be a few bad years, but in the long-term history shows that profits will be had. The British market is very mature and legislation is solid, further reassuring me as an investor.
On the other hand, I've continued to get monthly income through the dividends resulting from renting the properties out, so as a passive income strategy this investment has worked just as expected, giving me a good chunk of monthly income that helps our family get by without neither me nor my wife actively working.
When investing into a UK platform as a European investor, there's also the currency play that you need to consider. All investments are conducted in GBP not in EUR. I use TransferWise to change from Euros to pounds and then send the money off to Property Partner to invest it.
I like the fact that apart from getting exposure to the British market, I also get exposure to the British pound. Around the time of Brexit negotiations the pound had experienced a drastic fall in value compared to the Euro, and I had taken advantage of that drop to put in more capital, with the hope that by the time my properties exit in 4-5 years the pound would have recovered. That would mean that I would not only get the profits from the capital appreciation and dividends from the properties, but also the profit on the exchange between the pound and the euro.
I believe that management is very competent and I have never had any significant problems with any part of the process of buying and selling properties or depositing and withdrawing money.
The British market has of course been affected by Brexit, and London has also suffered from lack of growth as it has reached peak prices over the past few years. Nevertheless, Property Partner's managers were able to take remedial action to keep the platform going and provide profitable investments.
Support
I like to talk about support in my reviews because to me it is one of the most important elements of trust building with a platform. Investing online adds a layer of risk due to the fact that the platform is acting as an intermediary between you (the investor) and the project itself. Without support that you can reach easily and get all your questions and doubts answered, there would be no trust in the platform.
Property Partner can easily be reached by phone or over email or chat. I usually email them with any enquiries, and I have no complaints about their responses. As you can expect, the communication is timely and concise.
Platform Health
As I just mentioned, the risk of having a platform as the intermediary between you and the investment is not to be underestimated. A platform that is inefficiently run can quickly run into trouble, and if the platform goes out of business it will make it harder for the investor to manage his investments and get the money out.
Thankfully, Property Partner is profitable and has also raised over £23 million of venture finance to date from the same people behind other well known online businesses such as Dropbox, TransferWise and Zoopla.
Property Partner Alternatives
Property Partner is the number one platform for investing in UK real estate, in my opinion. However, you might want to invest in other markets in Europe. Here are some other platforms to check out if that's the case:
If you want to diversify your investments across more asset classes, you might want to check out P2P lending platforms like Mintos and Peerberry.
The Verdict?
In summary, Property Partner offers a simple way to invest in the UK real estate market without needing to purchase an entire property. In fact, you can get started with a minimum investment of just £1,000. In doing so, you will stand the chance to make money if and when the property appreciates, and through monthly rental payments.
I also like the fact that Property Partner has an active secondary market, which in theory, gives you the opportunity to liquidate your positions at any given time. This is, however, on the proviso that there is another buyer active in the market that is happy to purchase your shares at your desired price.
With that being said, Property Partner is best suited for longer-term investments, so you should be comfortable locking your money away for a number of years. This is especially the case when you consider the initial 2% transaction fee that is charged on all investments (1% if investing within the first week).
Property Partner was one of the first real estate platforms I invested in, and so far I've been quite happy with the way everything has worked out.
Summary
Property Partner is undoubtedly the number one platform for investing in UK real estate online. The team is very serious and the way they communicate with investors is really the model that all other platforms should follow. Returns might not be the highest in Europe as the UK is a mature market, but you get the seriousness and reliability of a platform run by professionals.
Pros
Great team
Excellent communication with investors
Well-researched properties
Long track-record
Cons
Returns can be lower than real estate in other European countries