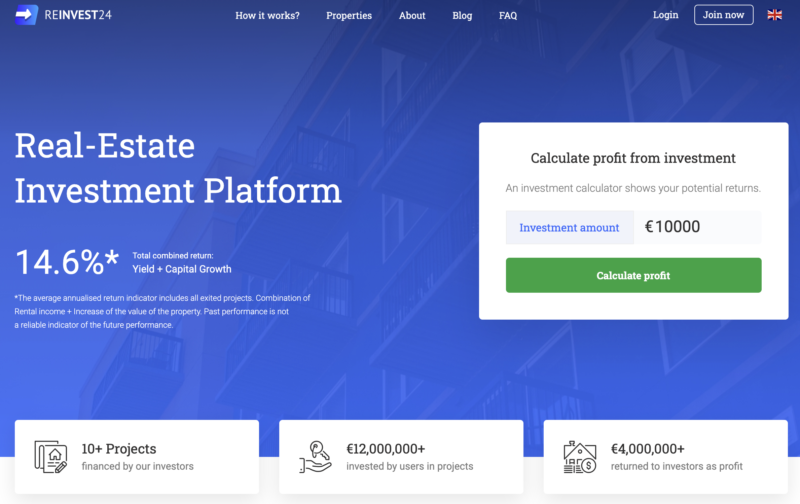 Reinvest24 is a real estate crowdfunding platform that currently specializes in Baltic real estate but is also expanding into other countries including Spain.
The hottest cities in the Baltics at the moment Tallinn (Estonia), Riga (Latvia) and Vilnius (Lithuania). Reinvest24, apart from Estonia-based projects, also offers investment possibilities in Latvia, Moldova and Spain.
They have financed 10+ projects with €12,000,000 invested and €4,000,000 returned back as profits to investors.
I had the opportunity of interviewing the CEO of this platform, Tanel Orro, on my podcast Mastermind.fm, and I found him to be a very likable and knowledgeable person. That is consistent with the impression I had formed of the platform after having gone through their website and invested in a few of the projects available over the past year.
Reinvest24 is one of my favorite real estate crowdfunding platforms, but let's dig deeper to see why I like them.
Real-Estate always was and will be a valuable asset, that is why property investments are considered to be one of the most secure investments. Real-Estate investments have high requirements for legal paperwork and steep entrance fees, and Reinvest24 aim to change that hurdle.
How Reinvest24 Works
Thanks to the crowdfunding mechanism, Reinvest24 allows you to buy shares of residential or commercial Real-Estate collectively with other investors starting from 100 EUR and earn profit from rent and capital growth combined, without limits on investment period.
Here's an example case for how an investor would make money on one of Reinvest24's projects:
You invest 10.000 EUR in a Reinvest24 property with 8,8% Net Yield. The initial share price is 0,1 EUR and there is a monthly profit distribution.
Investment: 10.000 EUR
Net Rental income: 880 EUR per year
Property Growth for 2 years: 1025 EUR
Reinvest24 Commission: 200 EUR
Total NET Earnings: 2585 EUR / 24 months
IRR: 13,9 %
There are 2 ways your investment is working for you and both are happening at the same time:
You get an instant income from the cash flow the property is generating, which is being regularly transferred to your account.
You benefit from the increase of the value of the property. You get this money right after you sell your shares.
A special purpose vehicle (SPV) is a subsidiary company which owns the property titles, and whose responsibilities include the maintenance of the properties and managing tenants. SPV will be incorporated in the same country as the purchased property is located. There can be cases when the SPV is incorporated in some other jurisdictions.
The reason why Reinvest24 is using SPV company for its deal structure:
management of the property expenses
keep each investment separate
minimize the risks
transparency
All properties are kept separately under different SPV companies and if something happens with Reinvest24, the properties and the investments of our users will not be affected.
2 companies are involved in the legal structure – Reinvest24 OÜ, where all users hold funds and choose investments, and Property purchase companies – Special Purpose Vehicles (SPV), to whom the investors give loans for the purpose of the SPV acquiring a property. Property shares will be divided between the investors according to their amount of investment provided.
Available Projects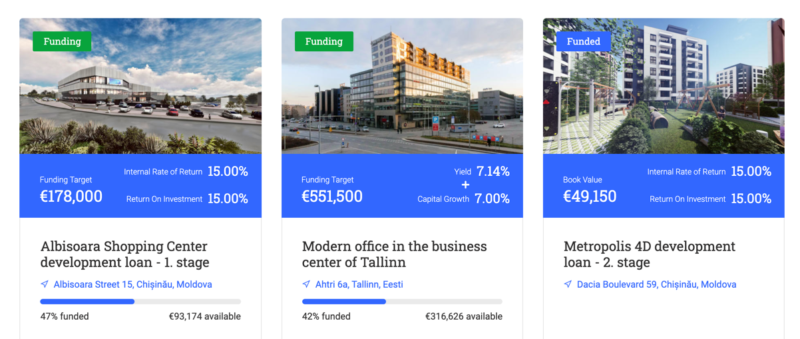 Reinvest24 focus on quality over quantity, unlike other platforms (I'm looking at you, Housers). You are most likely going to find only 1-3 projects open for funding at any point. I don't see that as being a big problem, as I prefer having a platform reject most applicants due to not having the right project fundamentals in place.
While Reinvest24 started off with equity projects, as of June 2020 they have now introduced development loans. Development loans hold a higher risk for investors than rental real estate and this is why Reinvest24 are offering higher interest rates on those projects.
With development loans, you are investing in the company (developer) rather than actual real estate. Therefore the developer's competence to successfully complete the project is very important.
The COVID-19 situation has put some established developers into a position where they need to look for financing from alternative solutions (they usually get cheaper financing from the banks). Reinvest24 sees this as an opportunity to find lower-risk projects with experienced developers. All their current development loans are connected to Kirsan Holding, who is an experienced international developer.
The main focus of Reinvest24 is still rental real estate, but they also want to utilize the opportunity they see on the current market and bring a higher volume of projects to investors, which I think is fair.
The Case for the Baltics
It is a well-known fact amongst real estate investors in Europe that the Baltics are currently some of the hottest areas to invest in.
Below you can find some statistics on Vilnius, Riga and Tallinn, which are generally considered the top cities to invest in within this region.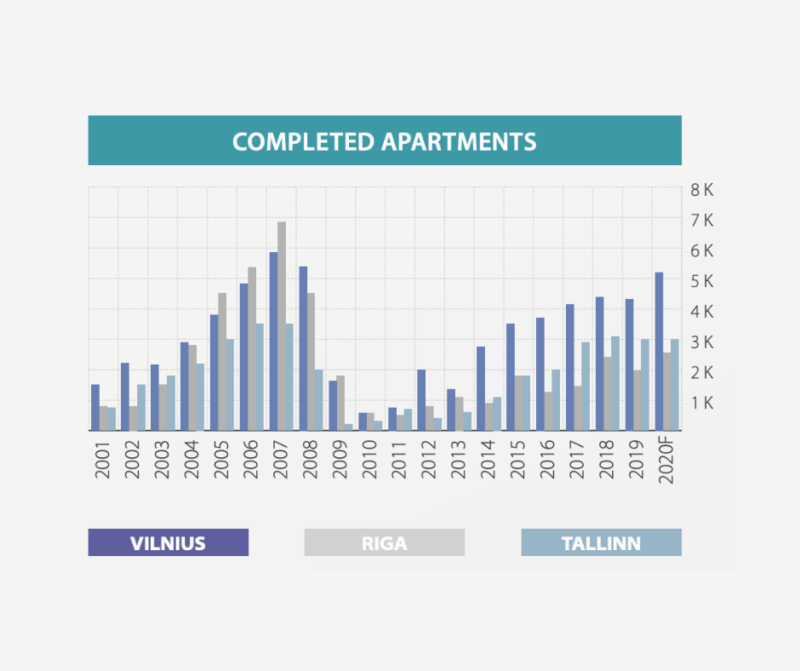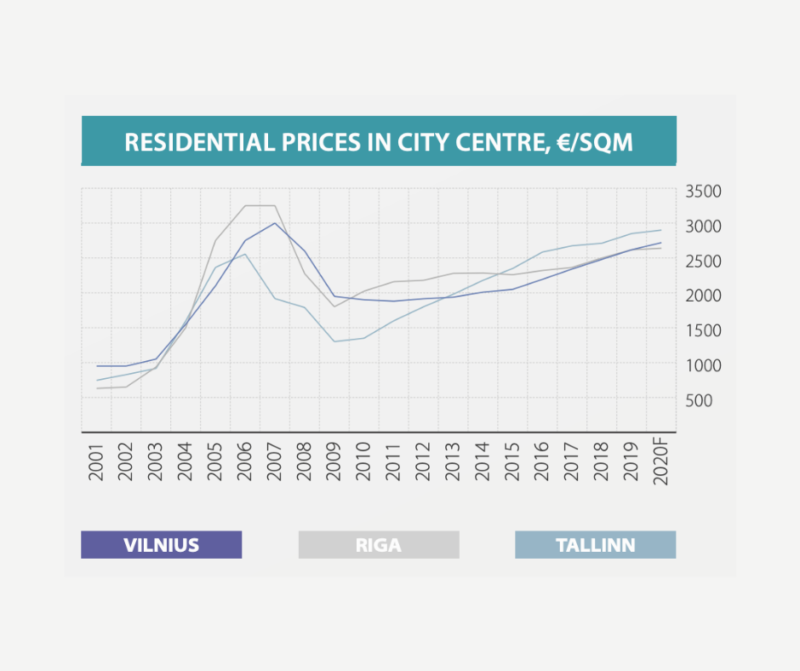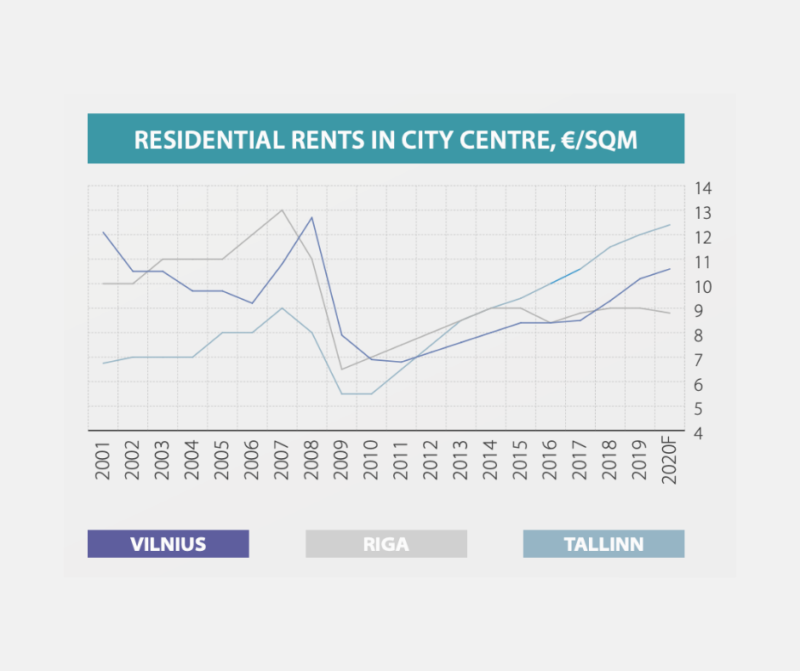 As you can see, things are looking very rosy, and if we consider the overall economic outlook of these countries it all fits and makes sense. We can anticipate further growth as these countries continue to develop, driven by an increasingly well educated and English-speaking workforce, a strong Fintech industry and forward-thinking governments that promote foreign investment and startups.
How to Invest on Reinvest24
Getting started on Reinvest24 is simple. The first step is to create an account and deposit money to the platform by using the IBAN account details given.
You can deposit and withdraw funds to Reinvest24 with minimal fees. There is just a €2 withdrawal fee.
Withdrawals take around two days, and you can expect the same for deposits.
Once the account is credited with your deposit, you can view the available properties, then click "View Project" to get more details about that particular project that interests you.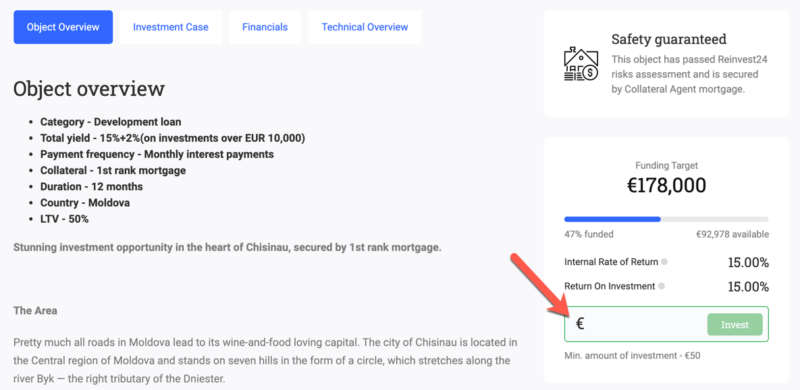 The final step is to actually invest, and that is also very easy. On the right-hand side of the project screen you will find a box that shows the funding target and a field where you can insert the amount you want to invest, with a minimum of €100. Once you enter the sum, just click "Invest" and you're done.
Who is Behind Reinvest24?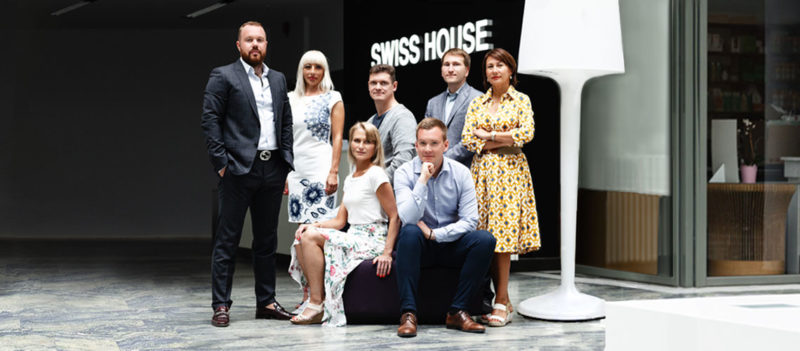 As I mentioned earlier, I had a very interesting chat with CEO Tanel Orro and he definitely knows his stuff.
How Does Reinvest24 Make Money?
ReInvest24 takes 2% from the investment amount to cover property acquisition expenses. ReInvest24 also charged up to 10% from rental revenue generated by the properties to cover various property management related expenses.
Security
The investment is secured by a mortgage held by Collateral Agent in favor of the investors. This makes the process secure and reduces the investor's risks.
Transparency
The platform scores highly in terms of transparency and security. You can find all the necessary information about the properties and contact their support team if you need any additional information.
Liquidity via the Secondary Market
You can sell your shares any time on the marketplace and money with earned dividends will be paid to your account.
Reinvest24's secondary market has been launched in November 2020 as previously promised, bringing you extra liquidity for your investments. Read my report on Reinvest24's secondary market for more information on how you can use this tool to increase your returns and liquidity.
Autoinvest
You can reinvest profit in new projects, diversify your portfolio and let your capital work for you.
My Results with Reinvest24
I invested in two projects so far:
Rental apartments in Tallinn's tech hub
Duplex apartment development in Tallinn's tech hub
The rental apartments project has given me an annual yield of 7.4% and I'm happy with such a percentage for this asset class. You don't invest in such apartment for spectacular results, but rather solid, above-average returns with minimal risk.
The duplex apartment was exited successfully earning me a return of 11.3%. I can't complain about that return either.
Both had strong investment cases that convinced me that the projects would be successful, and they did not disappoint.
How is Reinvest Doing in 2021?
This year continues to be quite turbulent for many platforms on the P2P lending scene. But some are really nailing it and using this uncertainty on the market for growth purposes.
A real estate crowdfunding platform from Estonia – Reinvest24 is one of these examples.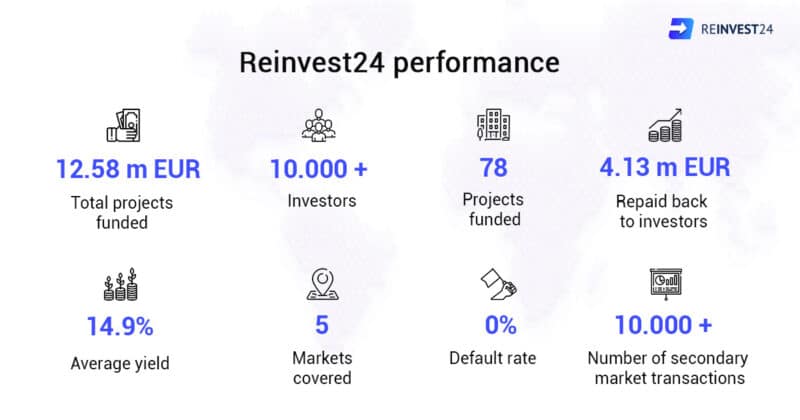 In March, I wrote an article about their expansion to Moldova and my opinion about the market overall. Since then, they announced their first successful project exit from Moldova, an increase of platform's share capital, exited 10 more properties, and announced their expansion to Germany. Quite a lot of news so let's have a closer look at all of them.
The first project exit from Moldova
Here comes their first track record on the new market. I was especially curious to see this happen, as investing in such a developing market can bring a lot of uncertainty due to various factors that I might not be used to. The exited project was Belgrad residential.
It was a real estate-backed loan (when the financing is given to the 3rd parties) that offered an annual return of 15% and LTV 50%, which is quite impressive. Overall, on the platform 3 stages of this project were published and to date, all are successfully exited. The financing was given to complete the final part of the project's construction and it was supposed to take up to 9 months. However, the first principal repayment was done within 6 months. And that's a good sign!

They also published the latest Moldovan real estate market overview. So before investing in their Moldovan projects, I suggest you read that first.
Increase of platform's share capital
In May, Reinvest24 celebrated its 3rd anniversary and decided to strengthen the platform's financial stability by increasing its share capital from 2.500 EUR to 125.000 EUR. I see this development as very positive, and it proves once again that the platform has serious intentions in regard to smart and sustainable growth. To me, the next important development would be some steps towards being regulated. Let's hope that soon we have positive updates on this as well.
More project exits
Apart from 3 Moldovan projects, the Reinvest24 team successfully completed 8 more projects from Latvia and Estonia. In total, they repaid back to investors more than 1.1m EUR. To date, it is the biggest principal repayment the platform ever made during a 1-month period. You can find more information about every exit in their blog section.
I was personally investing in Bauskas development and Belgrad residential projects.
Expansion to Germany
The most surprising news was the announcement of their expansion to Germany. After Estateguru, it is the second platform from Baltics to enter this market.
Their first project is a rental property. It is located near the Polish border in Eberswalde, which is 50 km from Berlin. The project will come in 5 different stages (one project per floor).
It offers a rental yield of 6.5% and a planned final yield of 12% (including 6% capital growth on its exit). The target return should be achieved by increasing the value of the property that is currently being renovated. The property will be sold again in two years if everything goes as planned.
I also asked a couple of questions to Reinvest24 and here are the answers:
"We looked for a long time in the direction of the German market. We also have several potential markets in mind, and when a good offer comes in, we dive deep into the project and the market as such. It took us over half a year with Germany to negotiate the Eberswalde project and agree on the terms. To be honest, Germany has always been one of our main countries to expand our activities, but we waited for a bit. I believe it is because last year we did a tremendous amount of work to improve the platform, its reputation, its financial stability, transparency, and the products it offers. We are also closely following the development of the rental property market in Germany and see that now is the most interesting time for our expansion.

So far, we have a representative in Germany who takes care of the entire legal part and manages the project, but overall, we are preparing to open a branch there soon. " – Reinvest24 answer
If you are curious to learn more about the German real estate market and Reinvest24's decision to expand to it, here is their recent article about all this. In it, they also cover the recent changes in Berlin's rental cap law, which is for sure an interesting topic, when we talk about the German real estate market.
Right now, Reinvest24 has interesting projects available from Germany, Moldova, Latvia, and Estonia. Two from this list are rental properties that are worth looking at.
As always, I'm curious to follow the developments of this platform as it seems it finally gets the deserved attention.
1% Baltic Cashback
If for any reason you haven't tried Reinvest24 yet, this could be the best chance to give them a try. Currently, Reinvest24 offers Cashback to the account of every user who invests in Baltic projects via the primary market during the period from 19.07.2021 until the end of summer.
Reinvest24 Alternatives
Reinvest24 is one of my favorite real estate crowdfunding platforms in the Baltics, but you should also be looking at other platforms if you want to diversify your investments geographically. Here are some others to check out:
If you want to diversify your investments across more asset classes, you might want to check out P2P lending platforms like Swaper and Peerberry.
Conclusion
Unlike other platforms, these guys don't focus on rapid growth, but prefer to do things right and select excellent and low-risk projects. I like that because it shows that they care about the quality of the product and are building something they can invest in themselves.
Unfortunately, we are seeing a lot of platforms run by IT entrepreneurs (with no real estate experience) and backed by people with money, where the primary end goal is to grow fast and either be acquired or provided huge returns to the founders and investors. This is not the way to build a long-term platform and act responsibly towards investors.
I don't see this problem with Reinvest24 so they have become one of my favorite real estate crowdfunding platforms.
Another thing I like about them is their insistence on the SPV model, where we investors own shares within the company that in turn owns the project. Other platforms take the easy route of raising money for loans to developers, which end up being much riskier and harder to evaluate.
Summary
A smaller player in the crowdfunded real estate arena, however, I like this team as they want to do things the right way. They refrained from chasing rapid expansion into geographical areas they don't have the expertise in and have instead focused on obtaining good results within their areas of competence before moving on to bigger projects and other countries.
Pros
Excellent team
Projects are performing well
Focus on quality not quantity
Good secondary market
Cons
Yet to prove themselves in the newer markets they have entered, such as Spain.