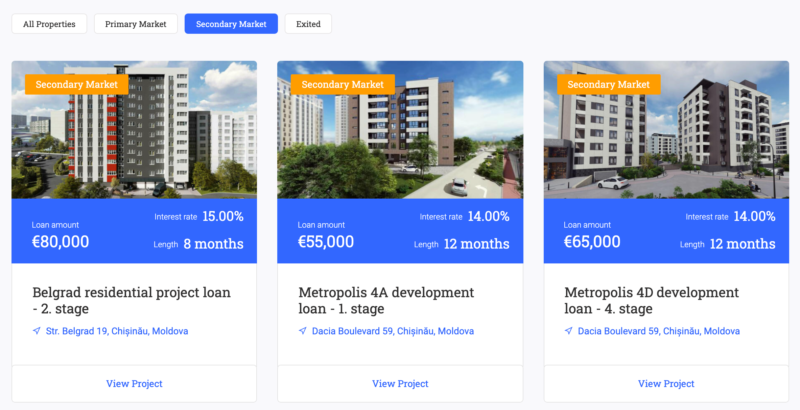 On the 19th of November 2020, Reinvest24 launched its secondary market. I had a chance to test it before it was officially launched and also to benefit from the first deals when it went live.
Today I have prepared an overview of this new feature, explaining how it works and how you can use it for your benefit.
What is Reinvest24?
In case you are new to my blog and wondering what Reinvest24 is – it is a real estate crowdfunding platform that currently specializes in financing real estate and development projects. Besides, it is one of my favorite real estate crowdfunding platforms.
There are 2 ways your investment is working for you and both are happening at the same time:
You get an instant income from the cash flow the property is generating, which is being regularly transferred to your account.
You benefit from the increase in the value of the property. You get this money right after you sell your shares.
Read my Reinvest24 review and learn more about how you can start earning up to 15% by investing in real estate projects.
How does it work?
The Reinvest24 secondary market was promised to us for quite a long time and now it is finally delivered. The team has prepared a step-by-step guide where you can find more detailed information about how it works so let's not waste any time and jump to more interesting insights of it.
How can you benefit from this new feature?
Let's take a closer look at how you can benefit. The secondary market can be used in many ways. Some are looking for better liquidity and to exit the investments whenever they want, some might want to earn additional returns from buying the discounted shares of projects or for selling at a  premium. Or maybe even get the part of the projects that are not available any more on the primary market. The options are many.
As I try to eke out the most efficiency from my investment strategies, a secondary market is always something I look at since it provides opportunities for boosting my returns.
Taking into account that the minimum investment on the platform is 100 EUR, previously I needed to either wait until my account balance reached 100 EUR or withdraw it. And before reaching 100 EUR, the money was kind of locked and not working for me. And now I'm able to reinvest even 1 EUR, therefore adding more ROI to my portfolio.
My experience – How 24% ROI can be achieved
After it was launched, I was curious to see how investors will react. Will they start selling no matter what the price is in order to exit the platform as soon as possible or on the other hand sell the property shares at a premium?
The latter case was what happened. Now the greatest majority of shares available come with a premium. Some even come with a 1000% premium, see the screenshot below: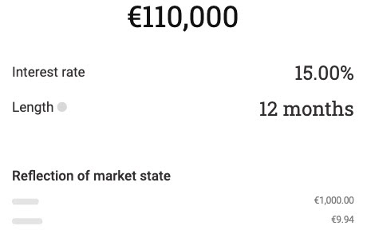 Taking into account that the maturity of Reinvest24 projects are up to 3 years long, I was expecting that during the first days some investors might be willing to exit the projects with longer investment periods, thus offering some nice discounts.
And you know what, I was right. When exploring the shares available I noticed that some shares of the project Modern office in the business center of Tallinn were available for 0.90 EUR per share. It means that they come with a 10% discount.
Well, I didn't think twice and purchased them. Unfortunately, I wasn't able to buy all of them as some investors probably had an eye on them as well, but I was lucky to get the last 505 shares.
From where do I get the 24% figure, you may ask?
Let's make some calculations. The total estimated yield for this project is 14.14% (from which the rental yield is 7.14% and estimated capital growth 7%) and together with a 10% discount that gives me 24.14%.
So, if I keep the shares for one year from now, in the end, my return on investment will be 24.14%.
Any unique features?
The secondary market of Reinvest24 is a very interesting solution. It's simple and at the same time, it's more advanced than any other solutions I've seen. Besides, it is possible to buy and sell shares in any amount and they are presented in pools, which is fair for sellers because the shares with the highest discount are sold first. The obvious benefit is that if you want to sell your €100,000 investment, you can do this in one step, and 100 different investors can buy you out.
When it comes to commissions, they are the same as in the primary market. So, it is 1% for buyers and 0% for sellers, which I find great, as other platforms charge up to 2.5% for selling. In addition, the selling period is unlimited so you can earn interest and have your shares on the market at the same time.
Conclusion
I'm pleasantly surprised by Reinvest24's secondary market. Yet again this is a case where this platform has in the past admitted that the lack of a secondary market was a downside while promising to deliver a non-rushed product that would satisfy the most demanding investors. I like the fact that the management of Reinvest24 is humble and likes to take its time to deliver a quality product, rather than focus exclusively on growth and attracting more investors and loan opportunities without paying any attention to due diligence.
The secondary market tool helps you benefit in many ways and earn pretty nice returns when investing in secured real estate properties. And if the situation on the market is monitored from time to time, you can expect to receive additional returns that in total could be even higher than 24%. So, it looks that the possibilities are aplenty, the rest is in each investor's hands.
However, I would like to see more filters added in order to see my returns in a more user-friendly way. The team informed me that some filters will be added soon. Overall, I believe that the secondary market will open new opportunities for the platform and us investors therefore it is interesting to see how Reinvest24 will develop in the long run.