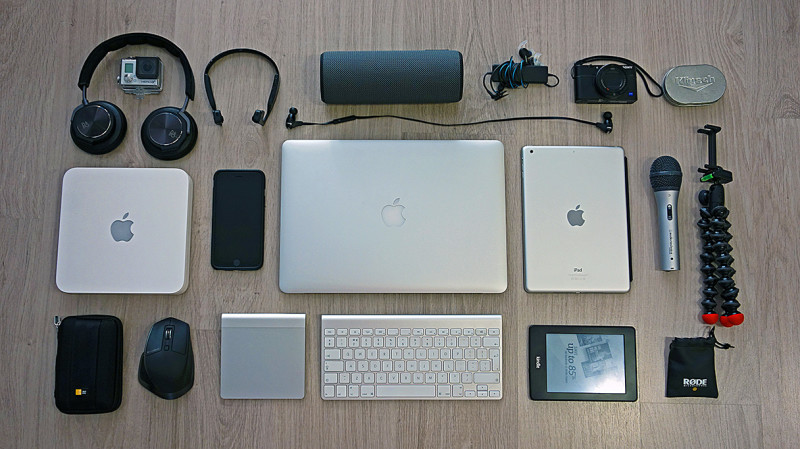 This is the hardware that makes up my portable office. These items are all I need to run my business from wherever I am around the world. This year I am doing less traveling however I have still kept a minimal set up. The only non-portable addition was a Dell UltraSharp U2715H 27 inch monitor which I have found very useful when I'm at my home base. An Ikea Bekant table and Markus chair complete my low-cost home office setup.
There are several important changes and additions from last year's setup.
The biggest change was my move away from Android to iOS. In last year's setup review I had mentioned that I was already thinking of making the move after having played around with my wife's iPhone. One of my goals this year is to become proficient in iOS programming, hence I needed to get myself an Apple phone to be able to test my apps on and get more familiar with the app ecosystem in general.
One of my pet peeves with phones is the small keyboards they have, so when I tried the iPhone 6s Plus I immediately fell in love with the device. Of course, the keyboard size is just one of its advantages, especially when compared to my previous humble Nexus 5. The battery life and photo quality are incomparable. I'm very happy with this purchase and definitely can't see myself going back to Android in the future.
Another important change was the move from the Macbook Air to a 15″ Macbook Pro. The reasons for the switch were the following:
more processing power,
a dedicated graphics card (I use it for light gaming)
much better display (Retina)
bigger display (15″ vs 13″, I found it better for productivity)
The Macbook Pro is of course slightly less portable as it is heavier and bigger, but in practical terms this did not make much of a difference to me. Since I am traveling less this was a lesser concern this year. For working in cafes the Macbook Air was much handier, however I am now using the iPad combined with a bluetooth keyboard in cafes rather than the Macbook. I mostly do writing in cafes and libraries, and iOS can handle that work just as good as OS X. I have in fact been tempted to upgrade to the iPad Air Pro but haven't taken the plunge yet. Maybe later this year.
Without further ado, here's this year's setup. New items are in bold. Wherever I replaced an item from last year's setup, the replaced item appears crossed out. That way you can easily see what upgrades I made.
The Macbook is where all the serious work gets done. I also use it for entertainment purposes, hooked up to the TV for gaming (FIFA mostly) or for watching movies and series.
The iPad is part of my morning routine. While having breakfast I briefly check some sports news and spend the rest of the time either reading a book (via the Kindle app) or watching padel matches on YouTube.
During metro commutes I usually go through the saved articles on Pocket or listen to a podcast. Both of these activities are done on the iPhone of course.
I use the Kindle exclusively for books, since all articles are consumed on the iPhone or the iPad.