As the world of games/entertainment/fun and money continue to merge, NFTs are possibly the most accessible way for the average person to participate in the crypto space, enjoy themselves, and make money.
However, make no mistake, the NFT traders who consistently make profits are doing it on a professional level. They have a lot of knowledge of how NFTs work and what drives their value, and most importantly, they have the right tools at their disposal.
I've spent countless hours analyzing projects and trying out various tools to try and gain an edge in the market.
In this article, I'll focus on NFT trading and analytics tools and why you need to use them if you hope to make money as an NFT trader.
Luckily, since all data related to NFT transactions is publicly available on the blockchain, we can have a very accurate picture of market conditions, provided we are using the right tools and we know what to look for. In that sense, the NFT market is very transparent and doesn't give anyone a significant advantage when compared to the rest of the players.
As for tools, you'll find a good mix of free and premium tools. I would recommend you pay for the tools you need, they usually more than pay for themselves within a few days if you're an active trader. Even if you aren't active on a daily basis, they will help you avoid costly mistakes and help you do enough research so as to allow you to invest in a project from a very informed position.
Remember that before you dive into the specialized tools I mentioned in this post, you should really be following conversations on Twitter, Discord, and YouTube, where most NFT platforms and enthusiasts spend their time. Oftentimes spending time on these platforms is what enables you to reach conviction about a project. Then you can follow that up with the tools to find the right tokens at the right time.
Read more about how to evaluate an NFT project, I share all the key indicators I use in that post.
Token Trackers
Token trackers are the most direct window into a blockchain and all the token transactions that are happening in real-time, as well as all historical transactions that have ever been done. As the blockchain is open, you can look up any transaction or address and view all the details about it. Token trackers also give us the ability to read smart contracts, which is important if you want to audit a contract before interacting with it, or if you simply want to take a look under the hood and check a few important parameters about a project.

Etherscan is perhaps the most technical tool in this list. It's a block explorer at its essence, allowing you to view the details of any transaction that goes onto the Ethereum blockchain in real-time. It also offers a token tracker for any Ethereum based tokens, and it provides access to all ERC-721 token (the non-fungible token standard) contracts.
The latter is useful, for example, if you want to mint NFTs directly from a project's contract. I've sometimes gone down this route and many advanced NFT traders prefer to mint this way as they can verify that the contract is the right one, and fees might also differ slightly.
I highly suggest you learn how to read a smart contract if you're going to be getting serious about NFTs. I discuss smart contracts and other technical details of NFTs in my podcast episode with Jalil from PunkScape.
How to read a smart contract—and why you'd want to in the first place. 🧵

— Chris Cantino (@chriscantino) January 9, 2022
One frequent use case for Etherscan for me is to check the gas fees paid by myself or other NFT buyers. The amount of these fees can really make a dent in the potential profitability of any flips, and you should really learn how to control gas fees parameters in MetaMask if you are not already familiar with those settings.
I also like to use Etherscan to look up a token's metadata. For my NFTs, I like to ensure that the image associated with the NFT is either stored on-chain (rarely the case, except for a few notable exceptions such as Crypto punks, Nouns, and Chain Runners. I also like to check if there is any mention of the license within the contract itself. Although most NFT investors don't care about the license of the NFT they are buying, I give a lot of importance to it, and seeing it hard-coded into the contract gives me a lot of assurance about knowing exactly what I'm buying into. I haven't yet seen this in any project I've looked at, but I hope it will become more common in the future.
Most if not all of the tools I will be referencing in this article can be thought of as a more user-friendly interface built on top of Etherscan, and many of them use the APIs provided by Etherscan to feed their tools with the latest data.
Analysis Tools
By analysis tools, I mean tools that allow me to get a nice overview on the overall state of the market, or to look into the numbers behind a particular collection. These are essential tools for every collector and NFT trader and you should use them daily. In my ideal setup, I'd have a few monitors constantly displaying some of my favorite dashboards.

This is possibly the most well-known tool when it comes to free NFT analytics. It's a free tool that makes complex queries more accessible to the non-technical person and handles all the background tasks of actually fetching the data. So all you need to do is play around with that data and build a dashboard that suits your needs. You can also customize other people's dashboards.
For example, you can take the Interactive NFT Floor Tracker dashboard and set up all your favorite projects so you can then easily track their floor prices.
Having said that, it's not exactly beginner-friendly, you will need some querying skills when building a dashboard of your own. On the other hand, most projects already have user-built dashboards, so you can just find a ready-made dashboard and use it in most cases.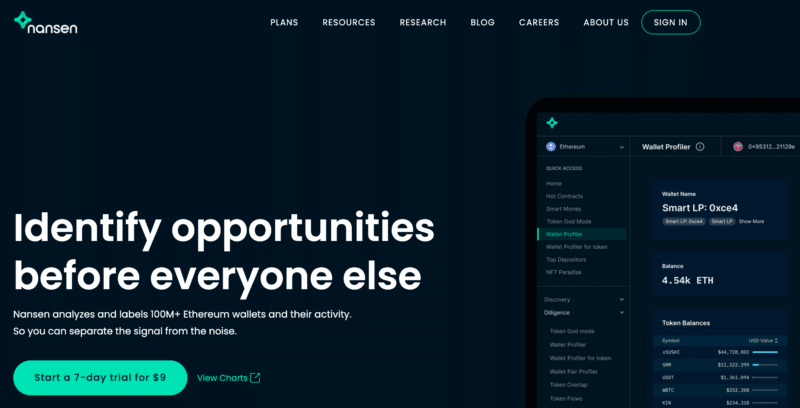 I consider Nansen to be the industry-standard analytics tool in the Ethereum space, but it's squarely aimed at professional investors and traders. The pricing reflects that, and you need some skills to use it as well, since it's a generic tool that is not tailored specifically for NFTs.
This works like a regular web2 web app, so you'll need to subscribe to one of the three available tiers and pay monthly or yearly in USD or crypto. The standard tier costs $149/month, VIP is set at $1,490 and Alpha is subject to a waitlist and costs $3,000/month. For most people, Standard is sufficient, but then you hit some limits really quickly, for example, you can only have 3 custom smart alerts. For NFT traders, this really is a big limitation as they typically like to follow many more wallets and contracts to see what the big guys are doing before the market realizes it.
Apart from these gripes, this really is a super polished analytics tool, and you'll find good research pieces and a blog on their website as well. As you'd expect, they also have a Discord server, although it's pretty quiet, especially for NFTs, so I wouldn't say it adds much value.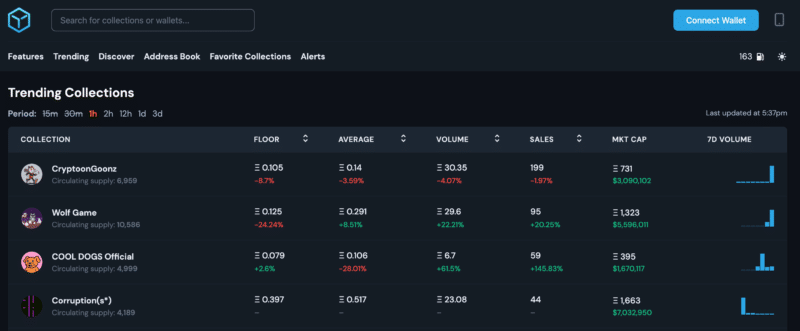 This is possibly the closest analytics tool to Nansen. It's more specific to NFTs and significantly cheaper.
You can either buy a weekly pass or buy an ICY Founders Club NFT that gives you lifetime access, plus you can trade it on OpenSea. Login is in typical web3 fashion, so you'll need to connect your wallet in order to get access to the premium features.
As a free user, you can get a taste of what the tool can do, but it really comes to life once you're on a subscription or hold the Founders Club NFT.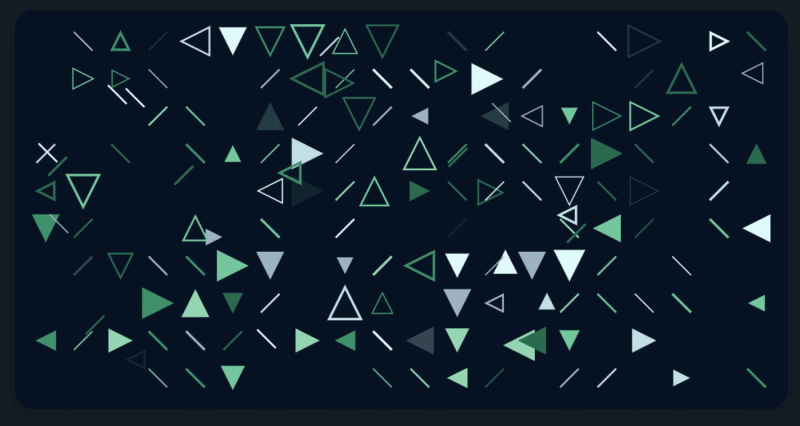 The ICY Founders club consists of a collection of 1,700 generative membership cards that the 1,649 early access buyers lifetime access to icy.tools with a transferrable NFT. The remaining 51 will be used for promotions and giveaways in the coming months and years.
The ICY Tools Discord server is a valuable resource for people using ICY Tools, and even more so if you hold a Founders Club token. Only those holding the token will be able to gain access to the Founders Club channels. Access is granted automatically once you connect to the server using the wallet that contains your membership card. The server uses Collab.land for verification, so there are no security concerns when connecting.
The community is fantastic and is a perfect learning resource for anyone who wants to take NFT investing seriously and use tools to their maximum advantage. Keep in mind that the NFT space moves extremely fast, and one of the best ways to ensure you become successful as an investor is to get information fast, or to have superior data at hand compared to the rest of the market. The ICY Tools app coupled with the Discord community gives you both of those elements.
Moreover, as I mentioned, ICY Founders Club tokens are tradeable on OpenSea, and I expect them to rise in value as the NFT space grows and more features are added to ICY Tools. I really like the artwork, even though that is not the main feature of this NFT of course, so that's another bonus. You can use them as your background banner on Twitter or other socials, for example, and they come with a number of traits and rarity levels, which you can rank and compare on Trait Sniper.
One other benefit of the Founders Club NFT is that you get a say in what features get developed next. By holding the NFT, you become a stakeholder in the success of the project, therefore aligning you with the incentives of the developers. It makes sense for the holders and developers to work together to ensure everyone's needs are covered.
The Discord community server has many channels where you can glean alpha on new projects, be alerted of new mints and upcoming drops, get access to whitelists or ask questions and discuss relevant topics. Honestly, access to all these channels are enough to justify the club token's cost, even though the main product is the app. It's just a no-brainer for me to get the lifetime membership.
I use ICY Tools as my home screen for getting a bird's eye view on whatever is happening in the NFT space. This is mainly done through the Trending Collections screen.
You'll usually see a mix of just launched projects along with others that are experiencing a surge.
One of the things I personally like to keep my eyes on is the latter. I have a list of projects that I'm invested in and love on a fundamental level, so when I see one of them spiking, it's a good indicator for me to buy more and ride the wave. In these cases, I don't really need to do much due diligence as I would have already done that previously. I would just have a look to see what's causing the pump (a quick trip to the Discord server is usually enough), before I actually pull the trigger.
As a premium user of ICY Tools, you'll get the 15m and 30m time periods. In my opinion, these are essential as the NFT niche moves at breakneck speed, and a few minutes can make a big difference, especially if you're trying to snipe great deals around the floor price.
When you're looking at this screen, you need to keep an eye on how the projects are sorted. By default, they are sorted by the number of sales, which is not that clear at first glance. Over time, as you become an experienced NFT trader, you will develop your own rules and strategies. For example, you might not want to consider projects below a certain floor (most likely due to the impact of gas fees) or vice versa (maybe if you are looking for outsized returns). Volume is also an important factor. Hopefully, you know that NFTs can be a very illiquid asset to own, so more volume means a better likelihood that you will be able to pull off the trade you have in mind.
I like to click through the various time periods to compare and contract project activities. If you're looking at the very short time periods, you might encounter projects that are just minting, experiencing a floor sweep, or otherwise being manipulated, whereas the longer periods give you a better picture of whether a project is experiencing sustainable growth, or conversely consistent declines.
Again, you can also pay by the month but I'd really recommend the lifetime membership if you can get hold of one.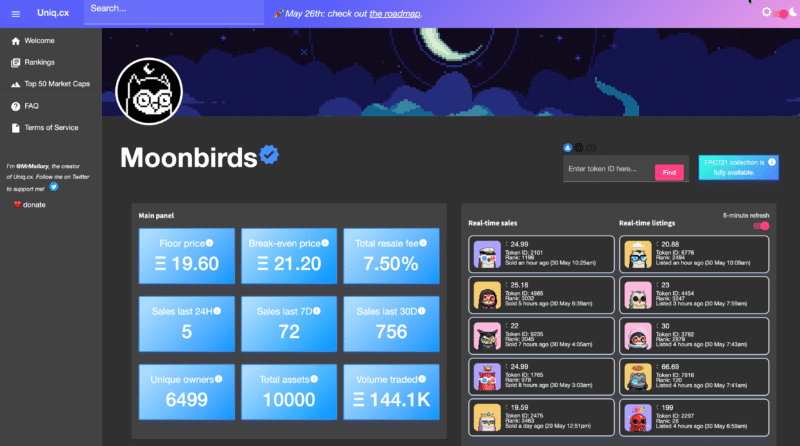 Uniq is a free tool that has a lot of interesting statistics on projects that can be used as cues to enter and exit positions. In a sea of copycat tools, this one stands out for being completely free and for providing some interesting data points that are not available on other tools.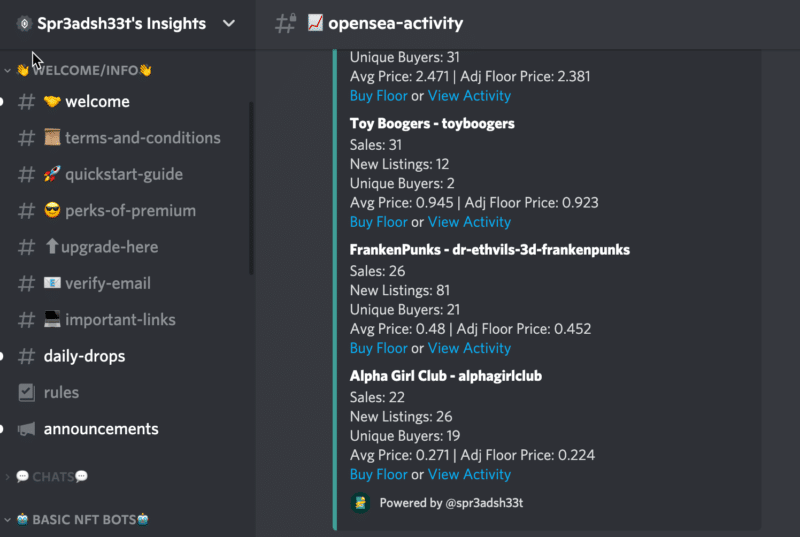 BAYC holder and bot developer Spr3adsh33t is behind this unique project, that relies on Discord bots to provide the analytics that NFT collectors and traders seek. Discord bots can be quite powerful and for those NFT traders that spend most of their days roaming around Discord, it's super comfortable to have access to analytics right within Discord.  The best way to understand how the Spr3adsh33t's Insights Discord server and bots work is to check out the Quickstart Guide.
The premium membership to the Discord server costs $20 per month or $200 per year.
The bots can also be rented out to alpha Discord servers, so reach out to Spr3adsh33t if that's something you're interested in.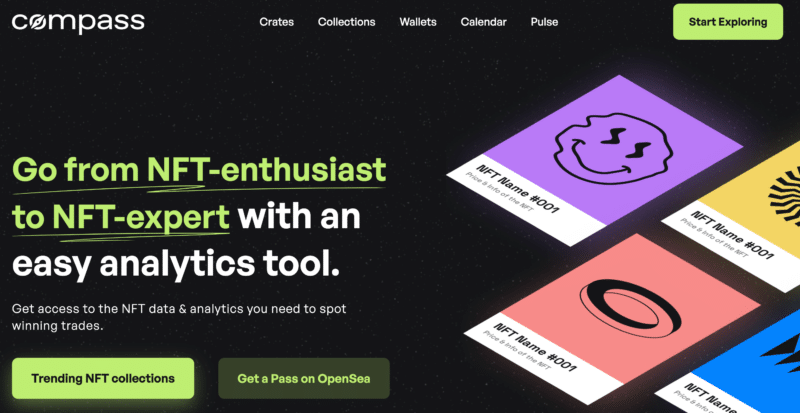 Compass is an alternative to ICY Tools, with a lifetime pass that can be purchased off OpenSea, or pay-as-you-go options. The interface is one of the best I've seen among NFT analytics tools, and the features work as advertised.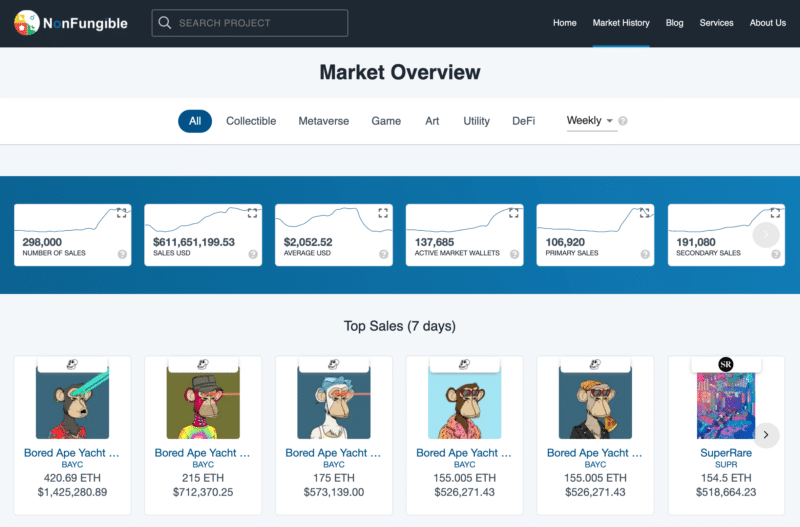 I like keeping an eye on the Market History area of this site, as it gives me a very good overall picture of the NFT space during the past week. I can quickly see what the top sales were, and more importantly, whether market volume is trending upwards or downwards, as well as which projects are doing really well.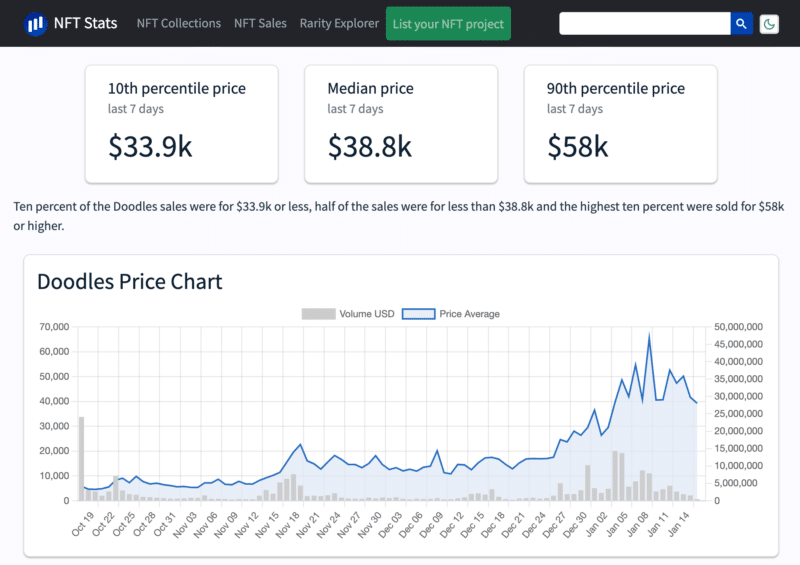 NFT Stats includes a lot of free and easy-to-read data about NFT collections, including sales charts and a rarity explorer. I like to keep an eye on the pages of the biggest projects I'm invested in, as it easily shows me some important data like the overall price and volume chart as well as the top-selling items in the last 30 days. Here's the Doodles project page, as an example.

Moby offers real-time NFT minting insights, wallet watch lists, instant notifications and price trends.
I see it as somewhat of a competitor to ICY Tools, but to me Moby is not yet as useful as its main competitor.

Artacle's uniqueness stands from the fact that it is the only tool I know that caters to generative art, a niche of the NFT world, that I feel will be growing a lot bigger in the coming months and years.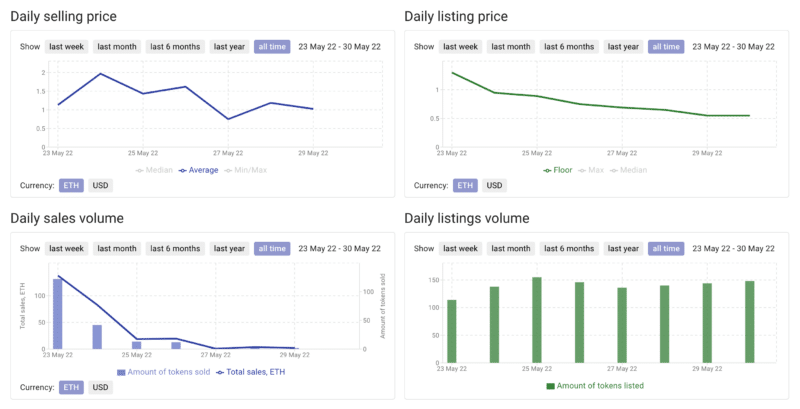 I especially like using Artacle to explore Art Blocks collections. If you know any other tools that help in analysing generative art drops, do let me know in the comments section below. So far, Artacle is the only usable one I've found.
Discovery Tools
It is a known fact that the biggest profits accrue to those who go in early in projects, especially if they manage to do mint their tokens and not buy on the secondary market. This requires you to know exactly which are the best upcoming projects well in advance, giving you the time to study the artwork/utility, get involved in their community, and possibly get on the whitelist. This is the area where I feel there is the most noise and is dangerous territory for new entrants, as they typically don't know how to evaluate projects. Given that they don't even have the volume and floor price reference that builds up when a project is already trading on the secondary market, the discovery stage can be really hard to figure out.
Perhaps unsurprisingly, while there are a number of tools to help us out, this remains one of the most human-intensive parts of the job, and while I own and use the tools below, I'd really like to see them improve as I still spend too much time on this work.

Cryptoscores is my favorite project discovery tool. Before discovering Cryptoscores, I never used such tools as they were too noisy for me, and I am very well-connected in the NFT space, meaning that it is very rare that I miss any upcoming good NFT drops. However, now that I have Cryptoscores, I check it daily. The upcoming projects list gives me an idea of where the space is going, and which types of projects are launching. But more importantly, it's not just a firehouse of upcoming projects. The team behind Cryptoscores have a background in data mining and statistics, which enabled them to produce a tool that is great for NFT quantitative analysis.
You can see some of these innovations in the upcoming mints section. Whereas other calendar websites just blast you with an infinite list of unsorted projects, Cryptoscores applies some algorithms on each project to find out which are most likely to sell out and gives them a rating. You can then use these scores to figure out which ones you want to spend time researching and trying to get whitelist for.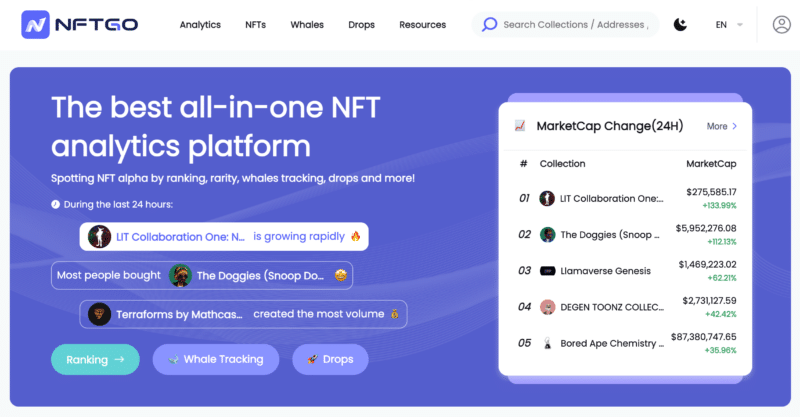 I'd say that NFT Go is another take on discovery. This website adds several layers of context to the usual analytics that you'd expect to find, for example, whale tracking, drop curation, and a very nice dashboard that gives a user-friendly snapshot of what's happening in the space. I also like its portfolio/address analysis page. Another very cool page is the profit leaderboard.
The very top of the homepage gives you a 30-second update on what's happening in the past 24 hours, so it's a good thing to check at the start of your day.

This is a site that showcases upcoming NFT-related events and NFT drops. It also provides news and big announcements, as well as the possibility to subscribe to a very decent newsletter.
NFT Calendar is another similar website that is just a real-time list of upcoming projects. The problem with these kinds of websites is that they are not curated and thus a new person to NFTs wouldn't be able to distinguish the good from the bad in most cases.
Even worse, they are usually filled with promoted projects who pay for the top spots. Low quality or scammy projects are the ones primarily incentivized to use such sites to promote their drops as they rely on pre-release hype to make their money.
I prefer NFT Evening over NFT Calendar due to the fact that it at least offers some beginners guides about NFTs for newcomers and filtering facilities. For example, you can filter just upcoming conferences, or upcoming metaverse NFTs.
Automation Tools
Trading NFTs can be very time-consuming, and it can also be a very time-sensitive job. By having things automated, you can go to sleep, knowing that you've already set up a bot that will do your bidding while you take a rest, spotting and snapping up good deals according to the parameters you had previously set.
NFT Pirates is an OpenSea bidding bot. Unfortunately, this is a Windows-only tool, so if you use a Mac you're out of luck unless you're familiar with setting up a Virtual Machine to use this tool.
While there are many traders using such software (I receive tons of automated offers below floor for my NFTs daily), it was surprisingly difficult for me to find a decent one for sale, in fact, this is the only one I found so far that delivers on its promises.
So how does this work?
There are two pieces of software you can buy from NFT Pirates – a Bid bot and a Sniper Bot.
With the Bid Bot the idea is fairly simple. The goal is to get a discount on the floor price. So you use the bot to make multiple automated bids on many tokens of a project, all below floor. If a holder gets shaky feet, your offer might be enough to tip him over into selling to you at a great price. This is known as paper handing in the NFT space.
Pricing for the Bid bot range from 0.75 to 2.5 ETH, with the higher tiers including 1 on 1 Support and Mentoring, which is incredible for those who are just starting out.
The Sniper Bot, on the other hand, is used to immediately purchase any listing below a certain price. There are many holders that question the ethics of using such a bot, but it is totally legal and not against OpenSea terms. The reason why these bots are so disliked, is that their users regularly get incredible deals when people fat-finger their OpenSea listings. For example, you will find many stories of BAYC holders forgetting a digit when typing in a price, for example putting in 7 instead of 77 ETH. A sniper bot, set to buy anything below the BAYC floor (say 50 ETH) would immediately buy that 7 ETH listing without giving the holder the chance to realize his mistake and cancel the erroneous listing.
Pricing for the Sniper bot range from 1 to 1.95 ETH, with the higher tiers including 1 on 1 Support and Mentoring, which is incredible for those who are just starting out.
Rarity Tools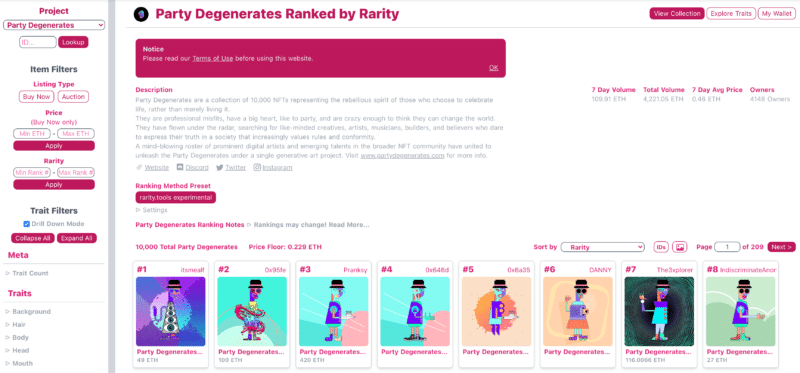 This is the most famous rarity tracker. It is so well-known that new projects actually pay to get listed there, as it serves to give exposure to a project. As an interface, it's not my favorite, but since many projects collaborate directly with the platform to release their rankings, it is often the most accurate tool to get the rarities checked.
Unlike Trait Sniper, Rarity Tools is not useful for new projects when you want to snipe mispriced items, as new collections typically appear several weeks after launch. Rarity Sniffer, Golom, and Moby are similar sites.
Sniping Tools
Sniping is perhaps the most exciting aspect of being an NFT trader. I've always loved finding good deals, and tools like the ones below make it very easy to dial in the parameters to find the best deals on the market. Professional NFT snipers use these tools mainly when a project reveals, as they want to be among the first to find rare items, buy them up, and immediately put them back on sale at a healthy profit.
For long-term collectors like me, on the other hand, these tools are still handy. While all the data they show you is available on OpenSea itself, they repurpose that data to make it easier to find deals and understand what's happening on a second-by-second basis.


Trait Sniper is an essential tool if you want to access rarity rankings right after a project's reveal. While there are many such rarity trackers, this is one of the fastest in getting new collections online. The Discord channel is very active, so you can report bugs or request your favorite projects to be analyzed, and the founders will get back to you in no time.
The main use of this tool, as the name indicates, is to snipe mispriced NFTs. That is why it is so important to have the rarity ranks shown as fast as possible after reveal, before holders have the chance to realize that they hold rare items and adjust the sale price on OpenSea.
Their Discord server is a great way to learn your way around sniping. You will see other snipers sharing their profit-sharing screenshots on a daily basis so you can learn from the strategies they used. There is also a daily calendar, reveal alerts, and all the other features you'd expect from a community that is focused on putting you in the best position to snipe the best deals.
If you have a good amount of ETH and you're interested in sniping, this tool, like many others on this list, will easily pay for itself within a few days providing you put in the work to study and and be there when projects launch. Sniping on project reveals, unfortunately, is not something that can be automated. There is a lot of human subjectivity when sniping, but that's why I like it, as once you're competing with automated bots, it's hard for anyone to make profits. When you need to use your research skills, it's more likely that you can get some type of edge over others and nail consistent profits.
Logging in to the app is done using your wallet, and subscriptions cost 0.2 ETH for 1 week and 0.65 ETH for 30 days. There is no lifetime option, unfortunately.
Lastly, Trait Sniper also has a downloadable Chrome extension available, which is immensely helpful to me while I browse OpenSea. It shows the current floor price and also the rank of an item. These details are overlaid onto the normal OpenSea display for convenience. You can also use the extension to calculate the value of your portfolio based on floor price.
Trait Sniper | Discord | Twitter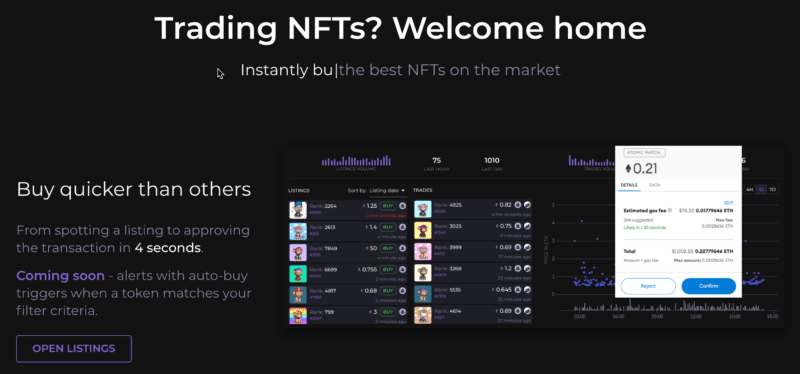 This is another essential tool for those who take trading NFTs as serious business. It was built by mathematicians and coders who aspire to create the best tool in the NFT space. Having provided substantial feedback to the team, I can verify that they are very enthusiastic and keen to incorporate new features requested by their users.
Unlike Trait Sniper, which frequently requires the user to ask the team to refresh a collection to get the latest data, NFTNerds charts are always a reflection of live conditions; syncing happens automatically under the hood.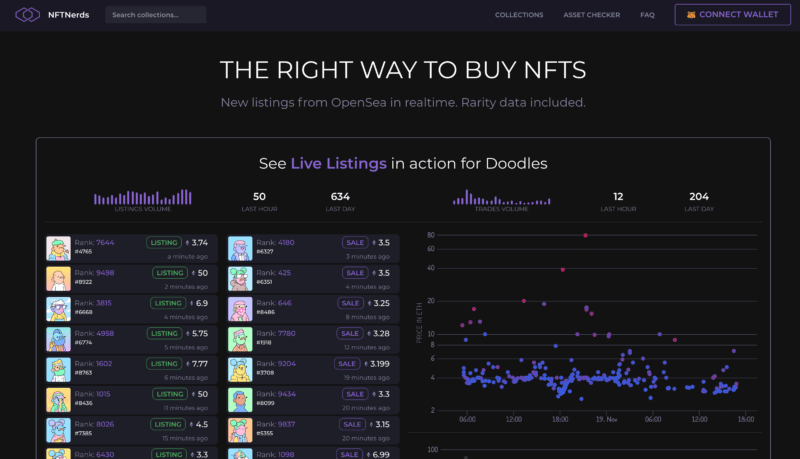 Not all projects can be found on this site, but you can request which next ones will be included by joining the Discord server of NFTNerds. The server is a great way to meet other NFT enthusiasts and learn from their trading experience. The profit-sharing channel, in particular, can be very inspiring and shows what you can do once you have a strategy in place and work hard.
There is also an Academy category within Discord which has several subchannels that focus on teaching you how the tool and the NFT space in general work.
I use this tool to get a real-time view of what's happening within a project. By looking at the dashboard of a project I can quickly get a feel for where things are going, and it's not the first time I snipe an item priced below the OpenSea floor as soon as it gets listed. OpenSea sometimes takes longer to show new listings, while NFT Nerds shows them faster. So the floor you're seeing on OpenSea might actually be lower than what's shown, and NFT Nerds allows you to see the real floor.
You can purchase directly from NFT Nerds, which takes roughly 4 seconds from spotting a listing to approving the transaction.
Rarity rankings are also built into the app, and usually use the official rankings. This means one less tab to check, and the ability to make faster trades.
NFT Nerds can also be used to discover trending collections, which is a great way to make sure you don't miss out on any new collections, especially if you're an active NFT day trader. You can also monitor the current gas prices directly within the app, and use custom gas fees for your purchases if you want.
To start using the premium version of NFT Nerds, you need to purchase a pass and then use your wallet to login and unlock the premium features. Genesis Passes can be found on OpenSea.
This is a tool that still has many more features to come, but is already extremely useful. Judging by the speed at which Genesis Passes get sold every time a new batch is released, I'm not the only one to love NFT Nerds.
If you can get hold of a Genesis pass I would highly suggest you buy one.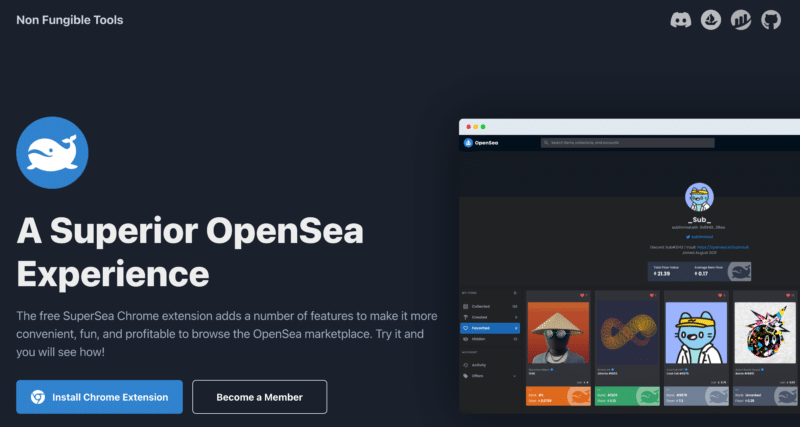 The free SuperSea Chrome extension adds a number of features to make it more convenient, fun, and profitable to browse the OpenSea marketplace:
Floor Prices – floor prices for your tokens and portfolio value calculation.
Skip OpenSea Cache – fetch asset images directly from source (OS takes long to update on reveal).
Listing Notifications – get notified the precise moment an asset within your given price range is listed.
Scam Protection – extremely useful when buying bundles, as scams are so common.
Mass-refresh and Mass-reveal – mass-Queue items for OpenSea metadata refresh and automatically load all images from source while OpenSea is updating their cache.
With the premium version, you will get access to more features like Rarity Ranks and Quick Buy and enhanced Listing Notifications.
You can buy lifetime access on OpenSea (or mint it for 0.5 ETH while they last), or a monthly subscription for 0.1 ETH.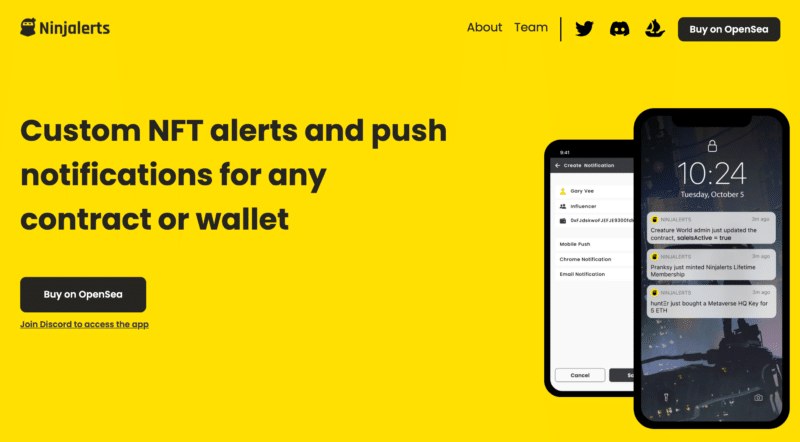 Ninjalerts is a smartphone app that can track all sorts of parameters. It is most commonly used to track the wallets of whales, influencers, and media personalities in order to know before everyone else what they're doing.
With that information in hand, you can, for example, understand which project is going to experience a hype cycle and take a stake before the prices claim. As always, the data can only take you so far, you also need to put in a dose of your interpretation skills in order to profit consistently.
The nice thing is that it's a mobile app, which in my view makes it very convenient to get alerts through push notifications.
Right now you can only buy a lifetime license from OpenSea, but they will also have a monthly subscription option in the future.
Portfolio Valuation Tools
It's very easy to lose track of how much you spent on NFTs, and whether you are in the green or in the red at a particular point in time. That's why it is essential to keep on top of your portfolio.
The two main tools you need for this purpose are a valuation tool, and another tool that gives you a history of all your transactions, including gas spent. There will always be some work involved when compiling data for paying your taxes or even calculating accurate profit figures, but having good tools will turn this task from impossible to manageable.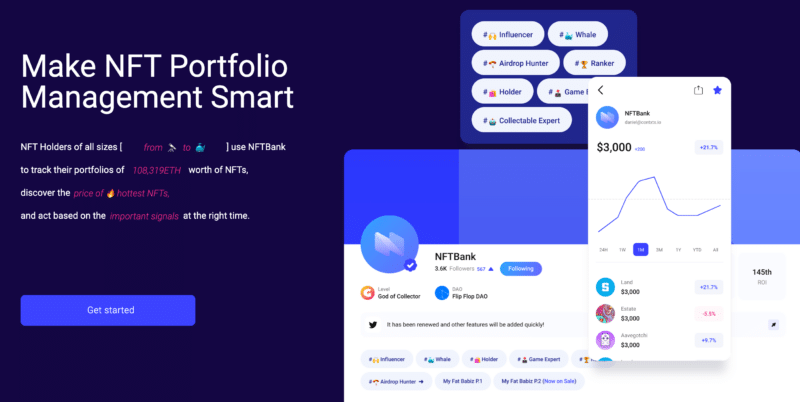 This is a good tool to get an overall valuation of your portfolio, as well as to find any discounted NFTs. It only supports a select number of projects, usually the bigger ones, but the team has great plans for this tool, and its one of the only ones I know that are focused on portfolios and valuations.
It's a nice tool to keep track of your purchases and sales too, and the corresponding profits or losses made, so it can help you prepare your taxes.

WGMI is one of the top tools for managing your listings on marketplaces. You can easily monitor floor price changes, as well as look into all your listings and check whether someone else has undercut your price, based on the most valuable traits of your tokens.
This tool has been created by BAYC member @NFTommo and is also a perfect tool for calculating the value of your portfolio. You can use the project's floor price, the best trait price, or an average of the two when calculating each individual token's value. Due to its customizability, it's the tool I use most for calculating my portfolio's value. It also provides a handy CSV export facility.
Once you get the hang of using this tool, it can become one of the most important dashboards to keep open at all times, as it gives you a great overview of everything that's happening in the market and also in the projects you've invested in.
Lifetime passes are available on OpenSea, or you can pay for access on a monthly or yearly basis.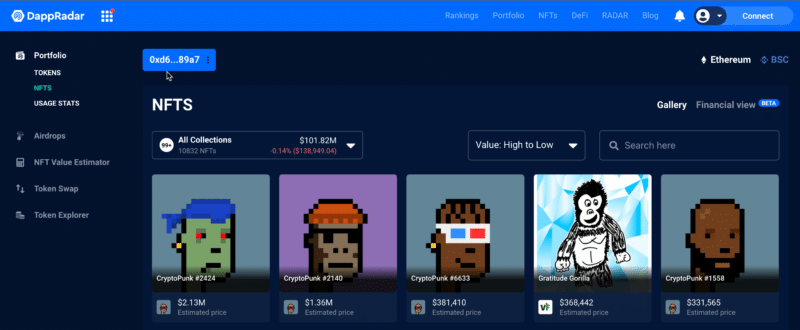 DappRadar is one of those DeFi tools that can be used to manage your overall portfolio. I use it to check what airdrops I can claim and also to keep an eye on my NFT portfolio. DappRadar can estimate the total value of your NFT portfolio and also give you more information about each individual project you invested in, for example the total amount spent, current holdings and P&L. Right now the financial view is generated using floor price but a more accurate value estimator based on trait floor will be added soon.
You can also swap tokens directly from DappRadar instead of going to a separate DEX.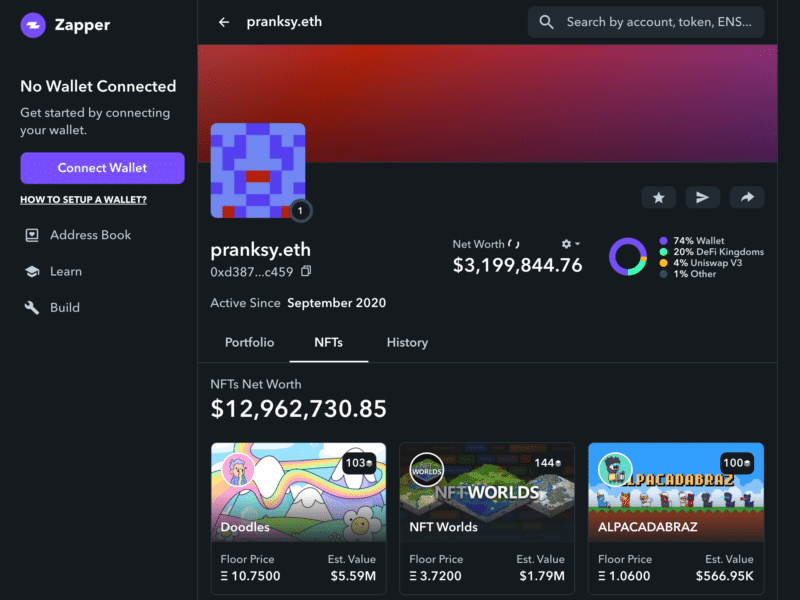 Zerion is similar to DappRadar in that it can manage your overall portfolio and connect you to DeFi. If you dabble in both NFTs and DeFi then I would highly recommend you use one of these tools. I'm not a DeFi power user, but I do have a few farming strategies going on, chief of which the $LOOKS token. Apps like Zerion and DappRadar automatically fetch the data related to such farmed strategies and display them in your overall portfolio.
Of course, you can also view your NFTs, although this is not the best feature of Zerion at the moment. What is a very cool feature, on the other hand, is the ability to show off your NFT collection directly from your iPhone home screen.
Users can now create custom widgets showcasing their favorite NFTs from the Zerion iPhone, iPad and macOS apps. This 'NFT gallery' widget works just like our portfolio monitoring and gas price widgets and lets you set your NFTs to rotate so your collection is always on display!
Crucially, only NFTs owners can display NFTs. When you connect your wallet to Zerion containing your NFTs, we verify your ownership to ensure that if (and only if) you own it, you can display it.
Zapper is one more alternative to Zerion and DappRadar. You can basically pick one of the three according to which one you like best.
I think the best feature of Zapper as it relates to NFTs is the History tab, as it gives you a very clear picture of all the transactions you've done. I especially like the fact that the gas fee is shown separately in a very clear way.
If you're using MetaMask with multiple addresses, Zapper picks them up automatically, so you don't have to worry about that, and of course, it shows you your balances on multiple chains.
As an overall dashboard, this is my favorite of the three I mentioned.
Peer-to-Peer NFT Trading Tools
You will want to use a P2P trading tool when you reach a deal with someone else to swap NFTs or to make a private deal in exchange for ETH (or another cryptocurrency).
Typically, you would have reached the deal by meeting someone in real life, say at a conference, or online via project Discord channels, or even by directly reaching out to someone who has NFTs that you're interested in listed on a marketplace. Some NFT collectors include their details (Twitter, Discord username etc.) in their marketplace profile, making it easy to reach out to them and broker a private deal.
If you're just selling or gifting NFTs to friends where trusting the other party is absolutely not an issue, you can just do a manual transfer via MetaMask or OpenSea as it will be cheaper. When you use the tools in this section, you will be interacting with a smart contract, whose aim is to take out the trust element from the transaction, but since there is a more complex transaction involved you will need to pay a higher gas fee than for a simple transfer.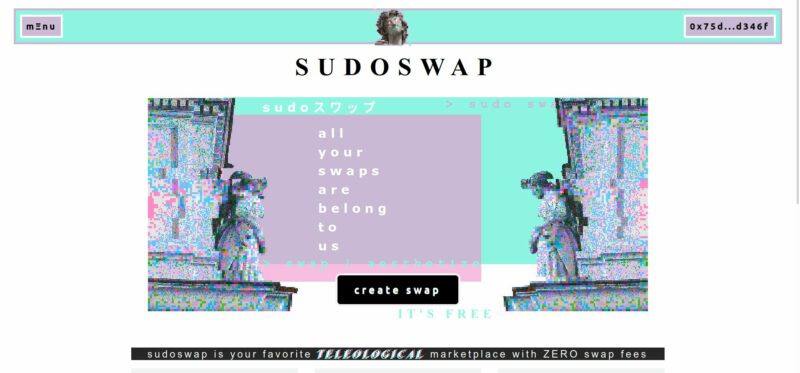 Sudoswap was created by well-known developer 0xmons in April of 2021. I use SudoSwap whenever I reach a private deal for an NFT transfer with a user off OpenSea. Typically this happens over Twitter DMs or in Discord channels. Once we agree on a price, the seller sets up a swap, shares the trade code and the buyer completes the trade. There are no fees for using this service.
You can trade multiple items at once and the assets never leave your wallet until the swap is accepted by both parties. You only pay gas for approves and the swap itself, so it's quite gas-efficient, and definitely cheaper than transacting within OpenSea.
Sudoswap uses the open-source 0x protocol to create and settle swaps between any combination of ERC20, ERC721 and ERC1155 tokens.
This is the cheapest way to make a private swap in terms of gas fees, when compared to the other tools available. The platform doesn't even charge any fee for swaps, you only pay for gas. However, the interface might not be the easiest to use, as it's got a very retro feel and needs a slight learning curve. I'm very comfortable using it however, and found it pretty straightforward to figure out, so it's my default choice.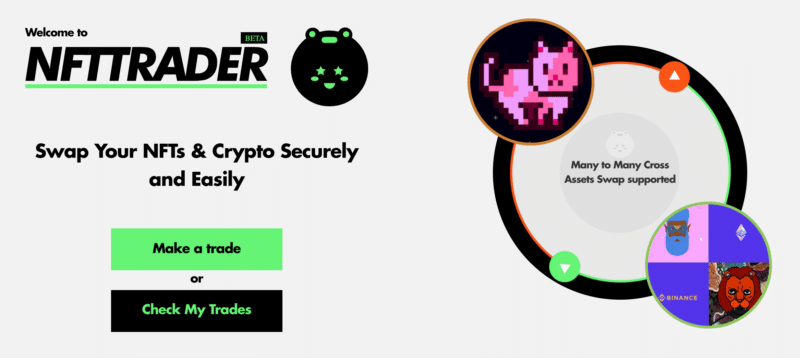 NFTTrader was the first P2P NFT trading platform as it was launched in January of 2021 by a team of four founders. The team created their own custom asset-swap smart contracts that allows users to swap any combination of ERC20, ERC721 and ERC1155 tokens, as well as ETH.
The NFT Trader website is pretty cluttered in my opinion, as they promote their own NFTs. These NFTs are pretty worthless, so don't waste your time on them, unless you make many swaps, as holders of the Trade Squad NFT pay no trading fees. Even then, though, SudoSwap gas fees would be cheaper.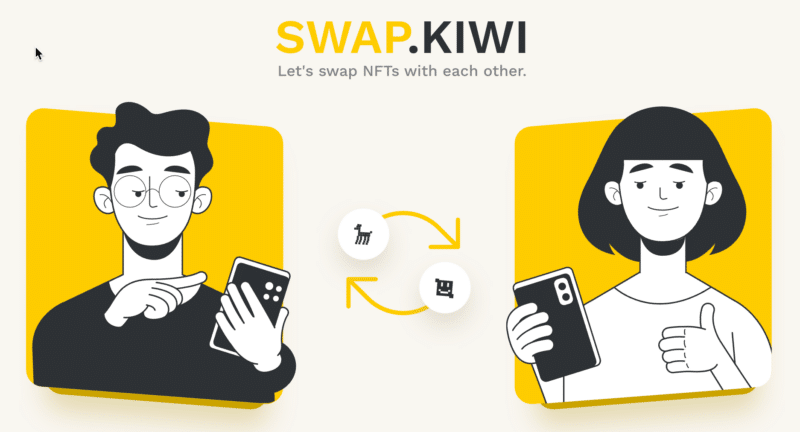 Swap.kiwi is the youngest platform of the bunch as it was created in June of 2021 by ape punk niftynaut.
It's backed by a registered company that developed its own smart contracts to execute swaps between any combination of ERC721 and ETH, and I think it's easily the most user-friendly swap tool out there. Apart from having a very slick interface, it also provides tutorials for people who are newer to Web3 and NFTs.
Miscellaneous Tools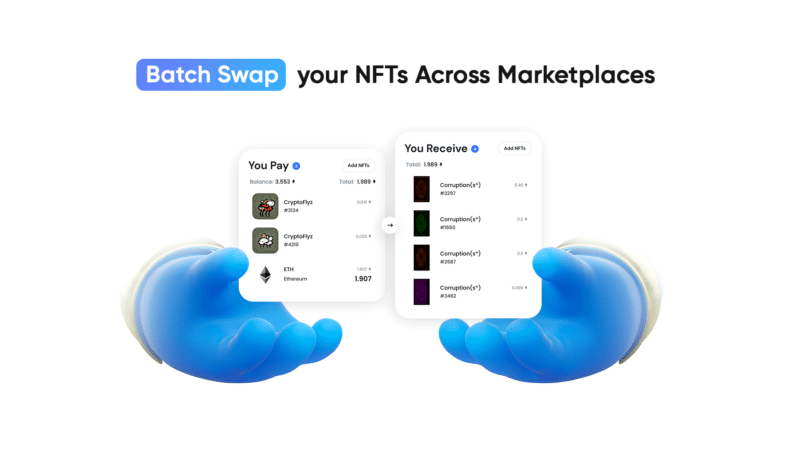 Genie allows you to batch list and batch buy NFTs. This saves you time and gas fees. It's one of my most frequently used apps as my investment strategy regularly sees me go for 3-10 items at one go when buying. Since NFTs are spread across several marketplaces (OpenSea, LooksRare, Rarible etc), and will be even more so in the future if my thinking is correct, having the ability to use a tool that scans all the marketplaces is great.
With certain projects, you can also perform bulk swaps. Let's say I want to get into the Doodles project and want to buy 3 NFTs from that collection, but I don't want to use or don't have the necessary ETH to do so. However, I do have several other NFTs that I wouldn't mind getting rid of. So what I can do with Genie is to pool my ETH plus the NFTs I want to sell, and on the other side select the Doodles I want to acquire. If the tool can find the right match for the amount I have (ETH + NFT valuation), I can go ahead and perform the swap in one transaction.
My biggest use for this tool, however, is to batch list items. I usually list my NFTs for a few days at max, and things can get really tedious when you own many tokens and want to relist them every few days. Genie allows me to make short work of that task.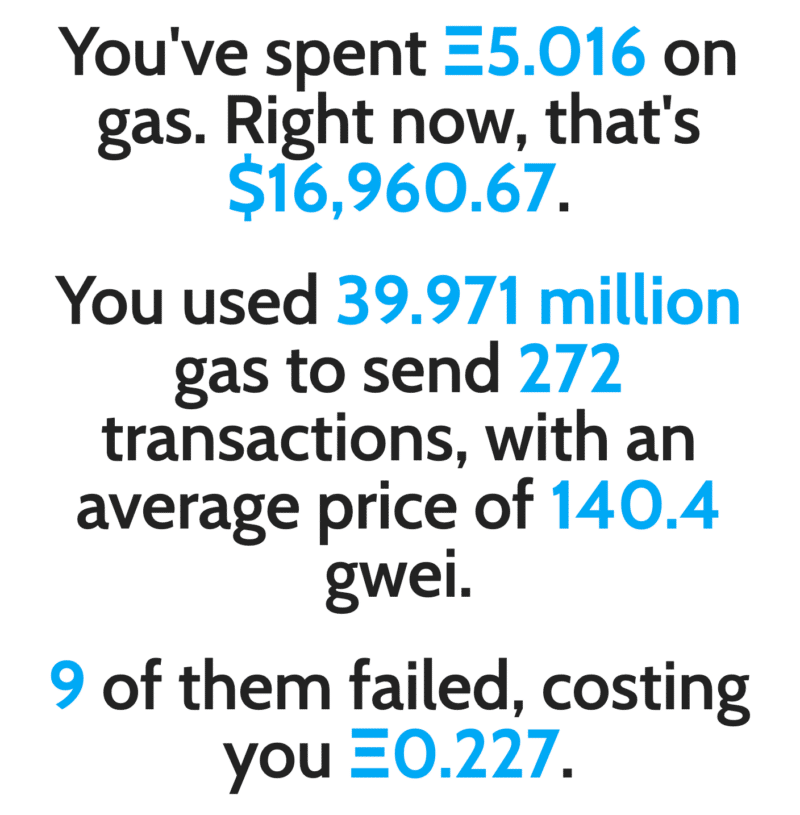 Here's another cool and sobering tool that builds upon the Etherscan (and CoinGecko) APIs to show you how much gas fees you've spent since you've been trading NFTs.
All you need to do is connect your wallet and the fees are calculated in a second. You can also claim the WTF token based on the amount of fees you paid in the past. That token can then be staked, and you can also claim an NFT that can be then used to access forthcoming premium features on this site.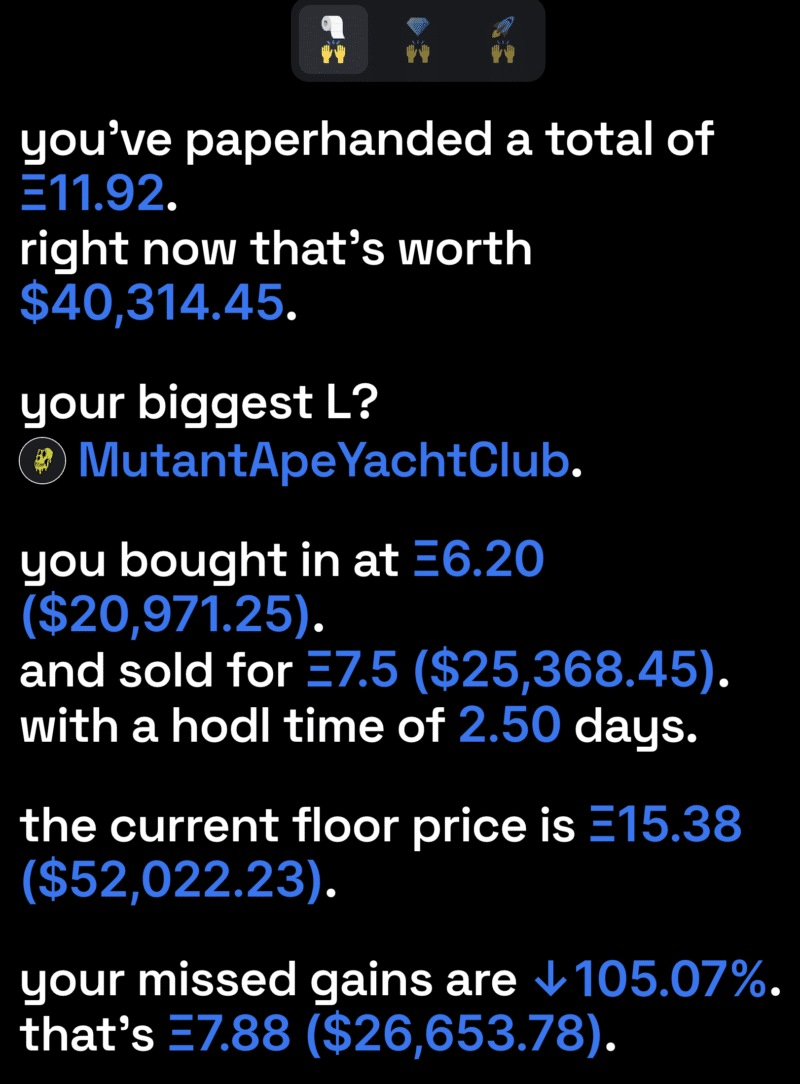 This is a tool that makes it easy to calculate your worst and best trades as well as celebrate your long-term holdings. You have three options to select once you connect your wallet:
worst trade (paper hands)
best hold (diamond hands)
biggest profit take
This is an interesting way of viewing your trading activity. The worst trade is not necessarily the one where you made a realized loss. For many collectors, it turns out to be an NFT that they sold too early.
For me, it is a mutant ape that I sold after just 2.5 days as I was trying to play the flipping game. I made a nice profit in just two days, but I missed out on a huge run in the next month or so, meaning I would have been much better off just holding off to that token.
On the other hand, by far my best play in the NFT game is my entering the Doodles project with total conviction early on and holding on to my purchases even as the floor price rose.
This tool, in combination with the previously mentioned fees.wtf, makes it obvious to me that I'm much better off being a collector than a flipper. When you factor in the risk, time, fees, and missed opportunities versus holding, it just doesn't work out that well for me.
It might be a different case for you, and I definitely enjoyed the experience and the adrenaline rush of flipping, but long-term holding is better suited to my skills and character.
Wrapping Up
Do you use any other tools that are not listed in this article? Let me know, I'd love to check them out and possibly add them to this list.