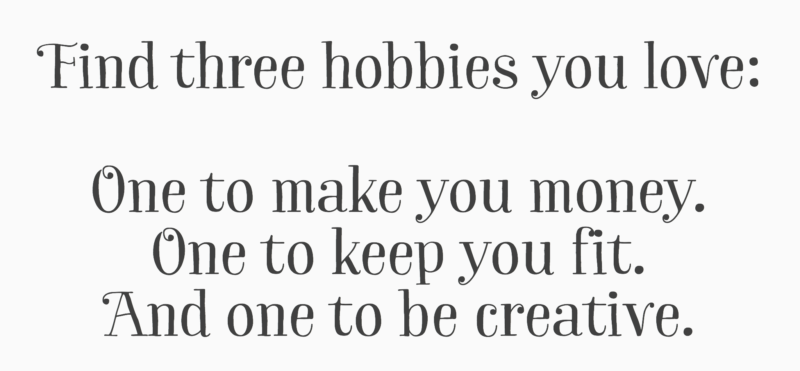 Here's one of my favorite quotes, although I don't know its origins.
Find three hobbies you love: One to make you money, one to keep you fit, and one to be creative.
These can change over time, but right now for me these three are:
investing
padel
reading/writing
I really think it's important to have these three, not only because they're your best chance to live a healthy and fulfilling life, but also because they feed into each other.
For example, to improve in padel and investing I read and write about these topics, and I can apply what I learnt from investing into the sport of padel. On the other hand, padel training has given me a lot of discipline and methodologies that I can then apply to my writing and investing.
The concept of them being named as hobbies also aligns with my idea that ideally there shouldn't be a hard line between work and play in life. In fact I always strive to build a life that I don't need to take a holiday from.
I don't think of work as work and play as play. It's all living. – Richard Branson
Most people go on holidays to forget their daily life during the rest of the year, while the most fulfilled and high performing people I know don't have this concept in their lives. They find joy and fulfillment in their daily routines and if they take a holiday they don't really treat it in the way that most people treat it. For them, it's most likely part of the yearly routine and has a specific purpose that fits an overall goal.
What are your three hobbies?