Trade anything to anything on Uphold
There are so many trading platforms and financial reserves, it's easy to find several that will get the job done for you. The only problem is finding one that suits all your needs. For example, traders interested in several asset classes often have to rely on cash as the intermediary when moving their investments from one asset to another.
For instance, you may have to liquidate your gold, silver, or stocks before you can buy cryptocurrency. Sometimes you even have to convert the crypto asset to fiat currency or Bitcoin to buy another crypto asset.
These are some of the problems that Uphold seeks to solve. It boasts itself as the world's first global transparent financial reserve that lets you convert "anything to anything" as long as it's listed on the platform. They also provide several other innovative products you might find useful as an investor. Let's take a closer look at Uphold below.
Formerly known as Bitreserve, Uphold is a trading platform that facilitates cross-asset trading. It began in 2013 and is based in San Francisco, CA. The platform's number one selling point is that you can trade anything for anything.
For example, suppose you are a holder of gold and wish to diversify your portfolio to include cryptocurrencies. In that case, you don't have to sell your gold and deposit your funds to another platform to purchase crypto. Uphold will facilitate converting all or a fraction of whatever asset you own into anything you want without ever having to leave the platform.
Uphold also features zero trading fees, although the company makes money through spreads (more on that later). Moreover, it offers many other interesting features, such as allowing you to transfer your funds to friends and family, get paid by your employer in assets other than national currencies, or spend using a unique master card.
Uphold Review Summary:
Pros
Supports cross-asset trading
Excellent security with 2-FA, Plaid bank account connection, and encrypted website. Also hasn't had any security issues since its launch in 2015
Fast and easy transfer of funds
There's transparency about the spread and no hidden fees
Commission-free trading
Available in over 184 countries
Provides a powerful API for developers to build applications
Cons
Less crypto-asset options available than on some of the other exchanges
Instances of users unable to access their accounts due to issues related to authentication codes
Requires KYC documents
Spread is higher than a few other leading crypto exchanges
Conversion fees are applicable when converting between currencies
Not all account funding methods are available in all the supported countries
Uphold Services and Features Offered
Anything-to-Anything Trading
The opportunity to trade your asset for any other asset on the platform is a big time saver and may even save users money as well. This can be attributed to the fact that you don't have to make multiple conversions by getting fiat currency first, then using the fiat currency to buy another asset. The process is also straightforward and completes in just a few clicks.
Instant Transfers
Uphold lets you transfer any of your assets to friends and family for free. The platform lets you transfer anything from cryptocurrency to USD super-fast. Even if your investment is in precious metals such as gold, you can still transfer it as BTC, USD, or any fiat currency. The conversion happens in the background and is instant.
Automated Trading
The platform lets you trade with the help of trading bots that allow you to set a trading schedule. For instance, you can choose to purchase a specific asset every other week, two weeks, or month. You can make it so that it coincides with your paycheck or a time that you speculate prices may be favorable. It is also the perfect way to approach the dollar-cost averaging trading technique.
Employer Payments
How about skipping trading with a bot that purchases on your behalf when your salary is due and instead let your employer deliver a fraction of the paycheck into whatever asset you prefer? You can also choose to get it in a variety of national currencies with your Uphold account.
Universal Gold (UPXAU)
Uphold breaks a few barriers that otherwise make gold inaccessible to most potential investors to make gold available to everyone. These obstacles include the inability to spend your precious metal, high storage costs, and large spreads during liquidation.
Uphold's UPXAU tokens are each equivalent to a single ounce of gold. Your purchased gold is stored securely in the Perth Mint in Western Australia and insured. What's more, you can spend it in multiple currencies using a special debit card from Uphold (keep reading).
The Uphold Mastercard Debit Card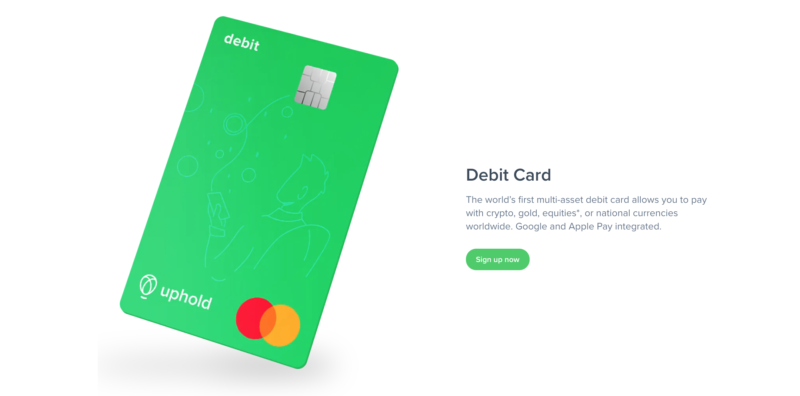 Uphold users can apply for a Mastercard that lets you spend anything you hold, from cash to gold and digital coins. You can swipe the card at more than 50 million merchants and on nearly any ATM worldwide. The company also issues a 1% Cash-Back and 2% Crypto-Back reward when you make a purchase using the debit card.
Educational Material

If you are new to the world of crypto investing or need to stay updated, Uphold's got your back with a bunch of educational resources, including:
Cryptionary: What's the difference between a coin and a token? How about an ICO and IPO? There is so much jargon that goes into trading crypto assets, which is why Uphold's cryptionary may be just what a new trader needs. It is a cryptocurrency dictionary that gives you quick definitions of most of the terms you may encounter.
Uphold unboxed: This is the daily Uphold newsletter that brings users the latest news about the market, including how the major and emerging crypto assets are doing.
Uphold blog: It covers wide topics about investments in cryptocurrency, equities, forex, and precious metals. It provides various guides that may help both beginner and expert traders gain valuable insights as they grow their skills.
Brave Integration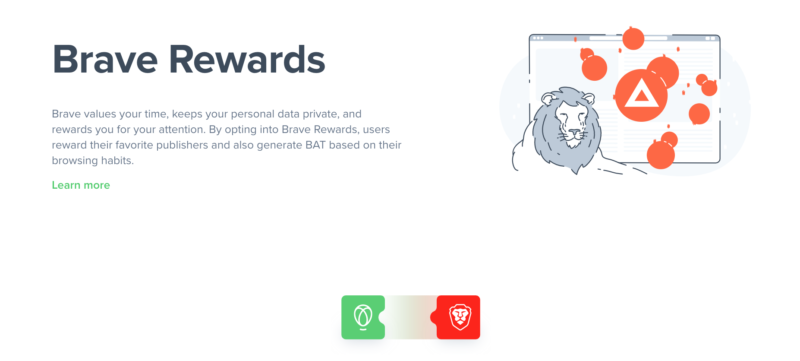 Brave is a browser that rewards users for their attention, unlike most conventional browsers where ads pop up and your valuable data is shared. Uphold facilitates the unlocking of your Basic Attention Token (BAT) on Brave Browser.
The browser has a built-in wallet, but it does not let you send your BAT tokens to a cryptocurrency wallet address. Users have to sign in to Uphold to unlock the BAT they get from advertising and earn tips as publishers.
Uphold Supported Assets
You probably already know that the platform supports crypto, fiat money, equities, and precious metals. Here are some more details on each of the categories.
Fiat Currency: 27 national currencies, including ARS, AUD, BRL, CAD, HRK, CZK, DKK, AED, EUR, HKD, HUF, INR, ILS, KES, MXN, NZD, NOK, PHP, PLN, GBP, RON, SGD, SEK, CHF, USD, JPY, and CNY.
Crypto: 58 Cryptocurrencies, including the major coins, alt-coins, stable-coins, and emerging tokens.
US Equities: Fractional equities services that let you purchase any of 50 U.S. Stocks for as little as $1.
Precious metals: Purchase gold, platinum, palladium, and silver, all of which come with zero custody costs and instant liquidity into any of the 27 national currencies listed. They are also spendable using the Uphold debit card.
Environmental Assets: Including the novel carbon credit token UPCO2 and the clean BTC variant – Bitcoin Zero.
Payment Methods
Uphold allows debit or credit cards as well as Visa and Mastercard payment methods. The platform has multiple virtual Uphold money cards to which you add funds. As for withdrawing your funds, you get your money deposited directly into your bank account.
[wptb id=288087]
These payment methods are only available to verified Uphold users. They let you link up to 3 debit or credit cards. Moreover, the platform requires that all debit or credit cards be 3D secure; otherwise, you will get an error message when attempting to deposit.
Fees and Limits
Although the platform charges 0% commissions on trades and free transfer of funds between Uphold users, it is hardly a free service. You can expect to pay for withdrawing crypto assets to private wallets as well as bank withdrawals through the Swift network. Additional charges also apply in the form of spreads as follows.
[wptb id=288088]
You may expect to incur a 3.99% fee on funds deposited via credit or debit cards, among other service charges you may expect to incur with Uphold. Moving crypto-assets off the platform attracts a fee of $2.99.
The platform also charges an exchange fee when a user buys or converts between different currencies based on a percentage of the transacted value.
The minimum deposit amount is $50, €50, or £50 per day, and the maximum is $1,500 a week. You can check out their full list of fees for personal and business accounts and currency conversion charges here.
Privacy and Security
Uphold asks for personal information during the KYC procedure, including:
Current residence address
A government-issued ID
A clear passport photo
The platform has also increased their level of security with:
2-FA for an extra layer of security
Encryption of private keys to protect against hacking
24/7 monitoring: Uphold states they have their Security Operations Center running all the time.
Strict security measures that the staff must follow, including submitting to thorough background checks
Uphold is also regulated by the UK Financial Conduct Authority, FinCEN, and is compliant with global Anti-Money Laundering (AML) rules.
The platform links bank accounts through Plaid, which is an industry-standard among FinTech companies.
User Reviews and Testimonies

Uphold stands out as a highly trusted company among its users, as evidenced by reviews on Trustpilot and g2.com. Among its outstanding qualities are lightning-speed transactions and cashback policies, and ease of use.
One issue that kept coming up is the difficulty of reaching customer support, probably due to the platform having many users. Given that most people leave reviews after a bad experience, Uphold comes off as a great trading platform.
Verdict: Is Uphold for You?
First things first, financial platforms keep developing, improving their features, and changing their rates, so be sure to double-check the information provided on this review with Uphold.
That being said, it is an excellent financial platform for anyone who wishes to invest in cryptocurrency, precious metals, stocks, environmental assets, and national currencies. It takes the hassle out of investing and trading by allowing you to do it from anywhere in the world and at any time.
The platform takes away most of the barriers that would prevent a small-time investor from getting in on the action, which is not to say that you can't go big. In short, it is a perfect fit for any investor.
Trade anything to anything on Uphold
Uphold Disclaimer: Uphold offers Cryptoasset investing within the EU/UK (by Uphold Europe Limited) USA (by Uphold HQ Inc).  
Capital at risk. As with any asset, the value of cryptoassets can go up or down and there can be a substantial risk that you lose all your money buying, selling, holding or investing in cryptoassets. Your cryptoassets are not subject to protection. You should carefully consider whether trading or holding cryptoassets is suitable for you in light of your financial condition. Uphold makes no representation and assumes no liability as to the accuracy or completeness of the content of this publication, which has been prepared by our partner utilizing publicly available non-entity specific information about Uphold.