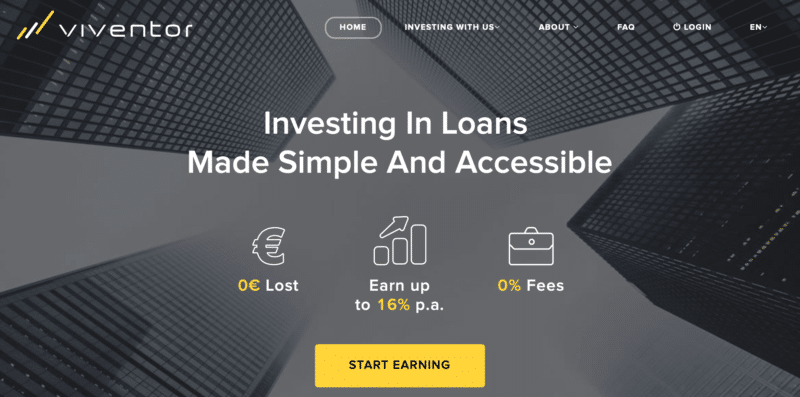 Viventor is a Latvian P2P lending platform that is similar to Mintos, which I've already reviewed in another article.
Viventor was founded at a later stage than Mintos and is currently smaller, but that doesn't mean it's worse. Straight off the bat, I can tell you that I've been using Viventor successfully and the main reason I use other platforms apart from Mintos (which is the biggest one) is to diversify and protect against platform risk.
The second reason for using Viventor is that they don't only provide consumer loans, but they also offer invoice financing and business loans.
Who invests on Viventor?
I was able to get in touch with Viventor's team and they have told me that Germany, Portugal and Spain are the countries where most Viventor investors come from, in fact, together, they comprise almost 50% of the total number of investors. The reason is that in the first 2 years, Viventor was developed and operated from the Portuguese and Spanish region. Currently, half the Viventor staff is based in Spain.
With regards to Germany, it comes as no surprise that all Baltic based P2P companies have a proportionally bigger investor base from that country. No doubt it's one of the biggest markets in Europe. An additional reason for that is that their (German) local P2P platforms offer rates on a single-digit basis ~7% and less, therefore, Viventor's average rate for investors which is more than 12% is pretty attractive from their point of view.
What level of returns can you get with Viventor?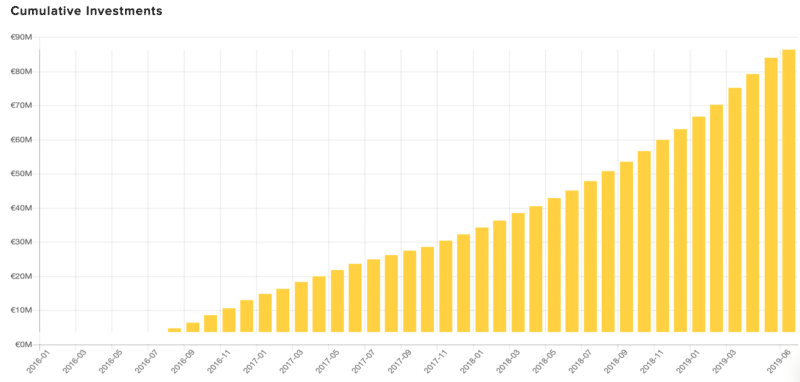 As of June 2019 the cumulative investments on this platform are closing in on €90m which is no small sum. There are close to 6,000 investors with the majority of loans being consumer loans. The average return across all investors hovers around the 13% rate which is very good. As I've said in other articles on this site, I consider anything above 11% to be a good return when it comes to P2P loans, given the inherent risks in this investment class.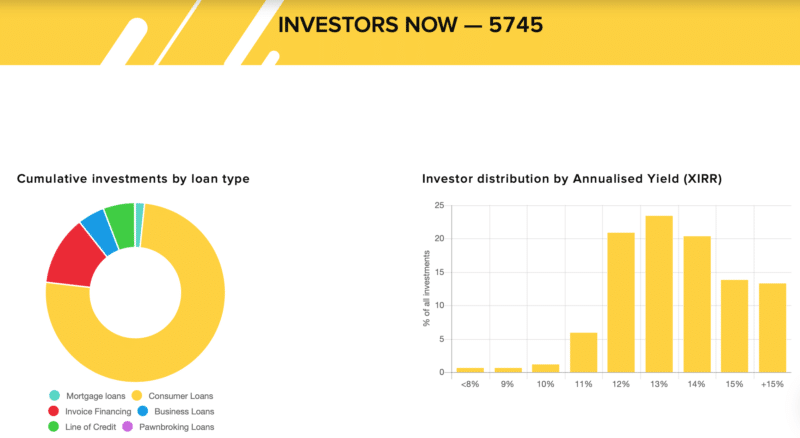 In the same vein as Mintos, Viventor does not charge any fees to investors, and so far has not seen any defaults from loan originators, unlike Mintos which had Eurocent default in 2018.
How does Viventor work?
On this platform, we can find a primary and secondary market. The secondary market consists of loans that other investors have previously bought and are now being offloaded by those investors in search of liquidity.
There is a buyback guarantee in place which means that loans that have not been paid back on time will be covered by the loan originator once 60 or 90 days have passed, plus you will also get any interest accrued for the period the loans were held.
You will also find loans with a payment guarantee. In this case, the loan originator is guaranteeing the monthly payments on behalf of the borrower.
The majority of the loans on Viventor include either a buyback guarantee or a payment guarantee.
As is typical on such platforms, Viventor also includes an auto-invest feature, which is quite easy to use.
Platform profitability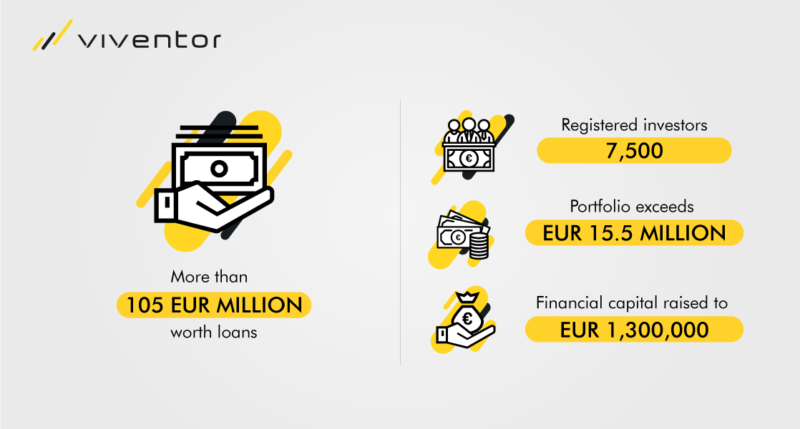 As a result of the significant growth of the platform, Viventor's revenue more than tripled from EUR 0.1 million in 2018 to EUR 0.31 million in 2019. The total loans funded on the platform during the last year were over EUR 53.5 million. Out of these loans, more than 71% were consumer loans, 18% invoice financing, and around 8% business loans.
Viventor are currently investing in further geographical expansion and future development activities. We expect to reach a break-even point in 2020.
Support
The main methods of support are e-mail or live chat. The support team is available to help via phone +370 620 62191 every working day from 9 a.m. to 5 p.m. (GMT +2). When I contacted Viventor via chat I was always attended to within a few minutes and had my doubts resolved without any problem in clear communication.
Transparency
With regards to transparency, you can easily check out which loan originators Viventor works with (not all platforms share this information, unfortunately) and they also provide detailed information about each of these loan originators.
The team is led by Andrius Bolšaitis with extensive banking and finance experience who joined Viventor as CEO in July 2019.
The website doesn't really provide any information on who is behind Viventor, so I would love to see the platform add a solid About page where all the team is shown and their credentials substantiated. When I asked them about this, they promised that they would be adding this information during the year, so I'll be watching out for that.
Viventor and Coronavirus
While other platforms have run into trouble in 2020, Viventor are staying focused and communicative with their investors, doing weekly webinars and fielding questions from investors without any problems. I asked for a quick update via chat on 13/04/2020 and within minutes they gave me this reply:
I hope you are well and thank you for the question. Few investors are concerned as at the moment our withdrawal processing time is 6 business days and we have pending payments "Funds in Transit", but we are still going strong and open for communication.

Speaking of pending payments. Every Monday we send to our Loan Originators settlements (principal repayments, interest, late fees, buybacks), what they have to cover from last week. Loan Originators are supposed to fulfill settlements on the same day as settlements are sent. Ideally, it has to be Monday, but it can other days as well. Our Loan Originators are informed about importance of doing settlements on time. Also, international payments could take 2-4 business days as payment terms depend on Loan Originator's country, currency, bank cash management policy, etc.

Our team is still actively working and monitoring our Loan Originators on daily basis. Additionally this Friday we are hosting our third Webcast, where investors can ask us questions, what we will answer on this Webcast- https://app.sli.do/event/8vwciqew/live/questions

I hope it gives more clarity.

All the best.
Linda
I think that's a very comprehensive reply and it makes me trust the platform even more in these rocky times.
My thoughts on Viventor
Viventor is a good option if you want to diversify across several P2P lending platforms.
I would like to see some improvements in terms of transparency as it is important to me to know who I'm working with, and Viventor doesn't make this information readily available. On the other hand, it is very clear which loan originators are supplying the loan book to Viventor.
Summary
Viventor is a smaller player in the P2P lending industry, but one that should not be ignored by investors who are interested in diversifying across several platforms.
Pros
High returns
Loan originators disclosed
Active blog
Cons
A smaller platform
No team information provided