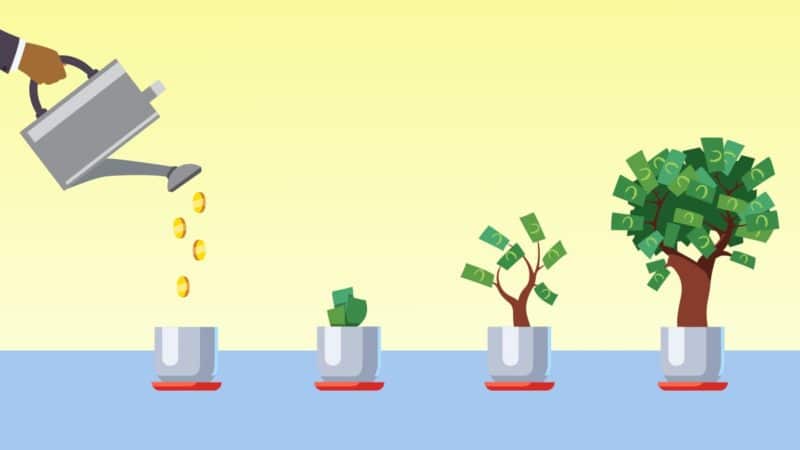 This is a guest post from my friend Shlomo Freund, who is a financial coach. We recently had a wide-ranging discussion about personal finance, location independence, and raising kids.
As we both write about financial topics and we have been investing our own money for several years, we tend to receive many emails from people who are earlier in their journeys. We discussed the unfortunate fact that most people never learn anything about managing their finances during their primary and secondary education, and we see that there is a big lack of financial savviness in the adult population. This lack of knowledge is not limited to any particular country or region – it's a worldwide thing.
Both Shlomo and I strongly believe that knowing how to manage your finances and invest wisely is an important part of living a happy life. And since Shlomo now dedicates a significant part of his time to educating people on making better financial choices, I asked him to write a piece on this blog to give a starting point to those who want to embark on this interesting journey.
What follows is his take. I hope you enjoy it, and please do leave comments if you have any follow up questions, both myself and Shlomo will be happy to help.
Over to Shlomo…
---
The ultimate answer to the question: What should I invest in?
When Jean offered me to write a guest post on his blog, I wasn't sure what will be the best thing to write about, however, during our conversation, there was a question that we both get and see a lot from people: "What should I invest in?"
There isn't a simple answer to that question. However, there is a process you can go through to help you find the right answer for you.
So let's begin.
—–
What should I invest in?  I'm sure this question crossed your mind a million times.
People who have some extra money and are out of debt generally think this is the next step to reach their financial freedom.
I get this question a lot, people expect a 'tip', quick answer, a holy grail that does not exist. This is why "Make $3000 in a week" kind of titles work so well when talking about investments.
(Yes, you can say they don't work on you, but if the people writing these ads weren't making money we wouldn't have seen them being used all these years).
Why answering "What should I invest in?" is so hard to answer
Getting to answer that question is actually hard work. There are several pre-conditions you need to address before you invest in anything. That's because the answer is INDIVIDUAL to every person out there.
It depends on age, profession, cashflow, investment horizon, marital status, number of kids, risk tolerance, future desired lifestyle, character, vision, etc.
There are so many factors to put in, that it's impossible to answer such a question with a single definite answer. It's also irresponsible for me as a financial coach to answer that question without knowing the person.
And even if I know the person, the choice for what to invest in needs to be her/his choice, not because I advised so. I help contemplate the different investment options and find the best choices for clients. The decision, however, is up to the person I coach.
The client has responsibility over their finances and I help her/him do that. I give them a rod to fish, not a single fish to eat. They now know how to manage their money and make progress themselves.
The answer is within you
From working with others and my own experience, I developed the following roadmap to help others reach financial freedom. Then the answer to the question "What should I invest in?" is revealed during the process of working through this roadmap.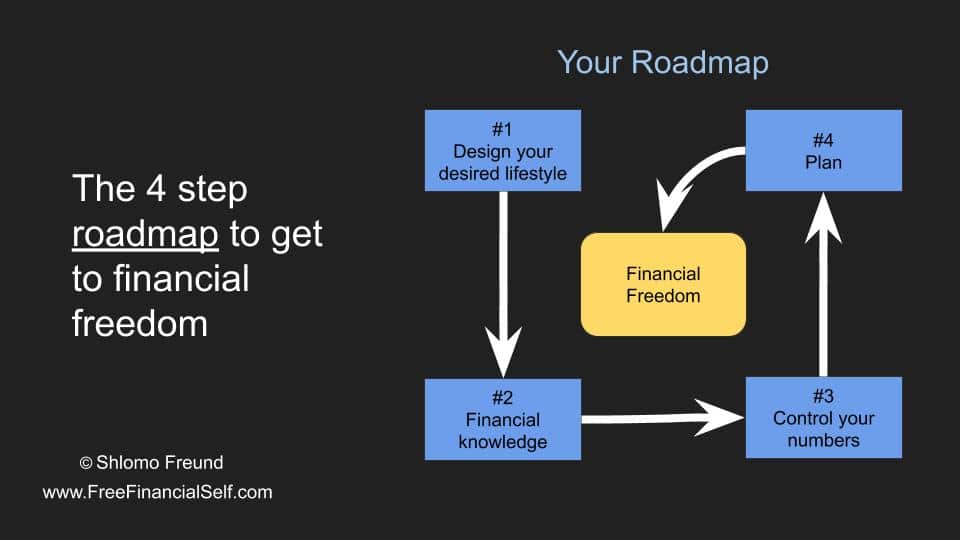 If you want to look at it in a different way, here is how the process works:
Determine where you are – let's call it, point A
Determine your destination/goal/vision – Let's call it point B.
Track and assess your progress
Let me tie these two above diagrams together. Showing how each of the things in your process is part of the roadmap.
Step #1 (design your desired lifestyle)
This one is represented by point B – That's your vision/goal.
Think about the following things:
What kind of life you want for yourself.
Think of the things that are meaningful and important to you.
Where do you want to live?
What kind of lifestyle do you want for yourself.
Step #2 (Financial Knowledge)
This step is represented by the blue arrows down below.
How do you generate progress? This is done by knowledge. Upgrading your financial knowledge to help you move forward.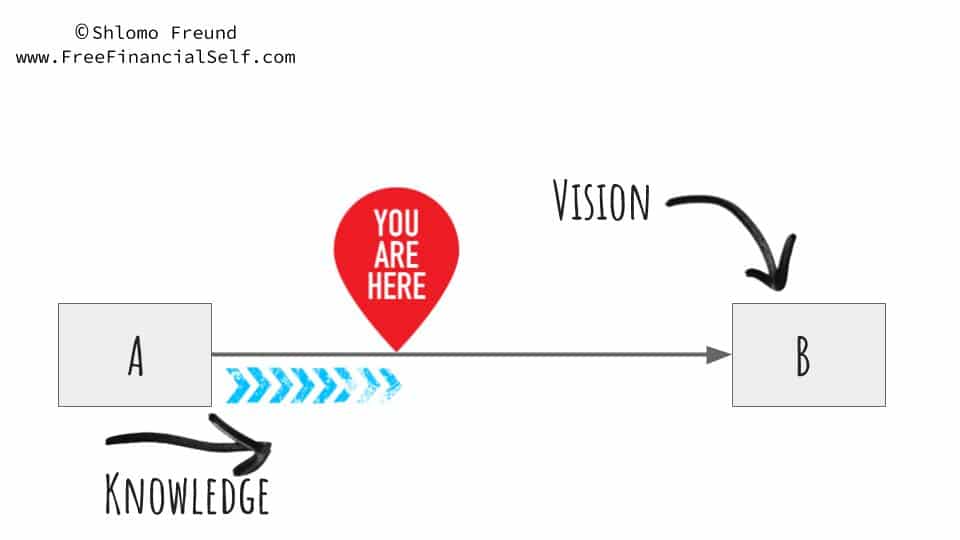 Step #3 (Control your numbers)
This step is represented in two ways:
Point A. This is where you are right now. This one is determined by calculating your current net worth.
"You are here" tag.  Periodically determining where you are in the process. This is determined every month (or quarter, I don't recommend tracking less often). You see how much progress (or not) you've made.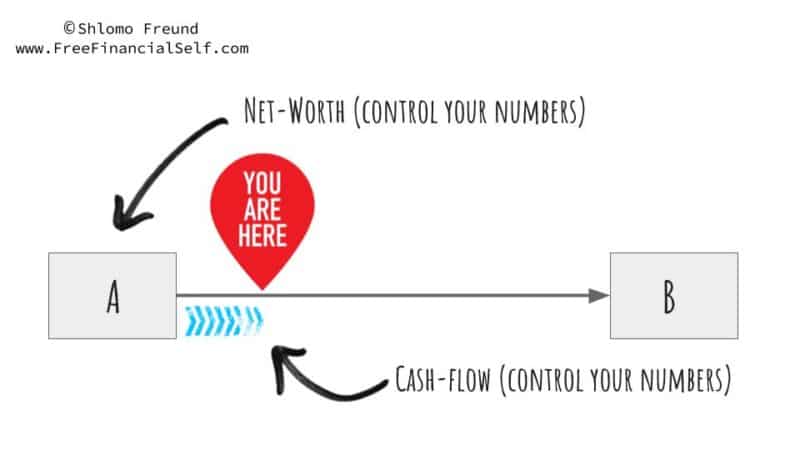 Step #4 (Plan of execution)
This step is represented by putting all these pieces together.
This means:
After you've gone through this process, it will be very clear to you what you should invest in. You'd know, how much you need to save and invest every period to get to your goals and in what expected return.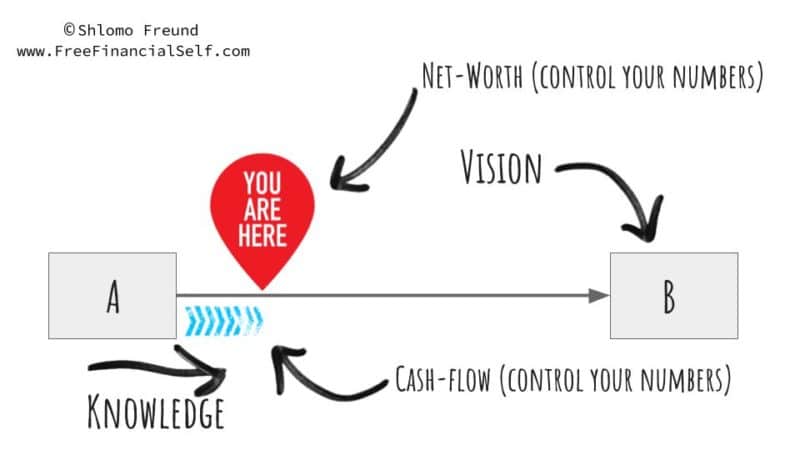 Then, the last thing you need to do is to execute your plan.
What are the pitfalls when you start working through the roadmap?
Here is where it gets problematic though.
Almost never urgent – This plan and dealing with your finances is most of the time, not an urgent matter.
We all don't like to deal with our money and leave it for someday (which is no-day).
Therefore, as time passes you lose the chance to reach your life and financial goals. This plan works best when you give it time. Which brings me to the next point.
Losing potential profits – Compounding your money over years will make it work the way you want as fast as possible. So, it's important to do it early and not let yourself sit and wait.
Learning curve – Another problem is that it takes time to get through all the steps in such a plan. Building your vision, figuring out what financial knowledge you need to focus on to move forward (80/20 rule is relevant here too), and eventually build that plan of execution.
What should be your next steps? 
You need to carve the time to work on the following things:
Build your vision, and break it down into financial goals. 
Upgrade your financial knowledge, only on the terms you really need (there is a lot of noise out there). 
Learn how to control your numbers by managing your money properly and track it. 
Creates a plan of execution by knowing what you need to do in each period to build your life vision. 
From all these ultimately you'd be able to answer the question you started with: 
What should I invest in?  
But the more important part is not investing your money for the sake of investing it, but to align those investments to your long term life goals. 
It took me more than 10 years to put it all together and have a plan that works: 
My vision developed over time, I had to break it into financial goals which are now all taken care of. 
I upgraded my financial knowledge, I took courses teaching how to invest in the stock market, real estate and trading options. 
I invested in different assets, gained and lost money. I learned to live with the results and learned from the experience. 
I learned how to manage and track my money diligently, and do that on a monthly basis, to see long term trends in my finances and adjust when needed.
I realized that there is a process I went through on my own, and I can help others do the same. But, better and faster.  Essentially, jumping over the pitfalls I went through.  Yes, you can realize it all by yourself, but It might take a long time to figure out and put all the pieces together. 
So in 2017, I started a company that teaches that process in a program I developed. I wanted to bring the best of my experience and knowledge to others, so they can live the way they truly wish for themselves (not what people tell them they should live by), stay happy, and make it financially viable. Basically help them plan and invest according to their life goals. 
In a nutshell here is what this program is about:
Builds your vision, and breaks it down into financial goals. 
Upgrades your financial knowledge, only on the terms you really need (there is a lot of noise out there). 
Teaches you to control your numbers by learning how to manage your money and track it. 
Creates a plan of execution by knowing what you need to do in each period to build your life vision. 
Interested to hear more?
I invite you to get in touch through the special form I created for Jean's readers by clicking on the link button below. Let's chat.