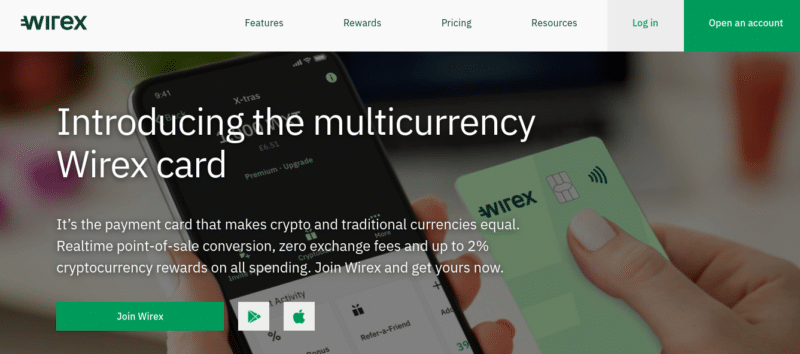 When cryptocurrencies first emerged, they were primarily viewed as financial instruments best suited for speculative investments. However, today, the financial landscape surrounding crypto assets has transformed dramatically.
Some investors and traders are looking past the underlying value of digital coins like Bitcoin and are intrigued by the prospects of real-life utilities.  The team behind Wirex has managed to create a digital payment platform that will allow you to expand the uses of your digitals assets.
So has Wirex succeeded in its mission?
In this review, I take a closer look at what Wirex is and how it can be of use to you as a crypto enthusiast. I will also examine its many different features to help you decide whether the platform can be a valuable addition to your crypto toolset.
What is Wirex?
In its most basic form, Wirex is a fintech platform that offers physical debit cards linked to a cryptocurrency exchange. The company was founded in 2016 with its headquarters in London, with a vision to cater to the growing demands of the evolving crypto economy.
The platform received its e-money license from the UK Financial Conduct Authority (FCA) in 2018 – ensuring that it joins a select handful of regulated companies offering crypto payment solutions. Wirex facilitates its services through its mobile application and integrated multicurrency debit card.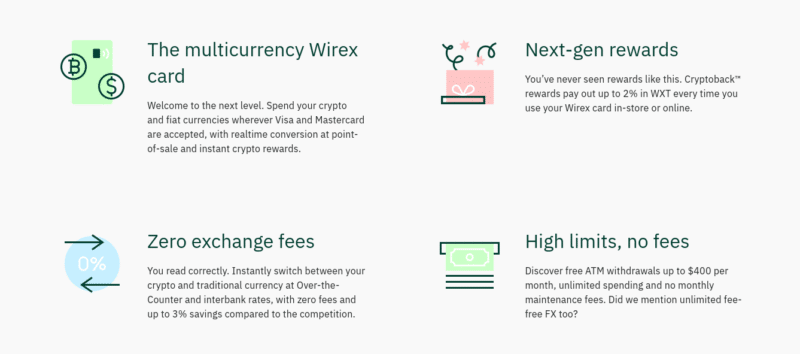 The Wirex crypto-fiat debit card functions just like any other – allowing you to spend your crypto and fiat currencies wherever debit card payments are accepted. This makes way for blockchain and crypto technologies to enter the mainstream marketplace and become more usable in day-to-day transactions.
Wirex can function as a payment method in three scenarios:
Everyday payments
International remittance
Machine-to-machine payments
The main goal of Wirex is to offer fast and secure means to move money – all through the convenience of a single innovative app.
Features of Wirex
Wirex combines both the traditional as well as a digital payment infrastructure – through its core features listed here:
Wirex Payment
As a payment system, Wirex allows you to perform the following transactions:
Send money among your contacts
Gain instant access to a wide spectrum of crypto and fiat currencies
Process fast and simple blockchain-powered crypto transactions
Wirex Card
Perhaps, the most useful feature of Wirex is its innovative multicurrency card. It allows you to spend fiat and multiple currencies through live conversions at the point of sale. Moreover, Wirex does not charge you any exchange fees for these transactions.
In addition, the Wirex multicurrency card will automatically convert your money to the local currency when you pay. This can save you a significant amount in overseas transaction costs when compared to traditional bank accounts.
Currently, Wirex offers support for the following currencies to be linked with your multicurrency card.
Fiat currencies:
US dollars (USD)
Euro (EUR)
British pounds (GBP)
Canadian dollars (CAD)
Czech koruna (CZK)
Hungarian forint (HUF)
Poland zloty (PLN)
Romanian leu (RON)
Croatian kuna (HRK)
Cryptocurrencies:
Bitcoin (BTC)
Ethereum (ETH)
Litecoin (LTC)
Ripple (XRP)
Dai (DAI)
Waves (WAVES)
Stellar (XLM)
Nano (NANO)
The most interesting aspect of the Wirex multicurrency card is that you will be able to earn 1.5% in 'Cryptoback' rewards when you use it for payments. Wirex also allows you to withdraw cash from any ATM globally that accepts Mastercard. For the first 400 euros or British pounds you withdraw – there will be no charges.
After that, you will be liable to pay a fee of 2%. However, this might end up costing more dependent on the ATM operator. Wirex also limits the number of withdrawals to five per day.
Wirex Multicurrency Exchange
If you do not want to swap or buy cryptocurrencies from other third-party providers, Wirex also offers an integrated exchange service through its app. However, your options here will be limited to the 20 fiat and crypto assets currently supported on the platform.
On the other hand, the biggest perk is that Wirex offers exclusive over-the-counter (OTC) and interbank rates. In addition, you will also be charged no fees on any fiat-to-fiat exchanges. As you can imagine, using the Wirex account, you can also buy supported crypto coins by exchanging them for fiat currencies.
You can compare the live exchange rates offered by Wirex without needing to sign up on the platform. This can give you a clear idea of what to expect once you start using the service.
How to Use Wirex
Setting up your Wirex account is more simple and straightforward than you might imagine. Here I have outlined the step-by-step process for your convenience.
You can begin by opening an account on the platform and completing the verification process. As Wirex is an FCA-regulated platform, you will also have to go through a KYC process – which will require you to upload a copy of your photo ID.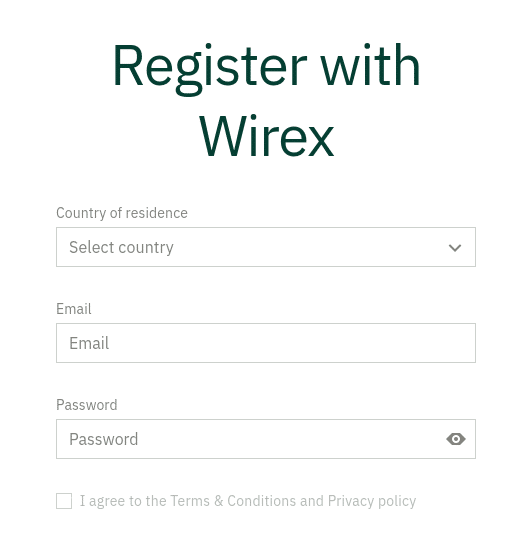 Step 2: Add funds to your Wirex Wallet
You will then need to make a deposit in order to begin using Wirex's full suite of offerings.
You can add separate accounts for the fiat or cryptocurrencies you want to deposit.
To add fiat currencies – you can link your local bank account or transfer money through a debit card or credit card.
To add cryptocurrencies – you can transfer your digital assets from an external wallet. You can also instantly purchase supported crypto tokens by paying through your linked bank account or debit/credit card.
The funds will then be readily available in your wallet.
Step 3: Order your Wirex Card
With your account funded, you can apply for a Wirex multicurrency card.
When the card has been delivered to you, you can activate it through the mobile app. Your card will be connected to your Wirex wallet on your phone, and any transactions you make will be instantly updated on the application.
Step 4: Add Funds to your Wirex Card
Now that your Wirex wallet is funded and your card is ready, you can proceed to top it up. Any crypto funds you load onto the card will be instantly converted into the currency of your chosen Wirex card.
If you are using a multicurrency card, your funds will be converted to the local currency instantly in real-time when you make a transaction.
And that's it! Your Wirex card is now ready to use anywhere Mastercard is accepted.
Wirex X-tras
Wirex X-tras is designed as a means to give rewards to verified users of the platform. This can be broadly classified into four main reward programs:
Cryptoback rewards are generated whenever you use a Wirex card to make payments. The incentives you receive will depend on whether you are making an in-store or online purchase.
Earn up to 6% on your WXT token balance every year.
Receive up to $10 USD in WXT for every affiliate you introduce to WXT.
Earn exclusive rewards from merchant partners when using the Wirex card.
However, in order to gain access to Wirex X-tras, you will need to hold WXT – the native utility token of the Wirex platform. Any rewards you receive will also be in the form of WXT tokens.
WXT Tokens
Wirex Token (WXT) is a stellar-based utility token that can be used within the Wirex ecosystem and other cryptocurrency platforms. If you have a positive WXT balance on Wirex, you will be able to accrue interest in the form of Wirex tokens.
The more WXT tokens you hold, the more bonuses you will earn.
You can purchase WXT through the Wirex platform in one of the following ways:
By swapping it for other cryptocurrencies and fiat currencies on the Wirex exchange.
By paying for WXT tokens using your linked bank card.
WXT tokens are also listed on a number of popular cryptocurrency exchanges, such as OKEx, Huobi, and KuCoin.You can also get your hands on WXT tokens through the Cryptoback rewards program and by referring your friends to Wirex. At the time of writing, on May 20, 2021 – WXT tokens are priced at $0.009033 per coin.
Wirex Price Plans
Wirex has set up three different pricing plans for its users. By default, every verified user is a standard plan subscriber.
All plans give you access to the full set of Wirex features. The main difference lies in the rewards you receive in terms of Wirex X-tras.
Standard Plan at £0/month
0.5% Cryptoback in-store
Access to full features of Wirex
Premium Plan at £9.99/month
2% annual savings bonus on WXT balance
1% Cryptoback in store
1% Cryptoback online
Additional Merchant offers
Access to full features of Wirex
Elite Plan at £29.99/month
6% annual Savings Bonus on WXT balance
2% Cryptoback in store
2% Cryptoback online
Additional Elite Merchant offers
Access to full features of Wirex
Wirex allows you to pay for your subscriptions monthly or annually. If you pay upfront for the whole year, you get a 15% discount. Furthermore, you also have the option to cancel your subscription within the first 90-days without having to pay a break fee.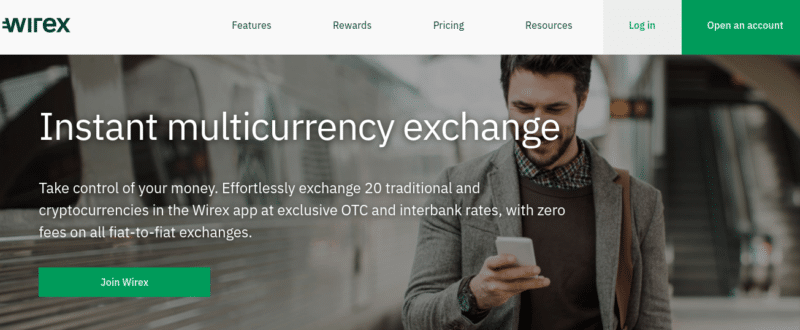 Note: In addition, Wirex also has temporary offers that can amplify your rewards. For instance, at the time of writing, Wirex has set up double savings rewards, which increases the savings bonuses to 4% and 12% for Premium and Elite pricing plans, respectively.
Wirex Fees and Rates
Wirex categorizes its fees based on the type of service.
The main Wirex account and card services will cost you nothing in terms of registering, maintenance, issuance, or replacement of the card.
You will also have to pay a small fee of 1% when topping up via an external debit or credit card.
Whereas using cryptocurrency exchange services will mean paying OTC rates and a trading commission. However, Wirex does not clearly state what this commission is.
In addition, transferring crypto to an external wallet will also incur a blockchain fee.
Wirex Customer Support
Wirex has set up a comprehensive customer support platform to offer assistance to its users. You can gain information regarding the products and services through the dedicated Help Centre or the Community feature within the Wirex app.
If you can't find the clarification you are looking for at either of these sources, you can submit a support ticket on the platform. Wirex is also quite active on its social media – including Facebook, Twitter, and Instagram.
Wirex Security
Wirex has left no stone unturned when it comes to the security of the platform. The company employs the latest security technology, such as:
256-bit SSL for all communications
Multi-signature technology using BitGo
Microservice architecture
Two-factor authentification
KYC process
Although this might mean that you have to cross a few hurdles to gain full access to Wirex features, the effort is well worth it for the safety of your assets. Furthermore, as I mentioned earlier – users of Wirex can also benefit from the protection of an e-money license issued by the FCA.
Where Wirex Could Improve?
Although US dollars are supported on the platform, it is crucial to note that the services of Wirex are not available in the US. If you want to upload USD, you have to be a resident in one of the supported countries. Wirex can also improve by adding more cryptocurrencies to the platform.
This will ensure it continues to expand its functionalities both as an exchange, as well as a payment service. Apart from this, Wirex seems to have a clean slate when it comes to security and functionality. The platform is well-designed and user-friendly, giving you access to attractive functionalities at low costs.
With that said, it is important to mention that there are several reports over the internet regarding the blocking of user accounts on Wirex. This leaves users with no option to access their assets until the issue is resolved.
Wirex Review – The Verdict?
As more and more people are becoming regular consumers of online banking features, there is already a significant shift towards fintech solutions that offer lower fees and better responsiveness. By combining this with an ever-growing interest in cryptocurrencies, Wirex has managed to offer an attractive alternative to the conventional form of banking.
Not only that, but Wirex also succeeds in expanding the utility of cryptocurrencies instead of merely storing them idly in your wallet. If the platform continues to demonstrate its efficiency, then Wirex has the potential to evolve as a viable banking system that allows customers to use both fiat and digital currencies seamlessly across the world.
Summary
As more and more people are becoming regular consumers of online banking features, there is already a significant shift towards fintech solutions that offer lower fees and better responsiveness. By combining this with an ever-growing interest in cryptocurrencies, Wirex has managed to offer an attractive alternative to the conventional form of banking.
Pros
Cryptoback feature
Multiple currencies
Low fees
Good customer care
Cons
Not yet available in the United States