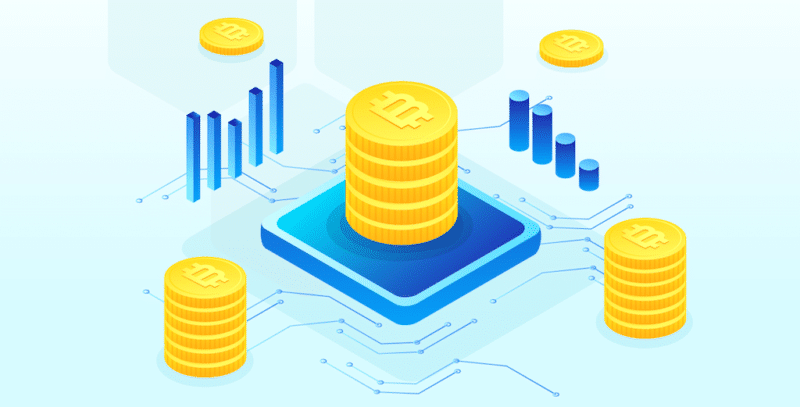 Blockchain, cryptocurrencies, and decentralized finance have gained traction over the past few years and so have lending platforms. Satoshi's dream of a decentralized economy has morphed into solutions for healthcare, supply chains, agriculture, and many other industries.
Of course, finance remains at the very top with different blockchain-based solutions being developed every day. One such solution is blockchain lending platforms. This article provides a brief comparative analysis of two top crypto lending platforms: YouHodler and Crypto.com.
Overview and General Features
Crypto lending services provide three essential services:
Supplying crypto assets to earn interest– commonly referred to as annual percentage yield (APY).
Providing loans.
Extras, as you will see below.
This segment delves into the three platforms, citing their key features and extra services.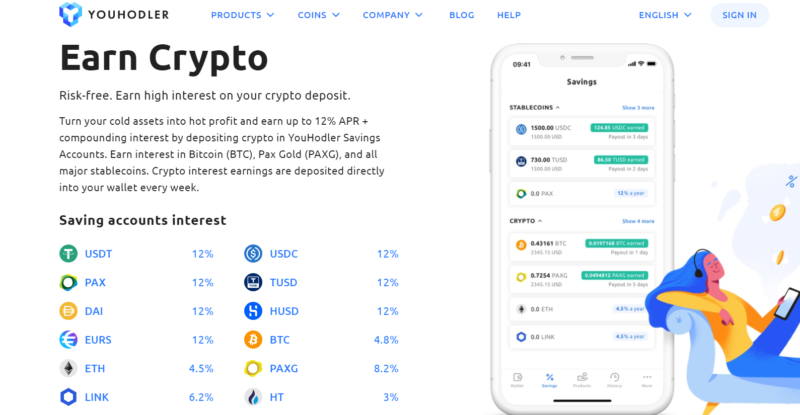 YouHodler is an E.U. and Swiss-based FinTech platform (think crypto bank) that allows you to borrow and multiply funds by leveraging financial tools in a relatively secure way. The two-year-old company has followed the yellow brick road right from inception, transforming from a simple lending platform to a top APY provider while accruing support from mainstream cryptocurrency institutions such as Ledger, Elliptic, and Ciphertrace.
Here are the key features:
Savings
Instead of hodling your assets in dormant wallets, you can deposit them into your Youhodler savings account and earn interest from the get-go. Users can deposit a minimum of $100 (in crypto equivalent) and withdraw at any time, including the profit earned.
At the time of writing, up to 22 coins are supported on the platform, including BTC, ETH, UNI, BNB, and stablecoins like USDT, USDC, TUSD, HUSD, PAX, and DAI.
APRs on stablecoins are as high as 12%, while yields on BTC, ETH, and UNI are 4.8%, 5.5%, and 7%, respectively.
Yields are remitted into your account weekly once you deposit your coin. YouHodler compounds your earnings: new gains are compounded on the previous week's earnings plus capital, making it possible to achieve even more than the APR.
It is important to note that you can only earn these yields if you withdraw at the end of the week. Additional funds deposited within the week will generate interest in the next week.
Loans
You can borrow fiat currency such as USD, EUR, GBP, and CHF against your crypto assets. The loan-to-value (LTV) ratio is 90%, and you really cannot get that anywhere else. You can also use lower LTV ratios. They support over 20 coins as collateral, and you can borrow fiat currency or stablecoins (as mentioned earlier).
They have unique exit strategies based on the price down limit (PDL)—a "Stop Loss-Esque" feature used to curtail losses and close positions. If your collateral falls to a certain point below the PDL, they hold the right to sell the collateral to close the loan.
You will be notified via email if your PDL drops below 70% of your collateral.
Read more: My in-depth review of YouHodler
If your collateral price rises, you can choose to take profit at a price level. When that happens, YouHodler can sell your collateral, repay the loan and send the remaining amount to your wallet automatically. Interest rates range between 2.5% and 12.5% depending on the loan duration.
Turbocharge
This unique feature enables you to set off a cascade of loans. You can use borrowed fiat to buy crypto assets which can then be used as collateral to secure another loan. Crypto assets available for this feature include BTC, ETH, LINK, BNB, and XRP.
MultiHodl
The Multihodl feature allows experienced traders to multiply funds through a series of processes that mostly involve predicting selected currency pairs' likely trajectories.
Universal currency conversion
Tying all the previous features together is YouHodler's universal conversion feature. This allows clients to convert any currency on the platform to any other currency pair without limitations. Fees are reasonable and as low as 0.5% per conversion.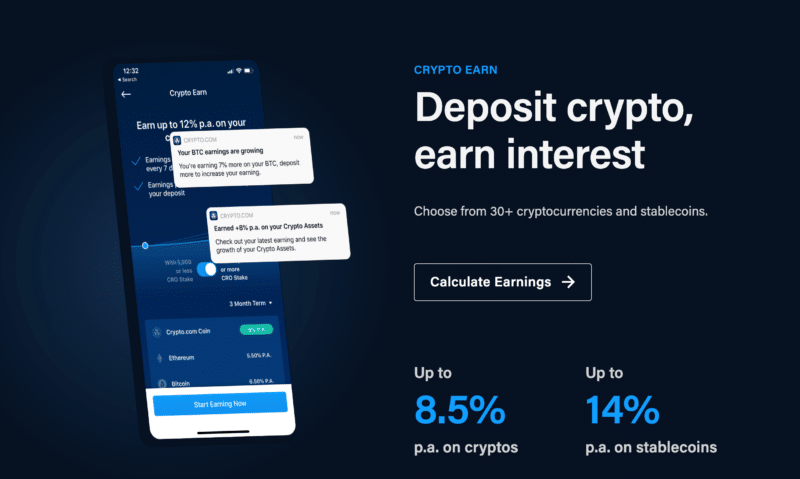 Crypto.com is on a mission to fast-track mainstream adoption of cryptocurrencies. So far, they have done an excellent job: catering to the crypto-initiated, newcomers and merchants using a variety of financial protocols in their full-grown ecosystem.
There are two native tokens, namely MCO and CRO.
MCO- utility token; used to improve stakes and investment yields.
CRO- a cross-asset intermediary currency used to settle asset swaps on the chain. You can stake it to earn as well.
Crypto.com's key features include:
Credit
Like other lending platforms, you can get up to 50% of stablecoins such as USDT, TUSD, and Paxos by supplying BTC, ETH, LTC, MCO, XRP, CRO as collateral. You can also cut your annual interest rate by staking more than 500 MCO tokens. here are the details.
Crypto Earn
With Crypto Earn, you can supply numerous coins and stablecoins to earn interest.
APYs at the time of writing
On supported stablecoins: up to 12%
On BTC: 6.5%
On Eth: 5.5%
On Crypto.com Coin: 6%
Other altcoins: 3%
What's more, you can calculate your credit and earnings with an in-built APY calculator.
Web and mobile wallet support for trading
Crypto.com provides a non-custodial wallet for both android and iOS users to manage their crypto assets. The app contains an in-built Binance-Esque market analysis function that supports more than 200 coins. This enables swift analysis and management of your coins.
You can exchange assets in the spot, margin, and derivatives markets.
Crypto.com's tentacles extend to DeFi as well. You can set up your wallet, and stake your coins in several DeFi protocols.
Visa cards
By acquiring Crypto.com's Visa card, you can spend your coins in shops that accept crypto as payment. These cards come in colors, and they are—in ascending order of luxury– Blue, Ruby, Green, Gold, and Obsidian. One that stands out in terms of affordability and juicy features is the Ruby card.
MCO Ruby card
By staking only 50 MCO tokens to get this metal card, you can enjoy the following benefits:
2% Cashback on all purchases
Free monthly Spotify subscription.
Up to $400 monthly in ATM withdrawals at zero cost.
$4000 monthly interbank exchange rate.
Note that you can withdraw your stake at any time, but your cashback benefit will fall to 1%, and there will be no monthly Spotify sub.
1 MCO = $3.23 at the time of writing
Security
Each lending platform has different measures put in place to minimize the risk of thefts, employee frauds, and other security breaches.
YouHodler partners with Elliptic and CipherTrace to monitor transactions, prevent laundering, fraud schemes, terrorism, etc., and LedgerVault insurance protocol to ensure all crypto assets in a $150 million insurance pool.
Anyone can request 3FA which locks withdrawals unless verified manually by the client.
YouHodler users a mixture of hot and cold storage wallets to ensure funds are never kept 100% online.
They secure 100% of cryptocurrencies in cold storage.
They are partners with Ledger—a global authority in security solutions for blockchain and cryptocurrencies.
Like others, crypto assets are insured with a $100 million policy via Arch's Underwriting at Lloyd's syndicate.
They use 2-factor authentication.
They are verified with several standard information and security management protocols.
Pros and Cons
YouHodler Pros
They support crypto-crypto and crypto-fiat currency conversions.
No utility tokens.
They offer up to 12% APY on stablecoins.
Weekly compound interest.
Highly safe and monitored.
Flexible loan repayment options.
Immediate withdrawal.
No credit checks.
Dispute resolution via the Blockchain Association and the Financial Commission.
Insurance using Ledger Vault $150 million of insurance
iOS and Android app
More transparent than most competitors
24/7 customer support
YouHodler Cons
$100 minimum savings deposit.
Relatively short track record
Not available to USA or China clients right now
Crypto.com Pros
Interest on Crypto Earn is paid daily.
They support a wider range of supported fiat and cryptocurrencies.
User-friendly app with market analysis.
Compound interest on savings.
Composite metal card with juicy features.
Low trading fees
Crypto.com Cons
A minimum deposit of $200
Unavailable in Switzerland, Malta, and North Korea
Stablecoin USDT is not supported for US users.
Significant stablecoin restrictions for Singapore users.
Bottom line
While these crypto-lending platforms keep offering mouthwatering deals, it is important to assess your needs clearly to choose the ideal platform. Recall: individual wallets are not FDIC-insured on none of these platforms; as such, it would be prudent to invest what you can afford to lose.
My current view is that:
YouHodler is best suited for those looking to invest more than $100 to earn APYs weekly, borrow cheap loans for projects, and multiply capital by actively trading using the multi-hodl feature and Turbocharge features.
Crypto.com is best suited for experienced crypto traders looking for diverse investment opportunities all in one place.