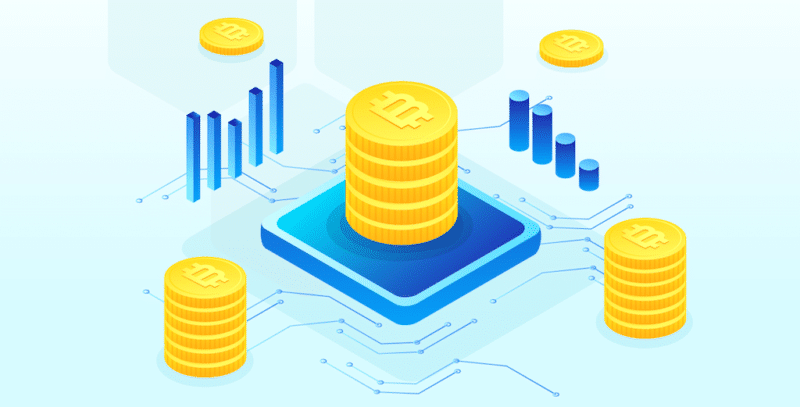 You may have your objections about the realism of some cryptocurrencies' price trajectory. On the contrary, once you get into studying the protocols that underpin networks like Bitcoin and Ethereum, you start realizing that open blockchain economies and decentralized financial (DeFi) solutions will be the eventual end of banks and the financial market. 
Recently the American reserve bankrolled out more cash from thin air than it had done in 2 centuries. Institutional investors and companies are coming to terms with the sickening effect of these simulations and the promise of decentralized economies as an alternative. 
Tesla's $1.5 Billion BTC investment is just one of many huge cash moves into cryptocurrencies. As of the time of writing, the Canadian SEC has approved two Bitcoin-ETFs. 
In the middle of this progress, the space of self-custody through various DeFi protocols is booming, even with all the risks involved.
Cryptocurrencies will likely remain volatile and a risky market for regular and new investors. Even more, the DeFi space may take more time before it becomes a safe zone for regular, and new investors.
Fortunately, in the last 4 years, there are several controlled and regulated investment companies offering safer and more realistic crypto investment solutions with decent ROI for cryptocurrency investors. 
Over the remaining part of this review, we will be comparing 3 leading names offering safe cryptocurrency investment opportunities. That being said, this piece is going to take this trajectory. 
YouHodler is a crypto-backed loan service provider with the option of fiat loans. YouHodler was founded in 2018 by Ilya Volkov, a FinTech specialist with 20 years of experience. The YouHodler platform has been operating since 2018, registered in Cyprus and Switzerland and licensed under European Union Financial Commission License.
Read more: My in-depth review of YouHodler
In this article, I'll be comparing the following three crypto lending platforms:
As a centralized cryptocurrency investment platform with several profit-making opportunities, the best way to describe YouHodler is that it offers long-term cryptocurrency holders the opportunity to exploit the market and make profits while still retaining their positions.
YouHodler is a Switzerland brand with two main offices: one in Switzerland and the other in Cyprus.
YouHodler offers crypto interest saving accounts with decent rates, and cryptocurrency loans across over 26 cryptocurrencies, and several tools for investors looking to try out some multi-loan yield farming strategy or users looking to try out some algorithmic trades.
Although fairly new, YouHodler offers one of the best LTV ratios for crypto loans, a decent APY across its offerings.
YouHodler operates pretty much the same as a traditional bank. Investors who have been storing cryptocurrencies such as Bitcoin for a long time (waiting for prices to rise) can deposit their cryptocurrencies in YouHodler's wallet for a steady income. Then the platform lends out cryptocurrencies to people wishing to trade cryptocurrencies in exchange for interest.
The platform offers loans in fiat (USD, EUR, CHF, GBP), and stablecoins ((USDT, USDC, BesidesTUSD, PAX, PAXG), with guarantees in BTC, ETH, XRP, and other major cryptocurrencies. YouHodlers offers stablecoin interest rates of up to 12% per year.
YouHodler offers customizable plans for legal loans backed by cryptocurrency and Bitcoin loans, as well as a revolutionary cryptocurrency savings account and platform conversion tool.
YouHodler is available in most countries of the world except for the following countries: USA, Bangladesh, China, Iraq, Pakistan, Crimea, Cuba, Iran, North Korea, Sudan, Syria, and Palestinian Territories.
YouHodler has a variety of great features but today, we're going to examine just the loan portion of the platform and compare it to a few other platforms on the market.
YouHodler loans
To get a YouHolder loan, you first need to select the collateral in the form they want to tender. Once this step is completed, users can immediately obtain the agreed loan amount in fiat currency, Bitcoin, or any stable currency of their choice.
However, the loan eligibility on the platform is related to having sufficient collateral and a verified account.
The platform has several loan packages (with customizable loans available upon request):
30 days – 90% LTV
60 days – 70% of LTV
180 days – 50% LTV
If the user cannot repay the loan received within the stipulated time; they have three different payment methods.
Termination of the loan without repayment: with this option, users can terminate their loan without fully paying off the loan. In this case, YouHolder will withdraw all outstanding loans from the collateral and immediately credit the remaining amount to the creditor.
Increase the loan term: users can choose to extend their loan term because it is close to the due date.
Price Down Limit (PDL): If the price of cryptocurrency falls sharply beyond the "price floor", YouHodler reserves the right to sell the collateral and settle the loan.
On the other hand, if the price of the mortgage asset rises above the take-profit threshold, the platform will sell the collateral and then credit the profit to the user's wallet.
Service features
YouHodler offers the following features:
The highest LTV on the market – up to 90%. This means that you can take out a loan in the amount of 90% of the collateral.
High interest on the deposit – up to 12% per year.
YouHodler provides variable and extendable loan terms. Your Bitcoin loan can be between 30 days and 180 days, which provides convenience for those who wish to borrow cryptocurrency in the short term. Lenders can withdraw the funds they want at any time.
YouHodler's deposit limit is $100.
Turbocharge – the ability to take a chain of credits. Fiat credit is used to buy additional cryptocurrency without commission to be used as collateral for further loans. Thus, the collateral is "cloned" and in the event of an increase in the cryptocurrency rate, the profit will be even greater.
Support for a large number of payment solutions – bank cards and transfers, stablecoins.
There are no additional or hidden usage fees for this platform.
A multi-platform wallet, also for mobile devices, with an advanced security system and a combination of hot and cold storage.
YouHodler has a savings account that allows users to save cryptocurrency at a good interest rate. Users get compound interest every week. BTC lending rate is 4.8%; PAX, USDC, USDT is 12%; ETH is 4.5%.
YouHodler has a fund demonstration function. This allows users to experiment with cryptocurrencies and find suitable cryptocurrencies. The user can then decide whether borrowing in this currency will make them profitable.
Users can take a loan of up to $ 30,000.
Competent technical support 24/7.
Now let's take a look at YouHodler's main competitors.

Founded in 2017, BlockFi is registered in the United States as a service provider for cryptocurrency investment opportunities ranging from interest-earning crypto savings accounts, cryptocurrency-backed USD loans, and cryptocurrency exchanges.
The main task of BlockFi is to help increase liquidity in the cryptocurrency market, while also helping debtors better afford daily expenses. Currently, many traders rely on BlockFi's services for margin trading.
Since its first establishment in 2017, BlockFi's popularity has risen rapidly, making the company one of the most valuable players in the U.S. cryptocurrency lending market.
While writing this review, there are eight assets listed on BlockFi, with varying annual percentage yield (APY) and the highest ROI coming from USDT.
As a United States-based financial service company, Blockfi operates under the regulatory confines of the SEC in the United States, and it does not include the insurance of users' funds.
Also, registration generally requires a standard KYC/AML requirement which will require you to fill in some personal information, go through an ID verification process, and video verification with your ID in hand and, without your ID.
Its interest account allows users to earn up to 8.6% annual interest rate on BTC, ETH, LTC, USDC, GUSD, and PAX. Users will be able to purchase stablecoins with the fiat currency of their choice and deposit them into the interest account to start earning interest.
BlockFi provides home, auto loans, and offers the option to pay off credit card debt with these crypto-backed loans. The funds come from the deposits of other users who open savings accounts on the platform. A calculator available on the site shows the interest rate users can expect to earn based on their deposit.
In terms of loan services, BlockFi is very similar to other platforms that are active in the market. Therefore, the platform provides 50% of the loan value (LTV) with a starting interest rate of 4.5%. The debtor's interest rate may vary based on the amount borrowed and other factors such as the minimum loan amount or origination fees. The exact amount that must be repaid does not fluctuate over time, and users realize this from the moment they sign the virtual loan contract. The minimum loan amount that anyone can accept is $10,000.
BlockFi's typical loan term is 12 months, and users can take advantage of multiple options to repay the loan early or refinance the debt at the end of the repayment period.
Service features
BlockFi offers the following features:
BlockFi provides compound interest deposit accounts. This means that your monthly interest will continue to be compounded to your original deposit, which will result in more income.
BlockFi allows users to lend a variety of cryptocurrencies and earn interest, including BTC, ETH, GUSD, USDC, and LTC.
The loan term on this platform is one year.
The lender can withdraw at any time. The first withdrawal is free, but subsequent withdrawals will be charged a fee of 0.0025 Bitcoin.
There are no deposit restrictions on this platform, and users can deposit any amount of deposits according to their needs.
The interest rate for loans below 5 BTC is 6%, and the interest rate for loans above 5 BTC is 3.2%. The borrower's interest rate is 4.5%. This interest rate encourages borrowers to borrow from the platform, which in turn benefits lenders.
The interest rate of other cryptocurrencies of ETH is 5.25%; LTC is 5.0%; USDC, PAX, GUSD are 8.6%; USDT is 7%.
BlockFi is very secure and is called Gemini's third-party cryptocurrency storage.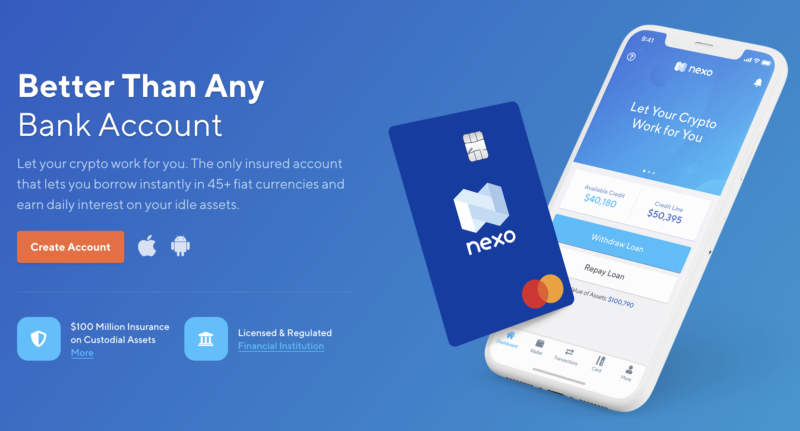 Founded in 2017, Nexo is a subsidiary of Credissimo, a Switzerland Fintech Company which had its IPO in 2014. Nexo is currently licensed and regulated as a financial institution in the EU.
Nexo offers a token-based cryptocurrency investment platform, which offers crypto-backed loans and a credit card to support that. Nexo also offers crypto and fiat interest-bearing savings accounts and an exchange.
All of its services hinge around its in-house token. Nexo is backed by other high-volume cryptocurrencies like Bitcoin and Ethereum. Since the token is backed, holders get a dividend from the company's profit for holding the token, which is more like legacy stock's dividends.
As of the time of writing, Nexo manages over $5 billion in assets for its over one million users across 200 jurisdictions.
Nexo is one of the most experienced crypto lending platforms today. The platform is backed by a fintech group, allowing holders to obtain legal currency loans while retaining their cryptocurrency assets. BitGo is a partner of Nexo, which means highly secure funds.
Nexo also provides credit cards, which allow debtors to easily access their credit lines from anywhere in the world. Nexo cards can be used to make ATM withdrawals or purchase products and services directly at online and offline retailers.
For investors, Nexo is also a good solution. The cryptocurrency lending platform allows users to earn 8% interest on 100% asset-backed deposits in Euros, U.S. dollars, and British pounds. Therefore, it provides investors with the opportunity to obtain high-yield passive income from savings.
Unlike most traditional banks and many alternative lending platforms, funding is instantaneous. In addition, Nexo also provides daily compound interest on all deposits, as well as custody insurance up to $ 100 million per deposit.
Interest rates can also be used for stable currencies such as USDT, TUSD, USDC, PAX, and SAI.
Service features
Nexo offers the following features:
Users can earn daily interest from their cryptocurrency assets and fiat currencies (such as U.S. dollars, British pounds, and Euros).
The loan period of the platform is one year, which can be renewed if the lender wishes.
Nexo does not charge any platform fees.
The lender can withdraw or deposit funds at any time.
Some of the major digital currencies supported by Nexo include but are not limited to Bitcoin, Ethereum, Nexo Token, BNB, XRP, Litecoin, Tron, Stellar, Bitcoin Cash, EOS, Cardano, Dash, IOTA, Ethereum Classic, Zcash, Tezos, Monero, VeChain, KIN, NEO and Tezos.
The ARV of the platform is 8%, but this is only if you use Nexo tokens. The ARV without these tokens is 24.9%.
The minimum loan you can get on Nexo is $500 and the maximum is $2 million.
In addition to BitGo, which provides top-level security services, Nexo also has an insurance value of US$100 million provided by Lloyd's. In other words, your funds are very safe.
Good customer service.
Comparing all 3 solutions
Different users rate services on different basis and parameters, which is why we are offering these reviews across these parameters to allow you make up your mind on what works for you or what's a deal-breaker.
Partnerships and reputation
BlockFi
BlockFi has on its customer-lists, institutional investors like Valar Ventures, Galaxy Digital, Fidelity, Akuna Capital, SoFi, and Coinbase Ventures.
Also, the company's primary custodian is Gemini Trust, a leading cryptocurrency exchange and wallet custodian, registered and regulated by the New York state department of financial services.
YouHodler
Youhodler is the youngest of all three, which is evident in the number of partnerships it has and its manpower. However, the company is registered with the financial commission and blockchain association, which is also compliant with all the regulatory benchmarks for operations in the EU.
A big plus along its partnership lines is its internal wallet provider, Ledger vault which is a leading name for wallet security.
Nexo
Of all three platforms, Nexo has the biggest user base, according to the numbers on their website, which is largely due to their 550 million coin offering, at the heat of the 2017 to 2018 ICO frenzy.
Also, Nexo has some of the leading brand names in the blockchain industry as strategic partners, some of which are names like BitGo, Ledger, TrueUSD, HuobiGlobal, Securitize, Paxos, and several others.
Customer service
BlockFi
From the actual user remarks, we found on Trustpilot, most users have good customer service reports. However, some shared complaints of not being able to speak over the phone with actual customer support and some delay in response over email.
YouHodler
One thing YouHodler makes up for in its age is its customer support and a strong team-to-community relationship. A good example is the periodic live YouTube review of the company's CEO and team, with their users, in realtime on YouTube.
So far, we found few testimonies, on Trustpilot, which is obvious (considering its age) but they were relatively good testimonies.
Nexo
Nexo has decent customer service overall. However, there are several accounts of a slow response time from their customer service team, which is something to expect from a brand with over a million users.
Crypto-backed loans— interest and collateral rates
BlockFi
On BlockFi, Interest rates on loans vary, depending on the collateral assets. These assets include BTC, ETH, LTC, PAXG, USDT, USDC, PAX, and GUSD.
The collateral rates required or loan to value (LTV) ratio also affects the interest rates. For instance, for BTC, an interest rate of 4.5% requires a 20% LTV ratio and an interest of 9.5% a 50% LTV.
The LTV ratio of a loan is a measure of the amount of collateral required for a particular amount. An LTV of 20%, therefore, means that you can only get 20% of your collateral size as a loan and an LTV of 80% means you can get up to 80% of your collateral size as a loan.
YouHodler
Of the three platforms in this review, YouHodler has the most generous LTV ratio of 90% for over twelve assets. In other words, $111 worth of collateral you can get up to $100 worth of loan. With BlockFi that can only get your $55 for the best LTV ratio at 50%.
Also, of all three platforms, YouHodler has the most number of collateral options, with twenty-three assets for collateral. Also, repayment is a one-time payment with the option of unlimited loan terms.
Another unique feature is the Turbocharge borrowing option of repeated borrowing, which mirrors the strategy of compounding borrowing strategy used by yield farmers, on DeFi lending protocols. This strategy involves, taking a loan against collateral and locking up the collateral to get another loan, and repeating the process across several assets that have high growth potentials.
Nexo
Nexo accepts BTC, ETH, XRP, BCH, BNB, LTC, NEXO, EOS, XLM, and PAXG as collateral with collateral LTV ranging between 15%-75%. A 75% LTV is somewhat better than BlockFi's 50% LTV but not as generous as YouHodler's 90% LTV.
Interest-bearing accounts
BlockFi
As of the time of writing, BlockFi offers interest for ten digital assets, with APYs ranging from 3% for BTC savings (that is greater than 2.5 BTC) to 9.3% for USDT savings.
These rates are considered high, relative to most DeFi staking and liquidity pool protocols or even traditional savings accounts. However, it's not the highest you will find in this review.
YouHodler
YouHodler offers up to 12% APR + compounding interest on some assets and allows for interest-earning across over twenty-two cryptocurrencies. Also, the Multi HODL option allows users to loan against their interest saving accounts and multiply their market exposure, however, this comes with more risk.
YouHodler's interest-bearing account also starts compounding, after the first week.
Nexo
Nexo's interest rates are simple and not as high as BlockFi and Youhodler, with yields averaging around 5% APY for volatile cryptocurrencies and 10%  APY for Stablecoins.
Another interest leverage Nexo has is its higher interest rate for users with a minimum of 10% of their savings held in Nexo token.
Also, like with stock dividends, holders of Nexo get to share 30% of the company's profit for holding the Nexo.
Exchanging assets
BlockFi
BlockFi offers a simple trading outlet for simple buying and selling at their quoted price, which comes with some increase in cost as compared to other high volume exchanges with an order book that defines the price.
One pros with their exchange service is the zero fees they offer for these trades.
YouHodler
One visible pro with YouHodler is its varieties across all of its products. It is one feature the platform makes up for its small size and young age in the market.
The Multi HODL gives the option to set your trades to execute automatedly, similar to algorithmic trading. We must also warn that this, like with every cryptocurrency speculation, comes with risks.
YouHodler also has universal conversation between all asset pairs on the platform with exchange rates as low as 0.5%.
Nexo
Nexo's exchange offers its users the option of over seventy-five crypto to fiat pairs, allowing up to $50,000 per swap. Also, the Nexo in-house token is a listed pair on its exchange. This function is built for simple swaps.
User experience
BlockFi
BlockFi has a decent UX design with regard to the website's usage. However, there have been complaints from some users regarding the difficulty in withdrawals, especially in bearish markets, sometimes taking up to one business week.
There have also been similar complaints regarding high withdrawal fees. Fortunately, there has been a recent development of a zero-fee for the first monthly withdrawals.
YouHodler
So far, YouHodler has a good UX design and a responsive site. Also, the user testimonials have been quite positive, with only a few complaints coming from the Multi HODL rates. That is why we advise the Multi HODL option for experienced traders.
Nexo
Nexo responsive UX design is well optimized for easy use and first-time usage. Also, their user remarks on Trustpilot confirm their user experience.
Security
BlockFi
BlockFi uses Gemini —a registered and regulated NYC crypto exchange and wallet provider— as its fund custody solution. In other words, Gemini receives the funds and holds them in cold storage, and also pays out users of BlockFi on withdrawal requests.
With user account security, there is a 2-factor authentication security layer and address whitelisting for withdrawals.
It's important to note that there was a slight security breach that led to the compromise of BlockFi's user personal data. While no funds were lost, such breach, however, could degenerate into personal phishing attacks on their users, with the possibility of hackers tricking users into sending out their funds to a compromised wallet address.
YouHodler
For fund security, YouHodler uses Ledger Vault,( a pioneering and leading wallet provider), as its wallet providers. As such, YouHodler benefits from the Ledger's pooled crime insurance program, which insures up to $150 million in user funds.
Also, YouHodler uses a multisig account to manage its Ledger Vault holdings.
Another great security feature for the end-user on YouHodler is its 3FA withdrawal measure, which allows users with over $10,000 in account holdings to disable all withdrawal options while every other feature is active. With this extra security measure, users will need to undergo an identity verification process to make withdrawals.
As for storage, YouHodler never keeps 100% of its funds in hot wallets (online wallets). They use an advanced mixture of hot and cold storage to ensure the majority of funds are kept safe from hackers at all times.
Nexo
For its cold wallet storage, Nexo uses BitGo, a trusted provider of highly secure multi-sig wallet storage. Also, Nexo is one of the few crypto companies out there investing significant amounts into ensuring its operations, with over $100 million spent in insurance premiums.
The Final Verdict
When comparing just the loan features of these platforms, YouHodler has the best conditions around. The 90% loan to value ratio is the highest by far on the market and their minimum loan amount is a great entry point for crypto loan seekers of various budgets. The fact that they let clients receive loans in five different currencies is also far more than any other platform and YouHodler is the only platform that lets its clients get a loan in Bitcoin.
So if you don't want to sell your crypto, consider using it as collateral for an instant crypto loan on YouHodler. That way, you don't have to sell your precious crypto but keep HODLing instead.
However, all three platforms have some features that stand out depending on your priority as a user.
BlockFi is great for institutional-grade investment, with several hybrid solutions that support this.
Nexo on the other hand has a reputation for its numbers. Also, users looking to make some dividends for holding their native tokens still get to earn 30% of the company's dividend.
YouHodler being the newest of all three, has more improved investment features, for users looking to scale their earning potentials and very active support. They also feature the highest LTV (90%) and highest savings accounts rates (12%) without the need to stake any native token to unlock these high rates.
In addition, YouHodler has the Multi HODL tool, a crypto multiplication tool that is 100% unique. They are the only platform that has this innovative margin trading feature. It really helps them stand out from the pack. Therefore, YouHodler seems like the most well-rounded, transparent, and client-focused platform of the three and it's a recommended option.