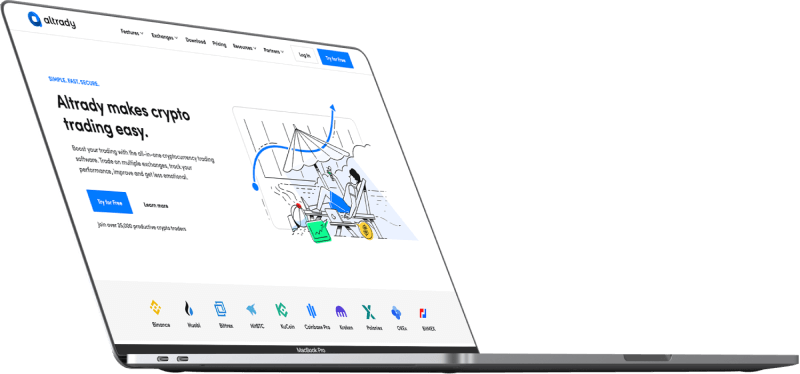 Experienced blockchain investors and crypto traders know very well how important it is to be equipped with the right tools for the job.
In the highly volatile cryptocurrency market, the prices of assets change so fast that using a subpar exchange can cost you time and money. That's why traders who are focused on making serious gains prefer to make trades through high-quality crypto trading platforms like Altrady, which provide the users with a large number of extra features compared to typical crypto trading platforms.
From this article, you will learn what the core idea behind Altrady is and how using a premium crypto trading platform like Altrady can help traders maximize their profits while saving them a lot of time. You will get to know all the most essential features of the platform which combined together make Altrady a crypto trading powerhouse. The article also discusses the affordability of Altrady pricing plans and the groundbreaking new functions that will be added to the Altrady crypto trading platform in the near future.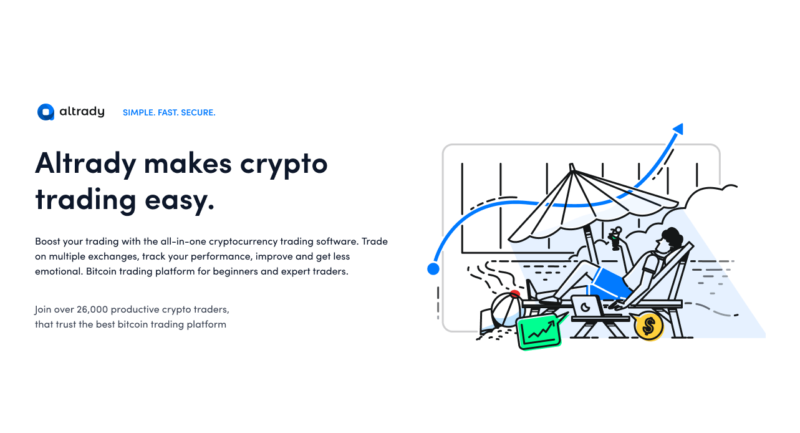 Altrady is a cryptocurrency trading platform developed with a single goal in mind: to make crypto trading easily accessible to everyone. It's a powerful set of tools that can be used together with most of the popular crypto exchanges on the market.
The crypto ecosystem is dominated by exchanges that weren't really created to cater to demanding traders, but to simple retail investors who just want to buy some crypto and hold it for a long time. Altrady, on the other hand, is a trading platform made specifically for traders and by traders: all the features of Altrady are designed to make the life of crypto traders easier, their risk smaller, and their profits bigger.
Unlike a large number of platforms that only provide the basic functionality of buying and selling crypto, Altrady allows people to benefit from a large number of extra features. Because of the powerful trading tools integrated into Altrady, crypto traders are able to gain a better insight into the market, make more informed trades, save a lot of time and make more money.
Main features of Altrady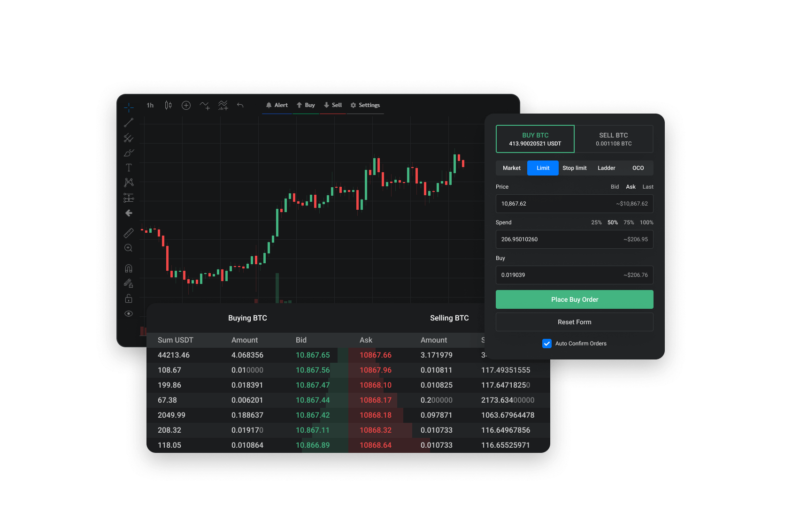 Smart Trading
Altrady comes with a large number of tools allowing traders to utilize advanced trading strategies. Some of the options such as the Take Profit Order are intended to help traders optimize their gains and make maximum profit out of rapid price movements. Other options like the Trailing Stop Order allow you to mitigate risks and protect your gains.
Web Trading
Altrady allows people to trade crypto anywhere and at any time. Not only is the Altrady application available for all the popular desktop and mobile systems, but you can also use the web platform accessible from any device. With Altrady you don't have to worry about ever again missing a great opportunity.
Trading Analytics
Most traders lose money by making trades without having sufficient information. Altrady provides instant and effortless access to high-quality historical data and market analytics, enabling traders to have full insight before making a trade.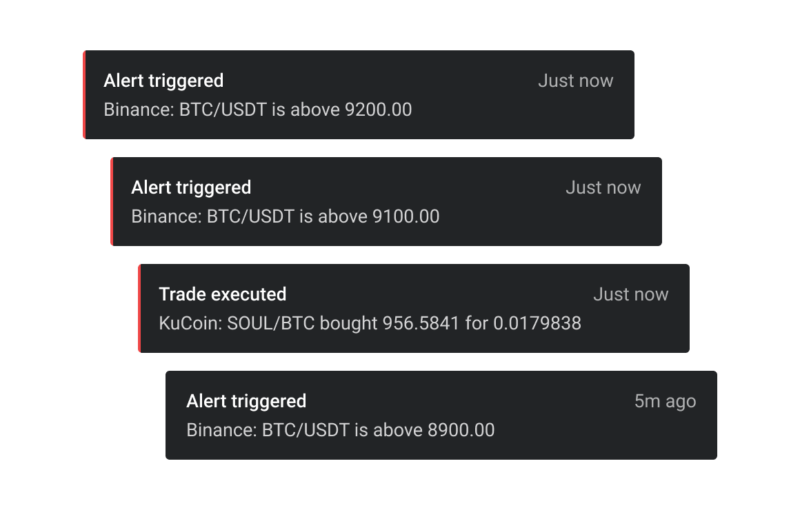 Real-Time Market Data and Alerts
In a highly volatile ecosystem like crypto, getting the right info is just as important as getting it on time. Traders using Altrady gain access to instant alerts informing them about all the important price movements.
Multi-Exchange
Altrady can be integrated with almost all of the most popular exchanges such as Binance, Coinbase, Huobi, Kraken, BitMex, and many more. You no longer have to choose between exchanges, and you don't have to waste time learning how to use a new platform.
Portfolio Manager
One of the most important things for crypto traders is keeping track of all their trades and investments. Altrady includes a clear and beautifully-presented portfolio that allows the users to effortlessly keep track of all their current assets and the history of their trades.

Quick Scan
Quick Scan is a feature that allows traders to be immediately notified about price movements with the potential for scalping opportunities and other possible profits. Whether the price goes up or down, Quick Scan will notice it and inform you of all the important events on the market.
Crypto Base Scanner
Crypto Base Scanner is a powerful tool designed specifically to help traders greatly improve their profits while using the QFL trading strategy. Crypto Base Scanner scans the market for preferable entry points and automatically notifies the user when it notices an opportunity to make a profit with the QFL strategy.
Pricing
Greatly expanded functionality when compared to free exchanges and trading platforms naturally comes at a price. However, Altrady offers a great price to value ratio because the small subscription cost allows traders to increase their profits massively. Furthermore, Altrady allows the traders to select from three different pricing plans and choose the one that suits their needs best.

Basic plan includes all the core features of Altrady and costs only €14.95 a month. Traders utilizing the basic plan are entitled to almost all Altrady functionalities apart from some advanced trading strategies and analytics.
Essential plan provides almost all Altrady functions at an accessible price of €29.95 a month. Almost all features are included in this plan, except for two premium features: Base Scanner and Quick Scanner.
Premium plan is intended for the most professional and demanding traders. This plan costs €44.95 a month and includes all the features of the previous plans, while also adding two elite-level tools: Base Scanner and Quick Scanner. These scanners allow the traders to greatly increase their profits by making it extremely easy to find attractive tokens to trade.
Dedicated traders focused on making the most profit can get a 30% discount by purchasing an annual plan instead of a monthly plan. But that's not all: every crypto trader is entitled to a 14 days Free Crypto Trading Subscription Trial – you can try Altrady with no obligations at all, and purchase a subscription only after you see for yourself how the platform can improve your gains.
Features coming soon to Altrady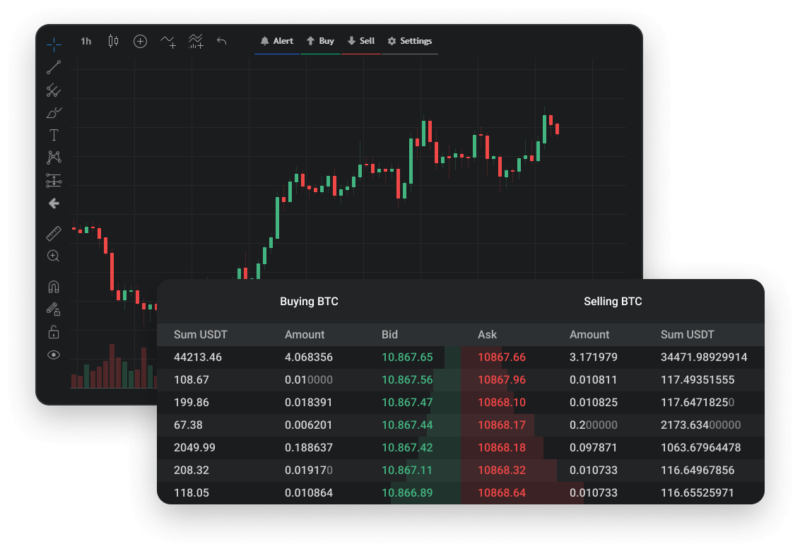 One of the reasons why Altrady is so quickly gaining popularity among cryptocurrency enthusiasts is that the exchange is constantly evolving to meet the needs of the most demanding crypto traders. New features are introduced on a regular basis, in order to keep up to date with the ever-evolving needs of the crypto community.
Before the end of Q1 2021, Altrady will introduce a large number of new features:
Manual Smart Positions
Trading Bot Positions
Signals Bot
Grid Bot
These new features will allow the Altrady users to benefit from the full power of automated trading. Advanced algorithms will enable the traders to improve their profits even further, all while saving them a lot of time and mitigating the risks.
Summary
Altrady's growing popularity among crypto traders is obvious when we analyze all its features. A massive number of powerful tools integrated into Altrady empower the traders with a large number of benefits. A massive boost to profits will be most important to most people, but Altrady also works great at reducing the risks related to highly volatile markets and making the entire process of trading crypto more time-efficient.
A popular crypto motto says "don't trust, verify". You can verify the usefulness of Altrady yourself with the 14 days Free Crypto Trading Subscription Trial, which allows everyone to try Altrady entirely for free with no obligations at all. Altrady is an excellent investment in your crypto trader career, and the 30% discount for all plans while purchasing a yearly subscription makes this investment affordable to anyone.
You can also use the discount code GALEA to get 10% off any plan at checkout.
Summary
A great interface for traders that want to connect to various top crypto exchanges at once and find better trading opportunities than if they had to do the job manually.