First, some personal history for context…
At present day, after about 20 years of working online and never having a 9-5 job, I am in the privileged position of being able to live a comfortable life while working less than four hours a week.
That's all great, but let's see how I got here…
When I first started out designing websites, doing affiliate marketing, and myriad other little enterprises one can do online, I was overjoyed to see some money pouring in. Soon enough, instead of just pocket money, I was making a full-time living from my online work, and I was euphoric about the whole thing.
Coming from a tiny island where working online was unheard of at the time (and thus a very risky thing for me to try out) I was so happy to have my ideas and dreams validated.
Prior to embarking on my online journey, I had followed the path that all parents in my country want their children to follow; study hard and obtain a university degree. In fact, I had obtained not only one but 3 University degrees by the age of 23. At that point, however, after having spent thousands of dollars on my education, I flew off on a tangent and instead of getting a job at a local company, I decided that I'd rather do my own thing.

For a long time, my parents and friends thought I was crazy for doing so. In the end, however, it all paid off and I am where I am today only because I had the courage to take that decision back then.
Is it so easy to make money online?
As soon as I started seeing some success with my online ventures, the basic human instinct of sharing knowledge made me start trying to persuade everyone around me to do the same thing that I was doing. I couldn't believe why my friends complained about their low salaries, terrible bosses, etc, but then wouldn't even consider putting in some effort to try and earn some money online with the hope of leaving that dreaded job they complained so much about. Heck, they didn't even seem one bit interested in how I made money online.
This doomed exercise of evangelization continued for several years. I thought that everyone could make money online, that it's simple and so much better than working a 9-5 job for someone else.
In retrospect though, and after having met many other successful online workers and entrepreneurs, I've realized that making money online is not for everyone. It's just as difficult (if not more so) than getting any other skilled job. It is one of the most accessible ways to generate money, as it doesn't matter where you are, who you know, etc. All you need is your own knowledge and an internet connection. While it is definitely a very accessible path, it is not easier than the alternatives.
There are so many factors that come into play and affect whether you are successful or not in making money online. I estimate that more than 90% of those who actually try to make a living through any type of online venture actually fail. Of those who do manage to earn some money, only a fraction eventually get to the point that they can earn enough to justify doing that full time instead of having a 9-5 job.
You see, as I came to realize, the vast majority of successful online workers, far from being the average Joe, are highly talented people. Building an online business requires an entrepreneurial spirit, lots of patience, an incredible amount of motivation, support from the people closest to you, and a fair amount of luck to boot. That's only mentioning the few first factors that come to mind. There are many more.
Most people don't and won't ever have the right combination that enables them to go down this route in life. Clearly, for many people, their job is their vocation, and although they complain about their workplace, salary or colleagues, in the end, that's what they are most suitable for and that's how they can best give service to the rest of society.
So I've stopped trying to persuade everyone and their dog to start an online business and live the life of their dreams. Of course, if someone I know is really motivated to do so and asks me for help and advice, I'd more than gladly share all I know about it, but it's not for everyone.
At the start of this post, I said that I am lucky enough to have to work very little to make a living. I am by no means rich and don't own any real estate, but I can live anywhere I want in the world and have the liberty of doing what I want with my time while having enough income to support myself and my family from month to month.
The truth however is that I work way more than 4 hours a week. I do that because I love what I do, I don't consider it to be work but play.
Think about your typical kid, what would he like to do on a perfect day. Play video games, soccer with friends?
That's the way I feel about working online most days. I wake up with a lot of energy to chase a new idea, or fine-tune an existing business. And all the successful online workers I know have that same feeling about the work they do. They're definitely not lazing about on a beach for the rest of their lives while their websites deposit money into their accounts as they sleep.
So that doubt in me remains, are these Internet marketing blogs promoting a big lie? Are they making a ton of money off people who can never really make a living online? Are we online workers really being truthful when we say that anyone can earn money on the web? Is it time for a more mature breed of Internet marketing blog, targeted at people who already have established online businesses? What do you think?
Here are some blogs that speak the truth about making money online and don't try to sell dreams:
What any serious online marketer or blogger will tell you, is that it takes a lot of work and commitment to succeed online. No one can give you a shortcut to earning thousands or millions without any knowledge, simply because there is no shortcut to online success.
Online success = Hard work and commitment + Constant learning + Right timing + Networking
That success is the result of hard work and commitment is probably common knowledge, but I also like to add in the other three less-mentioned factors. Dedicating a lot of hours to something does not equal success unless you know what you are doing, are doing it at the right time and you're making the effort to network with your peers.
Why Publishers Prefer to Work with Affiliate Networks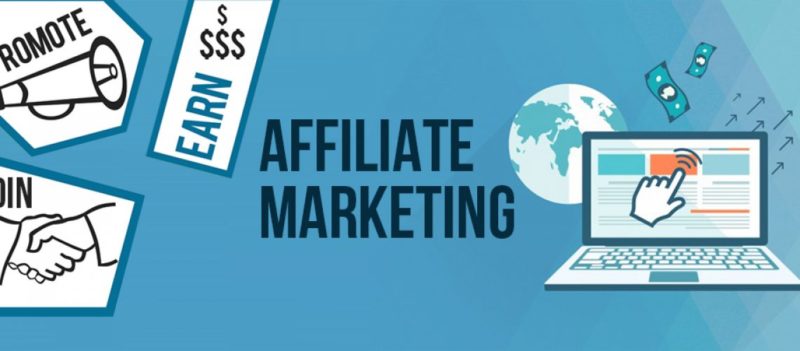 Web publishers such as news media outlets, bloggers and affiliate marketers, all need a way of partnering up with advertisers and track commissions due to them.
As a publisher, you are usually working with either of the following:
Affiliate networks
In-house affiliate programs
In this article, I will list several reasons why you should always try to partner up with advertisers through an affiliate network and not through in-house affiliate programs.
Before we start, to make sure everyone is on the same page, let's define what's an affiliate network and what's an in-house affiliate program.
Let's start with a diagram of how affiliate marketing works.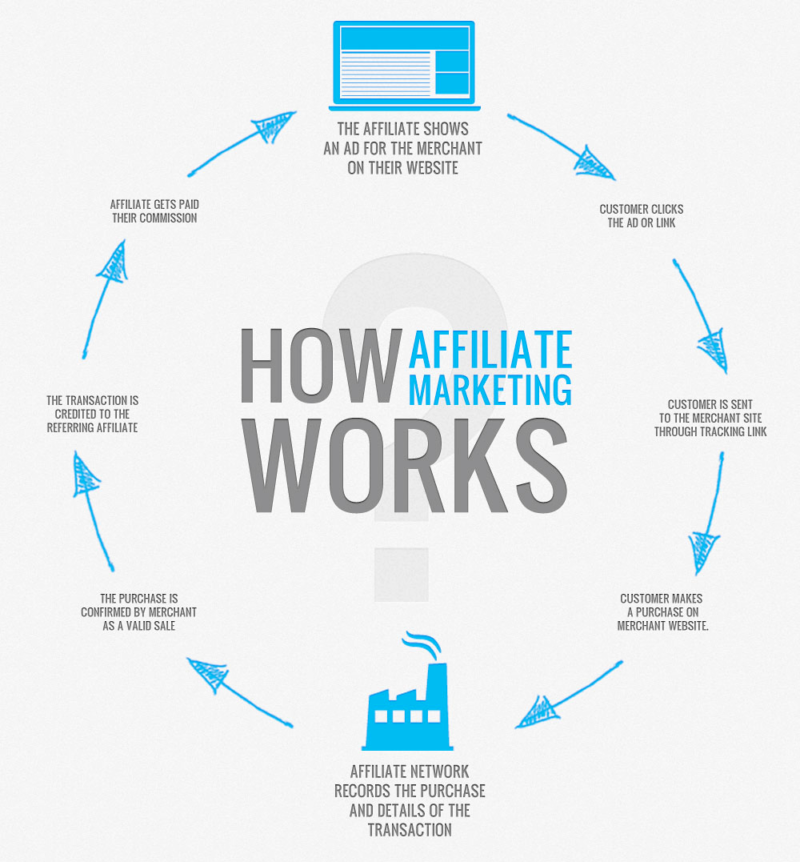 The diagram should be pretty self-explanatory. Note that publishers are also referred to as partners or affiliates. Advertisers are also known as merchants.
Here's an even simpler way of looking at it.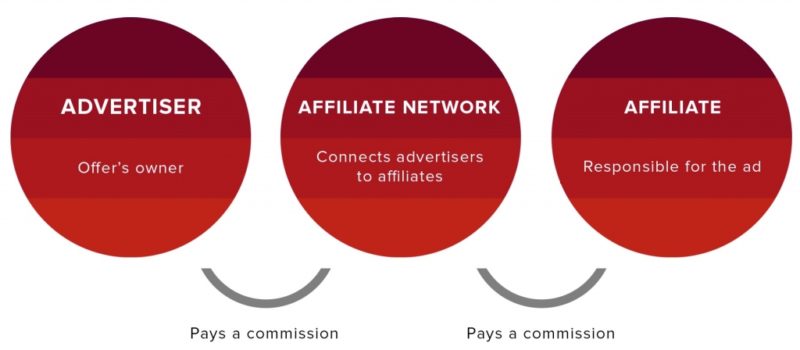 Or perhaps you can relate more to this next diagram which lists the typical personas involved in an affiliate marketing transaction.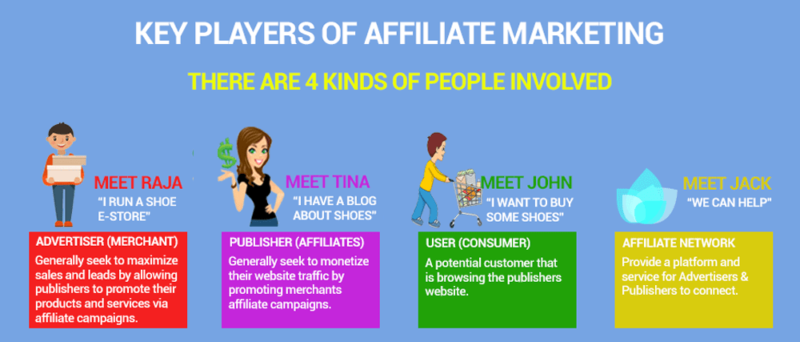 What is an affiliate network?
Affiliate networks congregate many advertisers under one platform and simplify things for both the advertisers and the publishers. They use their reach to link the two parties and propose partnerships both ways. They also handle all transaction tracking and billing, as well as other essentials such as reporting.
As a publisher, you have one platform that you can login at any time, and you will see all the commissions generated from all the advertisers you have partnered with.
Which are some of the most popular affiliate networks?
Here's a list of the best ones I've used over the years:
Shareasale
Impact
Partnerize
And what about in-house software solutions?
AffiliateWP
Affiliates Pro
Alright, so let's get into the reasons why I prefer working with big affiliate networks rather than in-house programs.
Trust
It is much easier to trust an affiliate network than to trust tens or hundreds of advertisers to manage their affiliate system effectively.
When working with in-house affiliate systems, I've had several advertisers fail to make the monthly payouts or change affiliate links without properly notifying publishers or redirecting previous links. This all leads to missed revenue for publishers and time spent chasing down the problems.
With big affiliate networks, the trust factor doesn't even come into play.
Invoicing and billing
A big problem when working with many advertisers is invoicing and billing. As an advertiser, you are responsible for invoicing each advertiser every time they send you commissions. If you are working with hundreds of them, the task becomes impossible, effectively leading to having to shut down the business. The solution is to work with an affiliate network, as they will automatically generate the invoices based on the company details you provide, thus you are always covered and you have zero work to do.
I can't overstate the importance of this benefit as a publisher.
Standardization
Instead of learning how to use a ton of different affiliate marketing software programs, you instead need to learn how to use a handful of affiliate network platforms that you are signed up with. Again, this saves time and hassle, and it is easier to train other people you might have on your team.
Better software
It is usually the case that an affiliate network will have a better technical solution than an in-house software system. Affiliate networks are experts at what they do, so you can bet they will have taken care of multiple currency handling, reporting facilities, deep-link builders, self-billing, and a host of other features you will need as a publisher.
In-house affiliate software will typically be sorely lacking in such features.
Less work
Do you want to end up using an excel sheet to keep track of your 200+ affiliate agreements, how to login to each in-house affiliate system, login details, and make sure they all keep working month after month? This can easily take 2 or 3 full days of work every month to manage. If you want to spend your time more productively, use an affiliate network.
Wrapping up
So there you have it. My experience over more than ten years of working with affiliate systems has taught me to always prefer working with affiliate networks than in-house affiliate programs. It's not the first time I have outright refused to work with an advertiser due to them insisting that they do not want to join an affiliate network. Others thankfully see why it's beneficial for both the advertiser and the publisher, and have no problems moving to an affiliate network once I recommend that they do so.
What's your take on the subject? Let me know in the comments section.
Blogging VS Affiliate Marketing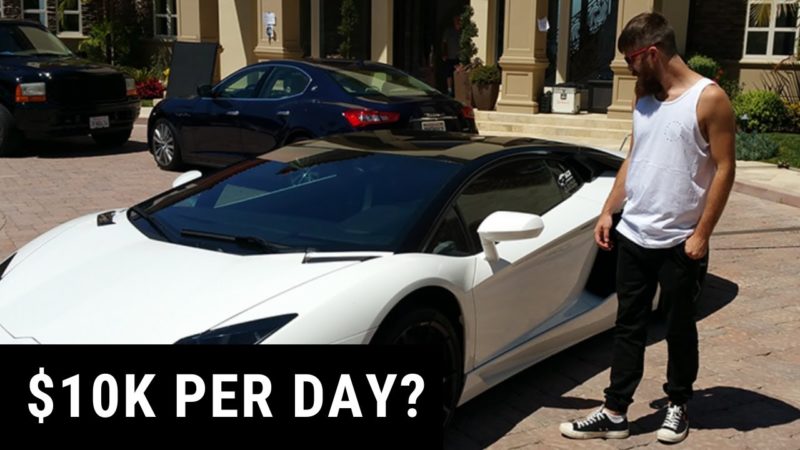 When bloggers succeed in making money, or just happen to generate enough traffic that income becomes inevitable, there usually comes a point where the urge to make more and more money gets quite strong.
Let's face it, making money online is one of the best feelings. It still feels hard to believe that it is possible, and when you actually achieve it you feel great and want more of it.
Where some bloggers go wrong is that they get greedy and start looking for higher ticket items to promote and become less authentic.
I've seen it happen hundreds of times over the twenty years that I've been blogging.
Some people start off with money as their main goal and the arts of persuasion and manipulation as their tools, but the vast majority start out with a passion for writing and sharing their stories and opinions, and eventually slowly lose their way when money gets involved.
Here's a good article on how you can stay happy and guilt-free while growing your blog and making money. It's packed with tips that I fully agree with, so I thought I'd just link to it rather than repeat the same things over in this blog post.
You might think that it's counterintuitive to not keep pushing for more and more income from a blog, but there's a balance that few people consider until they've been through the whole experience.
Here's how it goes.
When you start blogging, it's probably just a few friends and family who will venture to your blog. However, you keep putting in the hours because it's a passion-driven project.
Soon enough, your content gets linked to or ranks in Google and a few like-minded people start to subscribe to your newsletter or comment on the top content.
This feels amazing. Your work is finally being validated, people are interested in what you have to say, and you might even learn a thing or two from the people who comment and give feedback on your articles.
This goes on for a while as your traffic grows and grows, until one day the first commission comes in, and it feels incredible.
Now, you not only have a loyal flock of like-minded people, but you are even being compensated for your work. A few months pass by and the income now pays for your expenses, or if you're lucky even for you to blog full-time and stop any other job you were doing before.
You decide to take this thing very seriously and start getting into SEO, reading about affiliate marketing, and possibly learning some basic coding.
You realise that there are other bloggers out there who claim they are making $50,000 a month or even more, and driven by your success so far, you see no obstacles to getting there if you just keep doing what you're doing and follow their courses and secrets.
This is usually where things get nasty. Your expectations are now really high. You're no longer happy with a day where you earn $100 in commissions, or a month with a $5000 payout. That's just normal for you, you're a successful blogger and you want more and more.
At this perilous point, a lot of bloggers turn into full on affiliate marketers. This is where you see that genuine food blogger suddenly start making more money with her courses teaching you how to start a food blog or how to find a perfect web host. The whole act becomes more and more about the money and less about the original topic of the blog.
This is where the blogger unwittingly deviates from his real passion (food, technology, etc etc) and starts to focus exclusively on finding and promoting high ticket items. They might even write ebooks and launch courses that promise others how to achieve the dream of the dot com lifestyle.
What happens here is that yes, most likely the blogger makes a good chunk of money, but they become less happy and work many more hours, as they start losing the benefits of their narrow niche and start competing with aggressive affiliate marketers for hot generic keywords. This road leads to anxiety and burnout.
On the other hand, the blog starts to lose its loyal readers, who are disgruntled by the way things have turned out, and no longer feel that sense of camraderie and connection with the author of the blog. They are instead replaced by an army of (unfortunately) gullibe and lesser educated people who are looking for a get rich quick scheme and are not ready or capable of putting in the years of learning all the skills needed to make money online.
These are the same people that get drawn into pyramid schemes and MLMs and go to self-help seminars, spending thousands of dollars and getting nowhere closer to their dreams. They usually end up worse off in fact. It's sad but it's the truth.
Going back to the blogger, your only option to keep growing is now focusing even more on the arts of manipulation, as this is the kind of target audience your blog is now aimed at. Going back to the good old days is almost impossible now, so it's either keep focusing on the money or shut up shop altogether and go into something new.
I've met a ton of bloggers and affiliate marketers and felt the allures described above myself. Years back, when I was building my early successful blogs, I got close to the tipping point, but the extra anxiety and my family background helped me ask the right questions and realise what the choices ahead were.
I decided to keep doing what I really love, because doing something you love is more important than making more money, especially if you're already doing well enough to get by.
My choice was to keep blogging about whatever interests I have at that point in time, and use the skills I had learnt along the way to build products. In that way, I could build products that I could stand behing 100% and I also had the skills needed to promote them via blogging and other forms of content. It was a win-win scenario.
My aim is not to tell you what you should do as a blogger, but to at least shed some light on the usual course of things and share the fact that there are always options, you should never have to compromise on your morals or your true calling in favor of more money.
In case you're wondering whether all the claims of monthly income by affiliate marketers are even true to begin with, then I can tell you that I know many of them and the vast majority of them really make what they claim they do. However, a lot of them made choices that I wouldn't be comfortable doing and I don't envy their lifestyles. I feel that in most cases, instead of their blogs providing them with freedom and the ability to help others and share their passions, they turned into huge money-making machines that they are chained to in order to keep going and keep up their big level of monthly earnings.
Now you know the story, it's time to reflect and make your choices.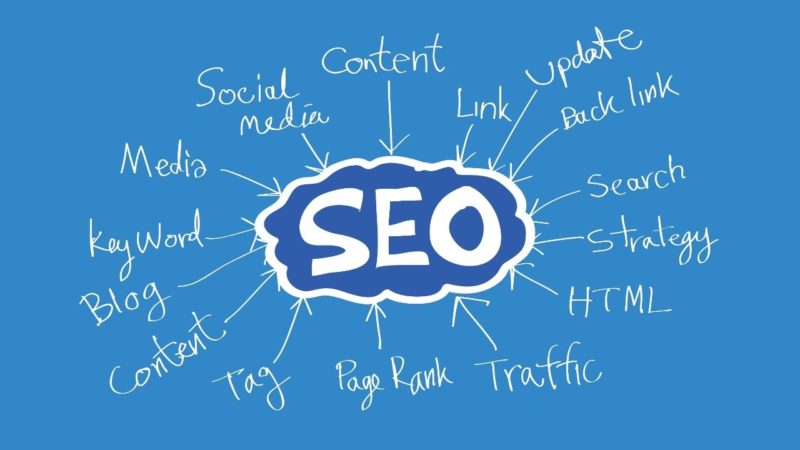 I've never paid too much attention to SEO when writing, just because writing is really a research tool for me as I learn new topics and consolidate my opinions on others.
However, there are a few habits and techniques that I've picked up over the years. I've been blogging for close to two decades after all.
Monthly go through Google Search Console and fix any issues. I like to take a look even more frequently, maybe once a week, just because this is a great tool to point out any major issues that many times only need an easy fix.
Make sure the site is optimized for mobile. Nowadays I get more visits from mobile devices, around 55% of all visits.
Comparison tables work really well at presenting information and you will achieve a high rate of clicks through them.
Images in posts should be linked and there should be a clear call to action.
Think about what the user is searching for, and what his real intent is. Then target that real intent in a laser-focused manner.
Open external links in new tabs, else you are inviting people to leave your site.
Make use of your newsletter to develop a closer relationship with your subscribers. Also ensure you're taking actions to grow the subscriber base over time.
People tend to click on

buttons
links
images
logos
Make sure you have all these elements on every blog post.

Every month, pick the top 5-10 posts and ensure they are optimized and up-to-date. I also like to prune and consolidate the non-performant posts.
Test your site with ad blockers on, make sure there isn't any essential stuff missing.
Use tools to measure and optimize, but make sure you spend an appropriate amount of time on that. Your writing is always the most important thing.
Here are the top courses for those who want to learn SEO and affiliate marketing in 2021:
Here's a list of my favorite tools for SEO in 2021:
Hotjar
Accuranker
SurferSEO
Clearscope
Clicky
Ahrefs
Semrush
What are your favorites? Let me know in the comments section.
EPC and EPM in Affiliate Marketing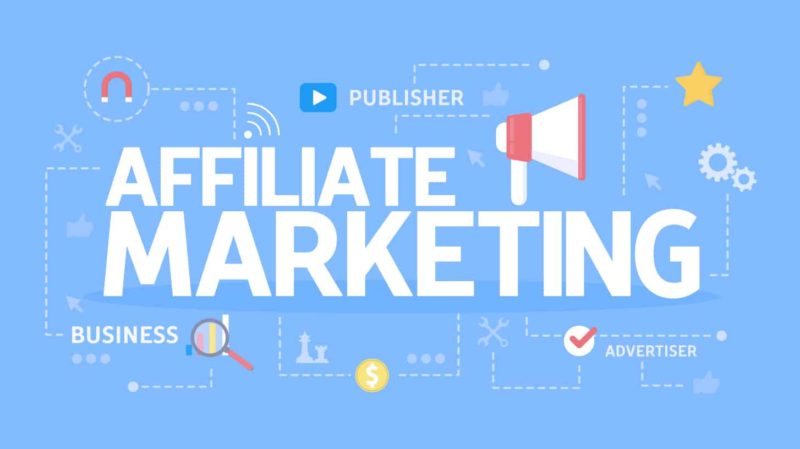 EPC – Earning per Click
The acronym EPC stands for average earnings per 100 clicks. EPC is the ultimate test to tell how well an affiliate merchant campaign is performing. Just because a campaign pays a high commission doesn't mean it is a preferred program. A campaign with a lower-paying commission but a higher EPC will actually be more appealing to affiliates. This is because the affiliate will earn money on average for each click they can generate even at a lower commission rate.
EPM – Earnings per Thousand
The acronym EPM stands for average earnings per 1,000 impressions. An impression is each single instance that the ad is viewed. The acronym is derived from the fact that "M" is the Roman numeral for 1,000. Affiliate networks use both EPC and EPM in publisher performance reports.

When first starting off in internet marketing and affiliate marketing in particular, it's easy to get lost in the terminology of this industry.
One of the terms that confused beginners is EPC, or Earnings per 100 Clicks.
When choosing an affiliate program to promote from markets such as Clickbank or ShareaSale, you will see this term associated with each of the affiliate programs available.
EPC is a computed correlation between clicks and earnings usually averaged on the last 7 days or the last 30 days. This can give you an indication of how successful a program is and how it will work for you.
So if a product has $190 7-Day EPC, it means that on an average 7-day period of observation, affiliates are earning $190 on every 100 clicks they generate. That can be broken down further to arrive at the value of 1 click: $1.90.
This one of those things you should look at carefully when choosing affiliate programs to promote. One program might promise a big cut but then have a very low EPC, while another might offer a slightly lower percentage cut on each product sold, but have a higher EPC. That meant that the latter product is more popular and I would thus usually end up promoting the product with the higher EPC.
In essence, EPC will give you a very good indication whether a certain product is sellable or not. I'm always on the lookout on EPC whenever I join a particular program, and you should be too.