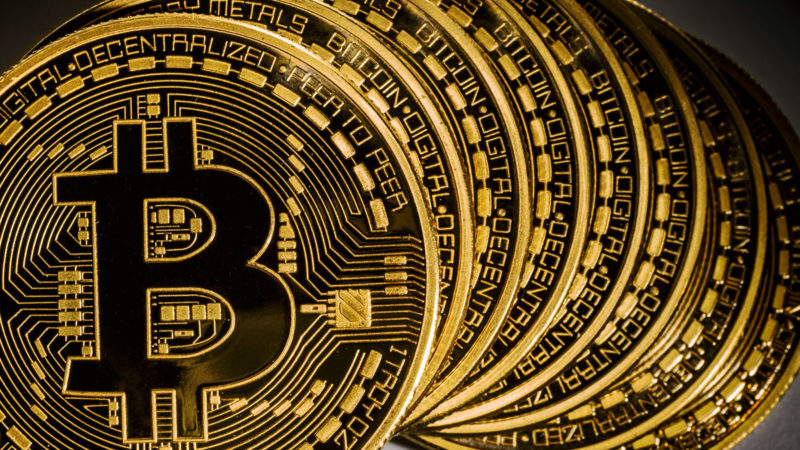 I became interested in Bitcoin and crypto assets in 2016 and after having spent a ton of my time learning how they work and what their investment case might be, I made up my mind that they were a good bet.
I have maintained my position throughout the subsequent bull run of 2017 and the big fall of 2018. The following year, 2019, was a quiet one in terms of media mentions and public discussion of Bitcoin, although cryptos made a steady from the previous year's fall. Indeed, if we look at Bitcoin's performance compared to the S&P 500 and Gold in these early months of 2020, we can see that Bitcoin is outperforming the other assets.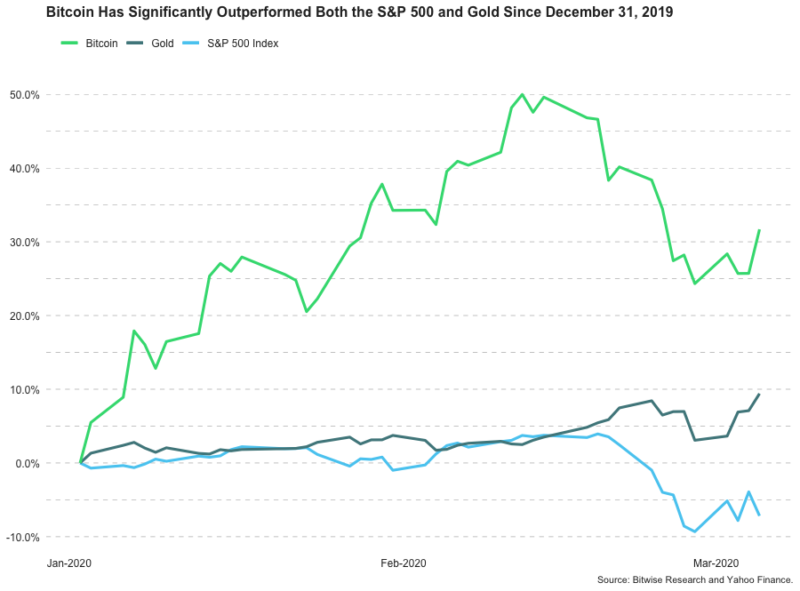 However, I don't really look at charts anyway, the basis for my investment is a philosophical one based on my belief that Bitcoin solves a need as a totally independent store of value that is not at the mercy of any government or company. I am happy to invest some of my net worth in cryptos for this reason, and I know that I'll be happy about my decision in the future whether prices rise or fall, as it is based on that reasoning and not just speculation.
What is the place of crypto in an investor's portfolio?
As we have seen during the Coronavirus scare, Bitcoin is not inversely correlated to the equity market, and will not rise every time the market falls.
I do think though that Bitcoin can be thought of as a hedge asset, so let's explore what we would be hedging against.
See also: Is this the right time to buy Bitcoin?
Cryptoassets offer a hedge primarily against two things:
Large monetary disarrangements: currency debasement, rampant price inflation, central bank and fiscal policies gone awry, etc.
Geopolitical risks that could lead to government actors seizing, freezing, or egregiously taxing citizens' assets.
As this article from Barron's argues, it is not a hedge against everything.
For instance, the late February pullback in the equity markets was driven by concerns that the coronavirus outbreak would disrupt supply chains and cause a severe shortfall in corporate profits. Bitcoin doesn't have much to say about that. There's nothing about Bitcoin that smooths the flow of goods around the world, or buoys corporate bottom lines in times of stress. Why would it rally in the face of those challenges?
While crypto is a hedge, it's specific types of risks that motivate investors to turn to Bitcoin. Knowing that can help one make sense of its moves.
Crypto assets have so far shown to be uncorrelated with other assets, making them a perfect hedge and in my opinion, deserving a place in investors' portfolios as a diversification tool.
Buying crypto assets
To buy cryptocurrencies you will need to first transfer fiat money into an exchange, and then purchase whichever crypto you want. My favorite exchange is Kraken. You might also want to look at Coinbase, Bitwala, eToro or Bitpanda.
Here are some cryptos you can look at as a long-term investment:
Bitcoin
Ethereum
Dash
Monero
There are various strategies you can use to invest in cryptos, just choose the one that most suits your profile. Out of all cryptos I think Bitcoin remains the number one asset for long-term investing. It is possibly the only asset with a Sharpe ratio higher than one, so the returns are actually higher than its volatility.
Storing Your Cryptocurrency
Services like Coinbase and Circle offer "Bitcoin wallets", but in reality control your private keys. It's best to use a wallet where you control your private keys. This is the only way to have full control of your funds and not have to rely on third parties for security.
Never keep your purchased cryptocurrency on the exchange. If the exchange is hacked, you might lose all your crypto. This has happened in the past and will most probably happen again in the future as no system is hack-proof.
Here are a number of ways people have lost bitcoin:
User's computer is hacked and web wallet password is stolen
Web wallet server gets hacked and bitcoins are stolen
Web wallet company goes bankrupt
FBI or other enforcement agency confiscates coins
Web wallet provider points to ToS violation and takes coins
Owners of web wallet company run away with coins
Bug in web wallet software leads to loss of coins
Your computer or cell phone is stolen while you are logged in and thieves then steal your coins
Exchanges are designed for the trading of Bitcoin. They expect people to be depositing very large amounts of money, and want to ensure that gets handled properly. Withdrawing money from exchanges is not very convenient, because they assume people won't be doing it very often and they want it to be safe and secure. Trying to make an online purchase using Bitcoin from your Kraken account won't be as easy as using an actual wallet, and using it to make an in-person purchase at a store would be even worse!
The best way to store your precious cryptocurrency is to buy a hardware wallet, thus having your crypto stored offline away from any danger of getting hacked. My favorite hardware wallet is the Ledger Nano X.
Paper wallets were the standard method of cold storage before hardware wallets were built. Paper wallets are private keys printed out on a piece of paper. If generated and printed with a secure, offline computer, paper wallets are secure cold storage.
The main problem with paper wallets is it can be inconvenient to create and print a new wallet each time you send funds to cold storage. However, it's possible to bulk print paper wallets to save time and eliminate address reuse. Our cold storage guide explains step-by-step how to create a secure paper wallet.
Hot wallets refer to Bitcoin wallets used on internet-connected devices like phones, computers, or tablets. Because hot wallets run on internet-connected devices there is always a risk of theft. Think of hot wallets like your wallet today. You shouldn't store any significant amount of bitcoins in a hot wallet, just as you would not walk around with your savings account as cash.
If only used with small amounts, hot wallets should be used for your everyday Bitcoin needs. One may, for example, want to keep $200 worth of bitcoins in a hot wallet for spending, with $10,000 locked away in cold storage.
If it were me, I'd at least use a hot wallet I controlled like Mycelium for Android or Breadwallet for iOS. You could always look into hardware wallets like Trezor if you are trading large amounts.
Hot wallets on smartphones:
Bitcoin desktop wallets:
Jaxx
Bitcoin Core
Electrum
MultiBit HD
If you are dealing with large amounts of bitcoins you will need a secure wallet. Hardware wallets and secure offline wallets like Armory are good options.
Use combinations. Use a mobile wallet as your checking account, and a hardware or secure offline wallet as your savings account. Mix and match to find a combination that provides both security and accessibility.
I realize that this is a short post and indeed I encourage you to read up as much as possible before making any investments. My hope is that you invest not only in the hope of making a profit but also because you believe that cryptocurrencies will be a very important part of our future. If you have any questions about cryptocurrencies please go ahead and leave a comment below and I'll do my best to answer your doubts.
If you want to listen to my interview with Mitchell Callahan (Bitcoin expert), you can find that Mastermind.fm podcast episode here.
Important note: I am not a financial advisor and cryptocurrencies are considered to be very high-risk investments. Only risk money you can afford to lose.