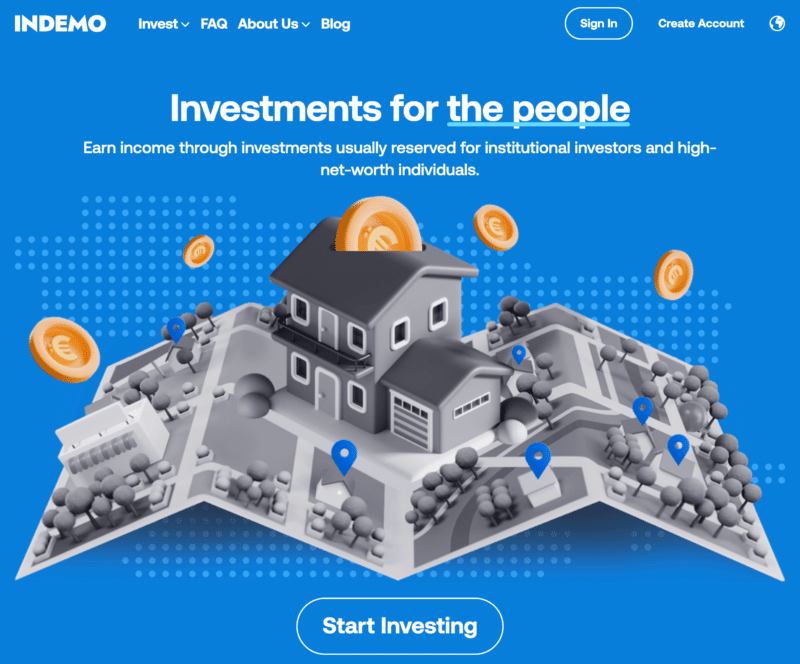 Indemo is a newer platform in the European peer-to-peer (P2P) lending landscape, having launched in 2023 with the aim of revolutionizing real estate investing.
Based in Riga, Latvia, Indemo distinguishes itself by offering two unique investment opportunities: mortgage loans and discounted debt investments. This review delves into Indemo's strengths and weaknesses, its innovative approach to real estate investment, and what investors can expect from their engagement with the platform.
The platform's distinct offering of mortgage loans provides a stable and reliable investment option, with returns reaching up to 10%. These investments, secured by real estate, represent a tried-and-tested route in the property investment realm, appealing to those seeking consistency and security in their investment portfolio.
The true innovation at Indemo, however, lies in its discounted debt investments. This unique investment model targets loans initially issued by banks from Spain – where original borrowers have defaulted, allowing the platform to offer these secured loans at significant discounts.
Consequently, investors gain the opportunity to achieve an average annual return of 15.1% – a rate that stands out in the P2P lending market. These investments revolve around acquiring real estate assets at lower prices, thereby amplifying the potential for substantial returns upon the sale or resolution of these assets.
Regulation and Transparency
Let's get some facts out of the way with regards to registration and financial transparency.
Indemo SIA is a Latvian investment firm with registration no. 40203401432, legal address: Mazā Nometņu iela 10 – 2, Rīga, LV-1002, Latvia). It is supervised by Latvijas Banka (Central Bank of Latvia). License number 06.06.08.824/547. Its operating model is based on well established EU-level MiFID investment firm license, which allows to operate all over EU.
Indemo SIA is also a member of the national investor compensation scheme established under EU Directive 97/9/EC. In simple terms, the scheme provided by the Latvian government protects investors by providing compensation if Indemo becomes a scam or fraud, up to a maximum of €20 000.
Financial reports for Indemo have been published on a yearly basis and are also audited independently by a BIG10 audit firm – Crowe, so you can feel free to check the platform's own financial health for yourself if that's something you're concerned about.
The platform's strategic positioning in Latvia, a country known for its vibrant FinTech scene, further underscores its dedication to leveraging technological advancements for optimizing investment opportunities.
InDemo Platform Overview
Indemo's genesis can be traced back to 2021, with its official launch in the P2P landscape happening in 2023, so you might have heard of them in previous years as well. The founders are well-known in the P2P lending space and have also been present at industry events over the past years.
The platform's headquarters in Riga, Latvia, serves as a hub for its operations. While their strategic cooperation partner who services the debts and manages the product is based in Barcelona, Spain.
Indemo's distinctive offer lies in its dual investment offerings.
Firstly, traditional bank-type mortgage loans, a staple in real estate investing, provide a secure and familiar avenue for investors, with low Loan-To-Value of around 30% originated through the expertise of the non-banking lender authorised by the Central Bank of Spain.
The second, and more intriguing offering, is the discounted debt investment. This novel concept focuses on loans where borrowers have faltered in repayments, enabling investors to access these secured loans at a discount, thereby opening the door to potentially higher yields.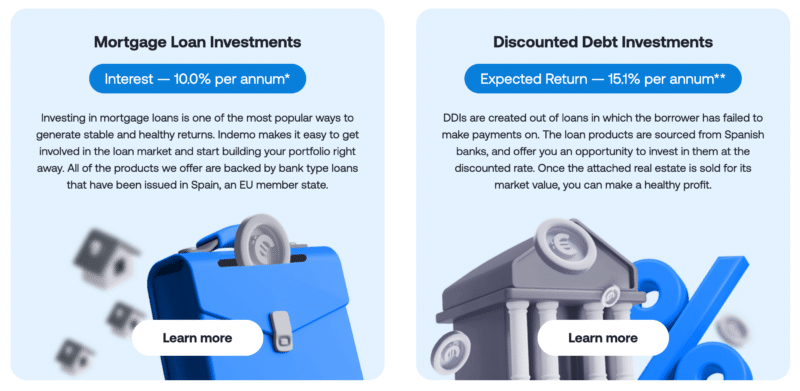 These dual offerings reflect Indemo's commitment to innovation in the P2P space, catering to both conservative investors seeking traditional routes and those aiming for higher-risk, higher-return investments.
The essence of Indemo's platform lies not just in the diversity of its investment products but also in its approach to making these products accessible and manageable for a broad spectrum of investors. This accessibility is underpinned by a user-friendly interface and a minimum investment threshold that encourages inclusivity. As Indemo continues to evolve, it promises to be a significant player in the European P2P market, setting new benchmarks for real estate investing.
Let's go ahead and take a closer look at the two investment options.
Discounted Debts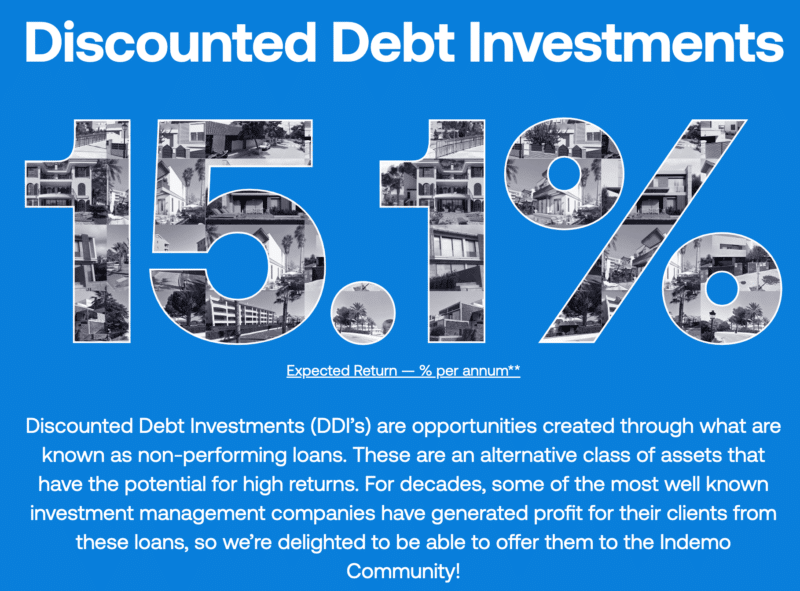 Discounted debt investments involve purchasing debts secured by real estate where borrowers have defaulted, enabling investors to acquire these at a reduced price, thus offering a higher potential return.
Traditional banks often find themselves with non-performing loans, where borrowers fail to meet their repayment obligations. These loans, secured by real estate assets, are sold in the market at significantly reduced prices. Indemo cooperation partners – professional debts' market participants capitalizes on this opportunity by purchasing these loans and offering them to investors through the Indemo platform.
The attraction of discounted debts lies in the considerable markdown from the real estate's market value, which is often around 40-50%. This discount provides a substantial buffer for investors, mitigating risks while amplifying potential returns. When the property linked to the debt is eventually sold at market value, investors stand to gain a notable return, typically providing high two-digit returns in 12-18 months.
When you invest on Indemo you invest into the security called Note. There is a defined basket of eight debts tied to each Note. Once each attached property is sold for its market value, the investor receives a 50% profit share from the differential between the discounted price paid for the debt and the proceeds from the sale of the property. Usually, the average discount for objects placed on the Indemo platform is around 40%. The investor gets repayment of part of the investment amount and profit allocation once each and any debt in the basket of eight debts is recovered.
Indemo's approach to these investments is marked by a rigorous due diligence process. Each real estate asset (all originating from Spain) undergoes a thorough evaluation, ensuring its value is accurately assessed and aligns with current market conditions. This process, often aided by independent appraisers and valuation experts, adds a layer of security to the investment. Initial evaluation and due diligence and subsequent debt servicing and collection is performed by a professional servicing company authorised by the Bank of Spain, with which Indemo cooperates.
Investors on the platform have access to detailed information about each investment, including the location, value, and status of the associated real estate. This transparency is crucial in helping investors make informed decisions and in building trust in Indemo's investment model.
The discounted debt investment model stands out for its potential for high returns, coupled with a strategic approach to risk management. While it introduces a unique flavor to the P2P lending market, it requires investors to understand its nuances and to align it with their risk tolerance and investment goals. Indemo, through its detailed information and transparent processes, equips investors with the necessary tools to navigate this investment avenue effectively.
It is necessary to note, that the secondary market of debts in Spain is more than 15 years old, well established and operating on commerical customs and rules. All high street banks of Spain sell their portfolios to well known institutional investors, like BlackRock, BlackStone, Cabot, Intrum, etc. Indemo is the first bringing such a purely institutional product to the retail market landscape.
Mortgage Loans Investments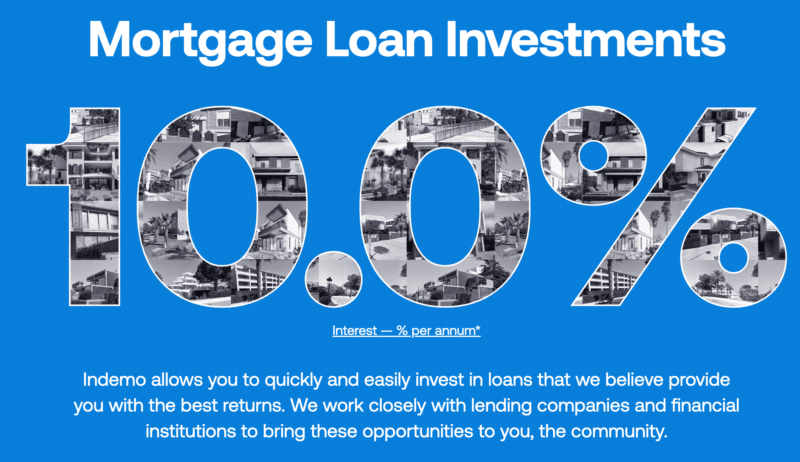 Alongside its innovative discounted debt investments, Indemo in Q1, 2024 plans also to offer traditional loans, primarily in the form of mortgage loans. These conventional investment options play a crucial role in balancing the portfolio of services Indemo provides, appealing to a broader range of investors with varying risk appetites.
Indemo's traditional loans are characterized by their secured nature, with each loan backed by real estate collateral. Indemo's traditional loans are characterized by their secured nature, with each loan backed by real estate collateral. All loans are originated according to the compliant policies and services by by a professional servicing company authorised by the Bank of Spain according to Law 5/2019, regulating real estate lending entities.
This security is a fundamental aspect that attracts conservative investors, offering a degree of assurance and stability. Mortgage loans, in particular, represent a well-trodden path in real estate investing, where investors fund loans tied to properties, earning interest as borrowers repay the loan.
Also, all mortgaged real estate offered on Indemo are factual operational premises, either apartments or private houses. It is significant, as the construction and development risks are absent there, which we have seen recently on other real estate investing platforms when it was hard to recover invested amounts from the construction sites or not commissioned estates.
The key to these traditional loans is the loan-to-value (LTV) ratio, a critical metric in real estate financing that Indemo closely monitors. The LTV ratio, which compares the loan amount to the value of the property, is kept at conservative levels. This strategy ensures that the loan amount does not exceed a safe percentage of the property's market value, thereby protecting the investment against market fluctuations and potential declines in property values.
Almost all of the loans are for secondary residences in Spain. This means easier enforcement and precise market valuations conducted by independent appraisers such as Geswalt, Thirsa and Idealista. In contrast with other platforms, Indemo thus eliminates the additional risk of lending money to development projects. All the properties on Indemo are already built and have a stable valuation.
Investors in Indemo's traditional loans can expect more predictable returns compared to the discounted debt investments. While the potential yields might not be as high as those offered by the latter, the stability and lower risk profile of traditional loans make them an attractive option for those seeking a more secure investment route and having scheduled repayments.
Moreover, Indemo's traditional loans are structured to provide regular income streams to investors, with interest payments typically made on a monthly basis. This regular cash flow is a significant draw for investors looking for consistent returns and passive income opportunities.
In summary, Indemo's offering of traditional loans serves as a vital component of its overall investment portfolio. By providing both high-risk, high-return discounted debts and more stable, traditional mortgage loans, Indemo caters to a wide range of investment strategies and preferences. This diversity not only positions Indemo as a versatile platform in the P2P lending space but also allows investors to tailor their portfolios according to their specific financial goals and risk tolerance.
Returns Expected
Indemo's attraction for investors primarily stems from its diverse and potentially high-yield investment opportunities. As we mentioned earlier, one can opt for mortgage loans aiming to earn around 10%, while on the other hand, there is the option of going for discounted debt investments with a yield closer to 15%. Of course, you have the option to mix and match and thus adjust the risk to your appetite.
Indemo's approach to investment opportunities demonstrates a keen understanding of the diverse appetites of modern investors. By providing both conservative mortgage loans and more aggressive discounted debt investments, the platform caters to a wide range of investment strategies, from the risk-averse to the risk-tolerant. This dual approach not only offers flexibility but also opens avenues for portfolio diversification, allowing investors to balance their holdings between steady, lower-yield assets and more dynamic, higher-yield opportunities.
As Indemo continues to grow, it's anticipated that the platform will further refine and expand its investment offerings, potentially introducing more nuanced and varied investment products. This evolution is expected to attract a broader investor base, consolidating Indemo's position as a versatile and innovative player in the P2P real estate investment market.
Risk Management
Indemo's commitment to ensuring investor security and risk management is evident in its operational framework. The platform's primary safeguard is its reliance on secured loans, meaning each investment is backed by tangible real estate assets. This foundational security measure provides a layer of protection against potential losses, reassuring investors of the solidity of their investments.
For mortgage loans, Indemo meticulously assesses the Loan-to-Value (LTV) ratio, ensuring that it remains low. This conservative approach means that the loan amount is always significantly lower than the value of the associated real estate asset. In the event of a borrower default, this strategy ensures that the asset's sale will cover the loan amount and any related legal costs, thereby safeguarding investor returns.
The platform's discounted debt investments introduce an additional dimension to risk management. Here, the focus is on the Price-to-Value (PTV) ratio, representing the discount at which the real estate is acquired compared to its market value. Typically, this discount hovers around 50%, creating a substantial buffer that enhances the security of these investments. It ensures that even in fluctuating market conditions, the sale of the property is likely to cover the investment and yield a profit.
Furthermore, Indemo's regulatory compliance adds another layer of investor protection. Supervised by the Central Bank of Latvia, the platform operates within a strict regulatory framework, ensuring transparency and adherence to financial norms. This supervision is complemented by the EU investor compensation scheme, which protects investments up to 20,000 Euros, offering an additional safety net to investors. Also, Indemo choice to work only with products coming from western EU member states, like Spain, and cooperation only with regulated lending/servicing businesses, adds additional value to the product.
Indemo's risk management practices reflect a deep understanding of the intricacies of real estate investment and P2P lending. By balancing high-return opportunities with robust security measures, the platform not only attracts a wide range of investors but also maintains a stable and secure investment environment.
Team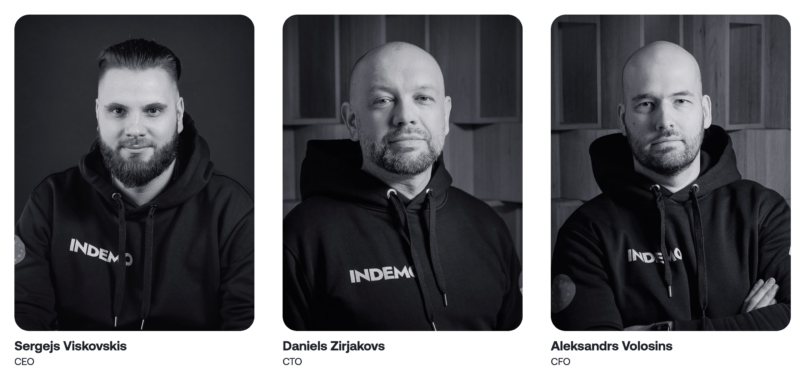 The success and reliability of any fintech platform, especially in the P2P lending space, are largely influenced by the expertise and experience of its team. Indemo's team plays a critical role in instilling investor confidence and driving the platform's innovative approach. Let's delve into the profiles of key figures behind Indemo and understand why they merit investor trust.
Sergejs Viskovskis, CEO and Co-Founder: Sergejs stands at the forefront of Indemo, bringing a wealth of experience from the banking sector. His tenure in banking and legal, spanning nearly a decade, is complemented by his stint at Mintos as a Senior Legal Counsel. Sergejs's extensive experience in finance and legal aspects of P2P lending underpins his capability to lead Indemo with a vision that balances innovation with regulatory compliance and investor security. His active participation in fintech and community events like Finfellas further demonstrates his commitment to the industry. On a personal note, I've had the pleasure of chatting with Sergejs and was able to confirm that he is very determined to make Indemo a success.
Aleksandrs Volosin, CFO: Aleksandrs brings to the table nearly 20 years of experience in banking and corporate finance. His deep understanding of financial markets and investment strategies is instrumental in shaping Indemo's financial policies and investment products. His expertise ensures that Indemo's financial operations are robust and aligned with market dynamics.
Daniels Zirjakovs, CTO: Daniels' role is crucial in driving the technological innovation that Indemo prides itself on. His background in technology and software development is vital for maintaining a seamless, secure, and user-friendly online platform, a cornerstone of Indemo's appeal to modern investors.
Pavels Pochtarenko, CRO: Pavels oversees risk management at Indemo, a role that is central to the platform's integrity and investor trust. His experience in risk analysis and management ensures that investments on Indemo are thoroughly vetted and backed by solid due diligence.
According to Indemo, the team behind is 20 people large, with new hires planned for 2024.
The collective experience of Indemo's leadership team in banking, finance, technology, and legal compliance forms a strong foundation for the platform. Their varied expertise not only drives Indemo's strategic direction but also instills a sense of trust and reliability among investors. This is crucial in a market where investor confidence is paramount. The team's diverse skill set, combined with their proven track record, positions Indemo as a trustworthy and forward-thinking player in the P2P lending space.
User Experience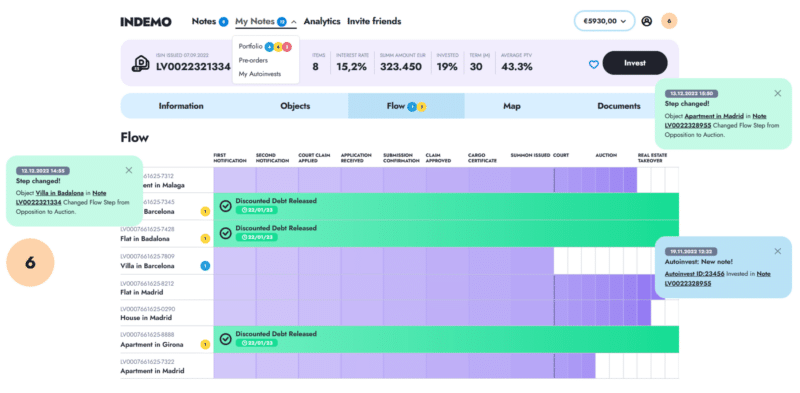 Indemo's platform is designed with a keen focus on user experience and accessibility, ensuring that investors, regardless of their expertise level, can navigate and utilize the platform with ease.
I must say that this is one of the most modern and user-friendly and well-designed P2P lending platforms I've used. To me, this signals that not only does the team have experience in the financial sector, but that they're also A players in the digital arena, which is after all essential as it is the primary interface between the investor and the financial product.
The user journey begins with a simple and swift onboarding process. Account registration and identity verification by well known and trusted Veriff solution, essential for maintaining the platform's security and regulatory compliance, are streamlined and efficient, typically completed in just a few minutes.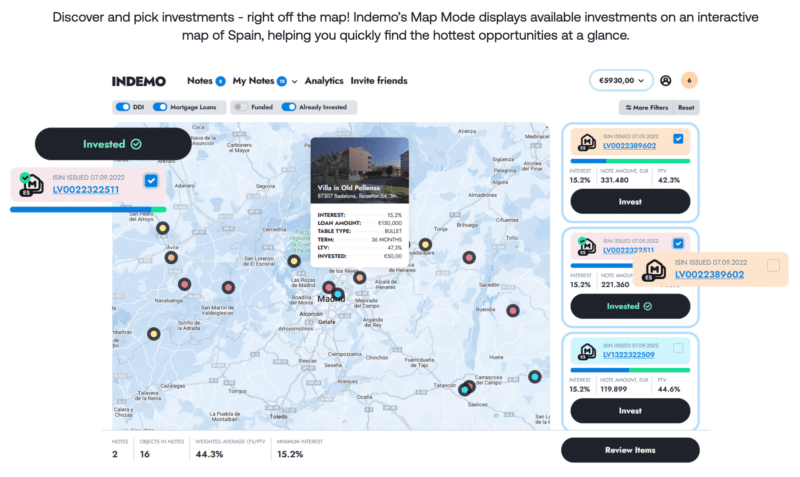 The heart of Indemo's user-friendly approach lies in its intuitive interface. The platform features an innovative investment map, allowing investors to visually explore and select real estate projects. This geographic representation of investments not only aids in making informed decisions but also adds an element of engagement and transparency to the investment process.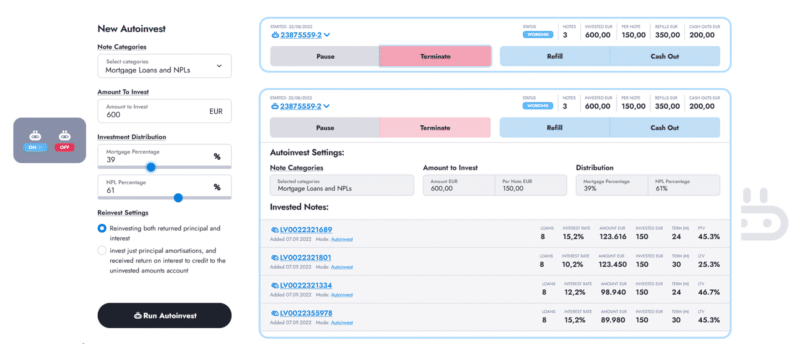 Indemo's commitment to user convenience extends to its financial transactions. The platform supports seamless deposit and withdrawal processes, with the introduction of instant SEPA deposits through its banking partner, LHV Bank. This feature ensures that funds are promptly reflected in investor accounts, facilitating timely investments.
Moreover, the auto-invest function is a testament to Indemo's understanding of investor needs. This feature simplifies the investment process, allowing users to set their preferences and automatically invest in suitable projects. It's particularly beneficial for those who prefer a hands-off approach or lack the time for active investment management.
In summary, Indemo's platform excels in delivering a user experience that is both accessible and engaging. Its blend of technological innovation, ease of use, and comprehensive customer support makes it an attractive choice for anyone looking to venture into P2P real estate investing.
Opening an Account
Individuals aged 18 or older with EU citizenship or residence permits can register and invest. Businesses can also register, subject to security checks. Bear in mind that you need to have bank/payments account in the EU/EEA institution to make a deposit.
The platform's low minimum investment threshold is just 10 Euros. This inclusivity allows a broader spectrum of investors to participate in real estate investment, breaking down traditional barriers to entry in this sector. Whether a novice investor with limited capital or an experienced investor seeking to diversify, Indemo caters to all.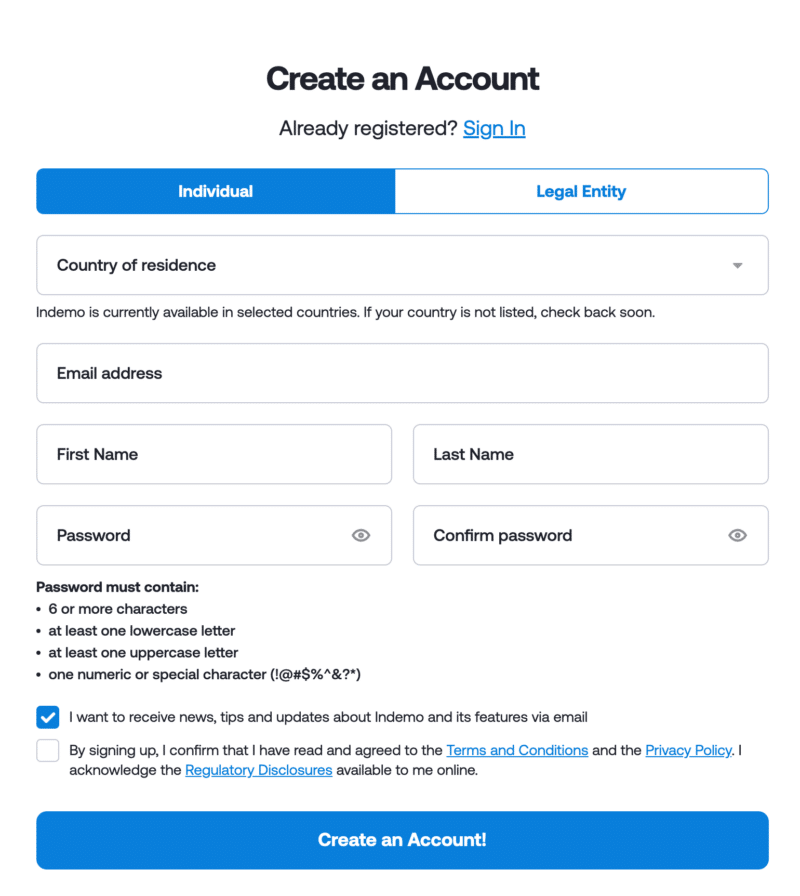 Getting started with Indemo is a straightforward and user-friendly process, designed to facilitate easy access to the world of P2P lending.
Here's a step-by-step guide on how to open an account with Indemo:
Step 1: Registration
The first step is to visit Indemo's website and initiate the registration process. This involves filling out a basic form with your personal details, such as name, email address, and creating a password. The registration process is designed to be quick and intuitive, ensuring a smooth start for new users.
Step 2: Identity Verification
Following registration, the next step is identity verification. Indemo, adhering to financial regulations, requires users to verify their identity to ensure security and compliance. This process typically involves submitting a government-issued ID and may include additional verification steps, such as a selfie or a video call. Indemo uses advanced security measures (using the Veriff platform) to protect personal information during this process.
Step 3: Depositing Funds Once your account is set up and verified, the next step is to deposit funds. Indemo offers various deposit methods, including bank transfers and possibly other digital payment options. The platform's integration with instant SEPA deposits ensures that your funds are quickly credited to your account, enabling you to start investing without delay. Indemo uses LHV Bank, a bank that allows instant SEPA deposits, so in most cases deposits happen instantly.
Step 5: Exploring Investment Opportunities
With funds in your account, you can begin exploring Indemo's investment options. The platform offers a range of investments, including traditional loans and discounted debts. Users can leverage Indemo's intuitive platform to select investments that align with their strategy and start earning returns.
Opening an account with Indemo is a seamless process, reflecting the platform's focus on user accessibility and regulatory compliance. With such a simple and straightforward process, you can expect to be up and running in a couple of days max, including depositing of funds which is typically what takes the longest in this process, depending on your bank.
Alternatives to InDemo
Indemo operates in a dynamic and competitive P2P lending environment, with several notable platforms serving as its competitors and alternatives. Understanding these competitors is crucial for investors to appreciate Indemo's unique value proposition and to make informed decisions.
1. Mintos: Mintos is one of the leading P2P lending platforms in Europe, known for its wide range of loan types and large investor base. It offers an extensive selection of investment opportunities across various countries and loan originators. Mintos's diverse portfolio and established track record make it a significant competitor in the P2P market. Its approach to risk management and investor protection through buyback guarantees and a diversified investment pool sets a high industry standard that Indemo aspires to match.
2. EstateGuru: Specializing in property-backed loans, EstateGuru is another notable competitor in the real estate P2P lending space. Its focus on secured real estate loans across Europe provides a direct alternative to Indemo's mortgage loan offerings. EstateGuru's rigorous due diligence process and transparent investment opportunities make it a strong contender in the market.
3. PeerBerry: As a rapidly growing P2P platform, PeerBerry offers short-term and real estate loans, attracting investors with its user-friendly interface and consistent returns. PeerBerry's approach to P2P lending emphasizes ease of use and accessibility, similar to Indemo's user-centric design.
4. Reinvest24: Another noteworthy contender, particularly in real estate investing. It provides investors with opportunities to directly invest in property, distinguishing itself with a unique approach that combines real estate investment with the flexibility of P2P lending. This platform's focus on tangible asset-backed investments makes it a relevant alternative for those exploring options beyond Indemo's offerings.
5. Bondora: Bondora stands out for its automated investment tools and a long-standing presence in the P2P market. It offers a variety of loans, including personal and SME loans, and is renowned for its Go & Grow product, which offers a unique approach to P2P investing.
Each of these platforms has its strengths and focus areas, providing a diverse ecosystem for P2P lending. Indemo's distinct approach, especially with its discounted debt investment model, positions it uniquely in this competitive landscape. While platforms like Mintos and EstateGuru have established themselves as leaders, Indemo's innovative investment options and focus on real estate-backed loans offer a fresh perspective to investors.
Should You Invest with Indemo?
I think Indemo's offering makes it a very compelling one for P2P lending investors looking to diversify their portfolio, especially if they are interested in real estate and Spain as a good choice.
Indemo's unique approach to real estate investing, marked by the dual options of traditional mortgage loans and the pioneering discounted debt investments, positions it as a platform that caters to a wide range of investor preferences and risk appetites. The high potential returns, especially from the discounted debt investments, underscore Indemo's appeal to investors seeking to maximize their earnings in the real estate sector.
The platform's emphasis on security and risk management, through secured loans and regulatory compliance, instills confidence in investors. Indemo's transparent and investor-friendly practices, such as low LTV ratios and the EU investor compensation scheme, further enhance its credibility and reliability in the market.
I'm a fan of Indemo's user-centric design, as I mentioned earlier. The intuitive interface, low entry barrier for investments, and efficient withdrawal and deposit processes demonstrate the platform's commitment to providing a seamless and inclusive investment experience. These features make Indemo not only accessible to seasoned investors but also to those new to P2P lending and real estate investment.
As the platform continues to evolve and potentially expand its offerings, it is poised to attract a broader investor base and solidify its position in the market.
Indemo's journey in the P2P lending space is still in its early stages, but I really like their approach and what they've provided us so far. For investors looking to explore new horizons in real estate investment, Indemo presents a fascinating and promising opportunity.
Considering that Indemo is a newcomer to the P2P market, and it is bringing a unique and unseen before product, we have agreed with Sergejs, Indemo CEO, to collect first impressions and feedback from you, and to record a podcast later to answer and address any questions or concerns you might have. So feel free to leave any feedback here below.