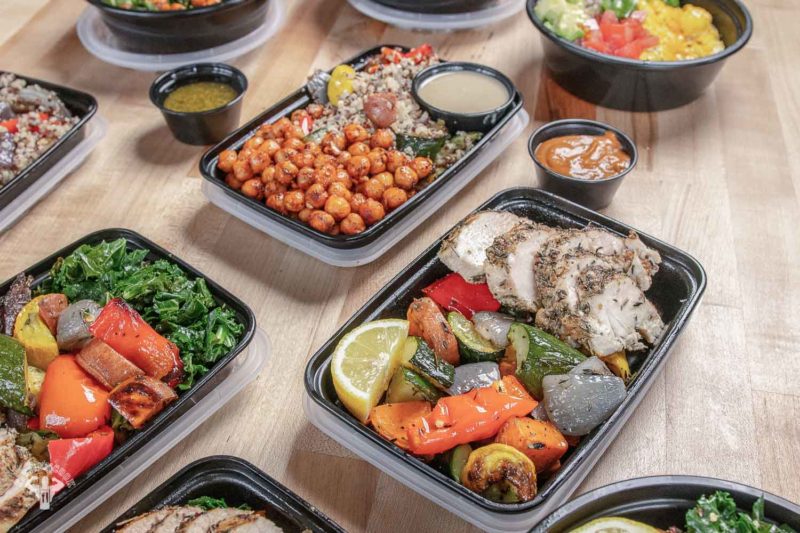 If you're an athlete or you take your diet and training seriously, you should take a look at the rising trend of healthy meal plan deliveries in Barcelona. It's incredible how many options we have in this city, although I would say only a few of them are really high quality.
Here are the best healthy meal plan delivery options in Barcelona. I'll keep updating this list as I discover more places. Please leave a comment with your favorites if you know of any more that fit the bill.
We have three categories of healthy food delivery services in Barcelona:
Fully Customized
In this case, a chef will cook for you on a daily basis, according to your needs (calories, allergies, diets etc).
This is something of a rarity in Barcelona, in fact, I don't know of any place that offers this service via a web or mobile-based interface. However, it's by far the best option there is.
I kind of created this service for myself as I have a friend of mine who is a top chef, and I asked him if he could start cooking for me. He took up the offer and it's been more than two years now that we've got this going.
Whenever I mention this to my friends they are typically amazed that such a service exists, especially at affordable prices, so I eventually got many friends on board as well, and now I am opening it up for anyone who visits my site.
Just fill in the form below, which will go to me and the chef, and he will get back to you with a proposal for you. Keep in mind that this sort of arrangement works best if you are doing it on a long-term basis as the chef can then really get to know your needs as well as bring down the costs. If it's a one-off thing then you'd be better served using a normal healthy restaurant from the list further down below.
As a general guide, if you go on a weekly plan (5-7 days a week), the cost would be between €25-35 per day depending on your needs. This covers all your daily nutrition including breakfast, snacks, lunch and dinner. Delivery is done in the morning between 7:30 and 9:00 or in the afternoon between 18:30 and 20:00.
If you're just starting out with meal plans and nutrition, I highly recommend that you consult a nutritionist who can prepare a plan for you that the chef can then follow. Just tick the box in the form if you need a nutritionist as well and I'll connect you to mine.
Calorie-based meal plans
These are purely focused on fitness enthusiasts and provide meal plans and specific nutrition information:
Meal Ingredient Delivery
These companies send you the ingredients for cooking dishes according to the recipes provided. It's a convenient way of eating healthy food without the hassle of shopping for different ingredients and finding recipes. And you get to enjoy cooking your own food.
My Experience with LetsCookNow

Having sampled the offerings of LetsCookNow, which is a service dedicated to the Spanish market, I found it to be a delightful fusion of convenience and culinary adventure. Right from the ordering process to the actual cooking, the LetsCookNow experience has been designed to simplify home cooking without sacrificing the joy of it.
Understanding that their audience in Spain is diverse, the website is thoughtfully designed to be accessible in English, Catalan, and Spanish. This multilingual feature ensures that language doesn't become a barrier to enjoying their service. Users can easily switch between languages at their convenience, facilitating a smoother, more personalized browsing experience.
When my first LetsCookNow box arrived, it was neatly packed with fresh ingredients, all carefully portioned to minimize waste. LetsCookNow does not provide printed instructions (unlike HelloFresh), but you can watch a video and the step-by-step process online. I used my iPad for following along. It's perhaps less wasteful to not print all those recipes, but I do enjoy having a printed paper I can throw about in my tiny kitchen without being too bothered if it gets dirty during the process.
As someone who has struggled with portion sizes and complex recipes, LetsCookNow's approach to healthy cooking at home was a breath of fresh air.
The meals themselves were a mix of local Spanish flavors and globally-inspired dishes. Each ingredient was of good quality, and the recipe was easy to follow, leading to a delicious meal that brought the distinct taste of international cuisines to my home kitchen.
Indeed, LetsCookNow introduced me to various global flavors – from the spices of Moroccan cuisine to the tangy, savory notes of Asian dishes. This wide range of meals catered to different moods and preferences, providing flexibility and excitement that's often missing in daily cooking.
One thing that stood out about LetsCookNow was their commitment to sustainability. The packaging was primarily made of recyclable materials, and there were clear instructions on how to properly dispose of it.
The delivery process of LetsCookNow was nothing short of exceptional. The service demonstrated meticulous attention to detail, from the thoughtful packaging to ensure ingredients remained fresh, to the punctuality of the delivery itself. My box arrived right on schedule, within the selected time slot, eliminating any concerns about waiting or rescheduling. Each ingredient was carefully packed to prevent damage or mixing during transit.
In terms of cost, the service offered good value for money. Considering the high quality of ingredients, the variety of meals available each week, and the sheer convenience of having everything delivered to your doorstep, the pricing was justifiable.
In a nutshell, my experience with LetsCookNow was more than just about convenience. It was about rediscovering the joy of cooking and tasting new cuisines, all from the comfort of my own kitchen. Whether you're a busy professional, a food enthusiast, or someone just learning to cook, LetsCookNow offers a service that caters to your needs while bringing a world of flavors to your table.
I've liked the service so much that I've asked the guys at LetsCookNow to provide a discount to my readers, as I'd like you to try them out as well and let me know what you think.
By using the code JEANGALEA25 you will get 25% off your order from LetsCookNow.
Healthy food delivery
These are restaurants that consistently churn out high-quality food without being as strict as the previous ones:
If there are days when you feel like cooking at home, I highly recommend the FitMenCook app for its recipes and fantastic dishes. Video instructions also included, and it comes in English and Spanish.
Here are some similar services that operate in the US and Canada. We might be seeing more of them opening up in Europe in the future if their models prove to be successful.
Why We Don't Cook Anymore

Before we had children, we used to cook at home a lot and also eat out very frequently. In Barcelona, you can find lots of great options for lunch since most restaurants have a menu del dia, which means a set menu for a fixed price that is usually excellent value for money.
Given that we both worked from home, it was a nice break from work to go out and have a nice lunch somewhere before getting back to work.
However, once we had children, our free time was much more constrained and we preferred to outsource our diets to the experts and thus eat healthier and better.
In 2020, the COVID crisis accelerated the trend of healthy food meal plan deliveries in Barcelona. Basically, many kitchens opened up, and they cook dishes and concentrate on selling them via delivery apps or by customers picking up their orders at the kitchen. This minimizes the costs of having tables and staff serving those tables, not to mention not being troubled by the COVID restrictions.
As a customer, I love the idea. It's a trend that has been picking up steam in the United States as well. What we're seeing is essentially the nascent era of cooking as a service. In much the same way as we have outsourced a lot of our daily chores to specialized services, cooking seems to be the next chore that is going to be outsourced in developed nations.
I think cooking will, by 2040, be a niche activity like e.g. gardening or sewing, not something which one would reasonably expect from substantially every household.

It's getting squeezed by a combination of long-running social changes, cultural norms, and…

— Patrick McKenzie (@patio11) May 5, 2019
Cooking has traditionally been the role of the woman, and it takes up quite a lot of time to shop for the ingredients, cook and then clean up after. If you have a family with a few kids, it takes even more time. If you calculate it, it could easily take 4-5 hours a day once you factor in everything. Since more women are heading back to the workplace, it makes sense for them to outsource this chore.
In my opinion, leaving the cooking to a specialized chef will also most likely result in you eating a healthier and more varied diet. A kitchen with a good chef will be churning out many different dishes, while if you cook at home you will most likely eventually stick to a small variety of tried and tested dishes. Unfortunately, we are also living in a period in history where food has become very processed, and good raw materials are not easy to come by. A chef who buys raw material in bulk has the expertise of being able to distinguish between poor and great quality fish, poultry etc, and he can even buy it at a cheaper price due to his contacts and the amounts he is buying.
Even without calculating the monetary value of time spent on cooking, food is easily the biggest monthly expense for my family after rental payments. Since switching to purchasing most of our food from one of the kitchens, our costs have remained equal, but we have gained a lot of extra time and eat way better since we have a professional chef with years of experience cooking for us.
Here are some reasons for giving up cooking your own food:
Gaining extra time
Spending more time with your partner and kids
Letting the pros do the work
Better control your portions
Protecting yourself from injuries (burns, cuts etc)
Less cleaning up
No grocery shopping
Another benefit for me specifically as I pursue athletic excellence for the various sports I practice is that I can have my dietician coordinate with my fitness coach and chef to make sure I am getting exactly the right fuel for my workouts and upcoming tournaments. If I had to do this myself I would definitely get it wrong and it would be too time-consuming.
Cooking at home on occasion is of course still a nice idea, especially when it involves all family members and serves as a relationship-building activity. It's also great to go out for a nice meal at a restaurant every once in a while.
My Personal Guidelines for Eating Well and Maintaining a Healthy Diet

Over the past few years, I've taken a keen interest in nutrition as I realised that overall health and fitness is not just about training hard but also about eating the right foods.
Here are rules I try to live by with respect to nutrition.
Whole-grains or their derivatives (wholewheat bread, pasta, etc.) in all meals, except those that include potatoes.
Legumes every day but in smaller quantities than wholewheat cereals.
One or two vegetable types in every dish (for example boiled broccoli).
Between one and three fruits per day, preferably local and seasonal products (this doesn't include packed or bottled fruit juices which are typically full of sugar). Eating fruit is preferable over juicing it, as in the latter process you lose almost all the fiber in the fruit, and the resultant juice has a high concentration of fructose.
One lactose product per day, preferably fermented. I go with Greek yogurt for breakfast usually.
Not more than one animal product per day (meat, fish, seafood, eggs), keeping in mind that as a general rule the animal product should be a complement to a base of vegetables and not the inverse as is typically the case with most dishes today.
Fatty foods in moderate quantities, giving preference to vegetables and keeping a healthy balance between omega 6 and omega 3 fatty acids.
Keep refined foods to an absolute minimum (cereals, oil, sugar, etc).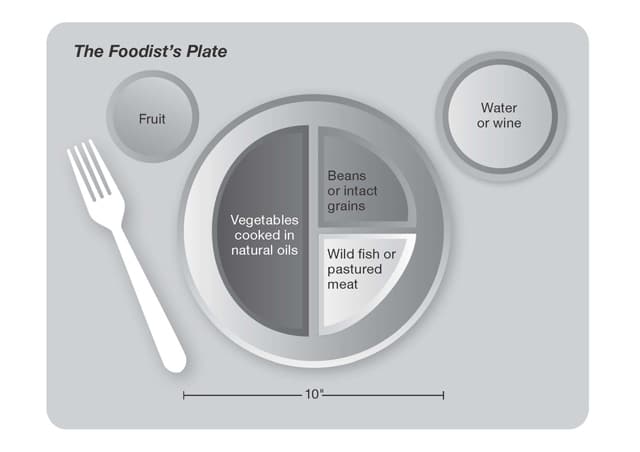 The image above shows the food portions I aim for in every meal.
Apart from the actual contents of meals, I also try to keep the following two golden rules in mind:
Remain frugal, which is easier when the above guidelines are observed as dishes will typically have a high content of fibre which helps one feel full and stay full longer.
Chew properly to facilitate digestion and intake of the food's nutrients.
Keeping these bases covered it's quite easy for anyone to establish their own diet based on their location, physical activity and local supply of products.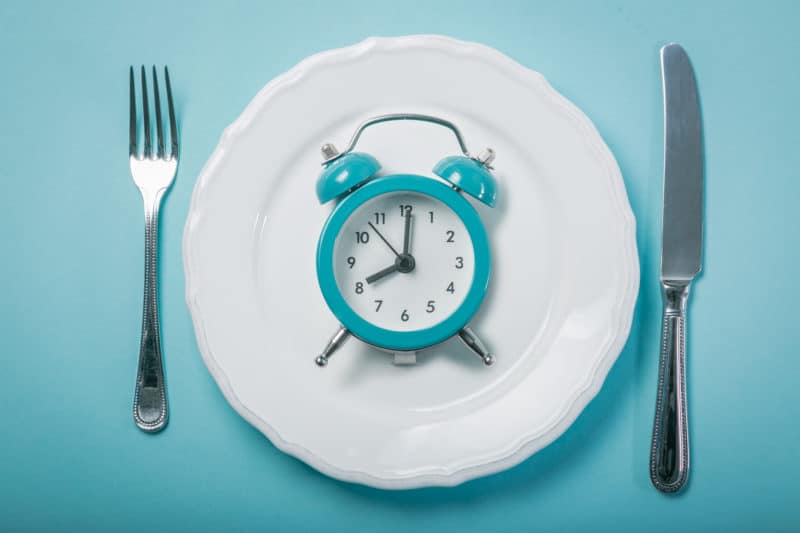 For the past few years or so, I've been practicing intermittent fasting (IF) with practical benefits.
I usually train in the morning, and I feel like I have no problem doing this on an empty stomach. This might or might have something to do with my chronotype, which favors early morning activity.
Advocates of IF report having more energy, trimming fat, and saving time by being able to get straight into their work more quickly in the morning. While I can't really say if it does help trim fat or not, it helps me to contain my tendency to overeat as I end up eating one meal less right from the get-go. I have found that during lunch and dinner I eat the same amount as before when I used to eat three times a day.
I do feel like I have more energy, especially if I'm going to train first thing in the morning. Working or training on an empty stomach feels great to me. The only exception would be if I have a padel match, and I would usually load up on some energy in the morning and not do intermittent fasting. This is to avoid any energy crashes during the match as the matches tend to be long and intense, unlike training sessions which are usually under one hour.
Another exception I make is when traveling to places that are renowned for their food. If the place I am staying has an amazing breakfast buffet I will definitely indulge myself, so I allow myself to bend the rules every now and then as long as the IF trend is not really affected.
It's also worth mentioning that I take an espresso in the morning, usually with some coconut oil mixed in, as detailed in my morning routine. I might also drink more teas and coffee during the day.
There are several ways of fasting, and I chose the 16:8 intermittent fasting method as the one that works best for me. That means fasting for 16 hours a day and having an 8-hour eating window, as shown below. I don't always manage to get the full 16 hours of fasting, but it's always somewhere between 12 to 16 hours. Even with 12 hours of fasting, I get the benefit of feeling lean and clean. If I don't practice fasting, I'll typically be bloated and more sluggish during physical activity.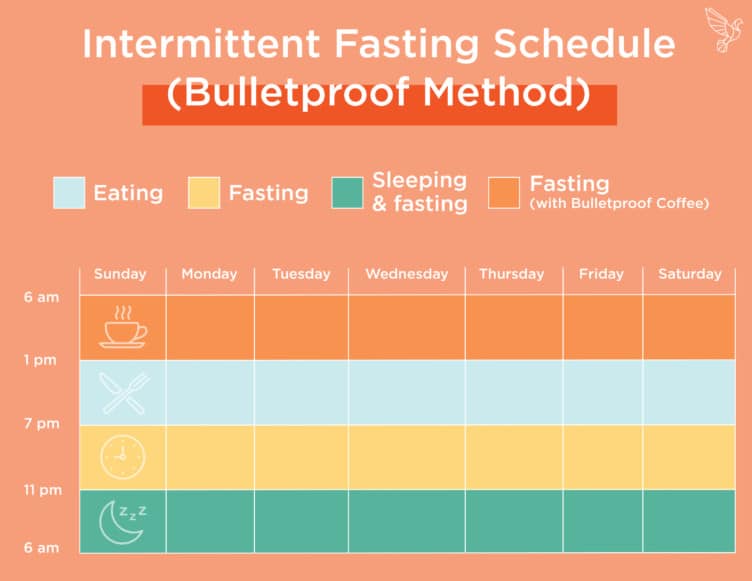 Some say that adopting intermittent fasting liberates you from the tyranny of thinking you must eat a certain meal frequency. I wouldn't disagree with that, although I ate whenever I felt like it even before starting intermittent fasting.
Missing breakfast suits me, saves me time, and means that I have more time in the mornings when I am at peak performance due to my chronotype.
Fasting has been linked to benefits for longevity, although I don't think that at this stage you should be doing it purely for that reason, as the research is still not conclusive.
Click here to learn more about intermittent fasting and a sample diet from the Bulletproof email.
Have you tried intermittent fasting or fasting of any sort?