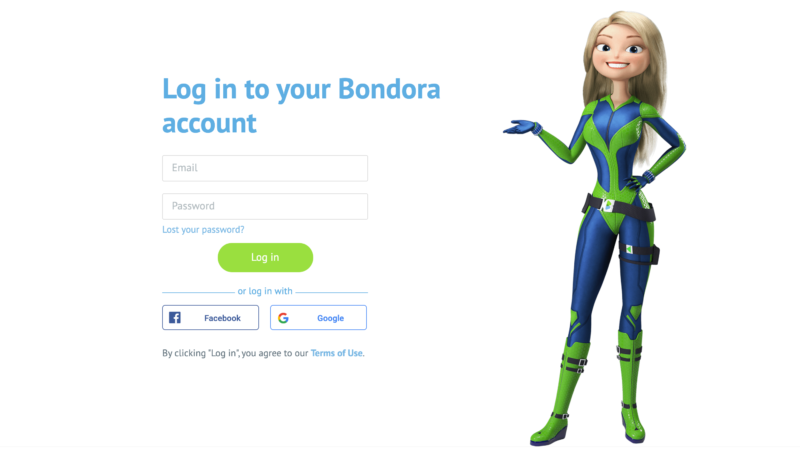 Bondora is one of the oldest peer-to-peer lending platforms, and I joined early on in my P2P lending journey, around 2016.
While this platform has been criticized by investors in the past, my portfolio has been chugging along quite well over the years, and my only complaint would be about the graphics and UI of the platform, which I find really ugly.
In this Bondora review, I'll be sharing my results on this Estonian platform, since many of you have been asking me if you should invest in this platform and if so, how to do it.
You probably know this platform by the very distinctive cartoon characters they employ on the website. I find them a bit old-fashioned, but there's no question that it gives Bondora a very distinctive and memorable branding.
Alright, so let's dive straight into it.

Bondora's slogan is "it just takes a minute to beat your bank", and I would say that's true. I sometimes forget I even have an account on Bondora as it was super easy to set up since I used their Go and Grow system all along.
Other investors have had tough times with defaults and delays when using other strategies, and that seems to be the source of most of the bad comments about Bondora.
Bondora assigns a rating to its loans going all the way from AA to HR. HR stands for high risk. Those who invested in the riskier loans chasing high returns got burnt.
On the other hand, everyone seems to agree that Go and Grow has always worked just fine.
I would, therefore, recommend that you use Go and Grow if you want to add Bondora to your diversified set of peer-to-peer lending investments.
Through this method, I have been able to obtain a 6.75% return over the years, which I'm quite happy with considering the total lack of work involved from my end.

If we take a look at the latest statistics on Bondora (the platform is very transparent about all the major stats, and that's a very positive thing), we can see that the net average return is 10.6%, but that takes into consideration investors using other ways of investing on Bondora apart from Go & Grow, so it's expected that the average return is higher than what I managed to achieve.
Bondora is a loan originator itself, so it's different from other platforms like Mintos, which act as aggregators of loans (and loan originators).
The secondary market is reported to be quite illiquid, although I haven't tried it myself as I'm happy to let my money grow slowly in the Go & Grow portfolio.
Another thing to keep in mind is that there are no buyback guarantees on loans, so if a loan gets delayed, you might have to wait a long time until it is eventually recovered.
On the other hand, this is one of the oldest platforms, and the chances of it going bankrupt seem pretty slim to me, and that's a very positive thing. You will also see that the platform has an extremely high rating on Trustpilot, which wouldn't be the case if it were a bad platform, especially since it has been in business for so many years and had plenty of time to prove its' worth.
Bondora and Coronavirus
Many people are concerned about the impact of Coronavirus, and Bondora's CEO has issued a statement about this to assure investors that all is well on Bondora's end:
Hi!
I'm Pärtel Tomberg, CEO of Bondora.

Amid the recent spread of COVID-19, I want to share how the entire team of Bondora will continue to support you throughout these times of uncertainty, as well as in the future as things turn around.

First, some history. We launched Bondora 12 years ago on March 11th, 2008, in the midst of the financial crisis. Since then we have operated through severe recessions in Estonia, Finland and Spain.

Having grown Bondora through harsh economic circumstances, we are well prepared for this current environment. It's in our DNA. The foundations of Bondora are built on five pillars:

1. 100% online. Our full range of services are online and our teams continue to work remotely over secure connections to support our customers across the world, no matter the circumstance.
2. Risk buffers. Within Go & Grow, all returns above 6.75%* p.a. serve as a risk-buffer. Our historic return is 10.7% p.a. (including recessions), the difference between the two is a reserve for you as our investor.
3. Strong diversification. There are over 125,000 personal loans in the Go & Grow portfolio with different loan lengths, customer segments and risk categories – all reducing your exposure to individual volatility.
4. Automated loan repayments. Our borrowers use an online interface where their repayments are processed automatically. If necessary, they can extend the loan schedules to adjust to their new financial circumstances.
5. Sustainability. Bondora has been profitable since 2017 and is well capitalized. We do not have cut back on any of our services, even if the situation were to persist.
We understand that your thoughts are first with your family and their wellbeing. We don't want Bondora to be an additional source of concern, but instead to be a cornerstone of your financial prosperity throughout and after COVID-19. That is our commitment to you.

Wishing you good health and resilience,

Pärtel Tomberg
Pärtel has also recorded a video explaining the points above:
It is reassuring to see the CEO of a P2P lending speaking in a calm and collected manner about the way the company is handling the situation. It can easily be contrasted with the panicked and barely legible statements issued by other platforms who have already been forced to shed staff, freeze loan repayments and cut costs in other ways to survive.
This kind of statement gives me even more trust in Bondora. Situations like these really bring to light which are the good and bad platforms. I will therefore be reallocating more of my investments towards Bondora in the coming weeks.
I've also shared my own thoughts on how I think Coronavirus will impact the P2P lending market, so do check that out if you're concerned about making an investment in the current conditions.
Join Bondora Go & Grow and get a €5 bonus
What are your thoughts on Bondora? Let me know in the comments section below. If you have any questions, do the same, it will help me prioritise your questions as I continue finishing up this article in the coming weeks. 
Further reading
Summary
One of the oldest platforms in the P2P lending space, it has built a good reputation and provided solid results over the years for me.
Pros
Reputable platform
Secondary market
Various strategies can be used
Cons
Ugly graphics
Hard to navigate the UI in my opinion