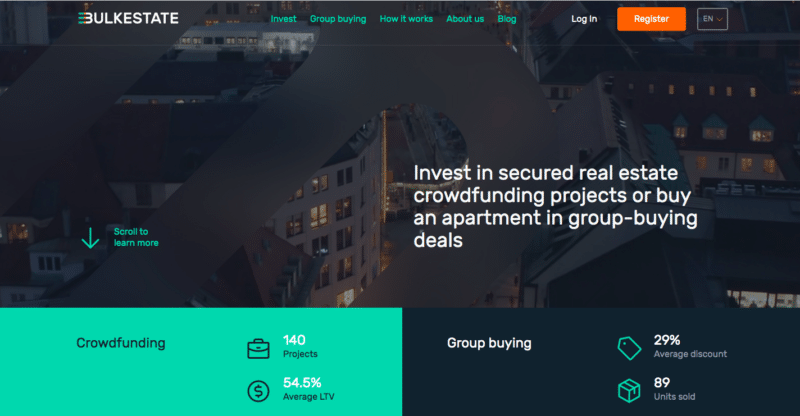 The Baltics are one of the hotbeds for crowdfunding innovation in Europe; new platforms keep popping up every year and existing ones keep getting better and better.
Today I want to focus on one of my favorite platforms, Bulkestate, which was founded in December 2016 and has a financial institution license in Estonia (EU). The people behind Bulkestate are from Latvia.
The Bulkestate platform, as the name implies, enables real estate investment project crowdfunding and apartment bulk-deals for a price lower than the market value.
Their website is available in multiple languages: English, Ukrainian, German, Estonian and Russian. That gives you a clear idea of their target markets.
The vast majority of the deals available on Bulkestate are in Latvia. However, as a result of the pandemic, 2021 saw a slowdown in the supply of properties on the Latvian market and as such the team at Bulkestate are looking to expand their offerings to Lithuania and Finland in the short term, with Germany and Estonia also in sight. This was confirmed directly by Igors Puntuss, the co-founder and CEO at Bulkestate, while hosting him on one of my recent podcasts as Bulkestate celebrates its 5th year launch anniversary.
The founders are from Riga and are experts in that market, so they are trying to stick to their core competencies and focus on a few quality projects at a time. In this sense, they are different from the other bigger platforms like EstateGuru which also have a secondary market and go for high volumes.
I think this is a good sign and expect EstateGuru to have a significantly higher default rate due to the sheer volume of deals that they are putting up on their site, which to me means that there is a lower amount of due diligence on each project. In the aforementioned podcast Igors Puntuss did however point out that Covid has inevitably given rise to several defaults and longer project delays, most of which have been resolved amicably and the rest are still being followed-up. He added that while it is still quite easy to sell flats it is not the case for commercial premises given that they are harder to rent out or sell in the light of difficulties being experienced by businesses in general. This, he hopes, is something temporary until life in Europe gradually returns to normal.
The bulk of the investors that use Bulkestate hail from Germany, Estonia with a trend for new investors from Denmark, Holland, Spain and Portugal.
These are their main stats:
144 Projects funded
€25.7m Combined value of funded projects
53.8%

Average LTV

12 

Average loan term (month)

14.1%

Average annual return

€

0 Capital lost
86 Projects repaid
6% Projects defaulted (historically)
Biggest project: Marijas Street €1.75m with 740 investors and 17% return. That ended up being 2% more than planned.
That's not bad at all. On other platforms such as the Spanish or British ones, the returns are much lower. Usually, this would indicate that the investor is accepting a much higher degree of risk, but in this case, speaking from experience, I can say that it's mostly a question of bigger growth opportunities that are currently found in the Baltic states.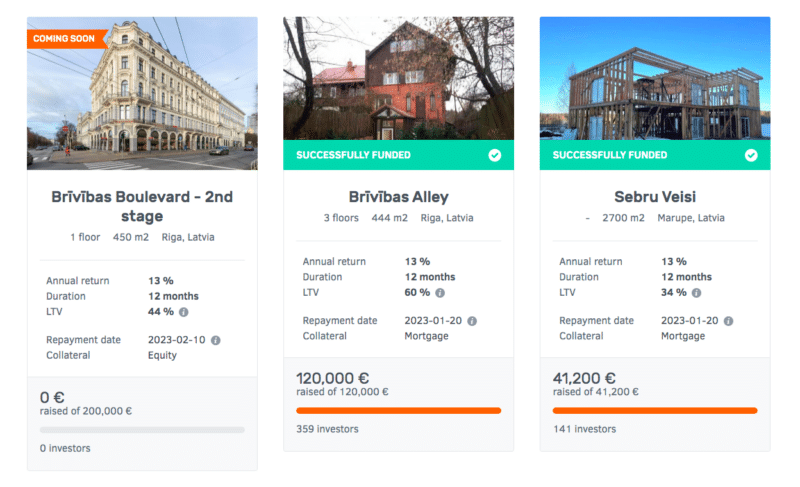 There are currently over 10171 investors registered on this platform (compared to 3000 in August 2019), hailing from 63 different countries. The top 5 countries by investors are Latvia, Germany, Estonia, the Netherlands and Spain which account for
48% of the total number of investors.
If you're a real estate developer, you can also find investors for your property by applying with Bulkestate and submitting your project proposal. They will then vet it and you'll have a chance of getting approved to join the platform.
How is the Latvian Market?
The Latvian market is the most underdeveloped in the Baltics at the moment, which means that Bulkestate can get better returns. Residential properties in Tallinn or Vilnius, for example, are around 10% higher than in Riga. This continued to be echoed by the Baltic Housing Affordability Index published in December 2021 by Swedbank, which shows how the surge in housing prices in Riga was less steep than in the other Baltic capitals.
While many investors are concerned about a real estate bubble developing in the Baltics, we can say that Latvia is not really at risk, and if there were to be such a bubble, it would first be observed in hotter cities like Tallinn and Vilnius.
Bulkestate aim for purchasing properties at 15% discount at a minimum. As savvy investors know, profits are made when you buy and not when you sell. Therefore, it is essential that properties are purchased at a good discount.
Who is Behind Bulkestate?
Igors Puntuss comes from a real estate background. Before founding Bulkestate he was working with large real estate investment projects together with his cofounder.
Originally Mr Puntuss was looking to open an investment fund, but eventually decided to go for a crowdfunding model in order to shift away from having one or a few big investors and move towards lots of passive investors who share the profits. I asked Bulkestate directly to see if they could give me further information about this early decision. Here's what they said:
The investment fund requires significant set-up and maintenance costs to ensure compliance with all regulatory requirements without necessarily increasing investor protection. As we aim to retain a relatively small volume of funds under management, the fixed regulatory costs would reduce returns we can deliver to investors. Therefore, we decided in favor of the crowdfunding model which is more self-regulating.

Also, large active investors sometimes can play a large role in the whole real estate development project, and most of the time the participation from this large investor is holding back and delaying the process itself, as they always are interested in overseeing and managing the whole project.

As it is known, real estate development projects have to be executed perfectly to increase the profit as much as possible, and delays can largely impact the profitability of the project, hence, passive investors can sometimes be the best option for real estate project financing as it allows the developer to work uninterrupted.
That makes a lot of sense to me. I hadn't considered the fact that a large investor can hold back a project, and I think that's one more point in favor of crowdfunding real estate projects.
The founding team had no experience in IT or building crowdfunding platforms, so they had to hire an outside firm to build the platform in 2016.
The leading members of the team are all disclosed on Bulkestate's About page.
They are also upfront in saying that some of the borrowers might be related to Bulkestate in several ways:
Please note that Bulkestate may provide loans to the borrowers (legal persons) related to Bulkestate, its shareholders, beneficial owners or managers (e.g. by an overlap of ultimate beneficial owners). By using our services, you accept this and this is not deemed to constitute a breach of duty of care by Bulkestate.
I don't see any real problem with that. As investors, we are always ultimately responsible for making our own due diligence on each project, and can't rely on the platform doing that job for us, since the default bias of the platform is to put up more projects for us to invest in.
Bulkestate Partners
This platform is partnered with Ober Haus and Starlex Real Estate, two leading real estate agencies in the Baltics and Latvia respectively.
I wasn't familiar with these two companies, so I asked Bulkestate about what the partnership involves. Here's how they explained it:
Ober Haus is one of the most respected valuation companies in Latvia. During our due diligence process, we always ask to evaluate the property using Ober Haus's services, and after that, it is re-evaluated by our in-house experts to ensure that the property is worth as much as it is indicated in the valuation report. The same goes for Latio which is also our partner and provides precise valuation reports.

Starlex is an experienced real estate company, which helped us to carry out the group-buying deal in Meža Street 4. Also, Starlex is actively working to help us with bringing in new group-buying deals.

Additionally, our group-buying deal in Blaumaņa Street 9 would not be possible without our partners InCity. They brought the project to us and also handled the selling process of the property.

Overall, we are happy and grateful to have to possibility of working together with such professional and experienced partners!
Quality of Support
Note how well Bulkestate were able to answer all my questions in very good English and providing very comprehensive replies. This is really something unique among P2P and real-estate crowdfunding platforms from the Baltics.
A lot of them reply to questions in broken English and basically copy-paste from their own website without thinking about the investor's question in a deeper way. I really appreciate how seriously Bulkestate takes interactions with investors. This definitely increases my trust in the platform in a big way.
On the other hand, from an online search on Bulkestate users' experiences, I noted that there have been a number of complaints relating to delayed interest and principal payments together with slow response times for follow-up queries raised by the same users. In this regard, Bulkestate noted that they regularly keep users updated on the platform forum, including delays on loan repayments. While I appreciate that attending to individual personal customer queries via email requires more resources than a forum does, it would surely go a long way towards improving users' experience and peace of mind.
Another common complaint that I came across was directed at the lack of user-friendliness of Bulkestate's user dashboard. In this regard, during my recent podcast with Igors Puntuss, he confirmed that his team is currently working on improving email communication and also undertaking a revamp of the dashboard. He also invited users of the platform to share any suggestions they had by sending them through to [email protected].
What Types of Buildings does Bulkestate Go After?
Every time I visited the Baltics, I've always noticed that as you go outside the historical centers of the major cities, you'll find a lot of Soviet buildings that look absolutely horrible. Not only do they look depressing, but the majority of them are in a state of decay and some even in danger of collapse.
The reason is that these buildings were built fast and cheap with the idea that they would only need to last 50 years before being replaced. However, with the failure of the Soviet Union everything changed and the building plans were all abandoned. Hence, we are now at the expiry stage of these buildings, and it would not be a wise investment to buy property in them due to the structural problems they have.
Therefore, Bulkestate only goes for buildings that were either built before the war and are the traditional type that are meant to last hundreds of years or otherwise new ones built from scratch.
Bulkestate partners with the top two real estate companies in Riga to make sure that they have accurate valuations of the properties and avoid situations where the projected value is inflated. They have also hired an in-house evaluation expert who double-checks these valuations.
Investing in Property Development Loans
The investing part of the platform consists of loans to property developers. This is something I've seen on other platforms like Property Partner in the UK and Housers in Spain.
Like many other platforms, Bulkestate allows you to do things in a completely passive way by using Auto Invest. Auto Invest is an investment tool that automatically invests available funds on behalf of investors, basing on their chosen criteria. Once investors set their investment criteria, Auto Invest automatically places orders for matching settings. Investors can review, adjust or pause Auto Invest at any time. There are no additional costs for using Auto Invest.
The minimum investment is 50 EUR and there are upper restrictions on how much you can invest.
A downside to investing on Bulkestate that you should know about is that there is currently no possibility to withdraw invested money before the scheduled repayment date. That means that there is no secondary market, so before you invest make sure you won't need the money before the loan repayment date.
A common question when dealing with such platforms is about what happens if Bulkestate declares bankruptcy. There is reassuring information on this front. Bulkestate solvency does not affect the risk of losing investments, as the investors buy claims rights along with the associated security when investing. In case of bankruptcy, the liquidator, separately from the assets and creditors of the company, manages all investor assets. Investors' funds are safe in a separate escrow account apart from the Bulkestate operational bank account. Thus, if a particular crowdfunding project is not successful and investors fail to raise the necessary funding, investors do not incur any losses and receive all the investments to their accounts.
Of course, as you would expect, Bulkestate has a comprehensive FAQ section which you can go through. In fact, I recommend doing so especially if this is your first contact with such investment platforms.
Group Buying
What is perhaps more interesting and eye-catching due to its novelty is the group buying facility. This facility is targeted at larger investors due to the higher level of investment required to get into these group buying deals. Through a group buying deal one would typically acquire smaller size (such as one or two apartments) real estate at wholesale prices which would otherwise come at a dearer price if the same real estate were to be acquired independently. In other words as part of the group buying deal an investor would be reserving, for example, one or two apartments from an entire building purchased through the group deal. However, a group buying deal can only take place if all apartments get reserved.
I really like the idea particularly because it's the first time I came across a platform that is geared for this and I look forward to how this section develops. At present, it seems that it's still in its fledgling stages.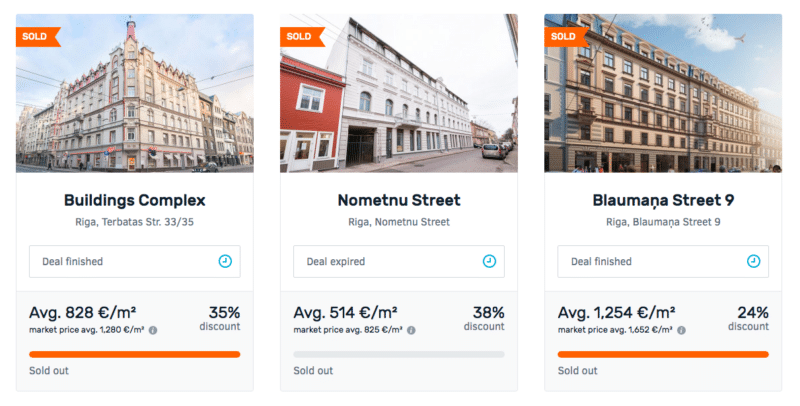 The only few opportunities that have been previously available in the Group Buying section relate to apartments in nice buildings in Riga. All the deals were successfully completed. What I think Bulkestate should provide is some way of administering the property after the purchase is completed, and helping investors resell it on the open market. I am not interested in traveling to Riga to manage the sale of the apartment, but I definitely see the attractiveness of the group buy discount and the possibility to resell immediately after at the market price for a tidy profit.
All in all, I think Bulkestate is a very promising platform. I would suggest sticking with the Investment part of the site for now, until the Group Buying part takes off and we can see more success stories.
When I first reached out to Bulkestate to ask them what their plans are for the Group Buying part of the platform in 2019, this is what they had to say:
As of 2019, we have been working to elevate both sides of our platform and the total volume sold in group-buying is close to our crowdfunding volumes. Also, our team has been working intensively to ensure that the crowdfunding and group-buying projects keep coming in.
So I'm looking forward to seeing this part of the website developing further. As I said, it's quite unique in a sea of copycat platforms.
I also wanted to get more information about how the group buying really works, and whether it is feasible for foreigners not living in Latvia to get involved without hampering their chances of turning a profit due to not being on the ground.
I asked them:
Who is the typical buyer of these apartments? Are they local people? As an investor myself, I find it hard to justify such an investment without going to see the property or having any use for it myself. Do you offer any management services for rentals? How would a foreign investor like me make money on these bulk deals?
Here's what Bulkestate replied:
It differs from case to case, mostly these are locals who are interested to purchase apartments for themselves or to rent them out.

Of course, we are interested to increase the number of foreign investors that would use our group-buying services. As the apartment prices are pretty low in Riga, foreign investors could purchase and rent out the apartments earning from 5-8% per annum. Additionally, as the prices are increasing in Riga, investors can earn additional funds by exiting the project in a few years when the price of the apartment would have increased.

We always mediate the legal side of the deal; hence, the investors would not have to worry about the purchasing process itself. The most time-consuming thing for a foreign investor would have to be the renovation of the apartment and finding potential lessors. But in this case, we can help to find a construction company that could renovate the property if necessary, and also, we can connect our investors with local real estate agents who can rent out the property.
I'm still not entirely convinced that it would be a profitable endeavor as I really don't like dealing with contractors or renters, so a turn-key solution would be much more attractive to me.
In my recent podcast with the CEO I also asked him for an update on the group-buying product. Igors remarked that momentum has remained slow and as such his team is looking to expand this product outside of Latvia, primarily in Lithuania and Finland. The team is also looking at expanding in Estonia and Germany subject to being able to fulfill the regulations of these respective countries. I will be curious to see whether this will lead to new projects from these countries coming on the platform.
Here are the Group Buying stats:
Total volume of group-buying deals: €14,992,883
Number of group-buying deals: 4
Total area sold in group-buying deals: 15,350.8 sq m
Number of participants in group-buying deals: 83
Total units sold: 95
Introducing 'Flash' – Bulkestate's New Campaign
Launched in May 2022, 'Flash' is is a new real estate investment that gives you the chance to win extremely high returns on your investments. Through this campaign, Bulkestate will be listing a number of new properties with the 'Flash' label, which projects will be characterised by a different returns structure than the regular properties described above.
When you invest in a Flash object, the return is split into two different portions:
i) The first portion will return a standard baseline annual return to you and all other investors in the Flash property, similar to Bulkestate's current objects. However, under this campaign earning the standard baseline becomes the worst-case scenario.
ii) The second portion is treated as a prize pool and this will be randomly allocated to one or multiple investors based on a lottery draw. In other words, your investment amount acts as your lottery ticket and will determine your odds for receiving money from the prize pool.
Thus, with the Flash properties even the 'losers' don't actually lose out because they still receive the baseline return. In other words, by participating you not only do not give up the baseline return, but you also give yourself a chance to supercharge your upside potential. The only trade-off that you make is a smaller baseline return than what is typically available on other obecjts, in exchange for a chance to win some big money. The process, platform, and quality of investment opportunities will remain.
Here is an example of how Flash will work:
In order to determine the odds of winning the prize pool you need to divide the sum you invested by the sum invested by all investors in the property. If you invest the minimum sum of €50 in a project that's raising €20k, your chances of winning the prize pool is 1 in 400. In other words your chances of winning are proportional to the sum you invest.
Bulkestate intends for Flash to be a niche product which is meant to tackle some of the existing problems in the lending and crowdfunding sphere. Flash is meant for smaller investment projects which are often overlooked by the lending sector. Flash products come with a lower LTV to ensure investor interests and investment safety. To a certain extent, investing in a Flash object can be compared to investing in a savings account.
As at the time of writing Bulkestate have launched there first Flash object which was fully funded at €15k by 82 investors within a few days. The property in question will provide a 2% baseline annual interest rate (in comparison with the 13%-14% interest rate for regular objects). The LTV of the property is only 9% which is in fact much lower than the LTV for other non-Flash properties. The loan duration is pretty standard at 12 months.
How to Sign Up to Bulkestate
Any business or any person over the age of 18 can invest on Bulkestate, and the signup process is pretty straightforward:
Add funds to your account
Invest in some projects
Deals on this platform are snapped up quickly as there are many investors willing to invest and not enough supply. This is a problem with many platforms at the moment as the interest in such platforms has skyrocketed in the past couple of years, and many investors are flocking to invest their money.
Once you're signed up you can access detailed information about every deal that is open to investment. Once you make your decision you can go ahead and invest with a minimum of 50 Euro.
My Experience

I have 5 completed projects so far, and a return on investment of 14.39%.
Apart from these concluded investments, I have several more that are all still active and apparently going well, so I expect to receive the interest as promised in the coming months.
As you can imagine, I have no complaints on the returns and performance of my investments so far.
Final Opinions
I like the fact that the LTV ratio is quite low at around 50%, and also that they are very selective with their projects. Loans are between 3 and 24 months which means that our money is not tied up for that long, another plus in my opinion.
If you're familiar with investing on P2P lending platforms that specialize in consumer loans (like Mintos) you'll notice that there is no buyback guarantee on Bulkestate, but this is normal since the loans are backed by real estate. Therefore, it is not a problem or a downside of this platform.
There is the possibility of using an auto-invest system, which is essential for me since I don't like to spend a lot of time on these investment platforms. I'd rather set things up and let the auto-invest system do its job.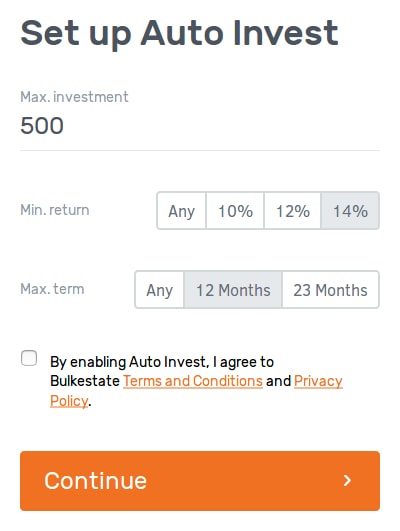 I remind you that so far there have only been a 6% level of default on Bulkestate (in comparison with 9% registered by EstateGuru) and while that does not guarantee what will happen in the future, I think it's a good sign to take into consideration. Furthermore, the loans which defaulted were eventually repaid to all the original investors who even got a low portion of interest.
As a downside, I'd put the fact that there is no secondary market, so if you need immediate liquidity you're going to run into trouble as you'll be forced to wait out the loan repayment. On the other hand, the reason that they don't have a secondary market is that this is a smaller platform as we mentioned earlier, so even if they had a secondary market chances are it wouldn't be very active anyway. The lack of the secondary market is compensated by the fact that loan terms are not that long.
As is standard with many of these platforms, there are no fees to be paid by the investors to join or use the platform.
If Bulkestate ends up going bankrupt (which is always a possibility you should consider) you can rest assured that all investments are secured by being separated from Bulkestate's assets. This means that Bulkestate's creditors will not have any claim on your money in the eventuality that Bulkestate folds.
As always, if you have any questions about Bulkestate or online real estate investment in general, please leave a comment below and I'll do my best to answer your queries.
Start investing in real estate on Bulkestate.com
Summary
Bulkestate is currently making a name for itself in the real estate crowdfunding sector. The platform focusses on well-selected projects, rather than a multitude of investments – a plus in my opinion. I think that it's a good option for anyone who wants to start building a real estate portfolio.
Pros
Low LTV ratio
The platform focuses on few quality projects at a time
Loans range between 3 and 24 months
Auto Invest feature
If the crowdfunding project is not successful, investors do not incur any losses and receive all investments to their accounts
Only 5% level of defaults so far
Frequently updated blog which adds personal touch to the investment experience
Cons
No Secondary Market
No Annual Reports available on website
Interest receipts are not regular, rather paid together with repayment of principal once a loan is fully repaid