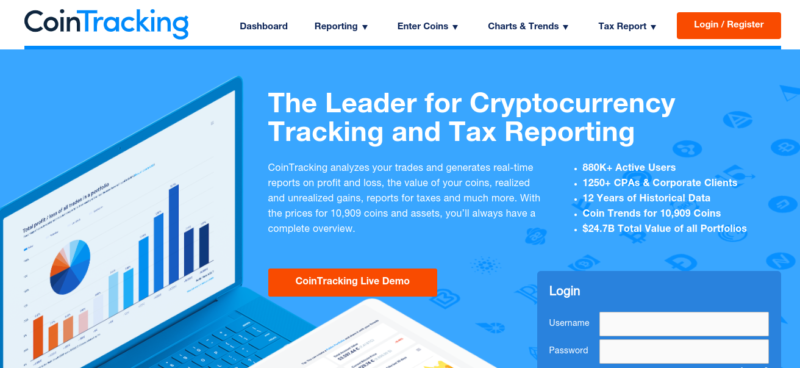 If you own or trade any crypto, the approach of tax season might present a whole new set of challenges. Trading and investing across multiple cryptocurrency exchanges can easily become very confusing for the average trader. In other words, it can be very tricky to keep track of your digital portfolio, your gains, and losses at all times.
If you regularly engage in cryptocurrency transactions, then the burden of calculating these profits and losses usually falls entirely with you. Fortunately, there is software out there that can help you keep an account of your cryptocurrency portfolio and generate tax reports based on your activities.
CoinTracking.info is one such platform that can function as your personal crypto portfolio monitor. In this review, I will walk you through the different features of this product and how you can use it to simplify the process of crypto tax reporting.
CoinTracking.info – An Overview
As you likely already know, the first cryptocurrency – Bitcoin, was launched in 2009. In 2012, CoinTracking was created as one of the first companies to have tapped into the upcoming market of crypto tax reporting tools. The platform was intended to make the lives of traders easier, by managing their portfolio throughout the year.
Over time, CoinTracking.info has gained the trust of over 880,000 users and handles portfolios worth $24.7 billion. It has built a worldwide network comprising expert tax advisors, professional cryptocurrency investors, and lawyers who can offer you any assistance with international filing requirements.

In simple terms, CoinTracking.info allows you to evaluate all your relevant information about your crypto portfolio in one place. With this tool, there is no need for you to extract your trading reports and enter them manually. Instead, the platform will directly import your data, and then do the rest of the work by itself.
At the moment, CoinTracking.info integrates with 68 cryptocurrency exchanges, 22 wallets, and offers legacy support for 22 closed trading platforms.
CoinTracking.info – Features
You can look at CoinTracking.info as a multi-faceted platform. It can serve as a portfolio manager, as well as a tax calculator for your crypto holdings.
As a portfolio manager, CoinTracking.info allows you to:
Calculate your historical balances and profits
Check coins and currency on each exchange
View current balances
Review your realized and unrealized gains
Analyze the total profit and losses of your trades
CoinTracking.info also offers a unique Capital Gains Tax Calculator for thousands of different cryptocurrencies, digital assets, and tokens. And most importantly, the platform will be able to generate reports that are compliant with your country's specific tax laws.
The tool is also accessible through its mobile app, allowing you to track different cryptocurrencies and your assets while on the go.
Now that you have an idea of what CoinTracking.info is all about, I'll now explain how you can start using the platform.
How to Start with CoinTracking.info?
Once you have created an account on the platform, in order to start using its features – you will first have to import your trading data from an exchange or a wallet.
How to Add your Trades
CoinTracking.info allows you to import your trading data using three methods.
1. Automatic API Import
As I mentioned earlier, CoinTracking.info has partnered with several cryptocurrency platforms to monitor your trading data automatically. This can be done by linking the API Keys of your respective exchanges and wallets.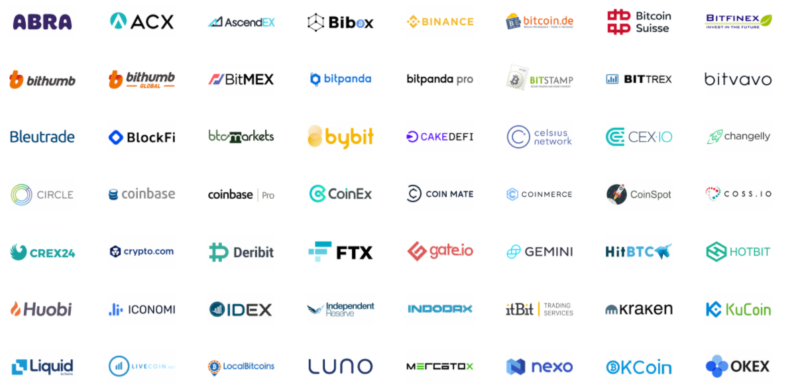 The platform also comes with an API Live Data Check that will allow you to check your current balance across multiple exchanges that you have connected through an API. This will ensure that the trades are added seamlessly, and you do not have to worry about manual updates.
2. Uploading Data Using CSV
You can also transfer data by uploading a CSV file that contains all your trading information. Many exchanges allow you to export these directly from their platforms.
Then you can simply drag and drop these files into CoinTracking.info and you are ready to go.
3. Manual Data Entering
In case there are some trades you were unable to import automatically, you can enter the data manually. You will be entering the details in the form of a table, by entering the specific numbers of coins bought and the trading involved. You will also have the option to edit these entries or erase them later.
If you are having any trouble setting up your account, not to worry – CoinTracking.info offers you detailed instructions every step of the way. When this is completed, the platform will give you a complete analysis of your trades, prices, volume, gains, losses, and the entire value of your portfolio.
Note: The automatic import options are available only for paid users of the platform. If you are accessing the free service, you will have to manually enter all the data.
CoinTracking.info – Interface, and Tools
When you have set up your account, you can proceed to explore the different features of CoinTracking.info. Let us start with what you will find in the portfolio management section.
CoinTracking.info – Analysis Tools
CoinTracking.info has one of the most user-friendly interfaces you will come across. Although the website might look a bit outdated, it has clearly defined each section and categorized its features.
In terms of analysis, you will be able to find the following useful features on CoinTracking.info:
Dashboard
Your dashboard will give you a complete overview of your portfolio. This will include the summary of the coins you hold, the value of each coin, your total profits/losses, the list of your exchange, and much more.
You will also be able to get a synopsis of your trades per day.
Reporting
The Reporting Tab consists of a wide range of different data regarding your trading activity. These charts and tables are interactive, which allows you to take a look at individual datasets if needed. You can also set the graph to view information for a specific period.
This includes:
Trade Statistics – Here, you will find separate graphs for your historical balance, the current value of each currency, your trading volume, and the number of coins you hold.
Trade List –  Under this section, you will be able to see a detailed listing of all your trades, such as the buy and sell volumes. This will also include any comments that you have added for individual coins at the time of uploading the data. CoinTracking.info allows you to export this list in multiple formats directly from the platform.
Trade Prices– This will calculate the cost of all your trades on any particular day, or until the date specified.
Trade Fees – Here, you will be able to find an account of any trading fees applicable to the trades you have imported.
CoinTracking.info – Research Area
While the previous section gives you a fully comprehensive view of your crypto portfolio and trades, the research area allows you to gather more data about the digital currency market. This extensive research area comes with detailed charts that analyze prices, trends, and even forecasts of different cryptocurrencies.
Take a look to see what features are available.
Coin Charts
Coin Charts are used to represent the price development of both major cryptocurrencies and fiat currencies. You can customize the chart to see all coins separately or view individual assets. You can also analyze the price of fiat currencies in terms of the value of Bitcoin.
Coin Trends
CoinTracking.info will give you the current market price and the volume of all supported cryptocurrencies in terms of BTC. At the time of writing, the platform gives you access to the data of 10,851 digital assets.
User Statistics
User statistics will give you an overall account of the coins in the portfolios of different users on the CoinTracking.info platform. The chart will also highlight which range you are in.
Coin Price Calculator
This unique calculator will give you the price of any cryptocurrency of your choice in terms of a fiat currency. What's impressive about this feature is that you can not only access current prices, but also the value of a particular coin on a specific date.
CoinTracking,info – Tax Declaration Reports
One of the main purposes of CoinTracking.info is that it helps you with your annual tax return for your cryptocurrency holdings. Based on your data, the platform will calculate all your trades down to the cent, and prepare the reports automatically.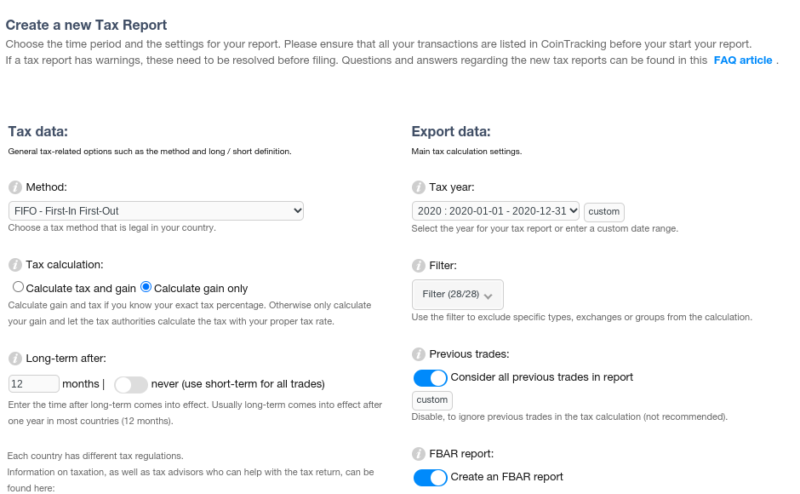 Depending on your preference, you can opt for different accounting methods – such as FIFO, LICO, HIFO, AVCO, ACB, and more.
How to Create a  Tax Report on CoinTracking.info
Here are the steps you can follow to create and download your Tax Report.
Step 1: On the homepage of your CoinTracking.info account, go to the 'Tax Report' page.
Step 2: Click on the 'Create a New Tax Report' button.
Step 3: Choose the tax year, the calculation method, tax rates, and other information.
Step 4: When you have confirmed all the data, clock on the 'Generate a new Tax Report now' button.
Step 5: The platform will then do the required calculation to generate your report. When ready, you can click on the 'Load Report' button to see the file.
This tax calculator has been designed to adapt to the laws and regulations set by different countries.
Note: Your tax report will not only include your capital gains but also your income, donations, gifts, stolen and lost coins, and the closing position.
CoinTracking.info Pricing
CoinTracking.info is accessible to you via four different pricing plans. These are as follows:
Free Plan
CoinTracking.info allows you to access most of its features for free. However, you will be able to calculate reports for only up to 200 transactions.
Here are the features that come with the free version:
Tax reports downloadable in CSV, XLS, PDF and HTML formats
Up to 5MB per CSV file
2 manual imports of up to 100 entries each.
No auto imports
Pro Plan at $10.99 per month – Best for Advanced Investors
Portfolio tracking
Up to 3,500 transactions
20 MB per CSV file
5 auto imports per coin
Unlimited manual imports
Expert Plan at $16.99 per month – Best for Experienced Investors
Access to full features of portfolio tracking
Up to 20,000 transactions
20 MB per CSV file
10 auto imports per coin
Unlimited manual imports
Note: The Expert plan is also flexible. If you want to upgrade to 50,000 or 100,000 transactions, you can get it for $21.99 and $27.49 respectively.
Unlimited Plan at $16.99 per month – Best for Professional Investors
Access to full features of portfolio tracking
Unlimited transactions
200 MB per CSV file
50 auto imports per coin
Unlimited manual imports
Corporate Accounts
CoinTracking.info also has a Corporate wing that is specifically designed for those who want to manage multiple clients. For instance, CPAs, accountants, tax attorneys, and investment companies can benefit from this feature. The base pricing for these accounts starts at $499 per year. You can add more by paying extra fees.
If you sign up for a Corporate account, you will have access to:
10 unlimited accounts
Branded accounts with your logo
Backup and restoration of data across all accounts
Manage user permissions
Add admins to each account
CoinTracking.info Safety
As CoinTracking.info does not take custody of your digital assets, you only have to be worried about the safety of your personal information. In order to ensure this, the platform uses its own server with all databases protected, encrypted, and completely shielded.
In addition, the team ensures that any data they delete will not be left behind. You also have the option to register anonymously, without even having to provide your email address. Instead,  user statistics will be calculated without any personal details.
CoinTracking.info Customer Service
CoinTracking.info has one of the most extensive customer service areas I have seen on tax reporting platforms. It has an elaborate documentation section that covers almost every question you might have. It also has a separate FAQ that caters to the most commonly asked questions.
There is even a CoinTracking.info robot ready at your disposal. This is all aside from the typical customer service tools such as communities, live chat, video tutorials, and email contact. There is also a demo version of the website available that can give you a good idea of what to expect once you start using the platform.
CoinTracking.info – The Verdict
It is clear by now that CoinTracking.info brings plenty of features to the table. It offers a broad and comprehensive analysis of your crypto portfolio – which allows you to manage all your digital currency accounts at once.
Moreover, its longstanding reputation has allowed the CoinTracking.info team to update the platform regularly to cater to the changing needs of the crypto community.
To ensure the provider is right for you, CoinTracking.info also offers a free account to help you understand whether the platform can fit your tax reporting needs. Overall, CoinTracking.info comes across as one of the most efficient management tools you can use for your crypto portfolios.