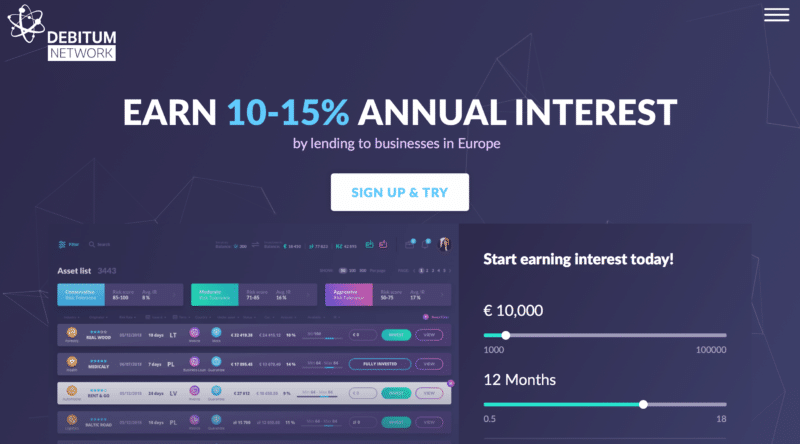 I've written quite a bit about P2P investing on this blog, and I recently posted a summary of the best European P2P investment platforms. What I haven't written about before, however, are platforms powered by the blockchain. That is precisely what I will be talking about today, in the shape of Debitum Network.
I've spoken about the reasons for existence of P2P lending platforms, but it's worth summarising them again here. Approximately 70% of all micro and small to medium-sized businesses in emerging markets lack access to credit. This can be due to many factors, from over regulation to an underdeveloped banking environment in their country. We thus end up with an estimated $2 trillion credit gap for SMEs worldwide. This market is therefore ripe for innovation, as we have already seen in recent years through the success of Mintos and other platforms.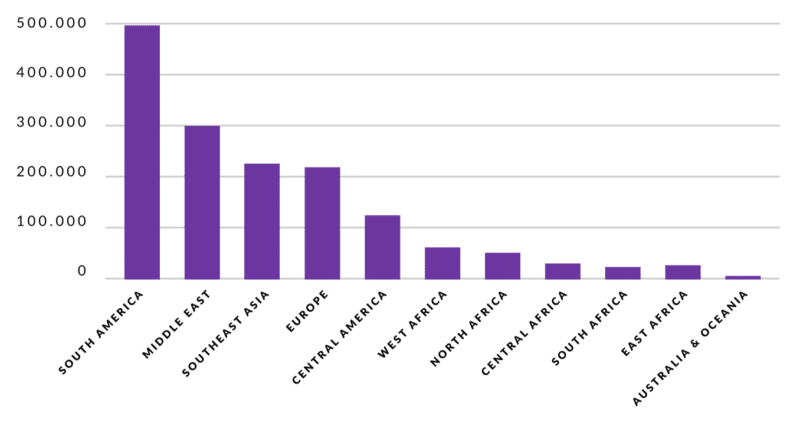 Debitum is a completely decentralized platform where investors can invest their money and small businesses can correspondingly apply for loans. The returns are projected to be around 10-15%, in line with other traditional P2P loan platforms that I've mentioned in other articles.
Debitum had a crowdsale to get its initial funding, which came in the form of an ICO where they raised more than $18 million.
As of September 2019, it has grown fast and is now one of the top P2P platforms in Europe.
With Debitum, you can not only invest fiat money, but you can also invest (and also withdraw) in crypto. This is very interesting for those who have a lot of assets tied up in crypto and for some reason or another are reluctant to switch these assets into fiat money. It would be much better to put those crypto assets to good use and see them grow by investing in a platform like Debitum Network. The crypto market, in general, has gotten hammered in 2018, so investors in crypto would be very happy to get some returns in the form of interest from loans.

Debitum Network is designed to unite borrowers and those who help them apply: investors (lenders), risk assessors, document validators, insurers, etc. Companies or individual professionals who work in the alternative finance space can connect-in to the network for free and immediately begin facilitating cross-border deals. All actions are processed through the Ethereum Blockchain, making Debitum Network a secure and incorruptible infrastructure. It's made up of an Ethereum-based family of smart contracts, facilitated by one internal means of payment.
Transactions run through Fiat currencies, ensuring businesses can actually use the service easily in their locality, and from day one. Based on DEB token usage within its lifetime for each loan, the total needed to buy DEB tokens will surpass total ability to sell DEB tokens, thus creating upward pressure on DEB token price. This is the reason why there was such a frenzy for buying into the Debitum Network ICO, as investors were eager to grab DEB tokens hoping for a future rise in their price.
DEB tokens are already available for trading on the KuCoin and Lykke exchanges, with more exchanges joining in the near future.
If you're the type who likes to read whitepapers, you can find the Debitum Network whitepaper here. I found it very interesting to go through the white paper as it explains how Debitum is attempting to address certain issues with P2P lending by using blockchain technology (Ethereum to be specific).
The Debitum Network team comes from the innovative technology company DEBIFO, a successful traditional invoice financing business in Europe, which is Mintos's partner. Debifo finances invoices for Mintos, one of my favorite P2P loan platforms.
You can also follow Debitum Network on Facebook and Twitter.
Debitum have a very interesting blog, which deals with topics that are of relevant to any investor. They've written about topics like:
Types of interest rates
What makes an investment safer
Types of investing
I personally enjoyed going through the articles on their blog and saved many of them to my Pocket account for reading later during breakfast or commutes. I value such platforms not only for the monetary returns they give to investors, but also for the learning opportunities they provide.
By investing, say, a thousand euro onto a platform like Debitum, you now have a stake and are naturally inclined to keep reading about the goings-on of the platform and also informational articles like those found on their blog. By being invested, I find that I learn much more than if I just grabbed an investment book and read that. There is something about having a stake in something that makes learning more sticky.
How Debitum Network manages risk
One of the key elements for risk management with Debitum Network is independent risk assessment parties. They have always outsourced risk assessment to independent professionals who know the local markets and their players well and can provide a precise and adequate risk score for each company that borrows.
This makes Debitum Network unique as we they are probably the only company that uses independent parties for risk scoring of assets on our platform. This is a great advantage as independent risk scoring increases transparency, shows a real risk of investing in a specific asset, and helps to protect investors' funds.
Another key element of risk management is their stellar risk management team. They did an excellent job in identifying issues in Aforti Finance loan book. Aforti has caused quite a debacle on several platforms including Viventor and Mintos. Debitum was the most proactive platform out there in this case.
Let's see how this went down. After speaking with the Debitum team, here's what I discovered.
Doing 1st quarter follow-up for due diligence they found a mismatch in Aforti's loan book, profit, and balance sheets. As the Aforti Finance team failed to answer specific questions in correspondence started by Debitum Network team regarding the situation, all Aforti assets were removed from Debitum Network platform and the entire invested amount plus due interest were bought back.
Later, it became clear that this proactive step was beneficial for investors. Debitum didn't wait until investors possibly got stuck with unpaid repayments and nervously wait for the situation to resolve itself. They wanted to protect investors' funds and decided to act proactively.
And that's one of my top reasons why I like this platform.
Debitum Network always looks ahead and tries to avoid the risks before they arise or worse, get out of control. Having a very strong risk management team and a thorough due diligence process should help investors stay calm with their investments and security of funds. In turn, this will ensure that Debitum Network can continue to grow as a platform and have its good reputation spread around new investors.
Remember that there are no fees for investing on Debitum Network. Maturity times vary from 2 weeks to 18 months. There are various assets to choose from, such as factoring, business loans, property and stock.
Go ahead and give it a try, and let me know how it goes.