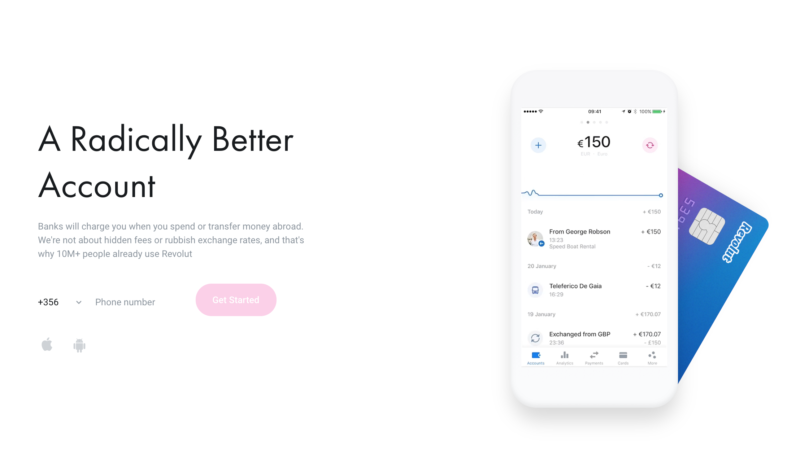 We live in a world where instant control over our finances is necessary and quite often, expected. More and more people are becoming location independent or constantly traveling from one country to the next. It is for this reason that I, myself, have turned to challenger banks to handle my day to day transactions.
Challenger banks such as Revolut, N26, and TransferWise offer banking services without the need of traditional banking infrastructure and technologies. They come with lots of perks, including no hidden fees and quick transactions that mirror our fast-paced social lives.
Revolut is fast becoming one of the most popular challenger banking apps around. Although the service has faced controversy in the past, it is continuously gaining more and more users every day with a total sum of over 10 million achieved so far.
Let's have a look at why so many people choose to use Revolut for their banking needs.
What is Revolut?
Revolut is a British financial technology company that was founded in 2015 by Vlad Yatsenko and Nikolay Storonsky. Ever since the company has grown tremendously and now boasts over 350 million transactions with a total value of over €45 billion.
Revolut offers digital banking services through a contactless card or free mobile app that is available to both Apple and Android users.
It allows users to make transactions in over 150 currencies at the interbank exchange rate, while also allowing standard users to transfer money abroad in over 30 fiat currencies with the bonus of no hidden fees for transactions of up to €6,000 each rolling month. The standard account also allows ATM withdrawals at no fee for up to €200 per month.
Registering to the service, including the identification process, takes no longer than a couple of minutes. You will be requested to upload a photo of your ID, together with a photo of your face – a standard procedure when it comes to fintech companies. With that covered, you will instantly have access to your own personal or business account depending on which plan you choose.
Revolut automatically presents you with a free UK account and a free Euro IBAN account on registration. The app is well-designed, clean and easy to use, with loads of features to help make your banking experience as enjoyable as possible.
One of the benefits of Revolut is the ability to own a physical card, in addition to your virtual one. Physical cards come at a small delivery fee but I have found them to be a great asset when making purchases in commercial outlets at home and abroad. For personal accounts, users will randomly be allocated a Visa or Mastercard card.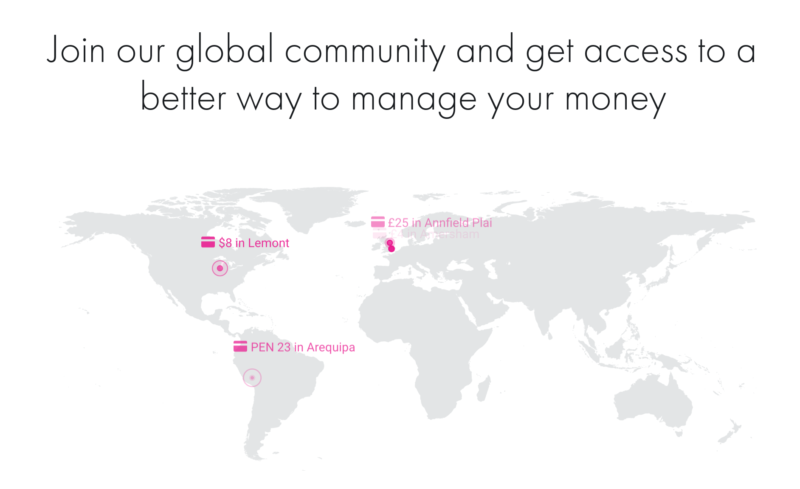 Revolut has spread globally over the past years and now also includes the US. The service is available to legal individuals residing in the following countries:
Austria
Belgium
Bulgaria
Croatia
Republic of Cyprus
Czech Republic
Denmark
Estonia
Finland
France
Germany
Greece
Hungary
Iceland
Ireland
Italy
Latvia
Liechtenstein
Lithuania
Luxembourg
Malta
Netherlands
Norway
Poland
Portugal
Romania
Slovakia
Slovenia
Spain
Sweden
United Kingdom
Australia
Canada
Singapore
Switzerland
United States
Who is Revolut for?
Traditional banking systems typically require proof of a permanent place of residence, which in today's world is becoming increasingly rare, especially among the younger generation. Revolut aims to break away from this form of banking which preys on fees and limitations.
Revolut's main target audience is arguably location-independent individuals and frequent travelers.
Revolut aims to bypass the obstacles and high fees frequently associated with travel and currency changes. We all know that dreaded feeling of queuing up at a bank to exchange money, let alone finding out that you have to pay a hefty fee to withdraw money from an ATM outside your country of residence.
Revolut strives to provide more freedom for travelers. Long gone are the days of notifying your bank of your travels for fear of having your card blocked. One swipe on the app now allows you to switch currencies and continue on your hassle-free trip.
But hey, even if you aren't constantly finding yourself at airport check-in counters, Revolut may still be for you! Let's take a look at the main features offered.
Main Features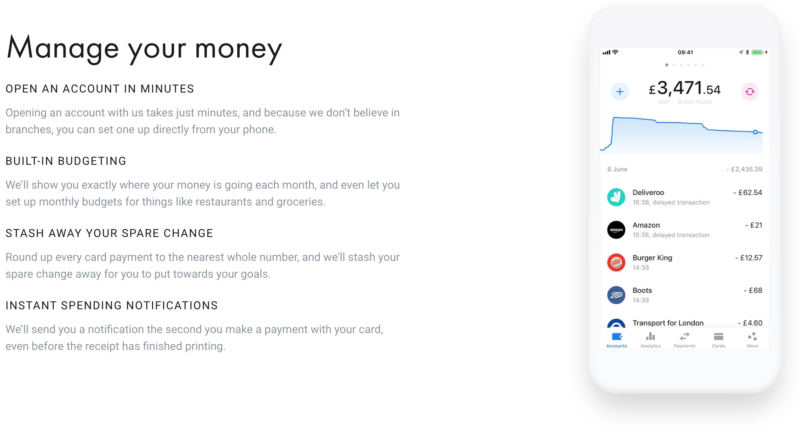 Instant Spending Notifications and Analytics
Revolut is a great service for today's fast-paced society. It provides users with all the main features of challenger banks, such as instant spending notifications, and easy money management.
This is a great way to keep track of your finances. The analytics screen allows you to view all your transactions organized by category, merchant or country.
Budgeting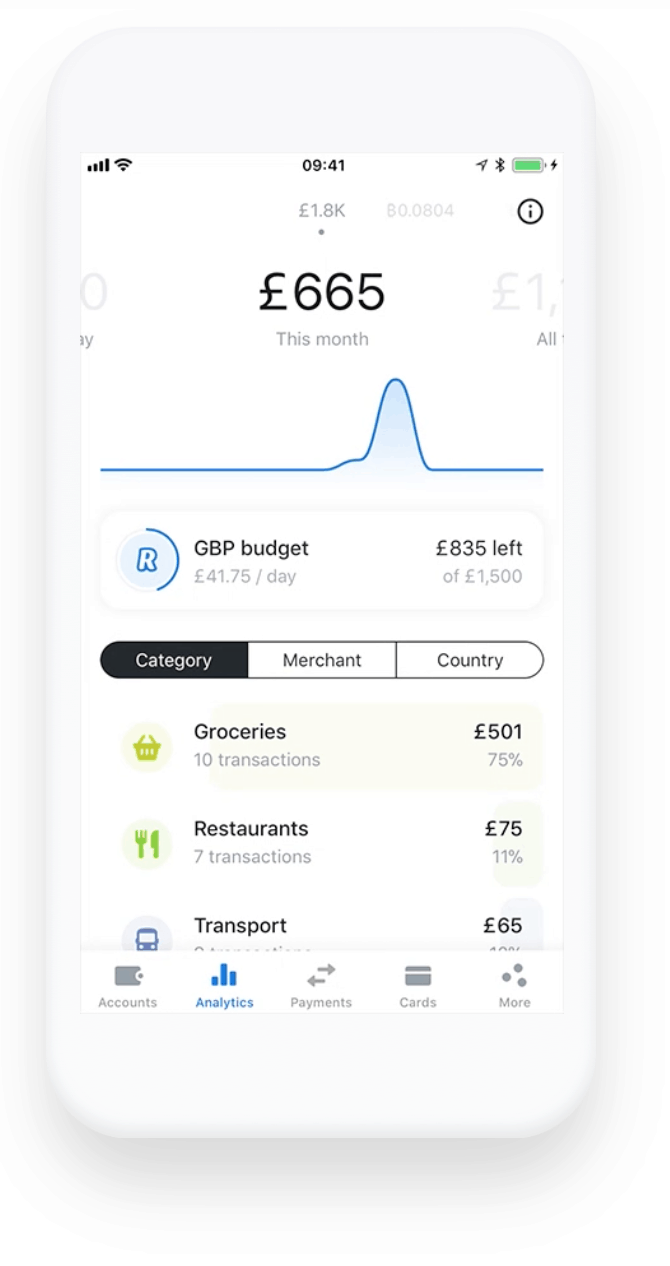 Transaction analysis is a healthy way of creating budgets – and of course, Revolut caters to that too. You can easily set your monthly budget for any category in 2 easy clicks to set you off on a more diligent way of handling money.
Easy Transactions
This is perhaps one of Revolut's most useful features for travelers. To put it simply, if, for instance, you are a European citizen traveling to the US, simply switch over to Dollars in your app and you're good to go. Revolut allows for easy and fast money transfers, globally.
Additionally, the app allows you to send and request money to and from your contacts. Revolut also includes some fun perks such as the ability to send gifs to spice up your transactions.
Cryptocurrency
Cryptocurrency has also been added to Revolut's list of accepted currencies. These include Bitcoin, Litecoin, Ethereum, Bitcoin Cash and XRP. With real-time rates and alerts on your Revolut app, it has never been so easy to exchange any of their 30 fiat currencies to crypto.
Split Bills
Another useful feature is the ability to split bills with family and friends. This comes in handy when going out for meals or traveling in groups, as it does away with any confusion which we've all encountered so many times.
With Revolut's popularity increasing, you are bound to learn that most people nowadays own a Revolut account. This makes transferring or requesting money easier than ever before.
Recurring Payments
The app allows you to set up as many recurring payments as you wish, and name them accordingly. You will even be notified if you have insufficient funds in your account, 24 hours before the payment is to be done. This will give you plenty of time to top up.
Vaults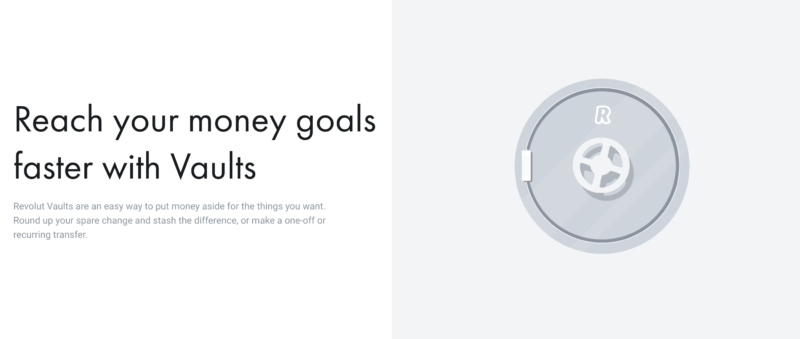 Revolut has also introduced vaults to help you reach your financial goals. Either transfer one-off amounts to your vaults or group vaults for safekeeping or round up your spare change and deposit the difference, for sneaky ways of putting money aside for safekeeping. The company has also introduced saving vaults for GB Metal customers, where you can earn interest on your savings.
Insurance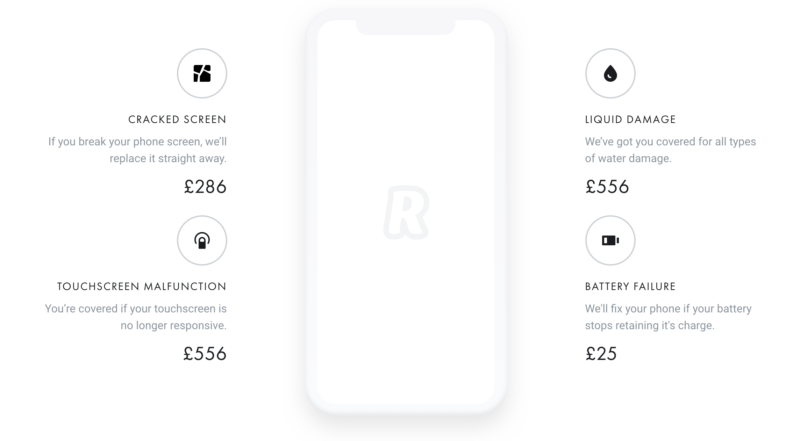 Revolut has also rolled out mobile phone insurance, available on all plans, that starts from £1/week. It covers accidental damage such as drops and screen damage, liquid damage, damage by a third party and out of warranty break downs. A great thing about this feature is that it also provides global coverage.
In addition to this, Revolut also gives the option of travel medical insurance on a pay-per-day basis which uses geolocation technology so that you only need to pay for the days when you're actually abroad. It covers medical and dental claims for as little as £1 per day.
Apple Pay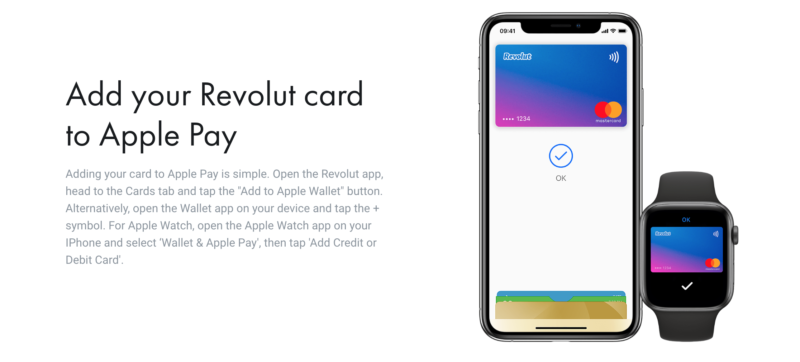 Recently, Revolut has also included Apple Pay to its list of features. This is perfect if you're used to making transactions through your iPhone or Apple Watch, without the need for a physical card.
Revolut Junior
Revolut thinks that kids and teens need to learn about money. That's why they recently introduced "Revolut Junior", a safe and easy way for parents and guardians to teach kids essential financial skills for life.
What is Revolut Junior?
Revolut Junior is a Revolut account for young people aged 7-17. It gives them the freedom to manage their money and build essential financial skills, but for added security and peace of mind, it's owned and controlled by you. Right now, Revolut Junior is available to Premium and Metal customers in the UK.
Revolut Junior is more than just a pocket money account. It's a way for kids to learn about saving and budgeting — because let's be honest, they're not learning it in school!
Revolut Junior at a glance
Available for kids aged 7-17
Can only be set up by a parent or guardian with an existing Revolut account
Funded by a parent or guardian from their main Revolut account
Parent or guardian can control Junior account holder's security features
Instant notification to parent or guardian's phone when Junior card is used
Great way for young people to develop essential money knowledge
Card details printed on the back of the card, to reduce risk if card is shown on social
Built with relationships in mind
Money is an important part of any child's or teen's life, whether it's pocket money or a part-time job. But few young people are taught how to manage their money. Imagine giving them the tools to develop a greater financial sense, with resources your younger self probably never even imagined.
With Revolut Junior, young people get the freedom to spend both offline and online (fully customizable by you), and you get the peace of mind of being able to see where their money goes. That, plus those essential saving and budgeting skills.
It's all about starting conversations around money.

Tracking and transaction alerts
With the freedom of a Revolut Junior account also comes the need for tracking. You'll be able to see where they spend, directly from your own Revolut account. Transaction alerts are sent whenever they spend, and by default, Junior cards cannot be used at certain age-restricted merchants.
This kind of trust and respect is central to Revolut Junior, and Revolute hopes that by giving the tools to lead the way, parents help the kids to grow up smarter about their money.
Real account, real responsibilities
When it comes to money, no young person wants to be treated like a kid. Revolut Junior gives them the opportunity to handle their money like an adult.
That said, they're probably still going to show off their new Revolut card on social media, which is why we've taken the extra security precaution of putting their card number on the back, out of sight.
Revolut Junior launches with plenty of great features. In the coming months, Revolut will introduce additional budgeting features to Junior, setting up a recurring weekly allowance, as well as the opportunity for kids to create vaults, to help them save for their goals and passions. Revolut Junior is also planned to be launched outside of the UK..
Fees and Exchange Rates
Revolut allows for currency exchange transactions of up to €6,000 per month at no hidden fee. Anything over this figure is then charged at 0.5% unless you upgrade to Revolut Premium or Metal. You can keep track of your remaining allowance by checking the profile section on the app.
Likewise, cash withdrawals are free for standard card users up to €200 per month. Exceed this amount and you will be charged 2% on all ATM withdrawals. Premium or Metal card users have the possibility of free withdrawals up to €400 and €600 per month, respectively.
The foreign exchange rate is set by the interbank exchange rate for most currency exchanges carried on Monday through Friday (except for Thai Baht and Ukrainian Hryvnia). There is an extra mark-up on weekends since the provided rates are fixed to protect against fluctuations. This translates into +0.5% on all major currencies and +1% on all other currencies including Thai Baht and Ukrainian Hryvnia.
Top up is free for cards issued within the EEA.
A comprehensive list of fees by country is available on the Revolut website.
Revolut Plans
Revolut has 3 plans currently in place:

Standard

Although the free account presents you with the most basic of features, it is perhaps still one of the most commonly used among Revolut's younger users.
This account allows users to:
Spend in over 150 currencies at the interbank exchange rate
Exchange in 30 fiat currencies up to €6,000 per month without any hidden fees
No fee ATM withdrawals up to €200 per month
Premium

The Premium account comes in at €7.99/month and Revolut is currently giving away a special discount if you pay upfront.
If you are someone who is constantly traveling, then this card is for you. Below are a number of added benefits of signing up to their premium account:
ATM withdrawals are increased to up to €400 per month, at no fee
Overseas medical insurance
Delayed baggage & delayed flight insurance
Global express delivery
Priority customer support
Instant access to 5 cryptocurrencies
Premium card with exclusive designs
Disposable virtual cards
LoungeKey Pass access
Free lounge passes for your and a friend if your flight is delayed by >1 hour
Metal

Revolut's most superior plan is the Metal account, where you will be charged €13.99/month. Again, Revolut is currently giving away a special discount if you pay upfront.
This plan is best suited for you if you plan to travel and spend a lot of time outside of Europe.
In addition to the Standard and Premium accounts, the Metal account presents you with the following benefits:
ATM withdrawals are increased to up to €600 per month, at no fee
Exclusive Revolut Metal card
0.1% cashback within Europe and 1% outside Europe on all card payments
Get access to a concierge to help you manage your lifestyle
Security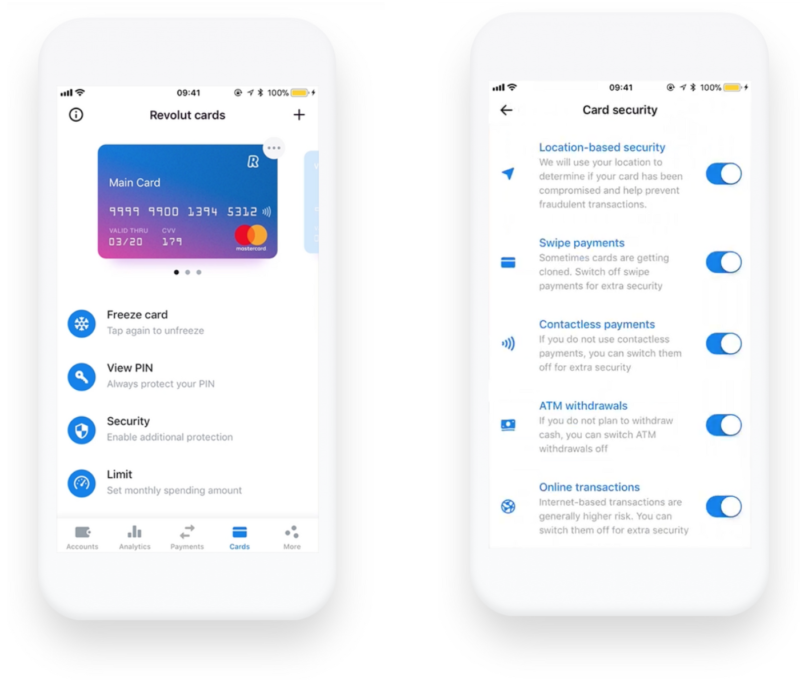 Revolut has taken several security measures including the fact that all the company's operations are regulated by the FCA – a British authority that works independently of the UK Government.
Client funds are stored in a segregated account held with a tier-1 partner bank (Barclays/Lloyds) and never lent to anyone else
It is important to note that any card transactions are processed and protected by Mastercard, Maestro, or Visa. Revolut introduced a two-factor authentication on login and critical operations and uses both email and SMS verification.
Revolut also gives you a number of features that you can implement, should you wish added security. These include the ability to freeze and unfreeze your account at a click of the button, the ability to control how you use your card, as well as location-based security.
These features allow you to limit the use of your card for online purchases, contactless or swipe payments, as well as cash withdrawals from ATMs. These instant modifications to your account are particularly ideal when traveling.
Bank Account Addresses
Revolut makes it unnecessarily hard to get the full account details including the bank name and address for each of your currency accounts. The information can be found in the footer of any statements you generate.
You might need this information when effecting a transfer via SEPA.
Here is the current information last time I checked, but I would recommend confirming it in your statements:
BANK NAME is: Revolut LTD
BANK ADDRESS is: 7 Westferry Circus, Canary Wharf, London E14 4HD, UK
Controversy and Risks
You may have come across news articles surrounding the fintech company over the past year. The allegations primarily surrounded poor treatment of employees as revealed by a WIRED investigation, the use of improper anti-money laundering rules in 2018, a poorly thought-out advert and ties to Russia.
The latter stems from the fact that Revolut CEO, Storonsky, is the son of a director at Gazprom – a Russian natural gas business with links to the Kremlin.
Investigations are still underway and Revolut has stated that the company has always acted lawfully and that certain issues, such as the poor treatment of employees, have been addressed.
However, one of the main risks for regular users of the account has to be the fact that many individuals have faced having their accounts blocked. This normally happens if Revolut believes that you are at risk of fraudulent behavior or if your account details have been compromised.
It is best to be aware of Revolut's terms and conditions to avoid any inconveniences. Although splitting bills and transferring money is a great benefit of online banking, it is advisable to be cautious when dealing with large amounts of money.
Customer Support and Satisfaction
There are various ways of getting support on any issue related to your Revolut account. Their main help page and blog cover most of the frequently asked questions. In addition to this, however, the community forum is frequented by many users and the Revolut team members are very active and seem to be answering queries fairly quickly.
The app itself also allows you to chat with Revolut representatives 24 hours a day, to solve any of your issues.
Conclusion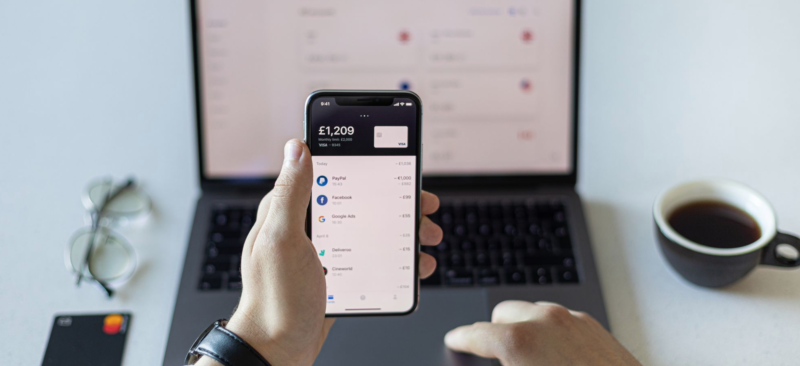 I have personally been using Revolut daily for over 3 years now and it is definitely on my list of recommended challenger banks. The easy to use interface makes the whole process enjoyable and educational, especially if you're just starting out in terms of budgeting.
I reap most of its benefits when traveling in and outside of the EU, allowing for hassle-free vacations and trips. Even though Revolut probably won't replace your main bank, the app lets you take control over your finances without the tedious bureaucracy of traditional banks. It is definitely worth having on your phone or in your pocket!
Summary
Revolut is one of the leading challenger banks with features aimed mostly at frequent travelers and location-independent individuals. I especially like the various features it offers its users ranging from instant mobile notifications to easy and dependable transfers of money. It is definitely a service I would recommend.
Pros
Easy to use and well-designed app
Easy transfers
Instant currency exchanges
Cryptocurrencies
Apple Pay
24-hour Customer Service
Many Features
Constantly Updated
Cons
No physical branches
Certain features are payed for