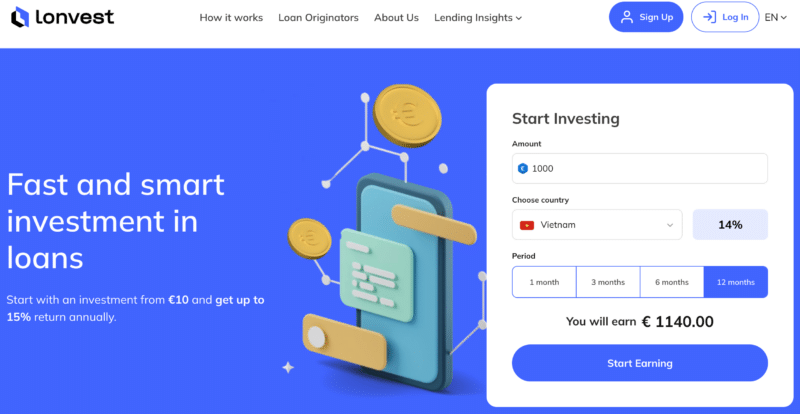 When investing in European P2P lending platforms, it's important to maintain a healthy level of diversification across said platforms, but also to always be on the lookout for new (and perhaps better) platforms to allocate to. Lonvest is one platform that fits the bill, having launched in 2023 in Croatia.

The platform has already issued 280K worth of loans with an average rate of 13% and it's growing quite fast.
Let's dive into the nuances, strengths, weaknesses, and unique features of this platform.
Introducing Lonvest
Like its counterparts in the Peer-to-Peer lending sector, Lonvest offers a platform where investors have the opportunity to funnel their funds into loans, collaborating with other investors, and aiming for periodic interest. As mentioned, the platform was launched in 2023 and it's registered in Croatia.


The main components of the team, on the other hand, are Ukrainian, and they are by no means newcomers to the P2P lending scene. The team has run lending platforms successfully in multiple countries for around 10 years, and this is simply a new twist or addon to a model that they have perfected over the years.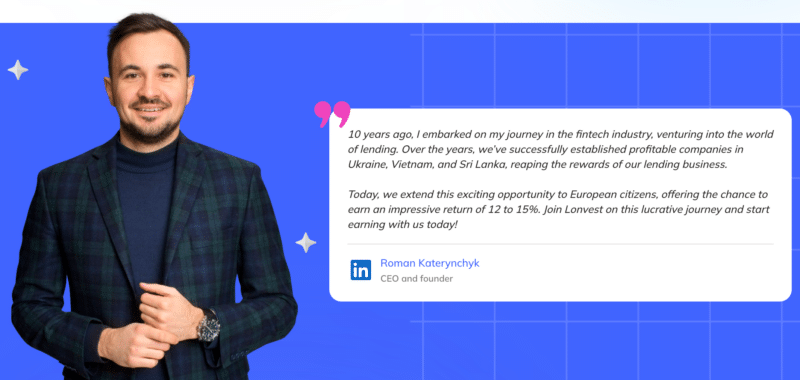 Loan Originators
I mentioned that Lonvest is the latest innovation from a team that has been in this business for many years, and that is why this platform is not an aggregator of loan originators, but rather a way of accessing the loan originators of the parent group – Space Crew Finance group. The group runs loan originators in Sri Lanka, Poland, Philippines and Vietnam.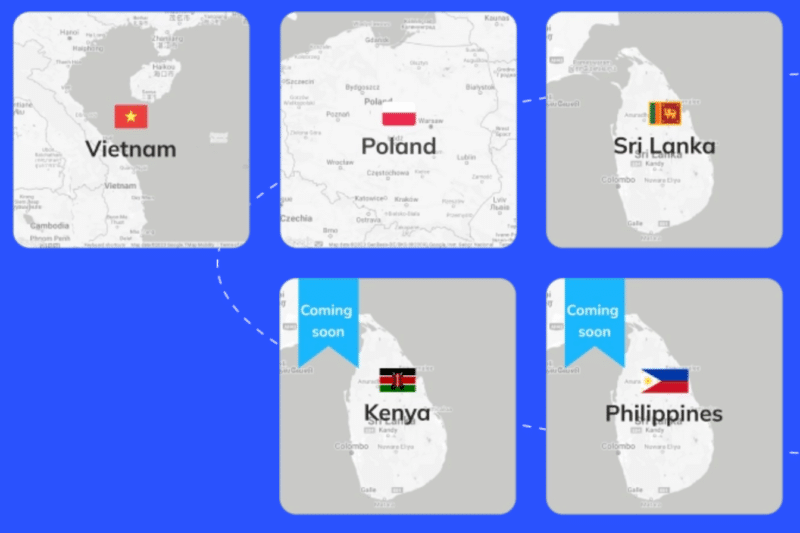 While this may limit the amount of loans on offer on the platform, as an investor I know that there is direct responsibility of the quality of the loans, and Lonvest is not simply relying on 3rd party loan originators, all with their own systems, due diligence and market risks.
Loan origination fees typically range from 0.5% to 1% of the loan amount. These costs won't be a surprise at the end of the term because they are typically determined before the loan payment is approved.
Expected Returns on Lonvest
Your earnings on Lonvest are contingent on your chosen investments. Based on the data from their in-house loan originators, the platform boasts potential annual returns of up to 13%, and they project an average annual yield of 12% for their investors.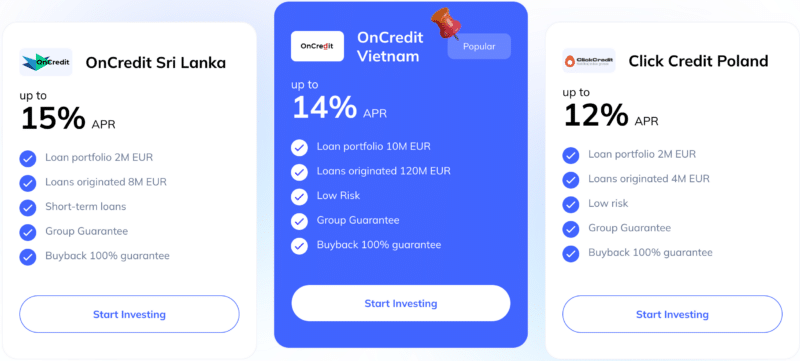 This aligns with averages across several of its peers, and it's something I'm keen on exploring further.
How to Invest with Lonvest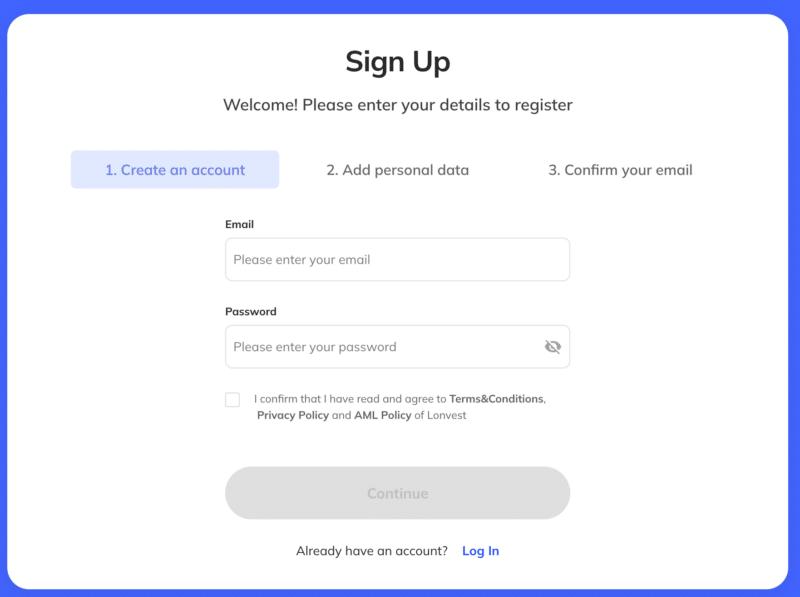 Setting up an account and making your first investment on Lonvest is remarkably straightforward, making it one of the most user-friendly platforms currently available. Here are the steps to get started:
Fill out the short initial registration form.
Complete the easy KYC process with Veriff – you just need an ID and to take a selfie.
Add funds to your account via bank transfer, reflected in your account within 2 days.
Choose one of the automated investment strategies (options starting from just 30 days).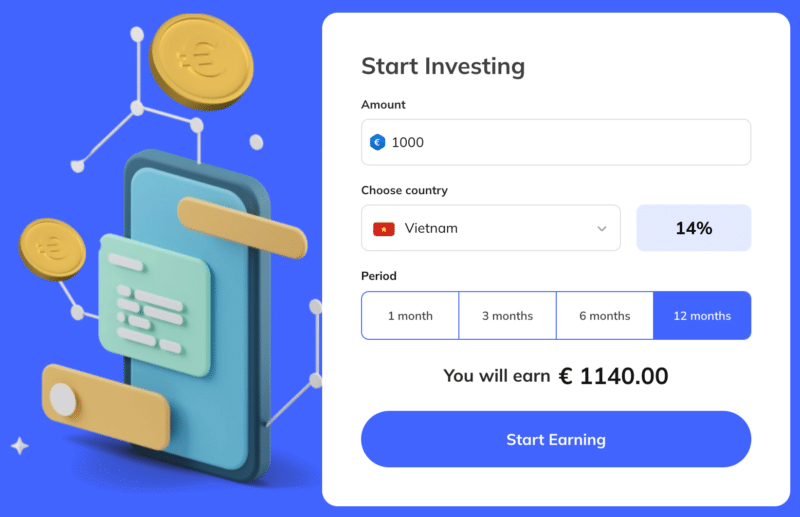 You can make a minimum investment of €10, which in reality is only practical for testing out the platform. Most investors will deposit a few hundred/thousand euros to diversify suitably across the loans and geographies available.
Usability of the Platform
The team's experience in the tech sector instantly showed when I started using the Lonvest platform. Everything works flawlessly, and it's an easy process to register and get everything in order and ready to invest.
Moreover, the site is available in 3 languages: English, Spanish and German. I was able to verify the content in English and Spanish and found it to be easily understandable with no major issues. The blog is currently only available in English, but translations are on the way.
Safety Features of Lonvest
All loans on Lonvest come with both a buyback guarantee and a group guarantee. This ensures that if a borrower defaults, the loan originator will intervene, purchasing the loan and ensuring investors are reimbursed. This safety net is a staple among many platforms and is pivotal for securing your investments.

Given Lonvest's oversight of its loan originators, investors can gain additional assurance. Their commitment to security is also evident in their embrace of AI-driven identity verification and adherence to GDPR protocols.
As mentioned, while not a security feature, the loan originators (part of the SpaceCrew Finance group) on this platform have a long positive track record.
Since Lonvest is based in Croatia, where there is no regulatory compliance need, this is not something that we can rely on for Lonvest. However, the reason why they chose this route is to launch rapidly, and they are in the process of also obtaining a European license as a financial platform.
The Team

In my experience, the biggest risk factor in this game is having an inexperienced team that doesn't really has a good playbook, or is either too focused on the financial side, or on the tech side.
The founder of Lonvest, Roman Katerynchyk, started off his career by launching a tech outsourcing company that still exists, and he organically became familiar with the financial side of things by providing services and helping manage existing finance platforms in Ukraine. This gives him a rare mix of competencies in both the financial and tech sectors. At the end of the day, P2P lending platforms need a sound financial system behind them, and rely on the tech side to keep ahead of other players, including banks, and fulfill an uncovered need for investors and borrowers.
All other members of the team have their own years of experience, and Lonvest clearly displays the main figures behind the platform, with links to their Linkedin profiles where you can check out their experience and judge for yourself.
In addition, I can also share that I've met the founder Roman, and he has left a very good impression on me. He is a responsible person with lots of passion for this industry, and indeed is very knowledgeable both on the tech and finance side. Since these two sectors have always interested me and I also have years of experience in them, we had a very good conversation. In particular, I enjoyed learning about the way that he orchestrates Lonvest's entrance in new markets, which is pretty impressive and requires a lot of moving parts that act in concert to make sure that money is made on the loans, while at the same time respecting the borrowers and their financial situations. This shows me that the team at Lonvest is not only good at generating returns but also has a very high ethical standard.
Liquidity
You can invest in short-term loans of 30 days, and Lonvest employs a buyback guarantee which means that you can sell back the loans within the 30-day period without incurring any penalties. This is a really positive point about this platform.
Support
I've interacted with support in English and got my questions answered cordially and professionally with no problems of any sort. Lonvest has a bot that can help you find answers to your questions easily, and if that is not enough, you can speak to an agent via live chat or get a reply over email.
Unique Points
One of the ways that Lonvest intends to differentiate itself from the rest of P2P platforms is by being very transparent about its operations. They plan to be very communicative with their investors and help educate them if they are newbies to this space. The Lonvest blog, or "Lending Insights", proves to be a highly interesting read, and so far they are keeping to their promise by publishing regular and very interesting content, including interviews, news about the P2P lending space, and educational articles.
Things to Improve
There are several obvious things that should be improved, like for example the introduction of a secondary market and more languages on the site. However, given that this is a new platform it's completely normal that those things are still being built out.
It would also be ideal to have a wider range of loans in terms of geography and loan originators. This is a double-edged sword though. If you only include your own loan originators in the platform, you can control things better and the lenders can trust your track record. This is currently the case with Lonvest. On the other hand, you can open the platform up to other loan originators, which brings more options to borrowers, but less control over loan quality and dependence on the performance of third parties.
Therefore I think that as long as Lonvest can keep the loan pipeline flowing, it's perfectly acceptable to only offer loans from the loan originators within the same group.
Alternatives to Lonvest
There are many players in the space, but here are a few good alternatives if you're trying to diversify across multiple P2P platforms
Peerberry – One of the biggest P2P lending platforms that has been around for a number of years already.
EstateGuru – A top choice if you want to diversify your lending portfolio into real estate loans in addition to consumer loans.
Mintos – Probably the most well-known and trusted European P2P lending platform.
Conclusion
While Lonvest is technically a new P2P lending platform, the company and team behind it are anything but new to the lending space. They have had a ton of success for over 10 years, and I have full confidence that this will be a good platform to allocate going forward.
Lonvest offers good returns while treating borrowers fairly and offering a really nice interface for investors. I also look forward to seeing the educational material that Lonvest have promised to release in the coming months, as this would make it one of the best platforms for investors new to P2P lending.