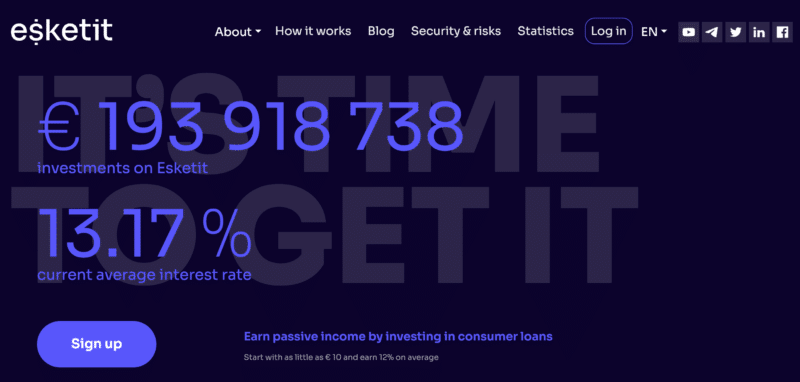 If you've been exploring opportunities in the consumer loan space and are curious about the Esketit platform, then you're in the right place.
Esketit is a fintech company that's been generating some buzz in the consumer loan market. Their focus is on providing transparent and accessible financing solutions to borrowers, but they also offer a unique opportunity for investors like us to participate in this growing industry. As someone who's always keen on exploring new investment opportunities, I found their approach quite intriguing.
Esketit was founded in December 2020 by Davis Barons and Matiss Ansviesulis, and the company is registered in Ireland. Davis and Matiss also established the highly successful Latvia-based SIACreamfinance Group, an international non-bank lender in the consumer loans sector, in which they also hold the same stakes. Since its inception in 2012, Creamfinance has been consistently profitable, generating an impressive revenue of 70 million in 2019.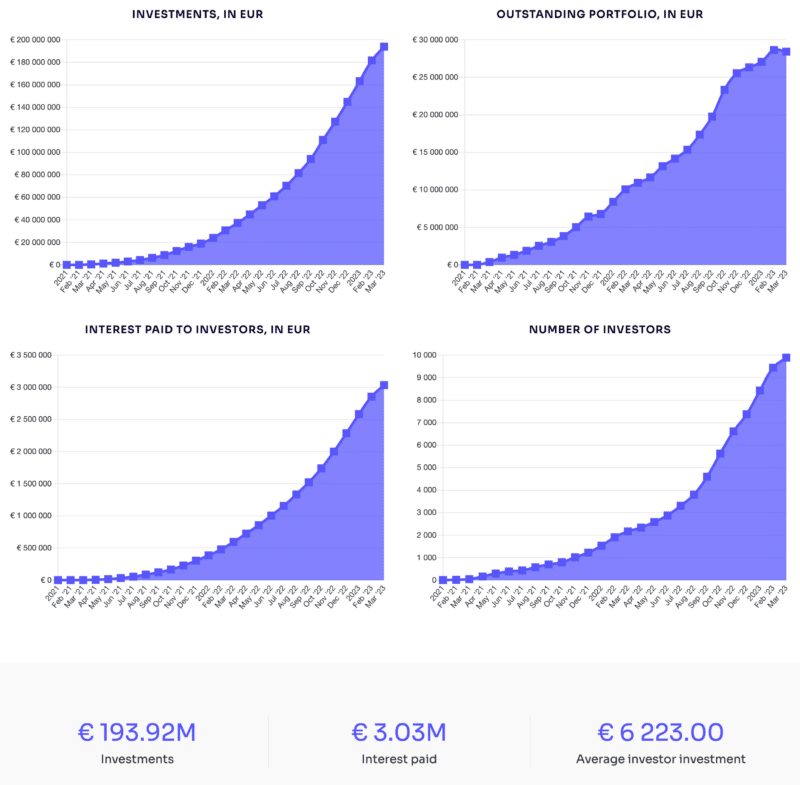 Affiliated loan originators issue the loans on Esketit, ensuring transparency and easy oversight throughout the entire process. Davis and Matiss adopt a 'skin in the game' strategy, which gives investors greater confidence in the Esketit Platform.
Investing in personal loans through the Esketit Platform is simple and secure. With operations across five diverse markets, Esketit provides investors with access to a global landscape. By joining Esketit, you can benefit from top-tier practices in the P2P lending industry and enjoy high returns without compromising security.
The Investment Process
The Esketit platform streamlines the process of investing in consumer loans. To start, you'll need to create an account and complete the necessary verification steps. Once you're all set, you can browse the available loans on the platform, assess the risk levels and potential returns, and decide which loans to invest in.
What I appreciate about Esketit is the detailed information they provide about each loan, such as the borrower's credit score, loan purpose, and repayment history. This transparency allows investors like us to make informed decisions and effectively manage the risk-reward balance.
Both individuals and corporate entities can invest in Esketit, and both will need to pass a straightforward KYC process, as is customary with all P2P lending platforms that are regulated.
Founders' Skin in the Game
The founders of Esketit, Davis Barons and Matiss Ansviesulis, follow a "skin in the game" approach. This means that they invest their own money alongside the investors on the platform. By co-investing, the founders demonstrate their confidence in the platform's performance and align their interests with those of other investors. This approach adds a layer of assurance for investors using the Esketit platform, as the founders have a personal stake in ensuring the platform's success and the quality of the investment opportunities offered.
Team Competencies
As noted, Davis and Matiss have achieved a lot of success and bring a lot of value to Esketit.
Since April 2021, Vitalijs Zalovs from Latvia has been serving as the CEO of the Esketit platform.
Vitalijs is a recognized figure in the sector. He previously dedicated six years to the Latvian P2P marketplace, Mintos, in the role of Head of Investor Relations. I've had the pleasure of speaking with Vitalijs and corresponding with him many times while he was at Mintos, as well as in his current role at Esketit. I only have good words to say.
Diversification Opportunities
One key aspect of successful investing is diversification, and Esketit doesn't disappoint in this regard. The platform offers a wide variety of consumer loans, including personal loans, auto loans, and home improvement loans, among others. This variety allows investors to build a diversified portfolio and spread their risk across different loan types and borrowers.
Auto-Invest Feature
Esketit's auto-invest feature is something I find particularly appealing. This tool allows you to set specific investment criteria and automatically allocate funds to loans that match your preferences. It's a real time-saver for busy investors like me who want to maintain a diversified portfolio without having to constantly monitor and manually invest in individual loans.
Returns and Risk Management
Esketit offers competitive returns compared to traditional investment options, with annualized yields typically ranging from 5% to 15%, depending on the risk profile of the loans you choose to invest in. Of course, higher returns come with higher risks, so it's essential to be diligent in your loan selection process and employ proper risk management techniques.
To help mitigate risk, Esketit employs strict underwriting standards and performs thorough due diligence on all borrowers. Additionally, the platform offers a secondary market where you can sell your investments before the loan term ends, providing liquidity in case you need to exit your investment early.
Esketit are completely transparent about their numbers and publish them monthly on their statistics page.
Customer Support
From my experience, Esketit's customer support has been responsive and helpful. They offer multiple channels for communication, including email, phone, and live chat. This level of support is comforting, as it ensures that any questions or concerns you may have as an investor are addressed promptly.
Some Drawbacks to Consider
No investment platform is perfect, and Esketit has its drawbacks as well. One thing to keep in mind is that investing in consumer loans involves a certain level of risk, and there's always the possibility of borrowers defaulting on their loans. It's essential to be aware of these risks and manage your investment strategy accordingly.
Additionally, the platform is relatively new, so it's yet to establish a long track record. While the early results seem promising, it's important to approach such investments with caution and stay up-to-date with any developments that could impact the platform's performance.
Alternatives to Esketit
Esketit faces competition from several other prominent platforms in the European P2P lending and investment industry.
Mintos, a well-established player in the market, offers a wide range of investment opportunities in loans issued by various loan originators.
Bondora, another competitor, has been operating since 2009, providing access to consumer loans from multiple European countries.
PeerBerry, a relatively newer platform, focuses on short-term consumer loans with a buyback guarantee, catering to investors seeking lower-risk investment options. Each of these platforms has its unique selling points, such as the range of loan types, geographical diversification, and risk management features. Investors should carefully consider their specific needs and preferences when choosing a platform to diversify their portfolios in the growing P2P lending space.
Final Thoughts
Overall, I find Esketit to be an interesting investment opportunity in the consumer loan space. The platform offers a streamlined process, detailed loan information, and attractive diversification opportunities. The auto-invest feature and competitive returns make it an appealing option for investors seeking exposure to this growing market.
I like the platform's design and ease-of-use, that's definitely something that is important for such a platform, especially if an investor is new to P2P lending and is trying to learn the ropes.
Withdrawing money is fast and reliable, as are deposits, so you can put your money to work with no hassle.
Finally, the buyback is an extra measure of safety, although this is not unique to Esketit.
That being said, it's crucial to remember that investing in consumer loans comes with inherent risks, and the platform's relatively short track record means that caution is warranted. As with any investment, it's essential to do your own research, employ proper risk management techniques, and ensure that your investments align with your overall financial goals and risk tolerance.
If you're an investor looking for an alternative investment opportunity in the consumer loan market, Esketit is worth considering. The platform offers various features that cater to different investment styles and preferences. As always, be sure to carefully assess the risks and weigh them against the potential rewards before diving in.
If you consider investing on Esketit, a sign up through this link will enable you to get an unlimited cashback bonus of 0,5% in the first 90 days after registration.
Summary
Esketit is an innovative platform that offers transparent consumer loan investment opportunities, bridging the gap between borrowers and investors. It provides a user-friendly experience, making it an appealing choice for investors seeking to diversify their portfolios.
Pros
Transparency in loan origination and investment process
Founders co-invest, aligning their interests with investors
Diversification across multiple markets
User-friendly platform for both novice and experienced investors
Access to a growing industry (P2P lending)
Cons
Relatively new platform with limited track record
Investment is restricted to consumer loans, lacking other asset classes
May not be suitable for investors seeking a hands-on approach or direct control over individual investments
Platform's success depends on the performance of affiliated loan originators
Potential regulatory risks associated with P2P lending industry