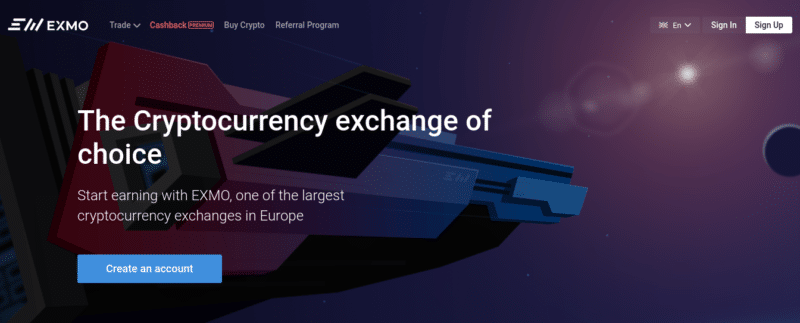 EXMO is a UK-based cryptocurrency exchange that has a long-standing reputation among crypto traders. The platform has been around since 2014 and is among one of the largest global crypto markets in terms of volume and liquidity.
EXMO has managed to create a simple yet efficient interface that is intuitive to the needs of its users. With that said, the platform has recently been under scrutiny for its security aspects.
In this review, I elaborate on how EXMO functions as a cryptocurrency exchange and what products are offered on the platform. I will also take a closer look at the provider's safety features in order to determine whether or not EXMO can be trusted.
EXMO – An Overview
Established in 2014, EXMO is one of the longest-standing cryptocurrency exchanges in Europe. The company is registered in London, with branches in Moscow and Kyiv. Today, the EXMO team comprises over 150 experts who claim to be working tirelessly to make cryptocurrency trading more convenient for the general public.
Over the course of seven years, EXMO has managed to build an intuitive cryptocurrency exchange that offers flexible products and quick technical support. As of today, the platform caters to nearly 2 million cryptocurrency traders in over 170 countries.
EXMO is constantly expanding its list of supported assets. At the moment, the platform features more than 50 cryptocurrencies and over 190 trading pairs.Recently, EXMO introduced a number of other financial products to help incentivize its users. This includes its native digital token, the EXMO coin (EXM), as a way to reward loyal traders.
The EXM coin has been involved in a bullish market in recent months, which reflects on the reputation of EXMO.  Before I get to the details of the EXM token, let me take a closer look at the core features of the exchange itself.
EXMO Features
Whether you want to exchange digital currencies at the click of a button or need a full-featured interface for advanced trading – EXMO can cater to all your crypto needs.
Here's what the exchange offers:
EXMO has divided its cryptocurrency exchange into two different interfaces – simple and advanced. As you can guess, the former is best suited for those who want to simplify the process of exchanging cryptocurrencies. The simple EXMO platform features all supported trading pairs – along with its quoted exchange rate.
All you have to do is choose the trading pair you want to access and specify the amount of the respective cryptocurrency you want to buy or sell. The trade will happen instantly, and your EXMO wallet will reflect the swap.
Advanced Crypto Trading
If you are a seasoned trader, then you can benefit from flexible trading orders and price charts at EXMO. The exchange has built its advanced trading platform with integrated charting features and technical indicators – to give you access to a wide variety of tools to devise your trading strategies.

You also have the option to choose between limit and market orders, as well as stop orders to help mitigate your potential losses.
Although there are dozens of technical analysis tools, EXMO has still managed to keep the interface clean and clutter-free. You will also be able to rearrange charting grids to meet your preferences, giving you more control over the trading experience.
Buy Crypto
Only a number of cryptocurrency exchanges give you the option to buy digital coins directly with fiat currency – and EXMO is one of them. The platform has partnered with Simplex to provide you with the convenience of purchasing cryptocurrencies with your credit card.
Currently, this feature is available for 12 cryptocurrencies and stablecoins – including BTC, BCH, DAI, USDT, DASH, EOS, ETH, QTUM, TRX, XRP, LTC, and USDC.
You can purchase these digital coins using one of the 50 fiat currencies supported on the platform. This list includes not only major currencies such as euros, US dollars, British pounds, Canadian dollars – but also relatively less liquid options like the South Korean won, Ukrainian hryvnia, Uzbekistani som, and many more.
You can make the payment directly through the platform, and once it is processed, the coins will be deposited into your wallet within 10-30 minutes.
EXMO Coin
EXMO Coin (EXM) is an ERC-20 token developed by the exchange in order to offer more benefits to its clients. Holding and staking EXMO on the platform makes you eligible to receive several discounts on the platform.The EXMO coin was released in December 2019 at a price of $0.0052 per coin.
At the time of its launch, the platform issued a total of 2 million EXM tokens. Over the years, EXMO has periodically burned a portion of its total supply. And not so surprisingly, following its latest quarter burn in April 2021 – the price of EXMO tokens has increased significantly.
At the time of writing, the price of a single EXMO token stands at $0.0676.
Benefits of EXMO token
Staking EXMO tokens allows you to take advantage of many benefits on the exchange, such as:
Reduced trading commissions using the Cashback program.
The opportunity to have early access to new coins listed on the platform.
Receive incentives for referral payments for operations in EXMO.
Voting rights regarding the listing of EXM tokens.
Not only this, but in the future, EXMO is planning to introduce more features that will expand the token's utility on the platform.
These include:
Copy Trading feature to mimic the trading strategies of successful traders.
Discounts on margin trading fees.
Access to mining capacity and more.
How to buy EXMO Coin?
You can purchase the EXM token directly from the EXMO platform by exchanging it with another cryptocurrency.  Additionally, the EXMO coin has been listed on a number of other popular cryptocurrency platforms such as HitBTC and Uniswap.
EXMO Fees and Charges
EXMO has set up a fee structure that depends on your 30-day trading volume. In effect – the more you trade, the lower you pay in fees. In addition, you can also lower your commission rates by purchasing one of the Premium Cashback packages. The Maker and Taker fee typically ranges from 0.3% at the highest to 0.02% at the lowest.
EXMO Cashback
Cashback is calculated on a daily basis based on your Maker and Taker rates that correspond to your trading volume. At the end of the trading day, the system will automatically repay you the commission amount in the currency of the respective deal.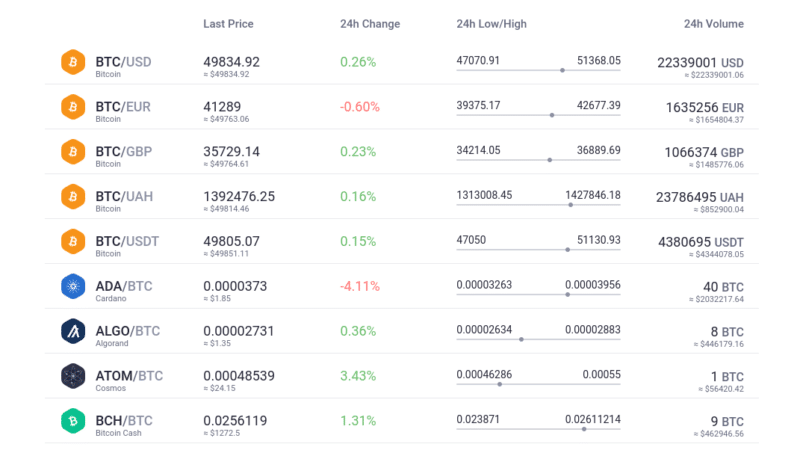 For instance, let's say you traded the pair BTC/LTC on the platform. The cashback will be paid in BTC for the buyer and in LTC for the seller. In order to be eligible for cashback, you should have achieved a trading volume of at least $5,000 or more in the past 30 days.
Premium Cashback
As I mentioned earlier, one of the main advantages of staking EXMO is that you can get discounted trading fees on the platform. You can purchase Premium Cashback packages with EXM tokens, and depending on the plan – you will be able to obtain discounts on your trading commissions.
Unlike the general cashback plans, you do not have to have a minimum trading volume of $5,000 to be eligible. Instead, you can purchase a Premium Cashback plan for just $1. Moreover, your discounts will depend on your selected tariff plan instead of your prior 30-day trading volume.
Premium Cashback Packages
There are four different Premium Cashback packages available on EXMO.
Basic Package at $1
Gives you a 33% discount on Maker fees and 6% on Taker fees.
Best for beginners with a trading volume of less than $10,000 a month.
Standard Package at $10
Gives you a 66% discount on Maker fees and 33% on Taker fees.
Best for users with a trading volume between $10,001 and $100,000 per month.
Advanced Package at $100
Gives you an 86% discount on Maker fees and 53% on Taker fees.
Best for those with a trading volume of over $100,000 per month.
Professional Package at $500
Gives you a 100% discount on Maker fees and 66% discount on Taker fees.
Best for those with a trading volume of $1,000,000 and upwards.
Note: It is important to note that a Premium Cashback plan is valid only for 30 days. This means you will have to pay for a Premium plan every month – or sign up for the auto-renewal service.
EXMO Payment Method and Charges
As I covered earlier, EXMO supports a wide variety of fiat currencies on the platform. As such, it also offers an assortment of payment methods that includes credit cards, debit cards, Payeer, AdvCash, Qiwi, Terminal, and the EXMO Gift card.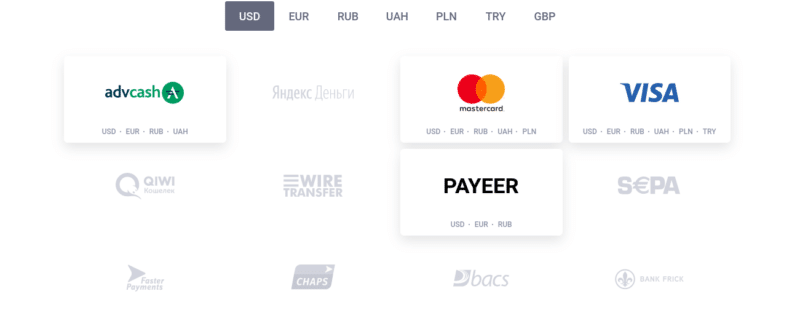 There is no deposit fee charged for cryptocurrencies – however, withdrawal charges are applicable that vary from one coin to another. In terms of fiat payments, the charges applicable will depend on the type of payment method you choose.
EXMO VIP Clients and OTC Platform
Apart from catering to individual cryptocurrency traders, EXMO also attends to the needs of VIP clients by offering over-the-counter services as well as special VIP accounts.
If you register as a VIP client – you will have access to benefits such as:
Individual tariffs
Corporate account
Personal adviser
Increased trading limits
EXMO Mobile App
To make your trading experience more accessible and convenient, EXMO also offers a trading app for both iOS and Android devices. This app comes with most of the functionalities of the platform and allows you to trade on the go.
EXMO Achievements
In order to make the whole trading experience even better, EXMo has introduced a feature called Achievements. This is similar to achievements on video games and such – based on a challenge or a task you complete.
When you start trading actively on EXMO, these Achievements will unlock automatically depending on your actions.
For instance, you can unlock the achievement when you:
Buy and hold EXM tokens – the more you buy and hold, the more achievements you will collect.
Increasing your 30-day trading volume.
Trading continuously in a row.
Make crypto or fiat deposits.
Invite more users using the EXMO referral program.
Now, naturally, the question is, what is the point of gaining these Achievements?
EXMO rewards the users that collect most achievements with free merch packages and access to EXMO Premium packages.
Although this might not be a beneficial feature for every user, EXMO surely deserves to get bonus points for creativity.
EXMO Safety
I mentioned in the introduction that EXMO has been experiencing a lot of pressure regarding its safety aspects. This is primarily because the platform has been remotely attacked twice in the past year. In December 2020 – the platform was hacked, which resulted in the loss of 6% of funds. As the funds were withdrawn via the Polinex exchange, EXMO executives said that they were unable to recover all the stolen funds.
In February 2021 – yet again, EXMO was reported to have been under a second DDoS attack. Following these incidents, it is only natural that users are concerned about the safety of their assets on the exchange. That said, EXMO has taken action to ensure that such scenarios do not repeat. In March 2021 – the platform partnered with Ledger Vault to ensure that there is an added layer of protection when withdrawal requests are made.
The platform also notes that cryptocurrencies are kept in both hot and cold wallets. In addition, you can also employ two-factor authentication and 'EXMO Code' to add to the security of your assets. EXMO will also require you to complete a KYC verification – in case you are planning to trade fiat-crypto pairs.
Overall, it appears as if EXMO is taking measures for the safety and security of user funds. However, there is no insurance fund or guarantee that the platform will be able to recover your funds if they are stolen. As such, it is always suggested that you do your due diligence before signing up on the platform.
EXMO Customer Service
EXMO has put together an 'EXMOWIKI' that has answers to the most common questions asked by users. There is also a YouTube channel with tutorials and market updates. If you need further support, you can reach out to the team through live chat, email, or by opening a support ticket on the platform.
EXMO Cryptocurrency Exchange – The Verdict?
Although EXMO has been around for a while, it is very limited in its functionalities. On the flip side, the platform is clean, sleek, and serves the purpose of trading digital currencies.EXMO's intuitive interface can be used by both beginners as well as seasoned traders with ease.
The launch of the EXMO coin is likely to open up new possibilities for the platform.  That said, the security of the exchange still remains a concern. If EXMO is to take more measures to ensure the safety of client assets – it is indeed a platform worth considering.
Summary
EXMO is a UK-based cryptocurrency exchange that has a long-standing reputation among crypto traders. The platform has been around since 2014 and is among one of the largest global crypto markets in terms of volume and liquidity.
EXMO has managed to create a simple yet efficient interface that is intuitive to the needs of its users.