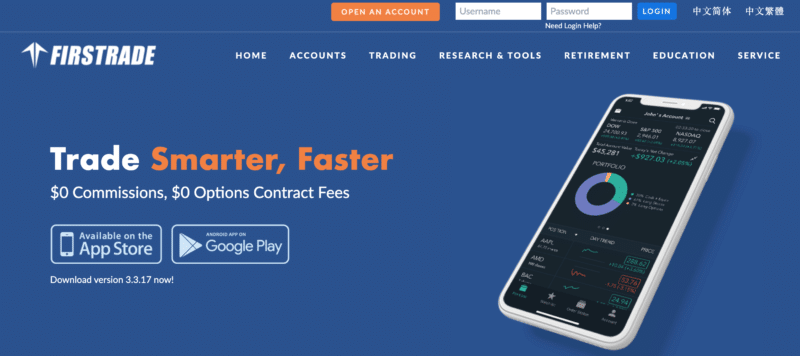 Trade with $0 commissions on Firstrade
It's no secret that an excellent trading platform is an essential factor in the success of any trader. With that in mind, let's take a closer look at the Firstrade platform, which has recently gained popularity in the past few months.
If you are interested to know whether this might be the platform for you, continue reading below. I'll provide you with a comprehensive review of the Firstrade platform to identify if it's worth trying or not.
Firstrade Platform Background
Before anything else, let's take a closer look at what Firstrade is. The company was established in 1985 in Queens, New York. It initially focused on serving local communities, particularly those of ethnic immigrants. In the past few years, they switched to $0 commissions for options and stock trades.
Pros:
$0 options and stock trades
Easy to navigate trading experience
Supports multiple regions
Cons:
Limited mobile and web platform functionalities
No crypto, forex, and futures option trading
Limited customer support
How Firstrade Works
Let's take a closer look at the different aspects of the Firstrade platform.
Overall Trading Experience
Firstrade is equipped with basic functionality, but these functionalities are well integrated. For example, the order entry feature is familiar and intuitive. The same thing also applies to option spread orders.
Trading Technology
Firstrade recently launched the Firstrade Navigator, which is their all-in-one trading platform for active traders. However, this is only available for PC users, and an application via email is required to use it. You can view real-time data and stream quotes on this web-based platform.
The navigator platform can also be customized. You can add or remove modules. At the same time, you can also drag them to a different location on the screen. Moreover, this platform has excellent charts because they are from MultiCharts.
Usability
What makes this platform good is that it's very easy to use. The account setup process is quick and convenient as well. However, they offer multiple account types that have their own benefits and downside, so it's important for you to read their descriptions carefully before making an account.
In addition, navigating the trading pages is also very easy. You can enter orders from anywhere around the world. You can either use the Navigator platform or the mobile app. The menus are also very helpful in all parts of the platform.
Mobile App
Upon first glance at the Firstrade Platform mobile app, you can easily say that it is easy to use and intuitive. The app includes charts from MultiCharts which are quick and easy to understand.
Furthermore, the watchlist and order entry features were also integrated well on the mobile app. It's easy to navigate and very convenient. Although these are only basic functionalities, they are executed well, and you can definitely take advantage of these if you are away from your laptop or computer.
Range of Offering
As mentioned above, the range of offerings from Firstrade is fairly limited. It only offers trading access to fixed income, funds, options, and stocks. Still, these are generally enough for small or beginner retail traders. However, unlike other brokers, the good thing is that the screening tools and fixed income order pages are very straightforward and can be quickly accessed using the Navigator platform.
The lack of trading options on this platform might be a major turnoff to advanced traders. But, this can be an excellent fit for beginner traders who are looking for uncomplicated platforms.
News and Research Tools
It might sound surprising, but Firstrade has various screening and research tools available on its platform. It has an easy-to-use stock and fund screener. However, its functionality is fairly limited, so it might not be up to the expectations of advanced traders. But, despite being very basic, Firstrade allows entering trades from screeners to be done quickly and with ease.
If you are looking for new ideas or you want to analyze option trades in real-time, you can use the OptionPlay tool offered in this platform. This is not a very well-known feature because it's quite hard to find because it's accessible from the options chain sheets, but it can be very useful.
Portfolio Analysis and Report
Although there are plenty of news and research tools on the platform, they fall short when it comes to portfolio analysis and reports. But, traders are able to see the margin requirements through a per-trade basis or watchlists in real-time.
Account history, balance information, and previous transactions are also readily available for download. However, you will need to use an external tool to generate an analysis or report from that information.
The process of downloading your account's data activity to an external program is easy, but the platform lacks account management or tax planning features. You will need to generate these on your own using third-party tools.
Education
Another reason why Firstrade might be an excellent platform for beginners is that it has various articles and videos about different trading strategies and markets. These materials can be used as introductory resources to understand the dynamics in trading better.
A lot of the articles and videos on the platform are created by reputable firms such as Options Industry Council. This means that they contain accurate and timely information that will help educate you more about trading.
However, there are no webinars or live events offered by Firstrade. Several users reported that there are plenty of dead links in the educational content offered.
Customer Service
Firstrade offers limited customer service. Their customer service is only available during market hours. But, what makes them good is that when they are available, they're very responsive and helpful when you call them on the phone.
During peak hours, you can request a call back if you cannot get a hold of them. They usually try to get back to you as soon as possible.
However, their chat response is not as excellent as when you call them using a phone. This is because most of the responses are from a chatbot, and you will be provided with a FAQs link which can be quite frustrating. So, if your concerns or question is urgent, it's best to call their phone line directly.
Overall, the customer service of Firstrade is good.
What You Need to Know When Using Firstrade Platform
There are 3 main types of accounts offered by the Firstrade platform. These are brokerage accounts, retirement accounts, and international accounts. The brokerage will enable you to build your family's wealth in a single account. Meanwhile, a retirement account will enable you to accumulate traditional savings and save taxes now or later.
Suppose you do not live inside the US territory. In that case, you can open an international account with Firstrade. To qualify, you should not be a US citizen, and you should not hold a US permanent visa.
The international account is $0 commission and has no contract fees. No account minimum is required as well.
These are some of the supported countries for the international accounts.
China
India
Israel
Japan
Korea
Hong Kong
Singapore
Taiwan
Funding Your Account
There are two main funding methods for Firstrade accounts. The first is via wire transfer, and the second is through ACH electronic fund transfer.
Wire transfer is the quickest and most effortless method. It takes around 1 to 2 days for the money that you transferred to be posted on your account. Once it's there, you can start trading with it.
On the other hand, ACH electronic fund transfer is an excellent method if you have an existing US-based bank account. All you have to do is link your Firstrade account with the bank account and follow the setup process. After that, you can transfer funds effortlessly without additional charges.
Bottom Line: Is it Worth It?
Suppose your priority is to look for a low-cost broker for ETFs, Funds, options, and stocks, and you are okay with basic trading functionalities. In that case, this might be the best choice for you.
In addition, it can also be a good platform for beginner traders because it has plenty of introductory material that can help advance trader's education and guide them on how to navigate the current market environment.
Summary
Firstrade's attraction is in being a low-cost broker, but in addition, it's a good platform for beginner traders because it has plenty of introductory material that can help advance trader's education and guide them on how to navigate the current market environment.
Pros
$0 options and stock trades
Easy to navigate trading experience
Supports multiple regions
Cons
Limited mobile and web platform functionalities
No crypto, forex, and futures option trading
Limited customer support