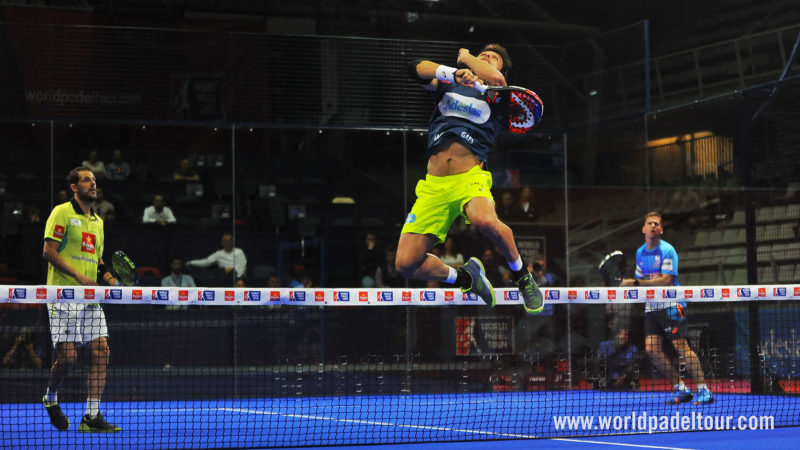 Padel is a sport that requires a broad fitness regimen. Strength, speed, agility, flexibility and endurance are all athletic building blocks of a padel player. Workout routines designed for padel need to incorporate training for each of these attributes. Balanced training involves workouts on the court, in the gym and on the track.
Physical preparation for padel is quite similar to tennis. I would say that padel is perhaps less demanding than tennis; in fact in the top 16 players of the World Padel Tour you will see some players who are noticeably overweight. It's impossible to see the same thing in tennis.These players are obviously super talented in their tactical acuity and accuracy with shots, and they compensate for their extra weight with these attributes. However, this doesn't mean that it's not important to take great care of your fitness and physique if you want to be a top player or just improve at this sport. It's also worth adding that every year we see less and less of these players and more younger and very well physically prepared athletes gobbling up the top positions.
Strength
Strength provides the power necessary to hit shots with pace and spin as well as the explosive power for sprints and quick direction changes. The legs, core, back and shoulders are important areas to strengthen in your workouts.
With a set of dumbbells you can perform exercises to help build the leg strength necessary for the rigors of padel. For example, hold a dumbbell in each hand and perform forward and backward lunges. Perform dumbbell shoulder presses to strengthen your shoulders and to strengthen your core, perform plank holds.
Speed and Agility
To develop speed and agility, incorporate shuttle runs and footwork exercises into your workouts.
Use the following four ball shuttle run to develop speed. Place four padel balls in a line on a tennis court or similar area (padel courts are too small for this exercise). Two should be at the 'T', one at the net and one halfway in between. Starting at the baseline, sprint to each ball and one at a time pick them up and place them on the baseline. On the last ball touch the baseline with the ball and then return it to its original position. Repeat until all balls are returned.
To work on agility, place two cones two feet apart. Start with your feet in between the cones and run in a figure eight around the cones. Try to keep your steps short and quick. Do not knock over the cones. Perform this drill for one minute without stopping. Another essential tool for agility training is an agility ladder. There are various ladder exercises that can be found online and you can practice anywhere.
I also love to use a skipping rope to improve overall agility and mind-feet coordination.
Endurance
Endurance is critical for a padel player, especially in matches that involve long rallies. Because padel is a sport in which periods of intense exercise are followed by rest periods, your endurance training should be similar. Interval running is a great way to simulate the demands of a padel match. On a track sprint the straightaways and jog or walk the curves depending on your fitness level. If you have access to a hill or a treadmill that inclines, sprint uphill for 100 meters and then walk down to the bottom and repeat. This interval running will improve your heart rate recovery between points in padel.
Flexibility
Flexibility serves many purposes in padel. Having good flexibility helps to prevent injuries, increase power of your strokes and improves your defensive skills. Always stretch all major muscle groups after your workouts to improve flexibility. For example, you can easily stretch your quads by sitting, extending your legs straight out in front of you, bending at your waist and reaching for your toes. Or, hold onto a sturdy object, bend your knee, lift your foot up behind your thigh, reach back and grab your foot to stretch your hamstrings.
Many professional tennis players are known to use yoga as a way to improve flexibility and balance. Since tennis is very similar to padel in physical requirements, weekly yoga workouts will also help your improve flexibility and range of motion for padel.
Other Considerations
As in tennis, your grip is very important as it will facilitate hitting the ball in a consistent manner, thus avoiding the unforced errors that many times are the main factor between losing and winning a match.
Another problem with playing padel is that you will be using your dominant side of the body all the time with your shots. That can lead to imbalances in your body and which in turn leads to a greater chance of injuries. It could also look a bit funny, you don't want your forearm on one side to be double the size of the other 🙂 It's therefore important to work on keeping your body in balance. A great way to do this is to use bodyweight exercises or kettlebells. These two methods of training employ many muscles at one go and hit both sides of the body.
Any good workout program should involve active recovery and periods of rest for your body to recover. Ice any soreness and consult your doctor if you injure yourself in any way. At least one day a week should be free of training to allow your body to repair itself and recover from training. Alternate your training. Instead of doing hard leg strengthening exercises two days in a row, consider spacing these workouts and working on endurance or flexibility the day after leg strengthening instead.
For recovery and activation I've been using a foam roller for some time and found it really useful for getting blood into the muscles and areas that are most sore after matches. I also foam roll before matches as a way to warm up. Foam rolling can also be used in addition, or as a substitute of, stretching in some cases.
To avoid injuries, before a match there should ideally be a period of warming up. You should be aiming to raise your body temperature as well as practice the movements you will be using during the match. There are lots of rapid, powerful movements during the match, and doing them without having warmed up properly puts you at a much higher risk of injury.
Of course, it's also a good idea to practice your shots before you start a game, and this is mostly in order to get comfortable with the ball and the court, as the balls and surface of the court are always a bit different. You could also use this time to get familiar with your opponent and see if you can notice any weak points right away. You shouldn't be going all out with your shots during the pre-match practice, primarily because you are still warming up your body and secondly because you don't want to show all your strengths and weaknesses to the opponent you're sparring with.
If you can read Spanish, you might also want to check out this blog post that details some padel exercises you can try out.
Further resources
Hope that helps, I still have a lot to learn about this sport, but using these techniques has helped me stay injury-free and rapidly improve my game in the past few months. If you have any other padel fitness tips, please go ahead and leave a comment.