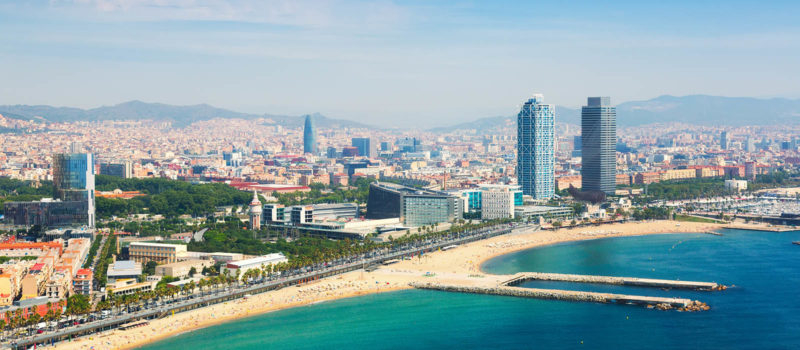 Barcelona is currently my favorite city in Europe, and I thought it would be fun to do some research into renting an apartment in Barcelona. I'll be focusing on long term rentals as short term rentals have been covered to death, and anyway, we all know that nowadays companies like Airbnb have completely dominated short term rentals.
Let's say you want to spend more than 3 months in Barcelona, a year even. What should you know before you get to Barcelona?
The Importance of Agents
Your best bet for finding an apartment in Barcelona is through an agent. These agents can either be independent or be employed by one of the big agencies. This holds especially true if you are looking for a mid to high-end apartment and don't want to waste time trawling the various property rental listing websites.
Upon finding an apartment, the new tenant pays the agent's fee, and it's usually the equivalent of one month's rent, but can be up to 10% of the annual cost of the rental. VAT at the rate of 21% will be added on top of that.
Any reasonably priced flat that's in a good condition will rent out quickly. Spain might be in a recession but the rental market in Barcelona certainly doesn't seem to be affected, things here move fast. If you find something you really like, go for it. A good property can be gone in a matter of days, hours even.
Properties are available for viewing when the previous tenants have moved out. That means you'll be seeing the apartment in a ready-to-rent state and also implies that you should be ready to move immediately.
When you find a property you like, you'll probably want to dig a little deeper. Here's a handy checklist:
Are communal charges included in the rent? (usually yes)
Are utility bills included? (usually not, ask about electricity, water and gas)
Is there an extra cost for central heating?
Is the agency fee 1 month's rent or 10% of the annual rent? (the latter works out more expensive)
What are the deposit terms? (usually two months rent)
I would also suggest checking if there are any planned works (construction) nearby, and see what kind of neighbors you would have. It's also important to have a good look at the state of the building itself. Some rental apartments can be in great condition, but the building itself would have some serious problems.
For example, I rented an apartment that was absolutely excellent and we were the first tenants in, however, after a few weeks we discovered that if someone smoked in any of the other apartments, the smoke would seep through into our apartment through the kitchen extraction fan tubing. Ridiculous, I know, but it's just an example of the many non-obvious problems that you can have.
I also suggest speaking to the owner about how they handle repairs, especially if it's not a new apartment. Some owners that are not professional will leave you waiting for days, while others offer same day (usually within the hour) repairs because they have someone on call for such incidents.
Prices
Prices have been on the rise in recent years. As of August 2018, you can expect to pay between 900 and 2000 euros for an apartment, depending on the size and condition. A reformed three bedroom apartment in a good area will fetch between 1500 and 2000 euros. A reformed one bedroom will be closer to 900 euros.
Renting a Room
If you're strapped for cash and don't mind living with other people, you can also rent a room in an apartment. One of the best apps for finding such rooms is Badi. Expect to pay 400-800 euros for a good room.
Good luck with your apartment or room search, and if you have any questions just leave a comment below and I'll do my best to answer.