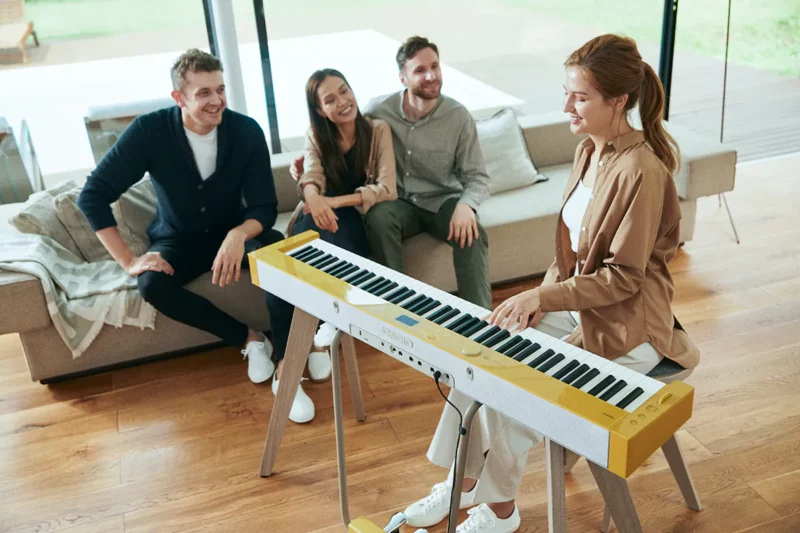 I've always been hugely into music and dreamed of playing instruments as a young kid. However, for some reason or another, I never went for any classes in a serious way when I was young. I did learn basic guitar which I enjoyed, but never practiced enough to do anything with it. The piano is also much more versatile and enjoyable to play alone versus a guitar. So as a young adult I took some music theory and piano lessons that I enjoyed, but again life got in the way. I do remember having a little wooden toy piano that I definitely used a lot when I was just a few years old, and had a wooden flute, toy air piano, xylophone and harmonica. I loved playing around with them but that was as far as I got.
As I approach my 40s, I'd like to take another serious shot at this. Moreover, I now have two young kids, and I am fully appreciative of the positive impact music education can have on their development. I want to set the example and hopefully they can also learn alongside me.
So, to start off, I need a digital keyboard that feels as close to a piano as possible, and a piano teacher or online learning platform.
This post will serve as my notes for these two tasks.
Best Beginner Keyboards
I focused my research on portable keyboards, as they take the least space, are easy to move around and probably easier to sell when the time comes, or if my plan doesn't work out.
Next, it's time to consider brands.
General consensus among piano teachers and players is that you should not go off-brand when buying a piano. There are a number of long-established brands that you are probably familiar with:
Yamaha
Roland
Kawai
Casio
Korg
Nord
Anything beyond these household names is considered off-brand. Some examples are Alesis and Donner. There are many others, typically Chinese manufactured and designed to look good, but with important flaws.
Weighted keys are essential for learning proper technique, so prepare to spend €500 and upwards as that's where decent weighted keyboards start at.
The reasonably priced Casio CDP-S100 but watch the Youtube reviews by "Piano4ever" (James Pavel Shawcross) who is scathing about the mismatch in weight between the white and lighter black keys on Casio digital pianos. You might also want to find comparative reviews to hear the sounds of this one against things like Yamaha P45 and Roland FP-10. It may be a matter of personal choice but the Casio does not seem to sound that great compared to others – possibly too "tinny" (which some might call "bright")
Going up the scale (!) the Yamaha P45 is somewhere above the Casio. A lot of reviewers have quite nice things to say about P45 but it's not a "modern" design and is perhaps getting a little bit long in the tooth.
The most sensible choices for a beginner that wants a quality setup:
Roland FP-10 (€400)
Roland FP-30X (€670)

Yamaha P45 (€422)
Yamaha P125 (€600)

Kawai-ES110 (€600)

Casio PX S-1000 (€500)
Out of these the Roland FP-30X was the best choice for me. The FP-10 is better than the Yamaha P-45, while the FP-30X improves on the FP-10 for a slight increase in price. The speakers at this price point from Casio, Yamaha, and Korg don't match up in this department.
If we compare the Roland FP-30X with the Yamaha P125, the Yamaha loses out on key-action as well as bluetooth connectivity, the latter being a big issue for me. The Yamaha P125 does seem to be slightly better sounding though. If you tweak the sound qualities, the FP-30X sounds just as good as the P-125. The speakers fire downward and fill up the room a little bit better. It is also the newer model of the two.
The number of sounds available wasn't a big consideration for me, since these can typically be expanded either by connecting via MIDI to a VST, or by using companion apps that these makers provide. For example, with the Roland FP-10 you get 15 built-in sounds that can be selected using Function+keys. However, if you run the Piano Partner 2 app which connects to the piano with Bluetooth you actually get to select between 35 instruments.
With Roland's SuperNATURAL Piano technology and the same expressive 88-tone PHA-4 Standard keyboard as the premium model FP-60X, the FP-30X is the perfect home instrument for Beginner players.
Finally, the Roland FP-10 and FP-30X are easy to sell as they are extremely popular among beginners. At worst you would lose a couple hundred euros, lessening the risk of such a purchase considerably.
I would have considered the FP-10 versus the FP-30, where it not for the fact that the FP-30X is a new model that improves in some significant ways on the FP-30, while the FP-10 does not have a corresponding new model.
My favorite keyboard for looks and features, on the other hand, is the Casio PX-S7000, but I would buy this further along the journey as it's much more expensive and has features that are not necessary at the very early stages. It does look beautiful though, and I especially like the stand that comes with it.
Keyboards for Kids
Since I want to involve my kids in my learning process, I did some research on instruments/toys that might be ideal to get them interested as well.
Here are the best I found:
The tinyPiano is part furniture, part introductory piano, and part toy. Definitely on the expensive side, but the reviews are great.
The best intro instrument, since it has quiz mode and lots of sounds (animals, horns etc) that can keep even the little ones entertained.
Great for those kids who already know how to play a bit and want to have some fun with the in-built sounds and accompaniments.
Learning
For learning, Pianote is a good way to start, atlhough you will want to eventually find a good local teacher. There are also several books that you could try, and if you have a Skillshare membershi there are a few courses available.
Here are some resources I've been using:
I'll update this post with progress, but if there are any other adult musical instrument learners out there, I'd love to hear about your experience.