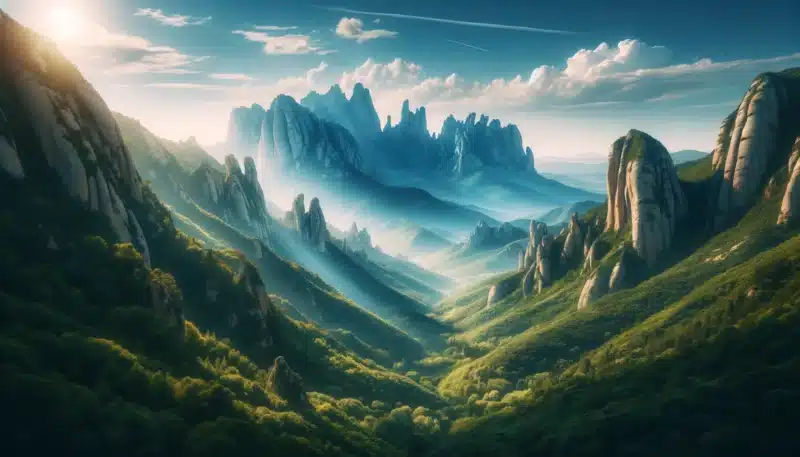 Modern life, especially in cities, can be chaotic and very noisy. It's hard to stop and reflect and think deeply in such environments. My search for peace and tranquility led me quite early in my life to the sacred thresholds of monasteries, where I enjoyed various retreats with groups and friends, as well silent retreats that had a significant impact in the biggest choices in my life.
Nestled in serene environments, these sanctuaries offer more than just spiritual solace; they invite travelers to experience a unique stay, rich in history and contemplation. The tradition of monastic hospitality stretches back centuries, rooted in the Benedictine principle of welcoming guests as if they were Christ himself. Today, this tradition continues, evolving to accommodate the curiosity and spiritual aspirations of modern-day visitors.
From the iconic Montserrat in Spain to the secluded abbeys of France, monasteries across Europe open their doors to those seeking a retreat from the ordinary. These stays offer a rare glimpse into a world where time slows down, and life's priorities are realigned. Whether it's the chanting of monks at dawn, the simplicity of monastic meals, or the undisturbed natural beauty surrounding these holy places, a stay in a monastery is an immersion into a way of life that is both ancient and profoundly relevant.
In this article, I'll share with you some of the best monasteries I know of. While not many people seek stays at such monasteries or even know that it's possible, it is actually quite straightforward these days to book a stay in an amazing monastery. Typically, all you need to do is phone or email the monastery explaining why you'd like to visit (don't worry if you're not religious, it is not a requirement) and the dates that would work for you. Most monasteries will get back to you quickly with a reply.
Keep in mind that many monasteries need the income they get from such stays from pilgrims, so your stay is helping them maintain the monastery. Many monasteries in Europe unfortunately have had to close down, as it became too costly to maintain and the patronage devoted to religious institutions declined over time.
Moreover, as I mentioned, for some orders like the Benedictines, the welcoming of pilgrims is an important part of their tradition. For these, it is rooted in the Rule of Saint Benedict, which is the guiding document for Benedictine communities. Therefore, in Benedictine monasteries, the act of welcoming pilgrims and guests is not just a casual practice but a deeply ingrained spiritual duty, reflecting their commitment to living out the teachings of Christ and Saint Benedict.
For other orders, like the Jesuits, welcoming pilgrims is not as core as the Benedictines. However, their founder, St. Ignatius of Loyola is known for having developed the Spiritual Exercises. These exercises are designed to be carried out over a retreat that lasts about 30 days, though there are also adaptations for shorter periods. The Spiritual Exercises of St. Ignatius of Loyola are indeed a core aspect of Jesuit spirituality and have a significant impact on how they interact with both their own members and with laypeople. This means that most Jesuit retreat centers are also great places to spend some days in retreat.
Other orders have a similar disposition to welcoming pilgrims within their communities, and remember, you don't need to be a Catholic or Christian to go to these places. You can very well be an agnostic, atheist or practice another religion. What's expected of you is that you behave in a manner that maintains the sanctity and peace of the site and follow any practical guidelines that they have in place.
Spain
Spain, a land steeped in religious history and architectural marvels, offers a unique blend of spiritual and cultural experiences. Its monasteries, set against the backdrop of diverse landscapes, from the rugged mountains to serene plains, provide an ideal setting for reflection and connection with the past. These spaces are not only centers of religious significance but also custodians of art, history, and tradition. In this section, we will explore some of the most remarkable monastic retreats in Spain, each offering a distinct flavor of Spanish spirituality and heritage.
The Spiritual Charm of Montserrat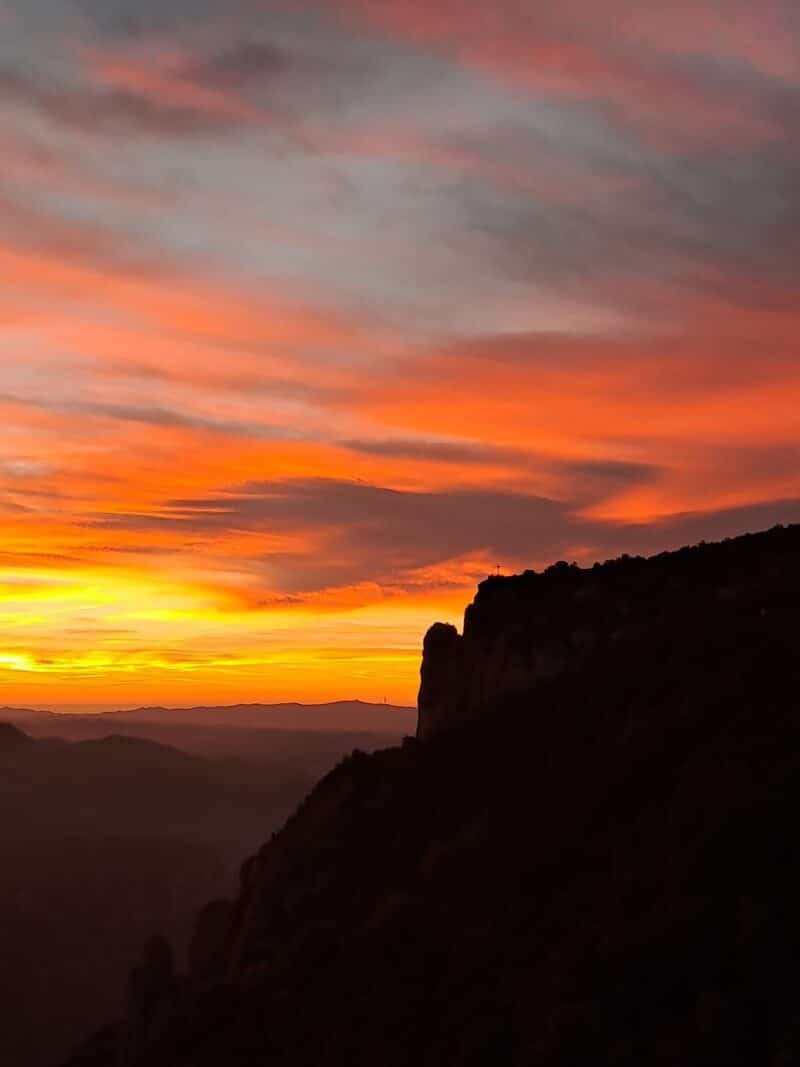 Perched high among the multi-peaked rocky range, Montserrat Monastery in Spain is more than just a religious retreat; it's a cultural and historical emblem. The monastery, with its stunning basilica and the famed statue of the Black Madonna, draws pilgrims and tourists alike. But to truly experience Montserrat, one must stay within its walls.
As the night falls and the day-trippers depart, a profound silence envelops the monastery. The pilgrims' quarters, simple yet comfortable, encourage reflection and introspection. Visitors are invited to join the monks in their daily prayers, a mesmerizing chant that echoes through the ancient halls.
A stay at Montserrat is not just about spiritual pursuits. The monastery offers access to a wealth of hiking trails, an art museum, and unparalleled views of the Catalan landscape. It's a place where nature and spirituality intertwine, offering a refreshing perspective on life's rhythm.
It's become a kind of second home for me; a place where I know I can retreat to whenever I need to spend a few days in deep thought, especially before embarking on a new project, or when I'm passing through a particularly challenging period. I visit at least twice a year, and I've also been organizing trips there for the Good Life Collective community that I've been nurturing over the past years.
Monasterio Santa María del Parral, Segovia
Tucked away in the historic city of Segovia, the Monasterio Santa María del Parral stands as a testament to the enduring charm of monastic life. This still-active monastery, nestled in a quiet corner of the city, offers a unique experience for those seeking a peaceful retreat. The architecture, reflecting Gothic and Renaissance influences, creates a solemn yet welcoming atmosphere.
Guests can immerse themselves in the daily rhythm of the monastery, which includes time for personal reflection, walks in the gardens, and the chance to witness the monastic community's daily activities. The simplicity of the accommodations complements the tranquil environment, making it a perfect setting for contemplation and rejuvenation.
Monasterio de Poblet
Located in the scenic region of Catalonia, the Monasterio de Poblet is a UNESCO World Heritage site and one of the largest Cistercian monasteries in Spain. This functioning monastery, with its impressive architectural complex, offers a glimpse into monastic life while providing a serene backdrop for visitors.
Staying at Poblet is an opportunity to disconnect from the outside world and engage in a lifestyle centered around peace and simplicity. The monastery is surrounded by vineyards and natural parks, offering beautiful landscapes for quiet walks and meditation. Its historic walls and cloisters are a constant reminder of the centuries-old traditions that still thrive within its premises.
Monasterio de El Paular, Madrid
The Monasterio de El Paular, situated in the picturesque Lozoya Valley near Madrid, provides a serene escape from the hustle and bustle of city life. This monastery, with its rich artistic heritage and beautiful natural surroundings, offers an ideal setting for reflection and creative inspiration.
Guests at El Paular can enjoy the tranquil gardens, explore the monastery's art collection, and participate in the community's daily routines at their own pace. The surrounding Sierra de Guadarrama National Park presents endless opportunities for nature walks and quiet contemplation amidst the beauty of the Spanish countryside.
France
France, with its rich tapestry of history and tradition, is home to some of the world's most beautiful and serene monasteries. From the lavender-laden fields of Provence to the tranquil shores of Cannes, these sacred sites offer a peaceful refuge and a glimpse into a life of contemplation and simplicity.
The fantastic site Ritrit.fr can be used to find retreat centers in France and also to book stays in them.
Abbaye Notre-Dame de Sénanque, Provence
Nestled in the heart of Provence, the Abbaye Notre-Dame de Sénanque is a functioning Cistercian monastery, famous for its stunning lavender fields. The tranquil surroundings and the simplicity of the monastic life here offer a perfect environment for introspection and peace. Visitors can join the monks in prayer, experience the rhythm of monastic life, and enjoy the natural beauty of the Provence region.
Abbaye de Lerins, Cannes
Located on the serene island of Saint-Honorat off the coast of Cannes, the Abbaye de Lerins is a haven of peace away from the glamour and bustle of the French Riviera. This active monastery, with a history dating back to the 5th century, invites guests to partake in the spiritual life of the monks. The island's natural beauty, combined with the contemplative atmosphere of the abbey, makes it an ideal spot for a spiritual retreat.
La Grande Chartreuse, French Alps
As the motherhouse of the Carthusian Order, La Grande Chartreuse in the French Alps is a symbol of solitude and contemplation. While the monastery itself is not open to overnight guests, its surrounding area offers a peaceful retreat for those seeking quiet and solitude. Visitors can stay in nearby accommodations and take the opportunity to explore the breathtaking alpine scenery and reflect in the tranquil environment.
Malta
Mount St. Joseph Retreat House, Malta
Mount St. Joseph Retreat House, situated in Mosta, Malta, is a Jesuit-run center that offers a serene and contemplative environment for those seeking a spiritual retreat. This facility is dedicated to providing a space for quiet reflection and personal growth, welcoming individuals of all faiths and backgrounds.
The retreat house is nestled in a peaceful location, perfect for those looking to escape the distractions of everyday life. It offers comfortable accommodations, including private rooms, communal spaces for relaxation, and extensive gardens. Guests can engage in self-guided retreats or participate in organized programs that might include meditation sessions, spiritual talks, and opportunities for individual reflection and prayer.
Mount St. Joseph stands out as a destination for those who value introspection and spiritual exploration, regardless of their religious affiliation.
Manresa House, Gozo
Manresa House in Gozo is another retreat center that offers an opportunity for spiritual renewal and personal retreat. Managed by the Jesuits, this center provides a tranquil environment conducive to meditation and reflection.
Located in the serene and picturesque island of Gozo, Manresa House is surrounded by natural beauty, creating an ideal setting for those seeking peace and quiet. The retreat center features simple yet comfortable accommodations, prayer rooms, and communal areas where guests can relax and contemplate.
Rest of Europe
St. Benedict's Monastery, Austria
In the heart of Austria, St. Benedict's Monastery is a place where the timeless beauty of the Austrian landscape meets the enduring legacy of Benedictine spirituality. This active monastery offers a chance to experience monastic life amidst the picturesque Austrian countryside. Guests can participate in the daily prayers, enjoy the quietude of the monastery's gardens, and explore the surrounding nature trails.
Iona Abbey, Scotland
Located on the Isle of Iona, off the west coast of Scotland, Iona Abbey is one of the oldest and most important religious centers in Western Europe. Today, it is a place of pilgrimage and spiritual retreat. The abbey's community is committed to ecumenical worship and spiritual renewal. Visitors can immerse themselves in the tranquil beauty of the island, partake in community activities, and find solace in the abbey's peaceful atmosphere.
Monastery of St. John the Theologian, Greece
Perched on the island of Patmos, the Monastery of St. John the Theologian is not only a place of immense historical and religious significance but also a serene retreat. Known for its stunning views of the Aegean Sea, the monastery offers a unique blend of spiritual heritage and natural beauty. While the monastery itself has limited accommodations for visitors, the surrounding town provides ample opportunities for a peaceful stay, with chances to visit the monastery and its remarkable library.
Valamo Monastery, Finland
Valamo Monastery, located in the serene Finnish lakeland, offers an experience of Eastern Orthodox monasticism. This active monastery is known for its tranquil setting and rich cultural heritage. Visitors can participate in the liturgical services, explore the monastery's museum, and enjoy the natural beauty of the Finnish landscape.
Each of these monastic retreats offers a unique experience of peace, solitude, and introspection. Whether nestled in the mountains, perched on an island, or hidden in the countryside, these monasteries invite visitors from all walks of life to pause, reflect, and connect with themselves in a deeper, more meaningful way. As we journey through Europe's monastic heritage, we find not only historical and cultural treasures but also timeless sanctuaries where the soul can find rest and rejuvenation.
In Conclusion: The Timeless Allure of Monastic Retreats
Europe's serene monasteries, each with their unique history and setting, provide a sanctuary for the soul. They remind us that in our fast-paced world, there are still places where time moves slowly, and life's deeper questions can be contemplated in silence and serenity. Whether you're seeking solitude, spiritual reflection, or just a break from the daily grind, these spots offer a quiet escape.
While social media tries to indoctrinate us that happiness lies in the things we buy or fancy places we visit, the truth, in my experience, is that the best adventures are the ones that bring us inward or connect us deeply with other human beings and the true nature of life. Monasteries are the ideal place to go on that journey.