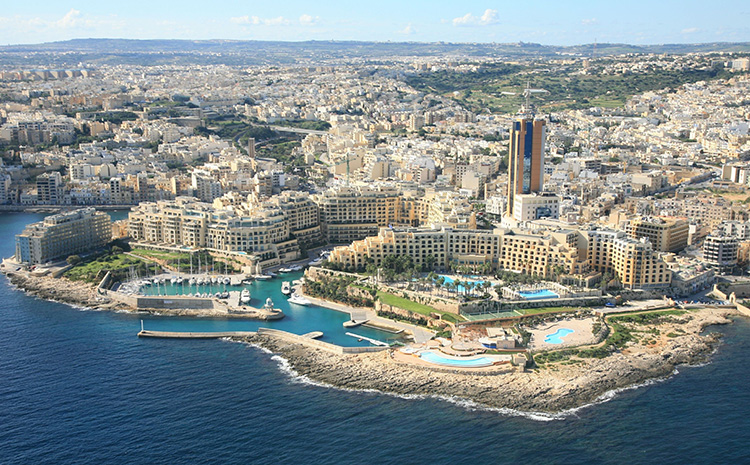 Update 2023: This article was originally written in 2012, and many things have changed since then. I'm leaving this post online as a record of my thoughts back then, but please do further research if you're interested in Malta as a digital nomad destination. One positive development has been the launch of the digital nomad visa. Whether this is successful long-term is anyone's guess, but you should definitely have a look if you're a non-EU citizen.
When embarking on the journey to become a digital nomad, one of the first things we search for is a great place to relocate to. Deciding to become a digital nomad is, often, a direct consequence of a wish to travel and discover the world, and get a break from your familiar surroundings.
As working as a digital nomad becomes more fashionable, we can see a certain list of countries establishing themselves as ideal locations, due to various factors.
Here are some of the cities/countries most cited by bloggers and digital nomads:
Chiang Mai – Thailand
Berlin – Germany
Buenos Aires – Argentina
Medellin – Colombia
Davao City – Philippines
Ho Chi Minh City – Vietnam
Barcelona – Spain
The clear trend is that of moving to places which give you better value for money and an immersion into a new culture. You will seldom find cities in the US or Europe mentioned as ideal choices for a location independent lifestyle, largely because they are too expensive, or they are not deemed to be exotic enough.
Today I am going to bring you one more destination, a place which has been largely overlooked by digital nomads and location independent workers. I strongly believe that Malta is an almost perfect location and has been a well-guarded secret for far too long.
Where the hell is Malta?
First things first, right? It's not the first time that I encounter people who have never heard of Malta, let alone knowing where it is or what is so great about this country.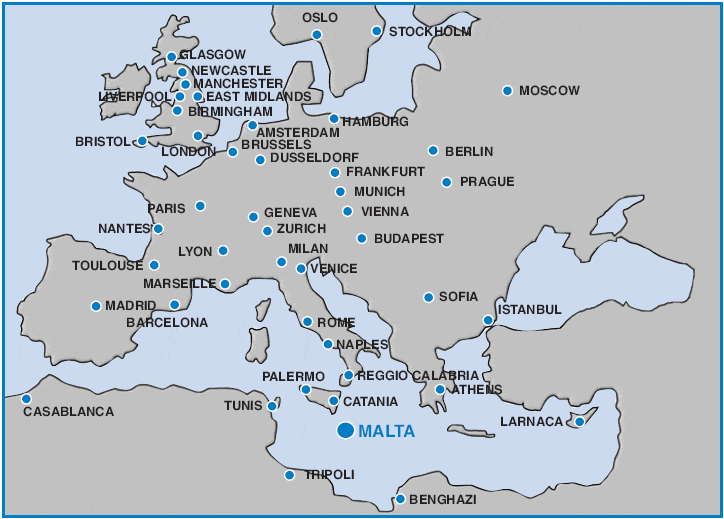 I know, I know, it is indeed comical that the map marker is actually bigger than the country itself…
The Maltese archipelago consists of three islands:
Malta, the largest island, is where most of the activity happens. Gozo, on the other hand, is a very quiet and peaceful island, which has more greenery and is a perfect place to get some rest. Comino, a tiny island of 3.5km squared, is pretty barren but is a top location for the summer months, and home of the famous Blue Lagoon (pictured below).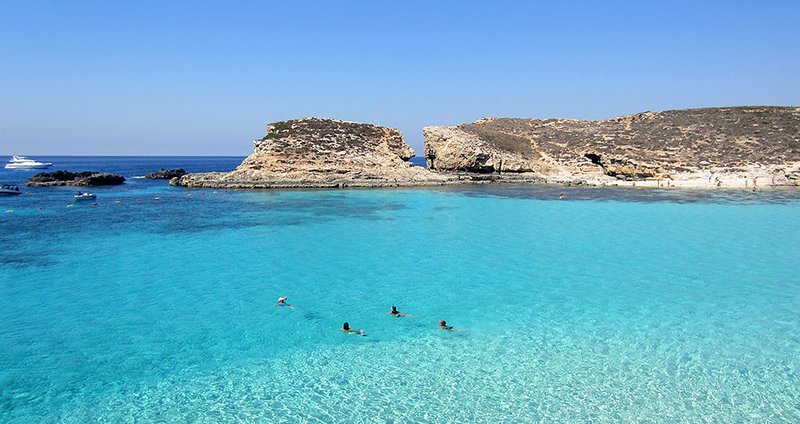 With a population of around 350,000, it is one of the smallest countries in the world, yet you'll be amazed at how much activity there is once you set foot here.
What Makes Malta the Ideal Digital Nomad Destination?
Let's take a look at what I consider to be some of the essential requirements that will make a place ideal for digital nomads:
Affordable, quality housing
Renting an apartment in Malta is not that expensive when compared to other European cities, and can indeed be compared to locations like Buenos Aires (probably even cheaper). Since the island is so small, you can save money on rent by getting a place outside of the main touristic zones. You can get anywhere in 20 minutes by car/motorbike, so getting around is the least of your worries.
While we're speaking about getting around, I highly recommend renting a car during your stay here, if you want to explore the island properly. The bus system is quite decent (don't expect punctuality though), but doesn't cover some of the beautiful areas which you should visit during your stay. During the night it is even more limited.
Safety
Malta is probably one of the safest countries you can go to, there are no pickpockets around and you can walk around without any worries even during the night. Common sense safety precautions should of course always be taken, but in general, there is absolutely no problem concerning safety in Malta. Politically it is a neutral country which stays clear of any international conflict, and it has fared well through the global recession, so you won't find any mass protests here.
Pleasant Weather
Malta has been voted as the country with the best climate in the world, does that get your attention? The weather is warm all year round, although I wouldn't recommend staying here between December and February, as it tends to get quite chilly inside, since houses are not equipped with central heating.
During the rest of the year, you're in for a treat. I personally swim from March all the way till November, so you get the idea.
Easy Entry and Work Opportunities
European citizens can enter freely, while others visiting from other continents shouldn't have too much trouble getting at least a 3 month tourist visa.
It's also worth noting that there are lots of work opportunities related to IT here in Malta, mainly due to the large influx of gaming companies during the past few years. These companies look very favorably on the employment of foreigners, so you can supplement your digital nomad business with some extra cash working part-time at one of these companies if required. This makes Malta a great place to start your adventure if you do not yet have enough income from your online ventures to support yourself.
Access To Modern Conveniences
Malta is a European country in most senses. Granted, things don't exactly work like clockwork, as there is a relaxed atmosphere, however, you will find all the products and services you are used to in your home country.
Health care is also affordable and you will be well taken care of in the eventuality of needing a visit to a doctor or hospital.
English Language and Tourist-Friendliness
English is one of the island's official languages, together with Maltese. This is a huge plus as you won't have any problems at all with communicating here. A good percentage of the population also speaks Italian due to the island's proximity and connections with Italy.
Maltese people are renowned for their friendliness. Since tourism is one of the biggest economies of Malta, people here treat foreigners very well, and will often go out of their way to help you. Most people are also very proud of their country so they will very readily give you advice on places to visit or directions.
An Efficient Technology Infrastructure
Malta has invested heavily in technology during the past few years, so you can easily find a good internet connection and, of course, mobile networks.
There are a number of public wi-fi hotspots as well, should you fancy working outdoors during the warm months.
Food
You will find all kinds of food in Malta, and restaurants are cheaper than what you'll find around Western Europe. Lots of good fruit and veg from the local produce here and meat is also easily available and of great quality.
Maltese traditional cuisine is probably closest to Italian, maybe mixed a bit with Arabic/Spanish. The most common local dish is the rabbit stew, which you can find in restaurants specializing in local dishes. A town called Mgarr is especially renowned for the abundance of restaurants serving rabbit, snails, and other local delicacies.
As you can imagine you will find most Italian plates served here as there are many Italian owned restaurants. Italian products are also brought over from nearby Sicily, and you can find them in the supermarkets.
All in all, not a bad place to be at all with regards to food. I am currently in Thailand and I definitely miss a good piece of meat like I used to enjoy back home.
A Healthy Expat Community
Due to the gaming company influx mentioned earlier, there are many foreigners working here, so the expat scene is quite active. The downside is that it might not be that easy to come across digital nomads here, but hey, that's why I'm writing this post, so hopefully that situation will improve in the near future.
Good Connections To Other Destinations
Malta is an island, so the easiest way to get there is by plane. There are also catamaran services to nearby Sicily. It is quite cheap to travel via air to and from Malta, especially in summer when Ryanair services a number of routes throughout Europe.
I also know a few people who maintain a number of offshore clients and fly there for important meetings, so connections are not really a problem.
Co-working Spaces
Coworking is still a novelty concept in Malta, and I hadn't originally included this point as one of the strong points of Malta, but after visiting the island again in 2019 I was happy to note that coworking is finally taking shape in Malta.
I am aware of a few coworking spaces that have been operating for a few years, but the latest one to open and the one I've had the pleasure of working at is 230Works in Mosta. It opened in 2019 and the people behind it are enthusiastic about making it work and taking on board suggestions from coworkers. It's also the only centrally located coworking in Malta. Typically coworking spaces are located in the St Julians and Sliema area, but those areas are highly trafficked, so I appreciate having a central option like 230Works.
Value for Money
When you consider everything, Malta is one of the cheapest places you can choose. It is probably more expensive than places in Asia, but it is much cheaper than living in other European countries.
Don't believe me? Check out the following two websites where you can easily set up a cost comparison between two cities in the world. You can select any town in Malta and compare it with other destinations.
In both these sites, you will get a price comparison for many essential products and services that you are bound to use when living at a particular place.
Convinced Yet? Why don't you join the Malta Digital Nomads group on Facebook, where you can discuss with me and other digital nomads who are or have been in Malta?
I've touched upon some important points about Malta, but there's much more to say about the beauty and history of this place.
If you have any questions, the comments section is waiting for you. I would also like to hear feedback from some other digital nomads who have been to Malta in the past, or are thinking of coming here soon.