In this article, I'm taking a look at Monefit, a consumer loan platform designed to provide quick and convenient personal loans to customers in need of financial assistance.
Monefit was launched by Creditstar Group, an established financial services provider with over a decade of experience in the market. Operating across several European countries, Creditstar has built a solid reputation for offering short-term and installment loans to customers .
Registration and Account Setup
Getting started with Monefit is a straightforward process. The registration and account setup are user-friendly, and once registered you can either deposit money and start investing (SmartSaver) or apply for a credit line (CreditLine).
Auto-Invest Feature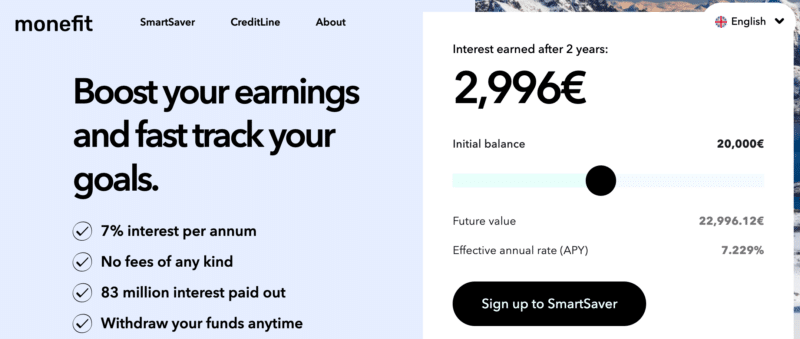 Monefit is a black-box platform. This means that you do not have visibility into the loans that you're investing in, but are trusting the platform to make the best use of your money and allocate it in a responsible way. This is similar to how Bondora's Go and Grow Unlimited system works. So to invest, you will need to use Monefit's auto-invest tool called SmartSaver.
Monefit gives you a return of 7% per year, and boasts more than €850m invested and €83m in interest earned by investors on the platform.
Your SmartSaver account has no fees of any kind and no hidden cost, so you know exactly how much you will receive when you decide to withdraw your funds.
However, it is worth mentioning that there is a €50 minimum withdrawal limit in place. Moreover, withdrawals are not instant, however the platform promises to process them within 10 days.
Deposits and withdrawals can only be made in Euros.
One thing to mention is that while the interest is advertised at 7%, possibly hinting that it's a fixed return, it can actually fluctuate at the platform's will, as detailed in the terms and conditions. So take that with a pinch of salt.
Monefit and Creditstar
As I mentioned, there are very close ties between Monefit and Creditstar, so it's worth spending some time on investigating Creditstar itself.
The Credistar Group is a prominent and audited European lending group that offers loans to borrowers across Europe, operating in countries such as Spain, the UK, Sweden, Denmark, Poland, the Czech Republic, Estonia, and Finland.
Although Credistar recorded a profit in its audited financial statement for 2021, the company's commitment to meeting investor obligations has been somewhat inconsistent.
Credistar also sources funds for its loans through platforms like Mintos and Lendermarket. However, investors using these platforms have encountered considerable delays in payments, as Credistar was unable to repay investors due to insufficient liquidity to finance its loans.
Investments that had reached maturity on Mintos were shifted to "pending payments," while those on Lendermarket saw their terms extended.
These circumstances heightened investor risk and significantly affected their liquidity.
Despite both P2P lending marketplaces advertising Credistar's loans with the highest returns, investors have expressed dissatisfaction with the company's methods and its failure to honor the buyback guarantee it had pledged on both Mintos and Lendermarket.
The underlying cause of Creditstar's "liquidity challenges" could be attributed to the lender's assertive lending approach and unforeseen fluctuations in financing.
To maximize profits, the lender must issue a greater number of loans and secure more funding. This rationale could explain why the financial group opted to introduce an additional "financing source" – Monefit SmartSaver.
Alternative Platforms
As an investor, it's crucial to explore and compare different investment platforms to find the one that best suits your needs and preferences. Here are some alternative platforms I've considered or invested in:
Mintos: Mintos is a popular peer-to-peer lending platform that offers a wide range of loan types from various loan originators across the globe. The platform provides a comprehensive auto-invest feature and a secondary market, making it a strong competitor to Monefit. However, Mintos' extensive range of loan originators and countries may require more due diligence and research from investors.
PeerBerry: PeerBerry is another well-regarded European P2P lending platform that focuses on consumer loans, similar to Monefit. The platform is known for its user-friendly interface, auto-invest feature, and competitive interest rates. However, PeerBerry's loans also have a geographic concentration in Europe, posing similar risks to Monefit.
Bondora: Bondora is a long-standing P2P lending platform that offers consumer loans in Estonia, Finland, and Spain. The platform is known for its simplicity and ease of use, with an auto-invest feature called "Go & Grow Unlimited" that targets a fixed return rate. Bondora's main drawback is its limited geographic exposure, which may not suit investors seeking greater diversification.
Conclusion
This platform leaves me with mixed feelings. On the one hand, it's not a platform that has to start from scratch, given that it's backed by Creditstar, and the latter company has plenty of experience in the space. However, Creditstar itself does not have a stellar track record in its behavior towards investors.
Therefore, I would say that Monefit could be a good platform for you if you want absolute ease-of-use and high liquidity and you're a fan of other similar products in the market such as Bondora's Go & Grow. Monefit does in fact currently offer better returns than Bondora, but I would classify it as being riskier.
It's always a good idea to explore and compare alternative platforms to find the one that best aligns with your investment goals and risk appetite.
Register at Monefit – 2% Cashback
Summary
There are probably safer platforms in the European P2P space, but if you want absolute maximum diversification among platforms, then it might be worth allocating some of your money to Moneyfit.
Pros
Easy to use, no settings needed
Fixed return
Audited accounts
High liquidity
Cons
No transparency
€50 minimum withdrawal
No buyback guarantee