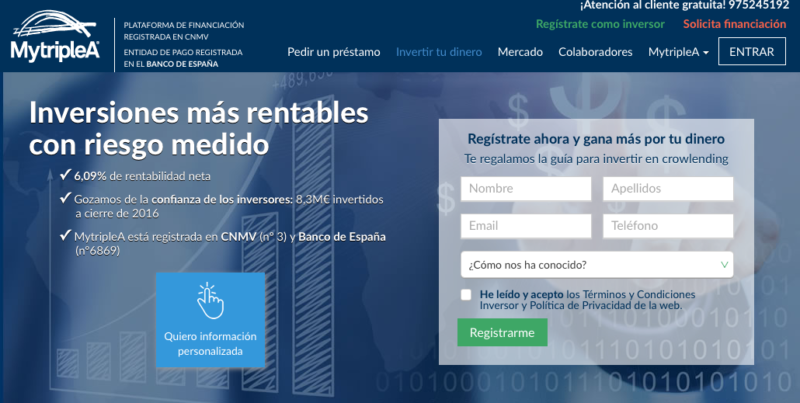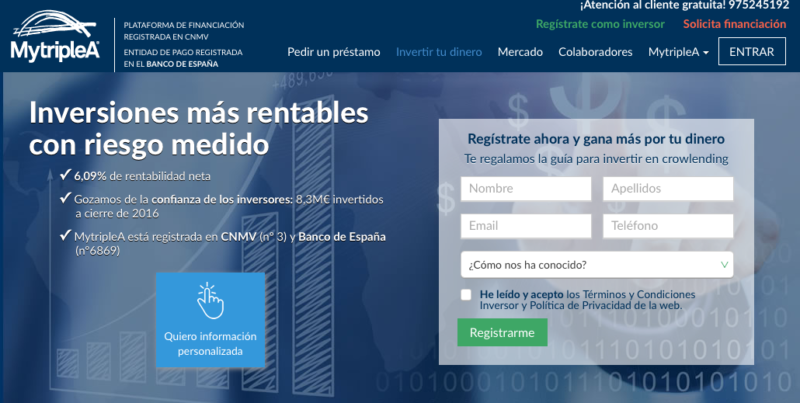 MyTripleA is a Spanish investment platform launched in 2015. It is the first and only Spanish crowdlending platform that has been granted two licenses to operate:
Payment Entity license granted by the Ministry for Economics and supervised by the Bank of Spain
License to act as a Crowdfunding Platform (since July 2016) registered at the CNMV.
MyTripleA offers two ways to invest:
Fixed and guaranteed returns that are based on the Euribor rate + 2%.
Non-guaranteed loans with a higher interest rate.
Guaranteed and Fixed Returns Loans
They offer guaranteed deposits and returns through collaborating with SGR (Sociedades de Garantia Reciproca). These entities are supervised by the Bank of Spain and guarantee payments in case that other companies are unable to pay.
In this way, there is no need to diversify since all the loans are guaranteed. MyTripleA says that they use the same SGRs as the banks themselves. Hence you are getting the same security as you would when putting your money in a savings account at the bank. However, you get a much better rate of return.
See also: The Best European P2P Lending platforms
MyTripleA says that the difference between what they offer and what the banks offer is due to the fact that banks keep a much larger commission for themselves, and hence MyTripleA are passing on to their clients a bigger share of the profits.
In case that there are any delays or defaults affecting your loans, the SGR will return any capital invested plus interest. This will take place after the 3rd failed payment. The maximum period between the failed payment and the compensation date is 60 days.
When investing in these fixed returns loans, you commit your money for a total of 36 quotas, in other words, you won't be able to withdraw your money for three years. During this period you will be receiving monthly interest and capital repayments.
Non-Guaranteed Loans
While the guaranteed loans are certainly a nice way to park a sum of money and get safe returns, they are not that interesting to me at this stage. I am still young and am more interested in generating good returns while undertaking a medium risk rather than focusing fully on low risk. This is why I was more interested in the non-guaranteed loans that MyTripleA offers.
When I decided to invest, there were a few non-guaranteed loans available. I decided to go with a factory that needed the money to buy supplies of rubber and plastic. The company is based in Cantabria and was looking for a total of €7,350 in funding. In return, they offered a 6% annual interest rate. This was a relatively short-term loan of just three months, which made it very attractive to me.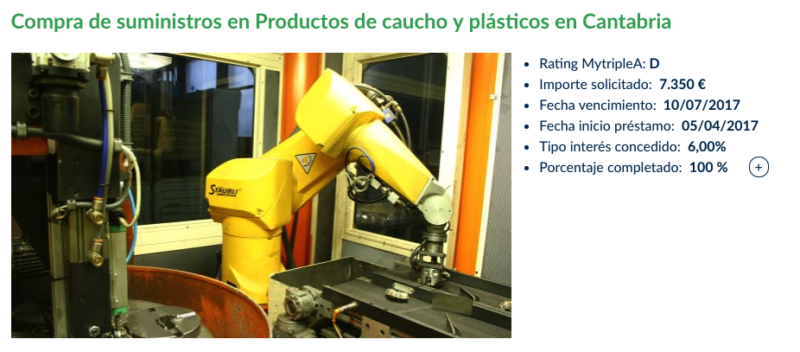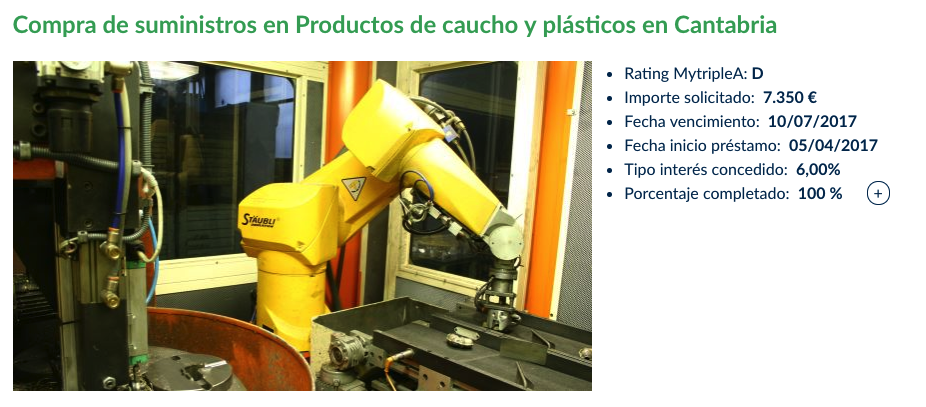 MyTripleA does a good job at providing a risk analysis for each loan as well as details about the company and the loan itself.
Below is the introduction of the loan and its details.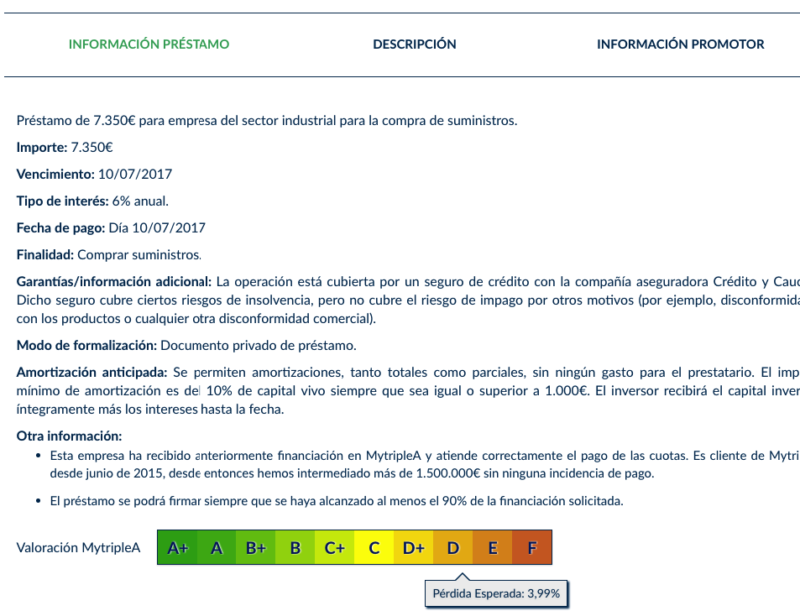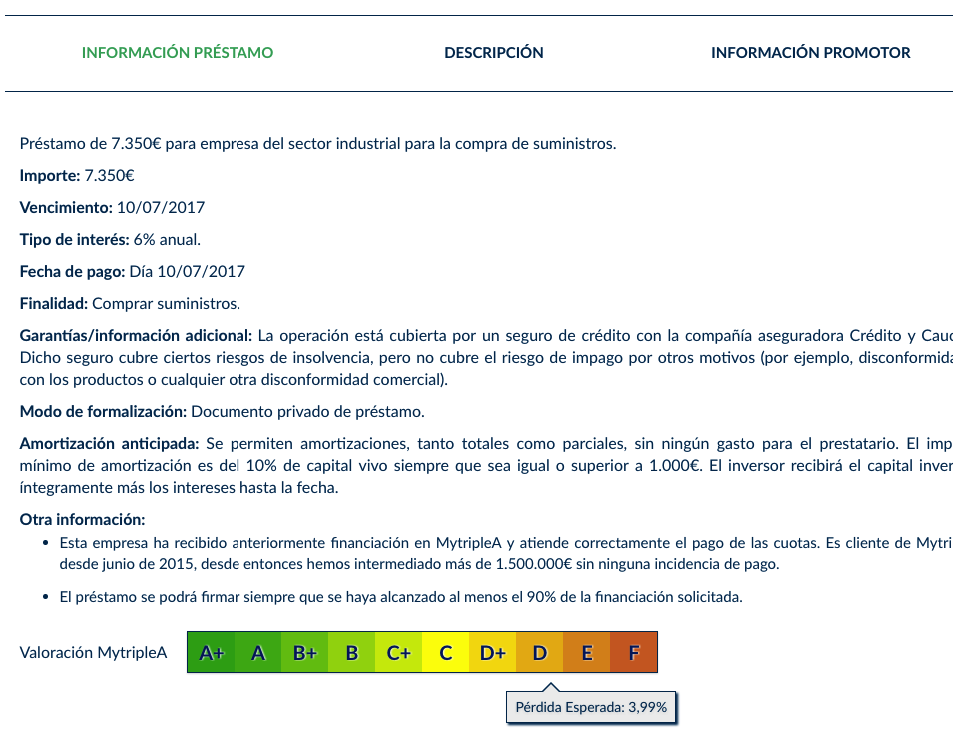 They gave it a D rating with a 3.99% of loss of funds. In that eventuality, I would have not


The MyTripleA website is only available in Spanish at this stage.
As with other Spanish platforms, MyTripleA deducts 19% of all your interest payments.
I feel that the website itself is a bit old-fashioned and there isn't much activity really. This has made me somewhat lose confidence in MyTripleA and I have decided to pull out all my funds from this platform. The 19% tax deduction doesn't help either. The idea is good but they need to modernize themselves and make sure that investors always have plenty of diverse loans to choose from.
I would recommend having a look at some better platforms like Mintos, Swaper and Peerberry instead.
Have you invested your money with MyTripleA? What's your experience so far?