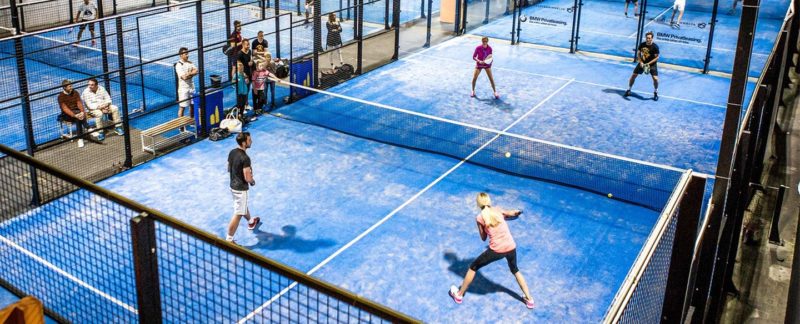 Do you want to play padel but have no idea where the best courts and clubs are? This is exactly why I have prepared this article. It will give you several options all over Barcelona, be it in the city center or the surrounding towns.
You might also want to check out my post about tennis courts in Barcelona.
Barcelona Center
Here you'll find the name of the padel sports center and the area (click here for a PDF showing all the barrios in Barcelona) they are in.
Putxet Sport is a comprehensive fitness club that offers 2 recently built padel courts plus personal and group tuition. This is where I currently train and play most of the time.
The only indoor padel courts in the center of Barcelona. Group and individual training are available at economical prices. I train here regularly.
They offer private coaching as well as group lessons. Padel courts can be reserved online.
A very nice outdoor padel club, they have daily matches via Whatsapp, and the courts are well maintained. I pretty much play here every Sunday with the Barcelona Padel Meetup group.
Three padel courts await you at Valldaura Sport.
Centro Municipal de Tenis Vall d'Hebrón – Vall d'Hebrón

This club hosted the tennis finals at the Barcelona olympics in 1992. There are 6 padel courts.
Play padel on the beach (or almost) at Club Natacion de Barcelona.
Three padel courts.
Ten padel courts.
This club is located near Sants station and has two padel courts (brick walls) that are quite cheap.
A very good club that also organises regular tournaments. There are 8 padel courts and a nice chillout area.
Eleven padel courts.
Pádel Blau – Sarrià

Four padel courts with a blue surface, which is where the name comes from. Economical prices. You can use their app or online booking system to find matches to join.
Two good padel courts and a Whatsapp group to register to matches during the whole week.
There are 14 padel courts at this big club. What I love is that if you pay 39 euro per month you can play as much as you want in the mornings with no fee per session.
This is a really nice club with top facilities all over. You can check out their tournaments on the Facebook page.
Bonasport has 8 padel courts, although they're quite old and have stone walls rather than glass
Sant Andreu
Nice club, they also organise Americanas during the week and have a Whatsapp group.
HORARI
1 HORA PISTA
HORA I MITJA PISTA
LABORABLES
7:00 fins a 13:00

13:00 fins a 15:00

15 €

20€

22€

30€

15:00 fins a 23
26 €
36 €
DISSABTES I DIUMENGES
De 9:00 fins a 21:00
18 €
27 €
FESTIUS
De 9:00 fins a 14:00

De 14:00 fins a 23:00

18€

26€

27€

36€
Sant Just Desvern
A very modern club with 15 courts.
Llobregat
A very nice and new indoor padel club with 7 padel courts.
Star's Padel
This is where world champion Fernando Belasteguin trains, so I don't need to tell you that the facilities are top notch. There are 14 padel courts.
Village Padel Club
Village Padel club has 8 high quality padel courts. They organize regular tournaments and have their own leagues. Check out their Facebook page for the latest news.
Six indoor padel courts.
Castelldefels
They organize internal leagues and have 11 padel courts. They also have loads of tennis courts and a pool and gym.
Viladecans
Red Indoor
Seven professional high quality indoor tennis courts.
Gavá
An indoor padel club.
Eight indoor padel courts.
Sant Joan Despi
Two padel courts.
Nine courts.
Teià
This club has 6 padel courts.
Badalona
Six indoor padel courts.
Terrassa
Terrassa Club Padel
Ten indoor padel courts, including 1 beach tennis court.
Montgat
A very nice club that is situated close to the sea, there are 4 padel courts.
Premià de Dalt
Club de Tenis de Premià de Dalt
This club is located around 20km away from Barcelona. There are 4 padel courts and private classes with Guillermo Casal, a WPT player.
Vilassar de Dalt
Vila Sport Club
A new club that is still under construction.
Vilanova del Valles
6 indoor padel courts.
Vilanova i la Geltrú
8 padel courts.
Have I missed out on any other padel courts/clubs? Let me know and I'll add them.