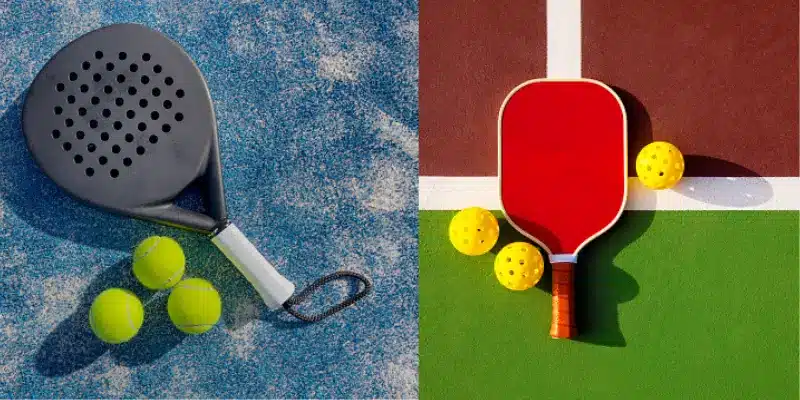 Pickleball and padel are two exciting racket sports that have been gaining popularity worldwide. Both sports offer fun, social, and competitive experiences, making them attractive to players of all ages and skill levels. In this article, we'll take a closer look at the similarities and differences between pickleball and padel, exploring the gameplay, equipment, rules, and benefits of each sport.
Origins and History
Pickleball originated in the United States in 1965, created by a group of friends looking for a fun and accessible game to play with their families. The sport has since grown exponentially, with millions of players in North America and around the world.
Padel, on the other hand, was invented in Mexico in 1969 by Enrique Corcuera. The sport quickly gained popularity in Spain and other Spanish-speaking countries before spreading across Europe and beyond. Today, padel is one of the fastest-growing sports globally, with a rapidly expanding fan base.
Gameplay and Rules
Pickleball is a combination of elements from tennis, badminton, and table tennis. It's played on a court similar to a badminton court, with a lower net and smaller playing area. Pickleball is typically played in doubles, although singles matches are also possible. The game starts with an underhand serve, and points are scored by the serving team when the opposing team fails to return the ball or commits a fault.
Padel is a blend of tennis and squash, played on an enclosed court about a third the size of a tennis court. The court has walls on all sides, allowing players to use them to play the ball, much like in squash. Padel is almost exclusively played in doubles, and the scoring system is identical to that of tennis.
Equipment
Pickleball is played with a perforated plastic ball, similar to a Wiffle ball, and solid paddles made of wood or composite materials. The paddles are larger than table tennis paddles but smaller than traditional tennis rackets.
In padel, players use solid rackets with no strings, typically made from a composite material with a perforated surface. The ball used in padel is similar to a tennis ball but has slightly less pressure, resulting in a slower bounce.
Accessibility and Fitness Benefits
Both pickleball and padel are easy to learn and accessible to players of all ages and skill levels. The sports emphasize hand-eye coordination, strategy, and teamwork over physical strength and endurance, making them appealing to a broad range of participants.
Pickleball and padel provide excellent cardiovascular workouts, improving endurance, agility, and balance. Both sports offer a low-impact exercise option, putting minimal stress on joints and muscles, making them suitable for older players or those recovering from injuries.
Popularity and Growth
While pickleball has been more popular in North America, padel has seen significant growth in Europe and Latin America. Both sports are experiencing rapid expansion, with new courts and clubs being built worldwide and an increasing number of tournaments and competitive events.
Conclusion
Pickleball and padel are two exciting racket sports that offer engaging, social, and accessible gameplay for players of all ages and abilities. While they share some similarities, each sport has its unique characteristics, rules, and equipment. As their popularity continues to grow, more and more people are discovering the joys of pickleball and padel, making them excellent options for those looking to try something new or add variety to their fitness routines.
I've played both sports and while I find padel much more exciting and enjoyable, pickleball is more accessible and easier to set up since it doesn't require any construction work to prepare a court, beyond the painting of the lines and the net. So
Ultimately I'm excited about the growth of both sports, because they are both helping people get back into sports after long absences, as well as providing a healthy way to socialize.