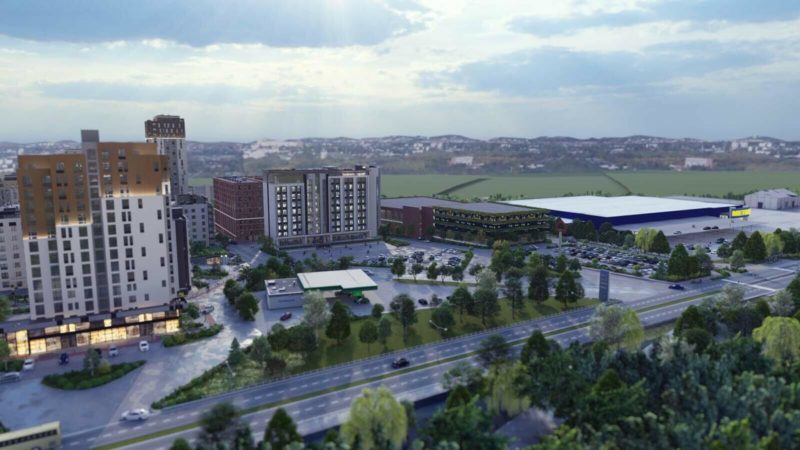 If you are looking for adding developing countries to your European real estate investment portfolio, look no further, as I might have one interesting option for your consideration.
Last year, one of my favorite real estate crowdfunding platforms Reinvest24 started to offer real-estate backed loans from a quite unfamiliar market – Moldova. I was curious to learn more about this market so I started researching. I also have some friends from Moldova who I enjoyed chatting with about this topic. Want to know what I found out? Continue reading…
First, I wasn't in a hurry to invest straight away, as I wanted to take some time to observe how things will develop over time. As a general rule, I'm quite wary about investing in such a developing market as there can be a lot of uncertainty due to various factors that I might not be used to. Meanwhile, I gathered some additional information in order to understand what potential there was, as well as the risks.
Let's Learn About Moldova
The first step was to learn about Moldova. As I said, I have several friends from this country, but they never spent much time speaking about their country, on the other hand, they mostly seemed very happy to have left and found better pastures.
Moldova separated from the former USSR in 1991 and is still considered to be a very young country, as it only gained its independence in 1992. For expats, it is one of the most inexpensive places in Europe. It still produces some of the best wines in Europe, despite being so little known. And yes, its economy currently is 10-15 years behind the Baltics but it has a lot of potential. In other words – it is a relatively poor country that looks for further growth.
For many years, Moldova has been oriented pro-Russia in its foreign policy decisions. After several economic sanctions were implemented, Russia has lost its strategic appeal to this country. As a result,  the Moldovan government decided to adopt more market-friendly reforms. In early 2020, the government successfully completed a $178 million IMF program and implemented some necessary financial sector reforms, as well as political. Many might not know, but in October 2020, Moldova had presidential elections, where the former World Bank economist and former prime-minister Maia Sandu won the presidency. She favors closer ties with the European Union and made "joining the EU" her main objective during the presidency in the following 4 years.
Key facts about Moldovan real estate
Despite the fact that Moldova is not a part of the European Union yet, there might be great potential in terms of real estate developments, especially with the new prime minister in place;
Taking into account that the country's economy is 10-15 years behind Baltics, in the upcoming years, the property prices will increase (as they do already now). The current price for real estate on Moldovan is about 600-800 eur per sq. m. which is very cheap, compared to the level of any country around it, especially if it's an EU country;
Currently, the profitability in the real estate construction sector is one of the highest;
In the recent Finfellas conference, related to real estate lending, the CEO of Reinvest24 Tanel Orro, shared quite interesting insights of investing in Moldova.
For example, the notary system in Moldova still requires improvements. For purchasing properties, there is no such thing as a legal debt agreement. The reservations work in a way that the buyer pays 30-50% upfront and the ownership is changed to the buyer's name. The developer has to finish the property to get the rest of the money and he is not allowed to put any mortgages on this property. Despite the fact that the average prices in Moldova are low, they have already started to grow and the notary system will adapt with time as well. For now, this could be an opportunity for smart investors to finance this gap and earn from it.
Invest in Moldovan real estate
Investing in Moldovan real estate starting with 100 EUR?
Thanks to real estate crowdfunding solutions, we are able to test new markets with smaller amounts. On the Reinvest24 platform, you can invest in real-estate-backed loans from Moldova with an LTV of 50%, starting with 100 EUR, and earn 15% per annum.
So far, Reinvest24 has 17 outstanding projects from Moldova. The majority of them are residential complexes, based in the capital city – Chisinau, but there is also a commercial project called "Albisoara", which has the concept of the first antivirus shopping center in the country.
If you want to follow the project updates, Reinvest24 is doing a great job in terms of giving constant updates about the whole development process. For example, in the "Insider updates" series, you will be able to find overviews about what currently happens in the construction fields and on what stage of the progress the project is.
To take it one step further, the CEO Tanel Orro usually goes and sees the investment properties himself and takes a short video overview about them. Unfortunately, the current times have not allowed him to travel to Moldova, but the platform has a local representative who is doing the supervision of construction and shares the updates from the fields. And here are some of the recently added video overviews:
Indeed, the investment climate in Moldova still presents significant challenges. Administrative and legal reforms are needed as well. Also, let's not forget about the economic consequences of COVID-19, which also hit the country hard. On the other hand, the country now faces meaningful changes and receives financial aid. Besides, it could be a bridge between Western and Eastern European markets. As for real estate investments, if they succeed in joining the European Union, the prices for properties will skyrocket and this could be an opportunity for those who are looking for investing in real estate.
What are your thoughts on Moldovan real estate?