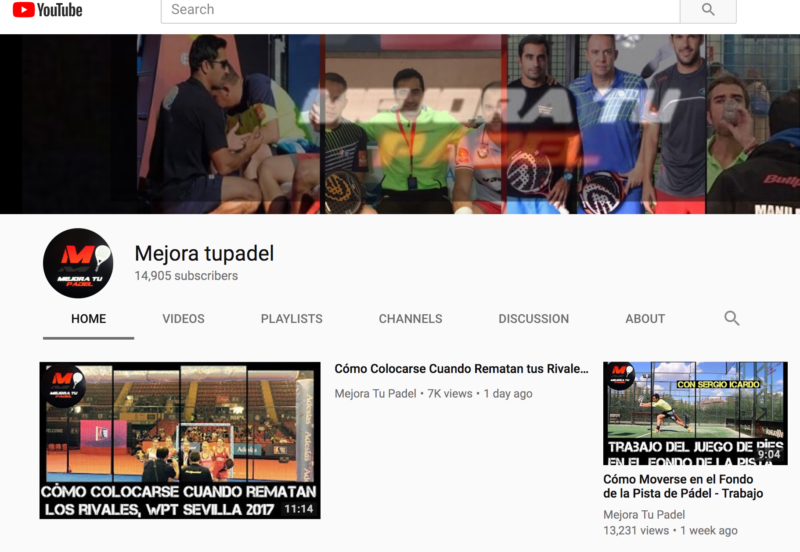 If you want to improve at padel, the best way to do so is to get a private padel coach and have regular lessons, play as many matches as you can and also make sure you are at peak fitness. However, when we're not training and resting our bodies, we can still continue improving at padel by watching matches and tutorials on YouTube.
Here are the best YouTube and Vimeo padel tutorial channels:
Rafa Galvez is a padel coach with many years of experience. He started off as a tennis coach and later moved on to padel. He has some excellent video analysis of WPT matches, as well as a very nice collection of fitness for padel videos.
Probably the hottest padel channel at the moment, Manu combines padel tips with shots from his life and that makes it very interesting. Manu is the coach of the popular Alejandra Salazar and also Gaby Reca.
Paquito Navarro needs no introduction, he is currently the no.1 ranked Spanish player in the World Padel Tour. He's also a very friendly and funny person, and this character shines through in his padel videos. In every video he teaches us a new shot. I find these videos to be really entertaining and great if you want to learn how to hit the ball from a padel champion.
Herbalife is one of the main sponsors of World Padel Tour and they have created a series of videos explaining the main padel shots. Rodrigo Ovide, one of the most well known padel coaches, is the one who explains the technique in these videos.
Miguel Sciorilli is another very well known coach, he was the trainer of padel number one Fernando Belasteguin for many years.
Another padel coach that has created a series of good videos to learn the basics in his YouTube channel.
Mauri Andrini teaches us the basic steps and positions in padel. The best thing about these videos is that they are in English and are very well produced.
This is probably the best padel channel in the English language. They also sell a padel course on Vimeo, so make sure you check this channel out if you don't understand Spanish.
I also found this hour long padel theory talk which is very interesting too, and again it's from the Padel Trainer guys and presented in English.
Unfortunately most padel YouTube tutorial videos are in Spanish, so you're out of luck if you can't understand a word. On the other hand, it's a great incentive for you to learn Spanish, which is a very useful language to know. As we have also seen, there are also some new channels that teach padel in English, and I'm sure we'll be seeing more channels in English as padel continues to expand throughout Europe and the United States.
Do you have any other favourite padel channels that I missed? Let me know in the comments section.