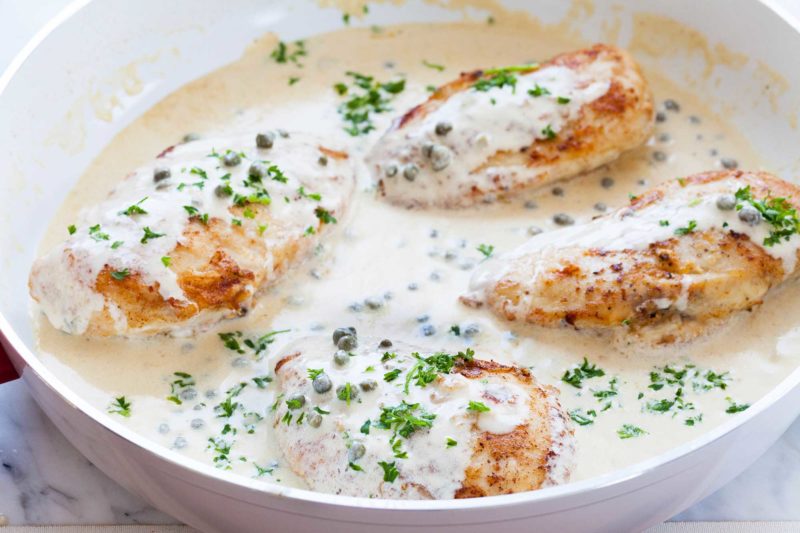 Machine used: Bosch Autocook Pro multi-cooker
Today's recipe is one of the easiest you can prepare and is ideal for those who are using the multicooker for the first time.
Ingredients (4 servings)
4 small chicken fillets (180g each)
300ml fresh cream
Half a handful of parsley
2 cloves of garlic
Salt and pepper
Olive oil
Directions
Start with the sauce by peeling and chopping the garlic. Wash the parsley and slice it up. Mix the garlic and the parsley with the cream and add some salt and pepper to the cream. I tend to use my judgment with salt and pepper, erring on the lesser side. You can always add more salt and pepper when the meal is ready if needed.
Spread enough olive oil to cover the bottom of the AutoCook's pot. Add salt and pepper to the chicken breasts and place them in the pot. Then select the Fry program and the Medium option and press the Start button.
Cook the chicken breasts for 6 minutes and then flip them over to cook the other side. Keep the AutoCook's top cover open at all times. Check the time left on the AutoCook's lid. When there are only 2 minutes left, add the cream sauce to the chicken breasts. Keep frying the chicken breasts together with the cream sauce until the AutoCook emits its end of program sound.
That's it! You can now serve the chicken breasts with an accompanying plate such as rice or pasta. Alternatively, if you are trying to restrict intake of grains, you can use vegetables. I slice up a tomato and add some broccoli to end up with a colorful and healthy dish that tastes great for lunch or dinner.