Crowdestor is a platform where investors can invest in business, real estate, transport and startup projects from just 50 Euro.
The platform has around 19,500 investors, with an advertised average interest rate of 19.69% over a total €55.5 million in raised funds so far.
My Results
I have personally achieved an average interest rate of 12.70% on the projects that have concluded. The big problem is that there are many projects that are in debt collection or have been delayed for many months now.
Of course, COVID played a big part, and I was quite unlucky with some of my bigger investments, given that two restaurants I had invested in never even had the chance to open to the public due to lockdowns and a slowdown in the catering industry. This caused them to default.
As I had mentioned in a previous version of this review, I have been very selective of which projects I invest in, as I never felt comfortable evaluating certain types of projects, which in my opinion were always wild bets. We're talking about movies, video games, castles, etc. In my opinion, not even Crowdestor was able to ever conduct any due diligence on these projects, and I'd never use a platform to invest in this type of project anyway. If anything, it would have to be an investment where I can go in directly and would have a direct line to the creators behind the projects.
In my previous update, I had expressed my worries about the delays and types of projects I was seeing on the platform, and I had been critical of other bloggers that went all out praising the platform for its incredible returns. I had also said that only time would tell whether this is a solid platform or not.
As we near the end of 2021, at the time of writing, I've seen enough to say that I don't feel confident at all about Crowdestor, so I would not recommend investing in any project on this platform.
Not enough projects have finalized and returned investor money. While the ones that did have complied with their promises, it is simply too early to say that this is a great platform worth investing more money into.
If you're looking for a quality Peer-to-Peer lending platform with good returns, check out my favorite European P2P lending platforms.
If you've already invested in Crowdestor, like me, I hope that the platform manages to turn things around, but I'm not counting on it.
What Crowdestor is and What it Offers
Crowdestor is an Estonian P2P lending platform connecting investors with businesses in need of extra funding.
You can start investing from 50 Euro, and the annual interest rates on offer are 9% and upwards.
Interestingly, the loan security holder for all investments is a separate company named Crowdestor Security Agent. The idea is that if Crowdestor the platform goes out of business or is attacked through litigation or other means, the loan holding would not be affected.
This is quite clumsily explained on their site, but it's an interesting innovation that investors should feel good about.
Crowdestor claims that it takes part in all projects offered, either as co-financiers or in the role of co-developer. It is not very clear to me what their skin-in-the-game is, however, and whether it varies from project to project.
For example, CROWDESTOR Energy Holding is managed by the CROWDESTOR CEO Janis Timma, where he is a large investor as well. The success of the fund directly affects the manager of the fund (Skin-in-the-game).
Having them put their money into each project would be good for the rest of the investors, while having them being co-developers is not really reassuring to me as an investor, as it may incentivize the platform to use the fact that they can easily obtain capital to go for riskier projects with no financial skin-in-the-game.
The two types of crowdfunding models offered by Crowdestor are the following:
Classic Crowdfunding
Raising capital for business from multiple investors by giving pledges or collateral on it. Most investors would refer to this as giving loans to businesses.
Equity Crowdfunding
Raising capital for business from multiple investors by selling parts of equity off.
Below you can view the major stats for investing activity on the platform over the years.
Projects Available
You will see a very wide range of projects available on this platform. There are platforms that concentrate on one type of business or type of loan, but Crowestor is one of those do-it-all platforms.
I am quite skeptical about the team being able to analyse all these different business types, so I have to assume that due diligence is on the weaker side.
On the other hand, it's true that when you analyze an investment opportunity there is little difference if you are looking at a fish factory or a furniture factory. The investment analysis is similar across all industries.
Of course, there are some specific projects where CROWDESTOR needs local knowledge input or an advisory and they commission that. But in the majority of cases the lawyers, financial and investment analysts can perform their job in the standard manner, as this is their job. I remain of the opinion that domain experience and knowledge is important, however, so given the choice, I would prefer to have a narrower range of projects.
In April 2020 CROWDESTOR has launched a new product – SME loans. This type of investment is solely financing the business loans of small and medium-sized businesses. The decision of whether to grant a loan or not is made completely automatically through the proprietary credit scoring model.
Having a look at the active projects in June 2020, I see:
a movie about the "Pussy Riot" band – 115K @ 26%
a restaurant in Riga – 20K @ 21%
a karting business – 20K @ 17%
a beverage distributor – 25K @ 17%
Dystopia Mobile Game with Connor McGreggor as a brand ambassador and a personage in the game- 400k @32%
Delivery of Medical Gloves- 800k @32%
WarHunt Movie- 158k and 153k @24%
I also see an indoor beach volleyball project asking for 15K @ 14%. This caught my eye as this project has been funding in phases on Crowdestor before, including a "final phase" a few months ago. The rationale for this new "final final phase" is that the COVID-19 scuppered plans and the business needs an extra push to get going. This is an excuse that many businesses are using to either delay their payments or to ask for more money. Some are doing it for legitimate reasons while others are taking advantage of the situation. It is impossible to know which one of the two this indoor volleyball business is.
Some of the advertised interest rates seem to be unsustainably high to me, but time will tell if Crowdestor will be able to pull it off or not.
You will also see that there are many repeated projects, meaning that they are raising money several times for the same project in phases. The suspicion here is that they would use the money from the latest raise to pay back an earlier raise and thus delay making the actual payment, perhaps until they are finally profitable. I've seen this sort of thing on Housers and it didn't end well at all.
Liquidity and Automation
Unfortunately, the Crowdestor platform has no auto-invest functionality but it does have a secondary market.
The Secondary Market was launched in October 2020. There is a possibility to filter offers through the Outstanding principal, interest rate, expected return, term, Price and Yield to Maturity.

Reaction to the P2P Lending Platform Scams
I'd like to share an email all investors got from the founder and CEO of Crowdestor in January as a reaction to other P2P lending platforms going out of business:
Dear investors,

Recent fraudulent and dishonourable activities carried out by several crowdfunding platforms has been a big shock for all involved in this industry, has caused huge losses to more than 15 000 investors and has seriously damaged the reputation and trust of crowdfunding in general.

We are receiving hundreds and hundreds of emails with questions:

Is CROWDESTOR financially stable? Is CROWDESTOR going to face "Bank-run"?
Is CROWDESTOR running business in a legitimate way? Can you prove that you are not "Ponzi"?
Are your Borrowers real companies or empty shells with no real operations?
Can you become more transparent?
Can I with withdraw funds before Loan term?

We have been trying to answer individually to each question by all means of communication to our furthest extent, but in case if some of you haven't received an answer yet, we hope this statement will help.

We want to inform our investors with the following.

About financial stability of CROWDESTOR

CROWDESTOR has never offered "Buy-Back with a penalty at any time",  "Crowdestor Care with Buy-Back" or other weird, but well know combinations of words. We haven't offered this as CROWDESTOR wouldn't have funds to cover such claims in full amount in a legally correct way even if 10% of investors would ask for early exit. CROWDESTOR earns 3-5% from raised funds, which is a market typical average. The money earned is then spent on the payroll, administrative, marketing costs, IT costs and further development. So it is simply to do the maths.  CROWDESTOR, as a platform, in essence, is a mediator between investors and borrowers, a marketplace.

So we are not experiencing increased/uncontrollable out-flow of capital and we are not going to face the so-called "Bank-run".

Is CROWDESTOR legit?

CROWDESTOR is not offering the Ponzi-type early exit by paying out investors funds which are raised from new investors.

Investors funds are held in a dedicated bank account, separate from CROWDESTOR operative funds. Since first day of operations CROWDESTOR bank account is opened in the LHV Bank, a reputable bank founded in 1999 with half-billion EUR assets on its balance sheet. We have AML procedures in place and are cooperating with a bank on any questions they ask on our operations.

CROWDESTOR transfers money to Borrowers, the Borrowers are real existing companies, funds are used for the Loan purpose. For each deal CROWDESTOR performs due diligence.

Investors see "real funds" in their investors account not virtual funds as it has been the case in other platforms noticed by a large number of investors in last 2 weeks.

We are eagerly waiting and ready to support development of ECSP regulation in EU level (European Crowdfunding Service Providers), which would decrease potential fraudulent and dishonest activities in crowdfunding industry. Our aim is to be amongst the first ones to receive it.

We are also ready to initiate an establishment of Association which would join members who share same goals.

What are we going to do next?

We understand that today, when an enormously huge number of people have been cheated and the whole industry is damaged, these seem just words from us.  But we will take great pains and do real actions to regain the reputation and trust in us and industry in general.

Currently we are working on a detailed action/development plan how CROWDESTOR in Year 2020 becomes more transparent, more open to investors, improves process standardization, becomes more automated etc. We will present action plan by end of February, beginning of March 2020. The plan will include topics regarding:

Transparency. We plan to disclose as much information as possible in following areas:

Borrowers. More financial information, info on management, contacts, registration documents. All possible information to extent not disclosing confidential information on borrowers.
Partners. We plan to show you with that partners do we work on due diligence, legal, banks, KYC and all other possible partners.
Team. To make our team more public – shareholders and management will be show on our website, with detailed CVs, experience and links to LinkedIn.
Decision making. Creating and presenting an understandable and transparent procedure on how we make our due diligence and finally a decision on what project to put next.

Technology.

How we will automate due diligence. We see great potential in maximally automating the decision making of borrowers risk assessment.
How we will implement united risk assessment/scoring.

Growth

We have our growth plan and on how we see CROWDESTOR in future. Plans consider expansion, process standardization, strengthening the team, following and aligning to regulation.

Investors meeting

We are going to organize webinars with our investors to answer their questions. More information will follow.
We plan to organize twice per year Investors-Borrowers meetings in cities across Europe giving an opportunity for investors to meet Borrowers and CROWDESTOR in real life, socializing, getting more information about them and CROWDESTOR. More information will follow.

Early exit option

As mentioned previously, CROWDESTOR does not provide Early exit option.

However, during last 2 weeks we receive numerous emails with questions if it is possible to exit.

In the light of recent shocking news, we understand and respect this. We have agreed with several investors who would consider to buy-out a part of other investors loan with a discount in projects which we have funded.

This will not be a buy-out made by CROWDESTOR. This will be a buy-out from other investor/investors, so it will not make any burden or profit to CROWDESTOR books.

In couple of days we will establish a procedure how to submit an application for an Early exit and we will follow up with more explanation.

Last but not least

We invite prospective honourable investors to be vigilant and diligent before committing their financial resources to any platform and please pay attention to any small details – is the management presented in webpage, who are the real decision makers, what is the background of owners and management, do they had real, proved business before, do you know who are the beneficial owners of platform, where is the legal and factual address of platform, where does the platform has bank account, did it had interruption in sending out the money, etc, etc.

29.01.2019

Best regards
Janis Timma
Founder & CEO of CROWDESTOR
I'm glad to see Mr. Timma take preemptive action and keep his investors' concerns in mind. That's definitely a plus point. Hopefully, Crowdestor will keep to their word and deliver what they promise within the timeframe they mention (end of February/beginning of March).
I'd still love to see these platforms use better English to communicate, especially for a statement coming from the CEO. Perhaps this is just a pet peeve of mine, but it's an addition trust hurdle for me to go over when I read website or statement copy that features obvious grammatical mistakes. I understand that the teams behind most of the Baltic platforms are not native English speakers, but an editor who checks and polishes copy doesn't cost an arm and a leg these days, and it would make the platforms look so much better.
While the events of Kuetzal and Envestio were quite unfortunate, perhaps the silver lining will be that all other platforms will now step up their game and become more transparent and investor-centric.
Early Exit option implemented
As of March 2020, Crowdestor have kept to their promise about implementing the Early Exit option. Here's the email I received as an investor, notifying me of the new feature.
Dear investors,

At the end of January, when our industry experienced a reputational damage, we received a lot of requests to allow exit from projects before the end of the loan term. We understand and respect such position so in our statement we promised to provide you a provisional Early Exit option until a fully operational secondary market is being developed.

We would like to announce you that from today Early Exit option for several of our projects is available.

This will not be a buy-out by third party investors. This will be a buy-out carried out by the Borrowers themselves on CROWDESTOR, who will also be the ones determining the amount of funds meant for the buy-out and the Discount Rate. Not all Borrowers are ready to offer such an option as not all have funds available for such an unexpected procedure.

We have provided the information about the Early Exit option on your CROWDESTOR profiles, where you can familiarize yourself with the procedure and the list of Projects available for Early Exit. We will inform if/when a new Borrower will join the Early Exit procedure.

Those investors who submit the Early Exit application will be bought out by Borrowers if Borrower will have sufficient funds for such transaction. CROWDESTOR will earn a fee from each Early Exit transction. Investors who will not submit Early Exit application will remain as Lenders on the same conditions as previously. Borrowers/companies who will buyout part of loans will remain with lower amount of liabilities as a result the financial solvency will not decrease for the Borrower.

You will have a 30-day period to carefully consider if you wish to proceed with the Early Exit option.

We kindly ask you to reconsider the option carefully and thoroughly before engaging, do not make a hasty decision, and in case of any questions, we are, of course, here to answer them.
Coronavirus update
In March, we received another update from Crowdestor, this time about the Coronavirus situation:
Dear investors,

Thank you all for your kind and understanding responses, as well as, for placing your concerns, questions and doubts. We have gathered and analysed all the information and would also like to come up with more explanations in order to give more clarification and avoid any misunderstandings.

1. Legal aspect

Starting from mid-March 2020, several EU countries declared a state of emergency and restricted the flow of people. This not only led to proclaim decisions for restricting the physical spread of the virus, but also initiated to provide immediate business support and mitigate its potential consequences.

On March 20, 2020 in Latvia a law has been implemented on The Management of State Threats and Their Consequences in Connection With The Spread of Covid-19 (hereinafter – Crisis law) which introduces temporary measures in several areas to mitigate the possible economic consequences of stabilizing the situation, which came into force from the day when emergency was declared in Latvia – 12.03.2020.

One of the ways in which the legislation seeks to protect businesses and individuals affected by the crisis is by preventing immediate debt recovery processes. The Crisis Law introduces a new order in debt recovery procedure and litigation.

The Crisis Law corresponds for insolvency proceedings prohibiting creditors from filing an application with the court for the insolvency of a debtor until September 1, 2020.

The Crisis Law also foresees new deadlines after which the right to engage in debt recovery takes effect. An application for enforcement of an obligation or the decision on the use of the commercial lien can only be filed after 60 more days are delayed. If contract allows to submit an application of enforcement of an obligation after 30 days are delayed, The Crisis Law prolongs this term to a total delay of 90 days.

Similar regulation in regards to business support and protection is being implemented in other EU countries.

As 80% of Loans are issued in Latvia, followed with loans in Germany, UK, Georgia, etc., we believe we have taken the best possible action forward to correspond with the actual situation in market.

2. CROWDESTOR recovery period

With trying to force payments on struggling businesses right now or defaulting any of the projects it would still be 30 day period waiting from the borrower-investor contract agreement plus the 60 day period enforced by the law, which translates Recovery period. Therefore, patience, continuous communication with Borrowers and trust in the way forward is honestly the best action plan right now. Recovery period applies to all our borrowers.

We respectably would like to address you again with the seriousness of the current state, as it escalates unpredictably and with every passing day we are doing our best to respond to the circumstances, but we all need to recognize that this situation is unprecedented and we cannot draw from past experienced crisis to the ongoing situation in the world right now.

With this in mind, we once again explain that we apply the Recovery period for all our borrowers, as from the moment Crisis act states – 12.03.2020. This means no interest or principal payments during this period will be enforced. Nonetheless, any delayed payments before this period will be enforced.

3. We will monitor the situation and inform you instantly

Some borrowers might be hit less and are in a more confident situation than others and some might be able to manage their payments as consistent, which potentially is true. However, as the situation is unclear right now, the same policy applies to all, until we have received information to state otherwise. We are in persistent communication with all our borrowers and we monitor every single project individually. In case they will be ready to proceed with payments or we will see them as eligible to pay, we will very straight forward invite them to do so. We ask you to keep your trust in our diligence in assessing the situation appropriately.

4. We act in best interest of investors, borrowers and CROWDESTOR

Answering to investors that initiate that we protect only borrowers or we are opening doors to other creditors, adapting the Recovery period, no, we do not protect borrowers nor open doors to others. We have limited legal instruments at the moment and so does other creditors have, but even if we had legal rights to default a project, a defaulting scenario today for many of borrowers will not benefit anyone, as current market conditions are nonexistent or extremely low at best.

5. CROWDESTOR will recover, so will our Investors

More importantly we would like to stress out that following the worldwide situation developing every day, it would be indecent and grossly misleading to tell you that business is running as usual, however with the measures that we are taking now at CROWDESTOR, we are confident in our business and our people to outlive this turbulence and come out even stronger.

This is the time we also utilize to further continue working on our growth and development plans as we have promised earlier in the year. We will follow with news in following one or two weeks.

We want to encourage you to think more of your health and wellbeing these days. Yes, there are some missing days on payment scheme but we will make sure it will turn around in the longer term.

P2B investments are still the most sustainable and meaningful investment opportunity on the market and states will support the businesses segment as it truly adds value to the society, so please do not miss out to be a part of that even in times like these.

Best regards
Janis Timma
CEO
CROWDESTOR
I understand the position of Crowdestor and the actions they are taking to protect themselves and everyone involved including investors and borrowers. I am not impressed with the level of English from the company's CEO Mr Timma.
Surely they can proofread and get a native speaker to polish up such important communications. When I see things like this my trust in a platform is slightly eroded. I know people will not agree with judging based on the level of English, but to me that is one important factor since I highly value how well the management of a platform can communicate with investors.
In any case, there is not much to do but wait things out. I retain my investments in Crowdestor and hopefully once the Coronavirus scare is over things will recover nicely.
Project Details
I would say that the level of information provided on new projects is sufficient, although there is room for improvement.
What I definitely find lacking, however, is the non-existence of any updates on projects that we investors have invested in. For example, I invested in the Kabuki restaurant that was scheduled to open in the new Salaris shopping complex in Moscow. A quick search in Google yields no results, and while on Google Maps I can see that Salaris is open and running, there is no mention of a Kabuki restaurant there.
I would, therefore, have hoped to find reassuring updates on Crowdestor's project page, but there is absolutely nothing to inform investors of the progress or lack thereof for this project.
As an update, in October 2020 CROWDESTOR redesign the investor's cabinet and thus the dashboard is now improved and includes updates on the projects that we've invested in.
Investor Communications
Out of all the lending platforms, Crowdestor are one of the most active in communicating the latest updates about the platform. Janis Timma, the CEO, frequently sends emails to all investors about Crowdestor's plans for the future or internal going-ons.
Most communications could use a little proofreading, and from that aspect things look a bit unprofessional, but it's not the first time nor will it be the last that I've found several grammatical and spelling errors in the communications from Baltic platforms. English is not their native language so they struggle sometimes. However, a proofreader doesn't cost an arm and a leg these days and it would make things look much more professional in my opinion.
Team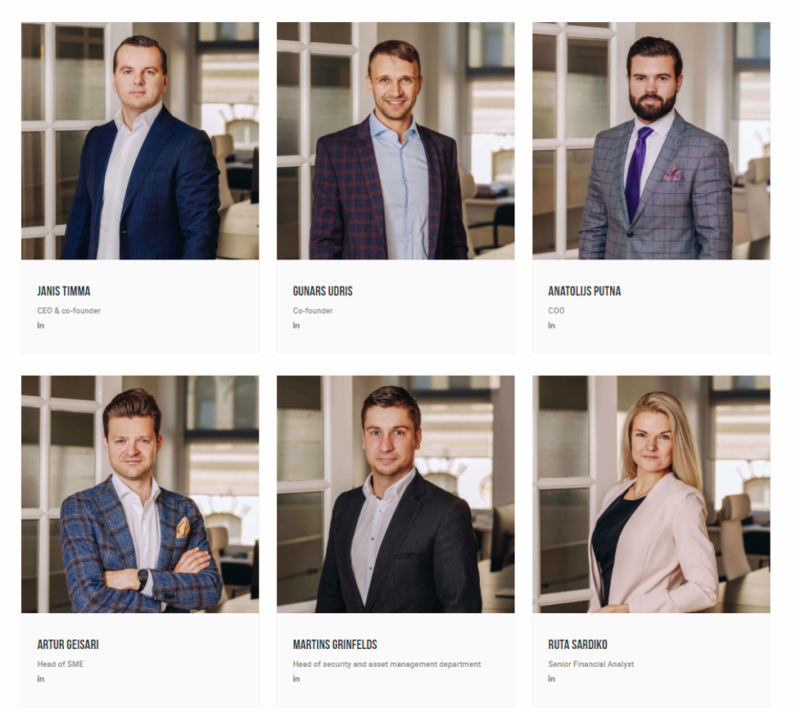 The Crowdestor team is shown on their website, although there is not much information about each person apart from a photo and their position. A nice touch is that they include the personal email address of each person in the management team. This shows that they are open to dialogue with investors and other stakeholders. I haven't personally emailed any of their people as I never felt the need to do so, so I'm not sure how they respond, but nevertheless it's a nice and unique touch.
Janis Timma is clearly the driver of the business and he is the person that you are most likely to come across in social media or public announcements. He is one of the two co-founders of Crowdestor, the other being Gunars Udris.
Of some concern is the fact that the team seems to be quite young; I don't see anyone above the age of 40, judging by their photos. This is not necessarily a negative thing, but I personally get some reassurance when investing in a financial platform that has seasoned people in the team. Young and fresh people can be very motivated to grow a business and communicate with investors, but I've found that there is no substitute for experience, especially in the financial sector.
At the end of 2020 CROWDESTOR has appointed the new COO Anatolijs Putna. Anatolijs has joined CROWDESTOR in August 2020 as a Product Owner. During the first months, Mr. Putnja has proven himself a reliable professional with actionable plans and a great sense of what clients really need. Since Mr. Putna has come on board, CROWDESTOR delivered several improvements that many investors were longing for – an improved investor's dashboard, the launch of the long-awaited Secondary Market, an enhanced website, and many more other seamless but vital changes. Anatolijs Putna has shown skillful team management, facilitating effective collaboration between IT and business sides of the business. The go-to attitude, swift delivery of promised improvements, and exceptional communication skills with investors have made Anatolijs an obvious candidate for the COO position.
Gunars Udris, who until then held this position, has taken the COO position at CROWDESTOR Pay. In August 2020, CROWDESTOR has acquired a payment institution with a license in the Czech Republic intending to develop an integrated payments provider. CROWDESTOR Pay is a strategic project that CROWDESTOR decided to pursue to establish an ecosystem serving both investors and borrowers and becoming a leading crowdfunding platform in Europe. Mr. Udris will work towards smooth rebranding and integration of the acquired payments institution into the CROWDESTOR infrastructure.
Support
You can reach Crowdestor via email, and I've personally had no problems communicating with them. As I mentioned earlier, Crowdestor's communication is one of their strong points, and as investors we've really had the chance to appreciate this fact due to the way they handled the COVID-19 crisis of 2020.
Equity Campaign
The Crowdestor team came up with an innovative way of dealing with the COVID-19 cash crunch: they launched an equity campaign.
Let me share the email we received as investors:
Dear investors,

Amidst turbulence in crowdfunding markets, platforms shutting down and COVID-19 related issues. Yes, these times are challenging for everyone – for investors, businesses, platforms and regulators.  But it is also the times that crystalize sustainable and meaningful business models from companies after fast profit and low hanging fruits.

Even at current situation, we see an immense potential in crowdfunding, especially in SME/business crowdfunding which adds value to economy, creates jobs, and brings benefit to society. SMEs are often called as the backbone of the European economy.

We have been working hard on this for the past few months. And without further ado we present you our plan.

In 4-5 years, CROWDESTOR aims to become TOP-3 crowdfunding platform in EU operating in SME/business sector.

To achieve this ambitious plan CROWDESTOR is carrying out such capital intensive investments in automatization solutions as implementation of financial data aggregation, OCR technologies, automated scoring and full automation of underwriting processes. It will allow us to make assessment of thousands of companies within minutes, business decisions will be made much faster, the business model of CROWDESTOR will become scalable, investors will have guidelines and clear understanding of our decision making.

Together with strengthening the core team and hiring additional country managers in target countries, CROWDESTOR will be expanding its operations to 5 new EU countries in 2020, and another 5-7 countries in 2021.

It is a 10 billion EUR market for CROWDESTOR to conquer if 1% from the total of 25 million SMEs in Europe is funded with a 40'000 EUR loan. And CROWDESTOR is planning to become the financial bridge between these businesses and our investors.

In order to fully carry out our strategy, we are offering investors to participate in the growth and development of CROWDESTOR by investing in the CROWDESTOR Equity Campaign and becoming one of CROWDESTOR shareholders, with a guaranteed minimum return of 26% per year, potentially multiplying capital x30 during 4-5 years.

Only together crowdfunding works, only together we can build a better CROWDESTOR, only together, we can build a better world. A world where the 25 million SMEs in EU could have a better access to funding, and investors would gain secure and diversified income through meaningful and sustainable business projects.

When the countdown ends, you will have access to our 50-page whitepaper, which in details will outline our business plan and vision.

See you all on 10.04.2020

Best regards,
Janis Timma
CEO
CROWDESTOR
While I find the wording about a guaranteed minimum return of 26% per year a bit out of place and hard to believe, Crowdestor did go on to have a tremendously successful equity crowdfunding campaign. Remember that they pulled this off right in the middle of the COVID-19 crisis, so hats off to them for their success.
They were able to raise 400,000 EUR through two fundraising campaigns in a very short time. I didn't invest in this raise as it felt too risky for my appetite, however, I have to say that as an investor in several projects on this platform, it is very positive and welcome news as I now know that the platform is not at risk to go out of business anytime soon.
Until the end of 2020 CROWDESTOR has launched another 5 equity campaigns raising a total of 1,124,478 EUR in 7 equity campaigns. The demand for the equity campaigns was enormous. Some rounds have sold out in less than 10 minutes after launch. The great interest from investors indicates the trust they have for the future of CROWDESTOR. The 7th equity campaign was the final round.
Besides that, CROWDESTOR has announced the acquisition pf the licensed payment institution in August 2020. To do so, "CROWDESTOR Pay" campaigns were launched and raised 609,814 EUR in two rounds. More about the payment institution can be found in their blog here.
With the proceeds of the fundraise, CROWDESTOR has recruited two financial analysts, a business product owner (promoted to COO), marketing and PR professionals, legal professionals, and debt collection specialists.
The new team has started developing automation for SME lending and scoring process. Development includes connections to worldwide renowned data providers, developing scoring know-how and implementing risk assessment automation.
So far, Crowdestor has successfully onboarded 17 SME projects who have collected all necessary funding for their growth. Part of the loans was funded directly via a loan mechanism, with the rest being bought as claim rights.
Crowdestor Alternatives
There are plenty of alternatives to Crowdestor, among them platforms like Mintos, Peerberry and Swaper. You can have a look at the top P2P lending platforms and decide for yourself which one you like best.
Final Thoughts
I am no longer recommending investing with Crowdestor. At this point, I have lost trust in the management of this platform and their abilities to deliver results for investors. The investments proposed have been way too risky and this led to many defaults. There are simply better ways to invest your money, even within the P2P space itself.
Do you invest with Crowdestor? What has your experience been like? 
Summary
Crowdestor is a P2P lending platform where I've been able to obtain above 17% returns.
Time will tell if the projects will all be successful or not. Before fully recommending this platform I need to see more of my projects finalise and provide the promised returns.
Pros
Interesting projects
High promised returns
Frequent and detailed communication from the CEO
Cons
Needs more time to prove itself
Doubts on whether the team can conduct due diligence on such diverse projects.
Team might lack experience