Spanish real estate is experiencing explosive growth at the moment and is a great investment if you have cash parked at the bank.
The easiest way to invest in Spanish real estate, starting from only €50, is to use the Housers platform. It is the largest online real-estate crowdfunding platform in Southern Europe and allows you to invest in property from any part of the world.
When investing with Housers, your investment is backed by a tangible asset ("brick and mortar"), and hence it is considered a much safer investment than, say, cryptocurrencies. That's not to say that you shouldn't invest in cryptocurrencies, but real estate investment is definitely a lower risk investment.
When investing at Housers, you will earn monthly rent and also benefit from capital gains. Properties in southern Europe are currently rapidly rising in value.
You can easily diversify your portfolio. Compare investing in tens or hundreds of properties all over Europe to buying one apartment in your home country. You're spreading your risk much better if you use Housers.
A great advantage is that all this is hassle free. Everything relating to the property is taken care of. You won't receive any calls from tenants asking to fix their broken pipes or have to fight to collect your rent.
The Spanish and Italian markets are recovering very rapidly and are projected to continue rising in the next few years at least. The rental yields in both markets are among the highest in Europe.
When investing in property, you also need to pay more attention to cities rather than countries as a whole. That's why Housers focuses on high-growth and successful cities such as Madrid, Barcelona and Milan.
Housers itself as a platform has achieved tremendous success. There are more than 50,000 registered users and more than 24 million euros have flowed into the platform to fund properties. The average annual yield is 4%.
Exploring one of my projects
To illustrate how Housers works, let me take you through one of the projects I invested in.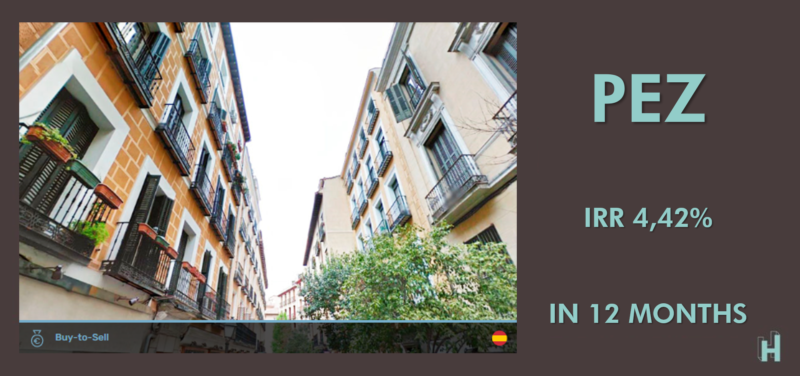 We'll be considering the project named Pez; a buy-to-sell opportunity in Madrid. In this case, the legal form of the investment was a loan to the developer.
Here's how the project timeline went:
I invested on 22/06/17, the day the funding period started.
The project was fully financed on 11/07/17.
The property was acquired on 02/10/17.
Refurbishment works started on 20/10/17 and completed 20/02/18.
The project was finally sold on 05/07/18.
Project fully finalized on 25/07/18 and money sent to investors.
The visual information provided for the project was actually quite scant. As investors, we only got a few standard photos of the area where the apartment is located, the floor plans and two renders of how the refurbished apartment would look like.

We did, however, get some PDFs about the project which gave us more insight into the strategy:
Based on that information I decided to invest in the project, although I would have liked some more photos and plans for the project.
A bit more than a year later, the project was sold.
Once the project was sold, there was some more information available about the internals of the project.
Average investment per investor: 213.65€
Number of investors: 412
Pez was a buy-to-sell opportunity with an expected return of 6,59% in 12 months, that ended with an annualized IRR of 4,42%. The yield is the same 4,42% since the project took 12 months from start to finish. 
Net Yield from the Sale: Represents the dividends that the investor will receive derived from the sale. (12 months)
IRR: Internal rate of annualized return of the investor. It's the interest rate or yield offered by this investment. It serves to evaluate the profitability of the project and compare it with other types of investment in the market.
A few days after the project was sold, I received capital and interest in my Housers account, closing off a successful investment.
From the interest paid by the developer, a 10% Housers commission was deducted along with 19% for IRPF (Spanish tax). The net interest was then sent to my account.
Have you invested with Housers yet?
Do you have any questions about Housers or property crowdfunding? Let me know in the comments section and I'll do my best to answer from my experience.