I find the entire field of crypto assets incredibly fascinating as it really is one deep rabbit hole. One of the aspects that have captured the imagination of millions worldwide is crypto trading. We've all seen stories of young people who found incredible riches through trading cryptocurrencies, although there undoubtedly are many (less publicized) failures too.
Trading can be a brutal job though, requiring long hours of looking at screens and usually inflicting a significant emotional toll. I was looking into how things can be simplified and structured when I came across Coinrule. I eventually interviewed the founders on the Mastermind.fm podcast.
I ended up going down the crypto trading bot rabbit hole and became fascinated by how they work.
Here are the best trading bot services available today:
In today's world, more than half of cryptocurrency trading volume is driven by complex trading bots. Yet, 75% of all hobbyist traders cannot write a single line of code. Coinrule empowers regular traders to compete with professional algorithmic traders and Hedge funds: a smart assistant to build automated rules for crypto exchanges without having to code.
Clearly, bots can be of great help with crypto trading.
Bots use technical indicators and tools to study market prices, charts, trends and other factors to derive optimum conditions for entry or exit in a trade. The algorithm passes the order for a trade to a cryptocurrency exchange platform through application processing interface (API), which acts as a link between the exchange and algorithm. Additionally, bots facilitate automated trading in 24/7 operational cryptocurrency markets at a much faster scale than humanly possible.
Furthermore, bots can be leveraged in multiple ways to facilitate trading in crypto markets. The functionalities of cryptocurrency robots extend far beyond automated cryptocurrency trading. Novice traders, as well as experts, can access crypto bots for multiple purposes that can facilitate a seamless, effective and smooth trading experience.
Various features of cryptocurrency bots allow accessing them as per a trader's advantage. Here are key advantages of using a bot for trading in digital currencies.
Automated trading 
otentially profitable trades are calculated using statistical algorithms and are automatically executed. A beginner unfamiliar with cryptocurrency trading can use a robot to engage in the markets.
Manual trades 
hey can also be used for executing trades based on manual trading parameters. An expert trader can specify the conditions at which one wants to enter or exit a trade. By monitoring the markets 24/7, the bot will automatically execute the order as soon as the precise conditions are met.
Mirror trading 
ots are also built such that they mirror the pattern of successful traders. They will monitor their trading signals and templates to increase chances for profitable trades.
Increased speed 
utobots function at a much faster pace than a human. Additionally, they can execute multiple trades within seconds. Instead of navigating between various interfaces, bots facilitate engaging in numerous trades with an increased speed.
Backtesting 
ryptocurrency bots allow traders to backtest and thereby perfect their trading strategy. A trader can test the present cryptocurrency trading strategy against past historical data to gauge its performance.
Price volatility 
olatility in digital currency prices is a common phenomenon in the crypto markets. A skilled trader can use bots to open long or short positions and profit even in downtrending markets.
Advanced features arbitrage trading, design a manual trading strategy, templates for changing market conditions, and much more.
n expert trader can further use bots to perform advanced trading operations including 
Choosing a trading bot service provider
The rising popularity of cryptocurrency bots has subsequently added new service providers facilitating automated cryptocurrency trading. However, before selecting a trading bot service provider, these are the things that need to be taken into consideration.
Trust 
y seeking the service of a third-party cryptocurrency autobot, a trader hands over the control over their cryptocurrency funds. It is necessary that the service provider is a reputable platform offering legit services.
Security 
 trading bot is connected to a cryptocurrency exchange through an API. Any attack on the API of the service provider may result in the loss of an individual's digital assets.
Features 
ith a third-party trading bot, a trader can only access the features available on the platform. It is not possible to add customizations as the bot is already coded in accordance with the service provider.
Fees 
ost of the reputable cryptocurrency robots charge a monthly or yearly charge to access prominent and advanced features of their services.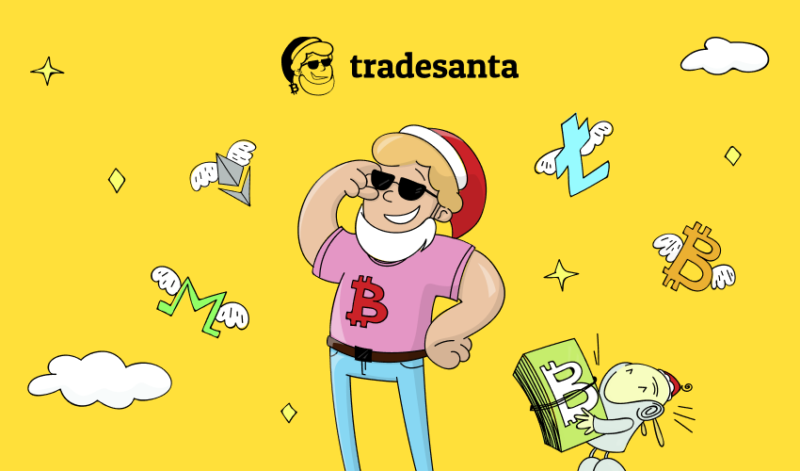 TradeSanta is an automated trading platform providing tools to execute different trading strategies without constant monitoring of the market. TradeSanta has been live since 2018 and is beloved by thousands of traders worldwide thanks to its friendly user interface and wide customization opportunities.
TradeSanta is available across the most popular exchanges. Users can connect Binance, HitBTC, Huobi and other prominent trading platforms and set up bots from templates or from scratch.
Read more: My full review of TradeSanta
The platform offers two strategies: Grid and DCA. The underlying principle for both bots is just the same: once the price goes to the opposite direction, the bot will place an extra order to create more opportunities for profit by averaging the price. The main difference is in the Take Profit order – the order that sells or buys back the currency and brings profit. 
Bots could be customized with advanced tools such as Stop Loss or Trailing Trake Profit.
TradeSanta incorporates several trading strategies. On top of that it offers manual trading terminal, virtual trading bots and a solution to buy or sell big amounts of currency.
Fee: Starting from $14/month with 3-day free trial.
Create your first bot with TradeSanta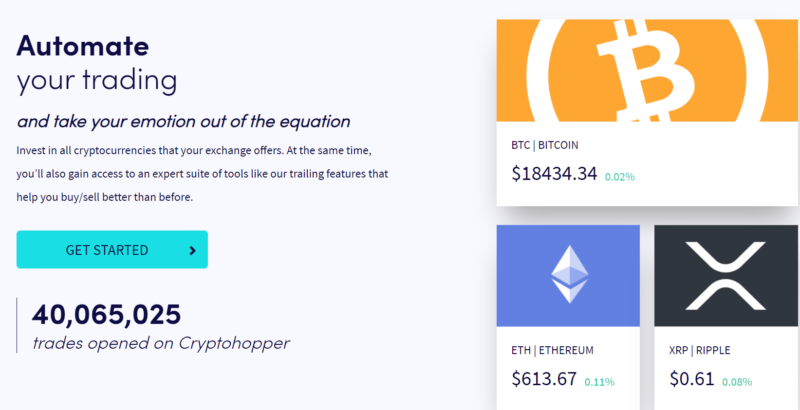 Cryptohopper is a huge player in the automated Bitcoin trading scene. The main concept of the platform is that you get to implement your own trading strategies into the bot. That is to say, you will be required to create the trading conditions that the bot is tasked with implementing.
In its most basic form, this might be to place a buy order every time Bitcoin increases by more than 5% in a 12-hour period. Although this might sound somewhat complex, the Cryptohopper platform is designed for traders of all shapes and sizes. This is because the actual design process is based on a drop-and-drag format.
As such, you don't need to have any experience in coding or programming. What I also like is that Cryptohopper offers backtesting. This simply means that your personal bot can be tested out in live market conditions. If you find that the bot isn't quite performing as you had hoped, then you can go back to the drawing board and make the required tweaks.
If the thought of having to create your own bot conditions is daunting, Cryptohopper also has a marketplace. This is where people can sell the bots that they have created themselves. In turn, if you find a top-performing bot that you like the look of, it's simply a case of buying it and allowing it to start trading for you.
In terms of the specifics, you can link your automated bot up to heaps of popular cryptocurrency exchanges. This includes the likes of Binance, Coinbase Pro, Bitfinex, Poloniex, Bittrex, and KuCoin.
There are four packages to choose from at Cryptohopper. This ranges from a basic and restrictive free plan, to a plan that permits up to 500 positions at any given time across 75 different cryptocurrencies.
Open an account on Cryptohopper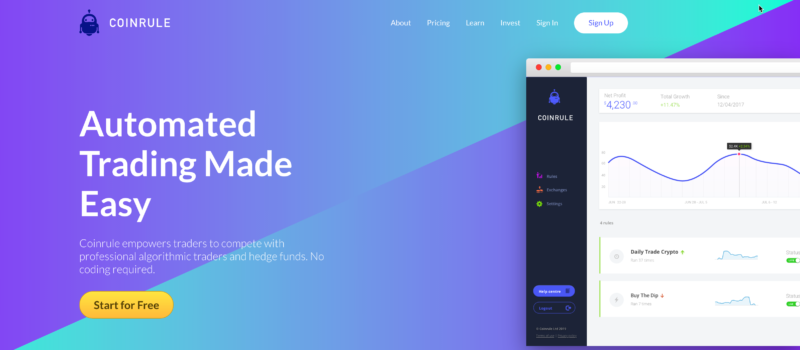 Coinrule is a beginner-friendly and safe trading platform enabling you to send automated trading instructions to your favorite exchanges, including Binance, Kraken and Coinbase, etc. allowing you to compete with professional Algo Traders and Hedge Funds.
Between hyper-financialization and the growth of automation, trading and investments are becoming more and more popular; not just with millennials, but with a growing older population too, who want to take control of their finances and see their investments work for them.
However, the relative knowledge of professionals and hobbyist investors is very different, and therefore so is the access to opportunities.
Coinrule empowers regular people, with little investment knowledge, to compete with professional investors by automating trade investments, without having to learn a single line of code.
By using Coinrule you can design your own cryptocurrency strategy – or, put simply – a trading rule – and test it in different market conditions. You can tweak your strategy until you are comfortable, then press play and the rule goes live into the market.
Coinrule is built specifically for mass-market users: people less familiar with technical terms and financial language. It is both educational and gamified, and aims to level the playing field between hedge funds and "normal" people.
Coinrule connects to the 12 best digital investment platforms globally and safely runs on top of them. Users choose from four available plans: free, hobbyist, trader and pro plans.

3Commas is a cryptocurrency trading platform with the goal of helping users build automated trading bots.
This platform works with most major cryptocurrency exchanges and includes features such as dollar-cost averaging bots, portfolios, and more.
3Commas is relatively intuitive to use, making it a good option for crypto traders trying out trading bots for the first time. In addition, 3Commas works with most major cryptocurrency exchanges and offers a spot trading interface that adds risk management tools to manual trades.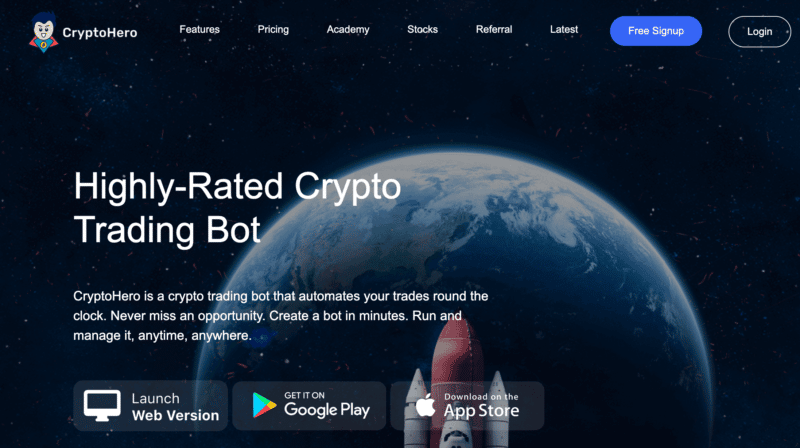 CryptoHero is a free cryptocurrency trading bot powered by AI that is simple and intuitive for crypto beginners to set up and run. This smart trading bot allows you to automate trades right from your phone easily for free. No coding skills needed.
Bots can be configured with popular technical indicators such as Bollinger Band or Relative Strength Index. Enter a trade with one, exit with another, all without writing a single line of code. Besides, CryptoHero bots include presets for popular technical indicators, and allow multiple rules and triggers to work together.
For beginners, paper trade functions allow you to test bot trading using real-time data without risking actual cryptocurrencies. You can also backtest your bots with historical data before deploying. And, get an indicative performance of your trading bot based on actual data with different trading frequency, against different time periods of up to a year.
CryptoHero's most popular bots are readily available to set up in just one click with their discovery feature.
Price:
Basic plan: Free
Premium plan: $13.99/monthly

Shrimpy is the social trading platform for cryptocurrency. It's a simple way to manage your portfolio by automating your trading strategy.
Sign up to Shrimpy trading bot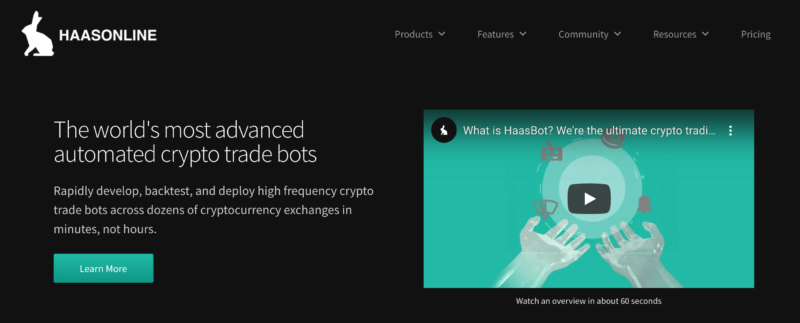 HaasOnline is another option on the table if you are interested in automated Bitcoin bots. The platform requires you to download software onto your desktop device. You can then choose from a variety of bots – each of which will have its own strategy and risk profile.
Much like Cryptohopper, HaasOnline can be connected to heaps of leading exchanges. If you're an advanced user with experience in coding, HaasOnline bots can be fully adapted to your own trading style.
In terms of pricing, HaasOnline offers three packages. The cheapest will cost you 0.031 BTC per year – and this includes 10 active bots alongside heaps of other features. The most costly plan will set you back 0.088 BTC per year, and this offers unlimited bots, indicators, and the developer license itself.
I'm not a great fan of trading myself, but I can certainly see how bots can be useful. Rather than use a common technical trading strategy, I would probably try to program my own personal long-term goals with cryptos, so that the bot can follow them 24/7 while I don't have to be on things during my workday.
Have you used bots? How have your strategies performed?