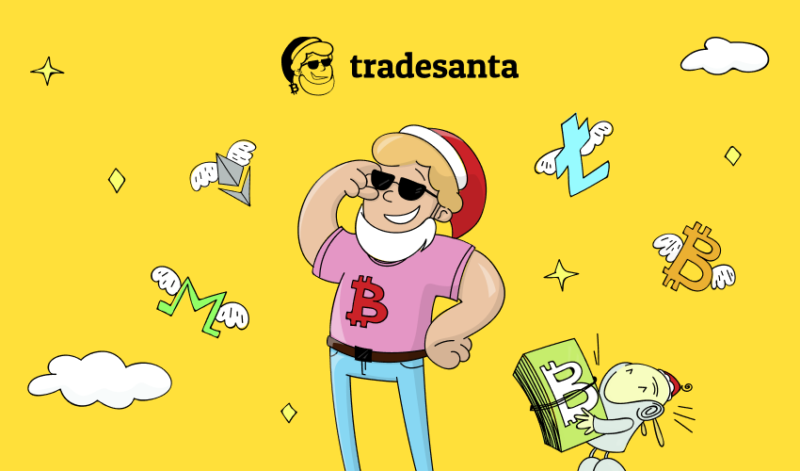 The cryptocurrency market is notorious for its volatility. On the one hand, it provides a lot of opportunities for cryptocurrency traders. On the other hand, it increases the trading risks involved. Unlike traditional markets, the cryptocurrency market never sleeps and operates 24/7.
So how can you make the most out of the volatility that the crypto market offers without losing a good night's sleep?
The perfect solution for traders to take advantage of crypto market fluctuations is to set up an automated trading robot.
About TradeSanta
TradeSanta is a trading robots software being both friendly to beginners and providing advanced tools for pro traders. TradeSanta has been operating since 2018. The service provides extensive documentation and video tutorials to facilitate the onboarding into automated trading.
Customer Support is always available to answer any questions and onboard into the automated trading world.
How It Works
The first step towards creating your first bot is connecting the account of one of the supported exchanges to TradeSanta via the API keys.
After that, all you have to do is choose a pair to trade, decide on a strategy (do you think the price will go up or down?), and some parameters (How many times do you want your bot to Take profit?). The bot will place the first order and then a take-profit order that will bring you the desired earnings.
TradeSanta's bot also allows you to place some extra orders in case the trade goes south to take profit even if the market goes contrary to your bot's direction.
TradeSanta Features
Supports all biggest exchanges such as Binance, Huobi, Okex, and HitBTC
Grid and DCA strategies: taking profit one time for all orders or several times for each order
Stop Loss, Trailing Stop Loss, and Trailing Take Profit to manage risks
Virtual trading to test the strategy against the real market conditions
Manual trading on multiple exchanges in one interface
Binance Futures trading to trade with leverage
What You Have To Know To Start Automated Trading
First of all, automated trading is all about automating as it follows from the title. First of all, you have to have a trading strategy to automate. If you haven't decided on your trading strategy yet, make sure to take some time and answer the following questions:
What coins will you trade: stable coins, altcoins, or just BTC?
How much currency will you be trading?
What exchange will you trade on?
What's your trading style: consistent small profits or playing big?
Automated trading is a useful tool to save your time and let the robot take care of monitoring the market. However, some help will be needed from your side for the bot to make some profit.
How To Set Up A Bot
You can use one of the preset templates provided by TradeSanta or set up a bot from Scratch.
1. Choose one of the connected exchanges, the pair, and the expected price direction. Once you've selected the pair, you will see the price dynamics, the coin balance, and 24h volatility to help you decide if you want to trade this pair.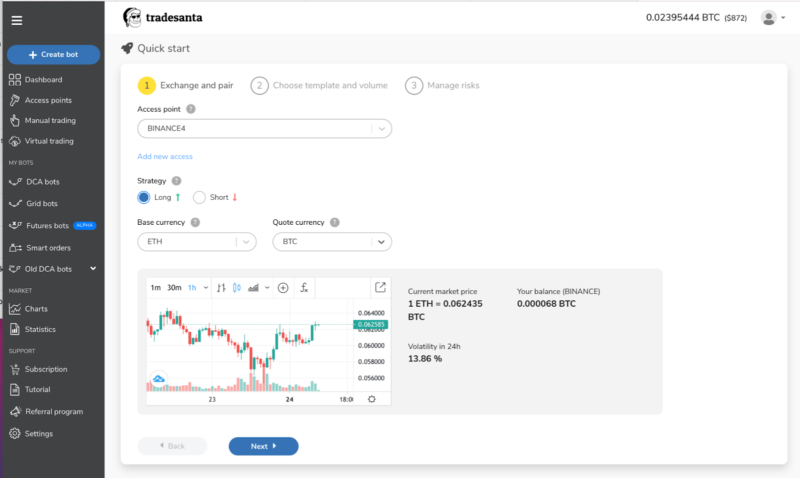 2. Choose one of the bots templates for DCA strategy (one Take Profit order) or Grid strategy (separate Take Profit order for each). Decide on the bot parameters: Take Profit, Number of Extra orders (how many orders will be placed if the price goes in the contrary direction) and Step of Extra Order ( the percentage of price change between the two orders).
Here you can also decide on the volume of each order. The calculator will show you if you have enough coins to cover the first and extra orders.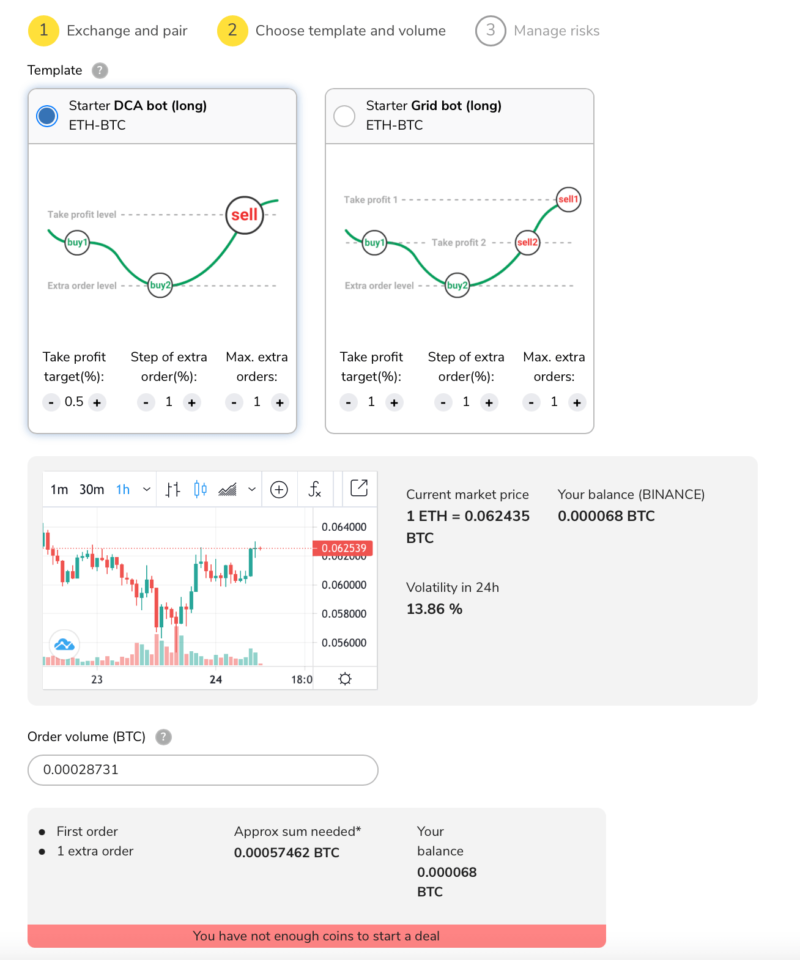 3. The last step is managing the risk with the Stop Loss and Trailing Stop loss as well as deciding on whether you want the bot to start the deal based on technical indicators.
Security
To trade via automated bots the only thing you need is an exchange account. TradeSanta connects to the exchanges via API. The withdrawal option is disabled by default, make sure it stays that way! TradeSanta does not have any access to your funds, the bots can only place and cancel trades.
TradeSanta takes security seriously and offers 2FA authentication to further secure accounts.
TradeSanta Plans
TradeSanta doesn't charge any trading fees. All the traders get a 3-Day trial of a Basic Package.
TradeSanta offers 3 plans differing in number of bots and some functionality:
Basic Plan: 49 bots, Unlimited Number of pairs, technical indicators. Starts at $14/month
Advanced Plan: 99 bots, benefits of Basic plan, Trailing Take Profit. Starts at $20/month
Maximum Plan: Unlimited number of bots, benefits of Advanced Plan, Futures Trading. Starts at $30/month