If you're looking to invest online – whether that's in the form of stocks, ETFs, or other asset classes – you need to ensure that you are getting a good deal for your money. In other words, you'll want to pick an online broker that offers competitive fees and commissions.
One of the most notable low-cost brokers active in the space at present is that of DEGIRO. Put simply, this broker allows you to buy US shares at a cost of just €0.50 + $0.004 and ETFs on a fee-free basis. But, are these low trading fees what they seem, or are they simply too good to be true?
That's exactly what my in-depth Degrio Review intends on finding out. Not only will I explore the broker's fee structure from top to bottom, but I'll also cover other important metrics. This includes everything from tradable markets, supported payment methods, user-friendliness, eligibility, customer service, and of course – regulation.
What is DEGIRO?
DEGIRO is an online stock broker that is based in the Netherlands. With that said, the platform is now home to over 600,000 investors in 18 countries. This includes much of Mainland Europe and the UK. By opening an account with DEGIRO, you will have access to a highly extensive list of assets.
As we uncover in more detail later, this includes everything from shares, ETFs, bonds, futures, and leverage products.  All in all, this online broker covers over 50 marketplaces across 30 counties. As such, if there's a specific financial instrument that you're interested in, there is every chance that you will find it at DEGIRO.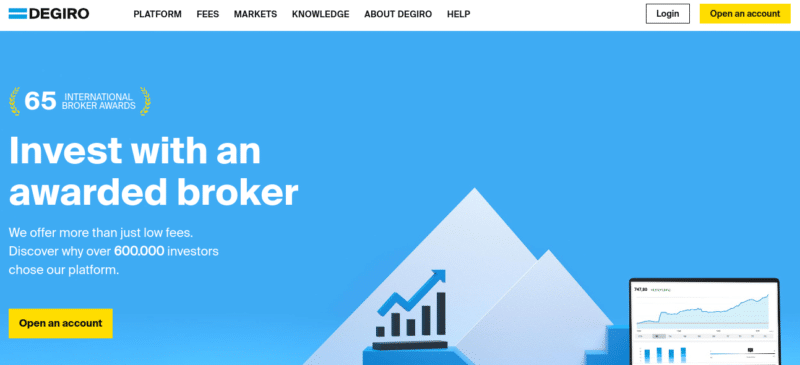 When using the platform to invest, you do this online or via a dedicated DEGIRO app. There are no minimum deposits in place, which is great for those of you that want to invest with smaller amounts.  On the flip side, it's somewhat annoying that you are unable to instantly deposit funds into your DEGIRO account, as the broker only supports bank transfers.
This is, however, countered by the fact that you will have access to some of the lowest stock broker fees in the online space. I cover this much more extensively later. In terms of reputation, DEGIRO has built a solid foundation since it was launched in 2013. Regulation-wise, the broker is licensed by the Dutch Authority for Financial Markets (AFM).
Who is Eligible to Join DEGIRO?
Before I go any further with my DEGIRO review, it's probably best that I explain who can and cannot open an account with the broker.
In a nutshell, you will need to be a resident of one of the following jurisdictions to be eligible.
European Union (excluding Bulgaria, Croatia, Cyprus, Estonia, Latvia, Lithuania, Malta and Romania)
UK
Norway
Switzerland
Furthermore, unless you are based in the UK, you need to have a bank account located in the EU, Norway, or Switzerland that is in your name. If you're from the UK, you must have a UK bank account.
Other than that, there are no additional restrictions to worry about.
What Assets Does DEGIRO Offer?
Make no mistake about it – DEGIRO is home to one of the largest asset libraries in the online investment space. As noted a moment ago, this covers 50 markets in 30 countries. While listing each and every marketplace is beyond the remit of this review, below I have listed some of the most popular assets that you can trade at DEGIRO.
Shares
The main attraction at DEGIRO is its stocks and shares department. In Europe, you can access shares listed in the UK, Germany, France, Belgium, Switzerland, Ireland, Spain, Norway, and more. This also includes the wider Euronext exchange. Over in North America, all major markets are covered.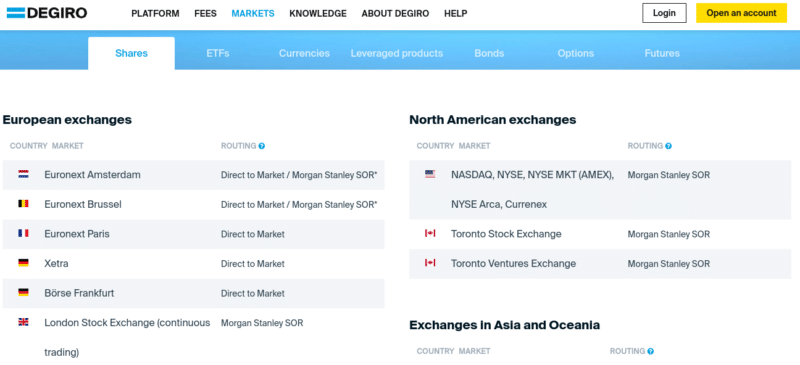 On top of the New York Stock Exchange and the NASDAQ, this includes exchanges in Canada. In addition to this, DEGIRO also gives you access to companies located in Singapore, Japan, Australia, and Hong Kong.  All in all, this allows you to create a highly diversified portfolio of stocks and shared with ease
ETFs
You can also purchase ETFs at DEGIRO. This covers some of the largest providers in the space – such as iShares and Vanguard. Market-wise, and many of the exchanges listed in the above section.
Bonds
If you're looking to invest in income-generating assets like corporate or government bonds, DEGIRO gives you direct access to 6 exchanges.
This covers Amsterdam, Brussels, Pair, Lisbon, XETRA (Germany), and Frankfurt. If your chosen bond instrument doesn't come from one of the aforementioned exchanges, you might be able to invest via the DEGIRO OTC order desk.
Other Assets
Other markets covered by DEGIRO include:
Options
Futures
Currencies (not forex trading)
As you can see from the above, DEGIRO is a broker suited for long-term investing as opposed to day or swing trading. If the latter is something you are interested in, you're going to be more suited for a CFD trading site.
DEGIRO Fees: How Much Does it Really Cost to Invest?
DEGIRO has a reputation as being a super low-cost broker. Before I get to that, it is important to note that the specific fees that you pay will depend on the type of asset class (shares, ETFs, etc.) and the marketplace (London Stock Exchange, NASDAQ, etc.). Furthermore – and as I cover shortly, some of the fees charged by DEGIRO are based on two currencies – which can be a bit confusing.
Share Dealing Fees
Share dealing fees are very low at DEGIRO on some markets, but not all.
In terms of the positives:
US shares like Apple, Amazon, and Tesla will cost you a flat fee of €0.50 plus $0.004 for each share. For example – and according to DEGIRO, let's suppose that you buy €2,000 worth of Apple shares at $300 per shares. Here, you would only pay an all-in fee of €0.52.
UK shares such as BT, BP, and HSBC will set you back just €4.00 + 0.05%. This is capped at €60. For example, if you bought €1,000 worth of Tesco shares, you would pay an all-in fee of €4.50. This fee structure is also the case when investing in XETRA-listed shares.
Accessing Canadian-listed companies is also competitive at DEGIRO, with the broker charging just €2.00 + CAD 0.01 per share.
With that said, some share dealing fees at DEGIRO can be on the high side:
Shares listed in the Czech Republic, Greece, Hungary, or Turkey will set you back €10.00 + 0.16%.
Frankfurt stocks cost €7.50 + 0.09%, while Poland shares will set you back €5.00 + 0.16%.
If you're interested in companies based in Australia, Hong Kong, Japan, or Singapore, this will cost you €10.00 + 0.06% at DEGIRO.
I should note that some of the above markets are hosted by eToro. As I noted in my eToro review, you can buy shares in a 100% commission-free basis. As such, although some of DEGIRO's share dealing fees are super-low, cheaper options do actually exist.
1 Free ETF Per Month*
Every month, DEGIRO offers a good selection of ETF instruments that you can buy without paying any commission. You do, however, need to invest at least €1,000 to be eligible for this.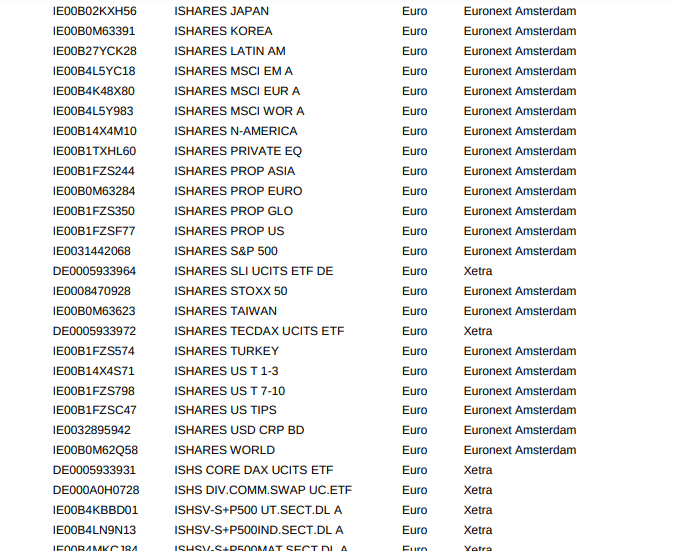 If you don't – or you buy an ETFs that isn't offered in the monthly fee-free list, you will pay €2.00 + 0.03%.
* Conditions applicable – see conditions on DEGIRO's site.
Bonds
If you want to buy bonds at DEGIRO, here's what you will pay:
The Netherlands, Belgium, Portugal, France €2.00 + 0.06%
Germany – Xetra / Frankfurt €5.00 + 0.05%
OTC Bonds €35.00 + 0.03%
DEGIRO Exchange Connectivity Fee
The 'Exchange Connectivity Fee' charged by DEGIRO is somewhat of an 'unadvertised' fee. By this, I mean that there is no mention of this fee when you visit the homepage or where the platform lists its various dealing costs.
Put simply, the Exchange Connectivity Fee is charged when you buy an asset that isn't listed in your home country. For example, if you are based in Ireland and buy shares listed in Spain, the fee kicks in. This is charged at €2.50 per year, for each exchange that you access. The fee is, however, capped at 0.25% of your total account balance, annually.
Payments and Account Minimums
Now that I have explained how the fee structure works at Degree, I am now going to discuss payments. First and foremost, there is no minimum deposit at DEGIRO, which is great. In terms of payment methods, debit/credit cards and e-wallets are not supported.
Instead, you will need to transfer funds from your bank account. As you well know, this can delay the investment process by several days, so do bear this in mind if you are looking to buy a specific asset right now. Additionally, there are no fees to deposit or withdraw funds, which is another plus-point.
DEGIRO Trading Platforms
If you want to invest via DEGIRO, you have two options – online or through the mobile app. Regarding the former, all you need to do is log in to your account and you will be presented with the main trading dashboard. As DEGIRO offers thousands of assets, the platform can feel a bit overwhelming at times.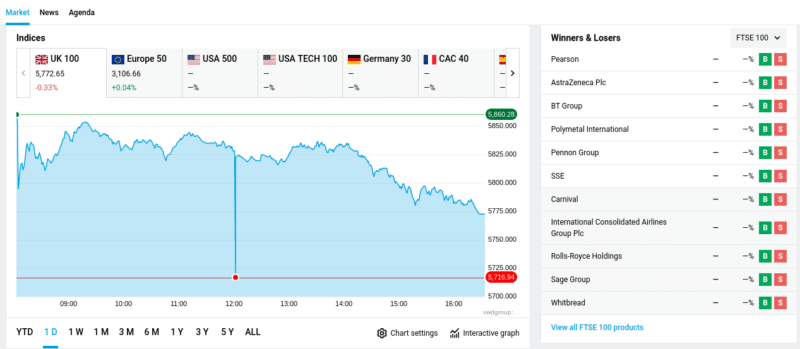 But, you can use the filter feature to browse by the asset class, and then break it down further by the respective exchange. Or, you can simply search for the financial market that you are interested in.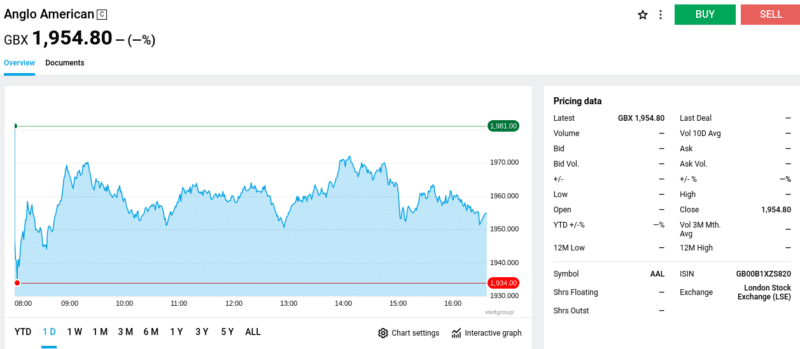 The DEGIRO platform recently went through a major revamp and from what I can make out, the current state of play is a massive improvement. Before, the website was super difficult to navigate, so it's good that the required update was made.
DEGIRO App
If you have a tendency to invest while on the move, you might want to download the DEGIRO app. This allows you to perform most of the same account features as you will find on the main website.
For example, the app allows you to:
Buy and sell assets
Withdrawal funds
Check the value of your portfolio
However, some features of the app are missing. Notably, this includes in-depth research and market insight materials. For this, you'll need to use the main DEGIRO website.
Regulation of DEGIRO
DEGIRO holds the required legal remit to offer investment services to clients in all of the countries that it operates in. When it comes to regulation, DEGIRO is overseen by authorities in the Netherlands.
In particular, this includes:
Netherlands Authority for the Financial Markets (AFM)
Dutch Central Bank
This means that you will benefit from an investor protection scheme when using DEGIRO. However, this does stand at just €20,000, so do bear this in mind if you are planning to invest much larger volumes.
DEGIRO Reputation
In the seven years that DEGIRO has been operational, the firm has acquired over 600,000 account users. Looking at the broker's app rating on iOS, this stands at 4.4/5, albeit, this is only across 25 reviews so means very little. Over on Google Play, however, the DEGIRO app is rated at 4.3/5 across more comprehensive 6,729 reviews.
Customer Support
You have two options when it comes to contacting the DEGIRO customer service team. You can send an email at [email protected], or contact the team via telephone. If opting for the latter, the specific number will depend on where you are located.
How to Get Started at DEGIRO
The signup process at DEGIRO is a little bit slow, not least because you need to verify your account via a bank transfer before you can invest. Nevertheless, below I have listed the steps required.
Head over to the DEGIRO homepage and elect to open an account. Here you will need to provide the following information:
Personal details, such as your full name, home address, and date of birth
Contact details, such as your telephone number and email address
Tax information, such as your national tax identification number
Investing experience, such as what assets you have previously traded and at what value
Step 2: Make a Bank Transfer
The verification process at DEGIRO requires you to transfer funds from your personal bank account. You will be shown the required bank details for DEGIRO on-screen. Take note, there is no minimum deposit in play here, but the funds must come from a bank account in your name. If not, the transfer will be rejected by DEGIRO.
Step 3: Invest
As soon as your bank transfer has been verified by DEGIRO, you will receive an email. The funds will then be reflected in your DEGIRO account. At this point, you can proceed to make an investment. As noted earlier, you can either browse the asset library by the asset class or exchange or simply search for the instruments.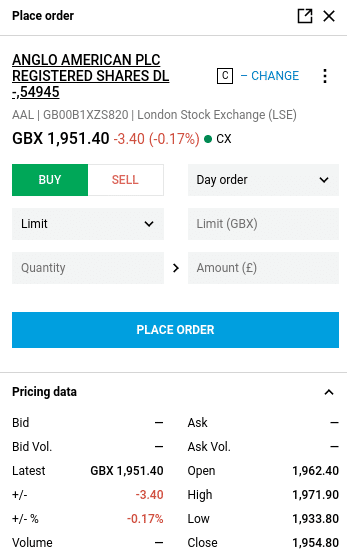 DEGIRO Review – To Summarize
In summary, there's not a lot of online brokers that offer an asset library as extensive as DEGIRO. Whether it's shares, bonds, ETFs, or funds – you'll have access to thousands of instruments across 50 markets and 30 exchanges. This ensures that you can build a highly diversified portfolio and thus – mitigate your exposure to a single asset or marketplace.
In terms of the main attraction – fees, this is largely very competitive. In fact, if investing in major marketplaces found in the UK, US, and parts of Europe, the fees are much lower than most brokers out there. However, it is important to remember that the likes of eToro and Robinhood (US investors) allow you to buy shares in a 100% commission-free environment, although spreads apply.
As such, if you really want to focus on keeping your costs to an absolute minimum, these brokers might be better. On the other hand, although you might pay a slightly higher fee at DEGIRO, the platform does offer much more in the way of asset diversity. Finally, I do like the fact that DEGIRO does not have a minimum deposit in place and charges no transaction fees, albeit, it's a bit frustrating that you can only fund your account via bank wire.
Investing in stocks, bonds, and ETFs involves risks including complete loss. Please do your research before making any investment.