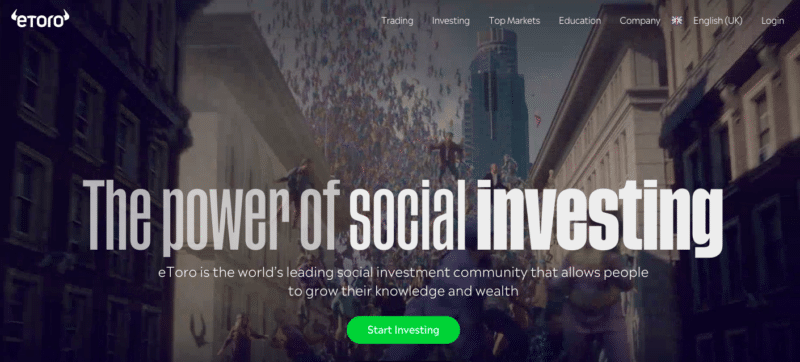 Note: This review only applies to non-US residents.
eToro is a Jack of all Trades in the online investment space, with the broker offering a full range of asset types that can be purchased at the click of a button. On top of traditional stocks, ETFs, and thousands of CFD (Contract For Differences) products (CFDs are not available in the US though) – eToro also allows you to buy and sell cryptocurrencies like Bitcoin.
If you are thinking about using eToro, I welcome you to read my in-depth review. I cover the ins and outs of what you need to know before opening an account – including metrics surrounding regulation, fees, commissions, payment methods, and of course – safety.
What is eToro?
Launched in 2006, eToro is an online broker and trading platform. As a member of the site, you will have access to a full range of asset classes. In terms of traditional ownership – you can buy and sell over 800 stocks from a number of international markets, as can you do with ETFs. Moreover, eToro is also home to thousands of CFD products – including but not limited to hard metals, energies, indices, interest rates, and currencies.
With that being said, if you're more interested in the cryptocurrency side of the platform – the broker gives you the best of both worlds. This is because you can invest in digital currencies and retain full ownership of the asset, or alternatively, trade via CFDs. As I cover in greater depth further down, eToro does not allow you to withdraw your cryptocurrencies out to a private wallet. Instead, you will need to keep your coins on the platform, making it a better option for those who want to profit from trading rather than hold crypto assets for the long term.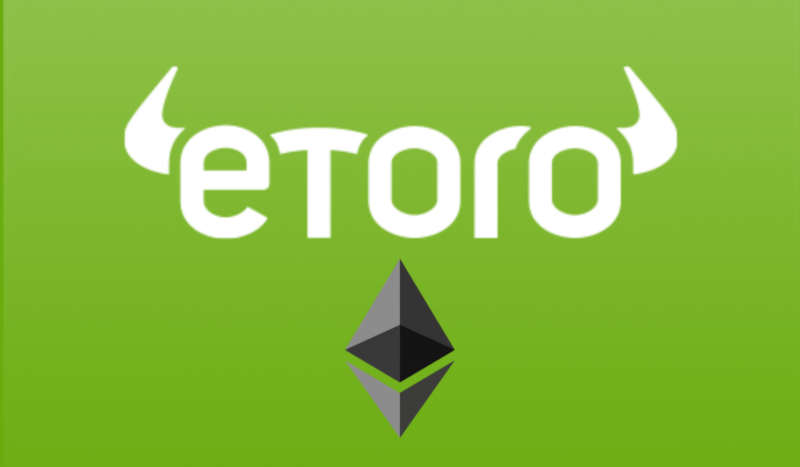 eToro is also known in the online investment space for its innovation towards 'Social Trading'. This is great if you are just starting out in the world of investments, as it allows you to discuss and absorb potential trading ideas and suggestions with other eToro members. This also includes a 'Copy Trading' feature. For those unaware, this allows you to copy the trades of other users at the site like-for-like.
The online broker is also known for its headline commission-free trade offering. This is available on ETFs and stocks – as long as you do not short-sell the asset. You will, of course, need to keep an eye on the spread, which can be somewhat high at eToro. Other fees may also apply.
Finally, eToro is in possession of a number of regulatory licenses. This includes the UK's FCA, FinCEN (USA), as well as ASIC (Australia) and CySEC (Cyprus). This means that the platform abides by the rules and regulations of these countries, which tend to be similar. Having more than one country license means that a platform definitely plays within the rules and does not run foul of internationally recognized standards.
What Cryptocurrencies Does eToro Host?
eToro has a collection of 16 cryptocurrencies that you can buy and sell at the click of a button.
This includes:
Ripple
Bitcoin Cash
EOS
Binance Coin
Tron
Zcash
Tezos
Stellar
Neo
Ethereum Classic
Cardano
IOTA
Litecoin
Dash
All of the above cryptocurrencies are priced against the US dollar, which is industry-standard in the space. With that said, eToro also allows you to trade crypto-cross pairs. This means that you will be trading the real-time exchange rate of pairs like BTC/ETH or BTC/XRP.
How do Cryptocurrency Investments Work at eToro?
Attempting to get your head around the make-up of eToro assets can be confusing at first glance, as the broker specializes in two types of cryptocurrency investments – traditional ownership and CFDs. Understanding what you are actually investing in at eToro is crucial, so let me clear the mist by explaining how the two differ.
Traditional Ownership
When I refer to 'traditional ownership', I am talking about buying Bitcoin in its truest form. That is to say, once you make a cryptocurrency investment at eToro, you own the underlying asset. On the one hand, this is no different from buying Bitcoin from an online broker like Coinbase or Kraken, insofar that you retain ownership at all times. On the other hand, eToro does not actually allow you to withdraw the digital coins out of the platform and into a private wallet.
Does this really matter? Well ─ it's all down to personal preference. For example, those against the idea of entrusting their assets with a third-party platform will argue that the process goes against the decentralized nature of cryptocurrencies and blockchain technology. Instead, cryptocurrency 'purists' would much prefer to withdraw their coins into a private wallet, where they are then in full control of what happens to the funds.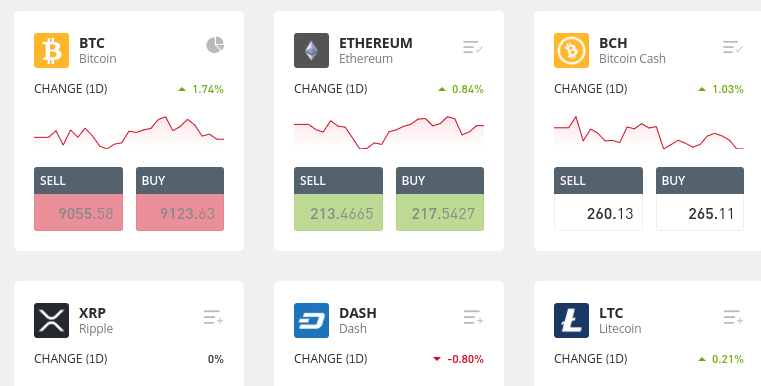 On the flip side, some would argue that this is somewhat of a pain. After all, you need to go through the process of withdrawing the coins, and then depositing them back into a broker when you decide to sell them. Similarly, you always stand the risk of having your private wallet hacked – or transferring them to an incorrect wallet address. If either of these two things does happen – it's likely that your cryptocurrencies will be gone forever.
With this in mind, some investors prefer the ease of leaving their cryptocurrencies with a regulated broker like eToro. I should also note that you will only own the underlying asset if you meet two key requirements. Firstly, you can't apply leverage on your cryptocurrency trade. Secondly, you can't short-sell your chosen cryptocurrency. Both scenarios would mean that you are trading CFDs, so naturally, you do not own the asset.
CFDs
The second option that you have at your disposal at eToro is to invest in cryptocurrency CFDs (contracts-for-differences). For those unaware, CFDs allow you to trade an asset without you owning the underlying instrument. Instead, you are speculating on the asset's future price. For example, if you purchased Microsoft stocks in the form of CFDs, your profits and losses would mirror that of the real-world share price. You wouldn't, however, be entitled to dividends, as you do not actually own the stock.
In the case of cryptocurrencies at eToro, I would argue that there is little difference between CFDs and traditional ownership for two key reasons. Firstly, cryptocurrencies like Bitcoin and Ethereum do not generate income  – so you are not missing out on dividends. Secondly, as eToro does not allow you to withdraw your cryptocurrencies out of the platform, this is no different from trading a CFD.
If you do decide to go the CFD route at eToro, this does come with the potential 'benefit' of short-selling.
Short-Selling
An additional option that cryptocurrency CFDs at eToro give you is that of short-selling. This allows you to speculate on the value of a cryptocurrency going down. If it does, you make a profit. For example, let's say that you are bearish on Bitcoin, with the coin currently priced at $9,000. If you placed a $500 sell order, and the price of Bitcoin went down by 10%, you would make a $50 profit – less fees.
Let's look at a quick example of how short-selling works:
You think that the price of Bitcoin will collapse in the coming days
As such, you place a $1,000 sell order at eToro
The current price of Bitcoin is $10,000
Later in the week, Bitcoin goes down to $8,000 – representing a 20% decline
You want to lock in your profits, so you close the trade by placing a buy order
On a total stake of $1,000, your 20% profit amounts to $200
You can short all 16 cryptocurrencies hosted by the broker against the US dollar.
eToro Fees
When it comes to fees at eToro, the broker is exceptionally competitive at first glance.
Let's unravel the fee structure in more detail so that we can ascertain whether or not eToro is as competitive as it makes out.

If you are trading cryptocurrencies via CFDs, you will need to pay a fee. This isn't labeled as a trading commission, but an 'overnight funding fee'. This means that you pay a flat fee for each day that you keep your cryptocurrency CFD position open.
As you can see from the screenshot below, I am placing a sell order on Bitcoin, which means that I am 'going short'. At a trade size of $500, I am being quoted a standard daily fee of $0.15, and a standard weekend fee of $0.45. Doing the math, this works out at  0.03% and 0.09% per day, respectively.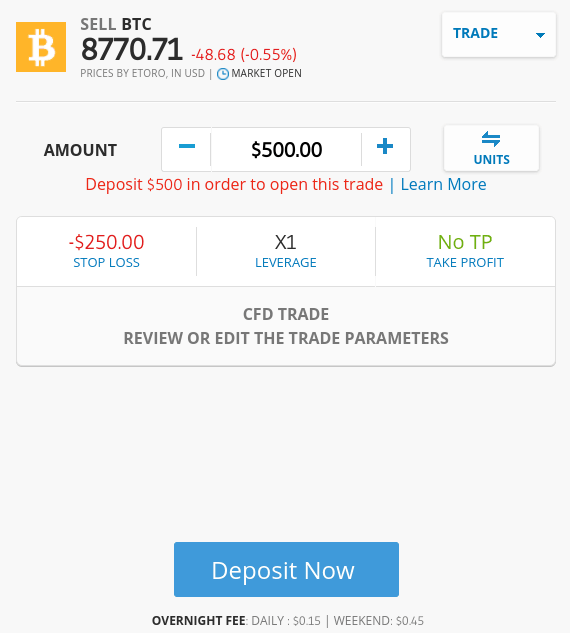 Spreads
This section is of the utmost importance, as it will have a direct impact on how much you end up paying when buying and selling cryptocurrencies at eToro. Crucially, you will need to take the spread into account. Overall, I find the spread at eToro to be reasonably competitive if you are looking to buy and hold, but not so competitive if you're looking to engage in day trading.
Let me run you through a quick example so you have a firm understanding of why the spread should be taken into account when assessing your trading fees.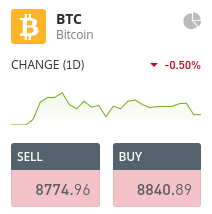 As you can from the above, we have a 'buy' price of 8840.89 and a 'sell' price of 8774.96.
The difference between the two figures is the spread, which in percentage terms amounts to just under 1%.
If I were to place a buy order – meaning I think that the price of Bitcoin will increase, then I will need to make at least 1% just to break even.
This is because the sell price – which is the price that I can exit my investment at, is 1% lower.
In fairness to eToro, this is actually very competitive. Given I am not paying anything to fund my account, this means that my all-in fee on buying Bitcoin at eToro is just 1%. To put this fee into perspective, other user-friendly cryptocurrency brokers like Coinbase charge a whopping 3.99% on debit/credit card deposits, and then a 1.5% commission at both ends of the trade.
Overnight Financing Fees
As I briefly noted earlier, eToro will charge you an overnight financing fee if you decide to short-sell a cryptocurrency. On the one hand, it is a bit annoying that eToro doesn't have a fixed rate on this, so the specific overnight fee that you pay can vary quite wildly. On the other hand, eToro is actually very clear on what you will pay when you are filling out your order form.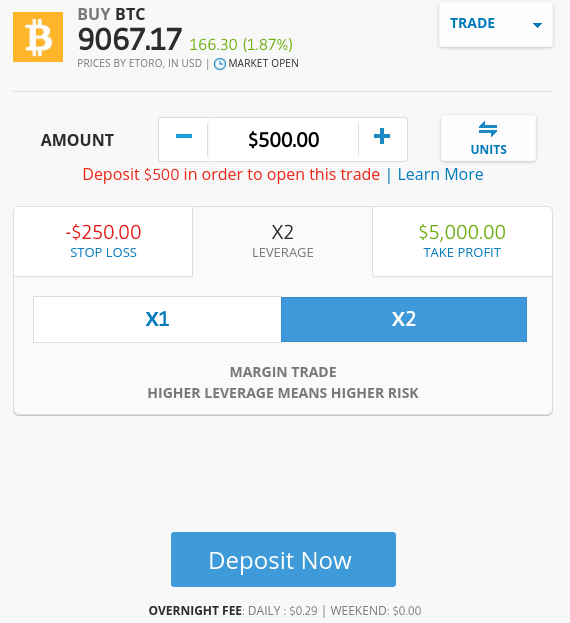 Payments at eToro
What I really like about eToro is the ease in which you can deposit and withdraw funds. Unlike a more traditional cryptocurrency exchange like Kraken, eToro allows you to fund your account with heaps of everyday payment methods. Best of all – there are no deposit fees to contend with – regardless of which deposit option you choose.
Supported payment methods include:
Debit Cards
Credit Cards
Skrill
Neteller
Bank Transfer/Wire
You will need to meet a minimum deposit of $200 at eToro. All deposit methods are instant apart from a bank transfer/wire. In terms of withdrawals, you will pay a very small fee of $5, and you'll need to meet a minimum cashout threshold of $30.
It is also important for me to note that the native currency of choice at eToro is USD. Although you can deposit funds in your local currency, this will incur a conversion fee. – which will vary depending on the currency. For example, GBP and AUD amounts to a fee of 50 pips, while MYR and TBH is 100 pips.
You should also make some considerations regarding potential gains or losses when you make a withdrawal, as eToro will need to convert your balance from USD back to your local currency.
Social and Copy Trading
eToro bills itself as a 'pioneer' of social trading. This means that you will be able to network with other traders of the site. For example, if you head over to the Bitcoin trading page, you'll see a list of threads where people are discussing potential trading ideas. This works like Facebook, insofar that you can join the conversion by posting a comment. All eToro users have a public profile too, so you get to view historical trading activities.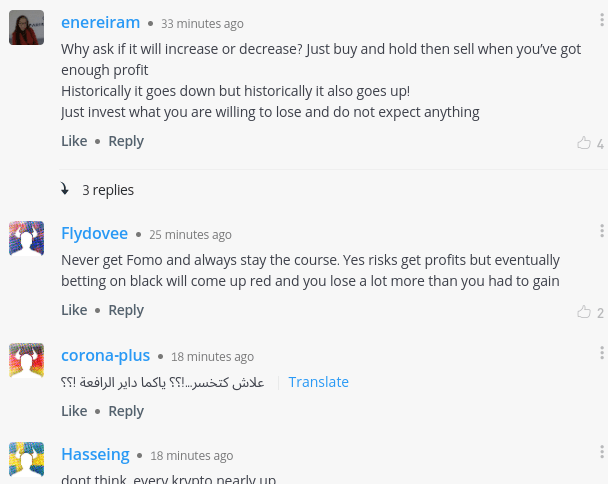 You can make your profile private within your account settings. eToro is also home to an interesting copy trading feature that allows you to mirror the trades of other users. For example, let's say that you come across a cryptocurrency trader that has an excellent track record at the site. By this, I mean that eToro gives you a full breakdown of how profitable the trader in question has been since joining the platform.
If you like the look of the trader, you can then copy their current portfolio. You can also elect to copy all future trades of the investor – proportionate to an amount you feel comfortable risking. Although there are no extra fees to copy trade, you will need to invest a minimum of $200 per portfolio. You still regain full control over your trades, meaning you can exit a position as and when you like.
eToro Supported Countries
eToro is available in all countries apart from:
Afghanistan
Albania
Belarus
Bosnia and Herzegovina
Botswana
Brunei
Burundi
Canada
Chad
Congo Republic
Crimea Region
Cuba
Democratic Republic of the Congo
Ethiopia
Guyana
Guinea
Guinea-Bissau
Iran
Japan
Laos
Libya
Mali
Myanmar
Namibia
Nicaragua
North Korea
Palau
Samoa
Serbia
Somalia
Sudan
Syria
Turkey
Uganda
Yemen
If eToro is not available in your country, take a look at the NAGA platform.
Is eToro Safe?
As online cryptocurrency brokers go – eToro is as safe as it gets. First and foremost, the platform is regulated on three fronts. This includes licenses with:
Financial Conduct Authority (FCA) – UK
Australian Securities and Investments Commission (ASIC) – Australia
Cyprus Securities and Exchange Commission (CySEC) – Cyprus
Cryptoasset investing is highly volatile and unregulated in some EU countries. No consumer protection.
Tax on profits may apply.
This strong commitment to regulation is notable at eToro, as it means your funds must be held in segregated bank accounts.  With that being said, I had to do some digging about the safety of your cryptocurrency investments, not least because you will not have the capacity to withdraw the coins out.
So, when you first purchase a cryptocurrency like Bitcoin at the platform, this will be held within your eToro 'trading account'. Then, you get the option of transferring it to the eToro 'wallet'. You won't be given your own eToro cryptocurrency wallet, as the platform operates a single wallet for all customers.
eToro notes that all funds are held in 'cold storage', which means that the wallet is never connected to live servers and thus – this greatly reduces the chances of an external hack. On the flip side, it is unusual that eToro does not make the wallet's public address known to those that store coins there. The platform notes that this is to reduce the risks of exposing the size of their assets.
Customer Support
eToro offers customer support via live chat and email. There is no telephone support offered. The platform also has a presence on social media. The support team works 24/5, meaning you won't be able to get assistance on your account over the weekend. With that said, 24/5 is common practice in the brokerage space, as this mirrors the traditional financial markets.
How to Buy Cryptocurrencies at eToro?
So now that you know the ins and outs of how eToro works, I am now going to show you how you can make an investment today. The below guidelines show you the process of opening an account, verifying your identity, depositing funds, and placing your first trade.
Step 1: Open an Account
Firstly, head over to the eToro homepage and elect to open an account.
*79% of retail investor accounts lose money when trading CFDs with this provider. You should consider whether you can afford to take the high risk of losing your money.
You will need to provide a range of personal information, such as your:
First and Last Name
Nationality
Date of Birth
Home Address
Contact Details
Make sure you enter your information correctly, as you will need to verify it in the next step.
Step 2: Verify Identity
As eToro takes its regulatory responsibilities seriously, you will need to bypass a quick KYC (Know Your Customer) process. This requires two documents in particular – a copy of your government-issued ID, and a proof of address.
This can be your passport or driver's license, and in some countries – a national ID card is also fine. In terms of proving your home address, this needs to be a recently issued utility bill or bank account statement.
Step 3: Deposit Funds
You will now need to fund your eToro account. As noted earlier, minimum deposits start at $200, and you can fund your account with a debit/credit card, e-wallet, or bank account.
Step 4: Choose Cryptocurrency
You will now need to choose the cryptocurrency that you wish to invest in. In my example below, I am looking to trade Ethereum, so I enter this into the search box at the top of the screen.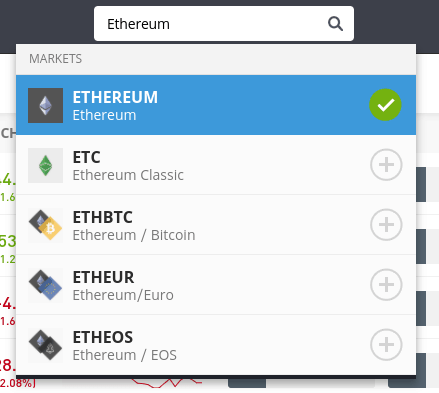 Step 5: Place Order
You will now need to set up an order. There are a number of metrics that you need to enter, as listed below:
Buy or Sell Order: If you simply want to invest in a cryptocurrency because you think you think its price will increase in the long run, opt for a 'buy order'. If you are looking to short-sell a cryptocurrency – because you think its value will go down, opt for a 'sell order'.
Stake: This is the amount that you to invest in your chosen cryptocurrency, and NOT the number of individual coins. As such, enter the amount you want to invest in US dollars and cents.
Market/Limit: If you simply want to take the next available price on your cryptocurrency investment, leave this set as a market order. If you opt for a limit order, this allows you to specify the price that you want to enter the market. You then need to wait for the price to be triggered.
Stop-Loss/Take-Profit: If you want to automatically close your cryptocurrency trade when certain prices are met, you do can this by installing a stop-loss and/or take-profit order. The former allows you to mitigate your losses, while the latter allows you to lock in your profits.
Stop Loss and Take Profit are not guaranteed and trading with leverage involves high risk.
Finally, to complete your investment click on 'buy' or sell' – depending on which way you think the markets will go.
The Verdict?
In summary, I think that eToro ticks a lot of boxes in the context of buying and selling cryptocurrencies. Crucially, the platform is potentially suited for investors of all shapes and sizes. Firstly, you have the option of buying cryptocurrencies in the traditional sense, meaning that you retain full ownership of the underlying asset.
If you are trading when volumes are high, you can also get your spread down to sub-1%. Alternatively, you also have the option of short-selling cryptocurrencies in the form of CFDs. It is also notable that you can easily deposit funds with a debit/credit card, e-wallet, or bank account without paying any fees, and withdrawals cost just $5.
On the flip side, you need to remember that all account balances are denominated in USD, which will not only incur a conversion fee that averages 0.5%, but a potential profit/loss when you get around to exchanging your balance back to your local currency.
All in all, eToro is well worth considering if you are looking to buy Bitcoin or other cryptocurrencies with an everyday payment method without being hit with excessive fees and commissions.
eToro is a multi-asset platform which offers both investing in stocks and cryptoassets, as well as trading CFDs.
Please note that CFDs are complex instruments and come with a high risk of losing money rapidly due to leverage. 77% of retail investor accounts lose money when trading CFDs with this provider. You should consider whether you understand how CFDs work, and whether you can afford to take the high risk of losing your money.
Past performance is not an indication of future results. Trading history presented is less than 5 complete years and may not suffice as basis for investment decision.
Copy Trading does not amount to investment advice. The value of your investments may go up or down. Your capital is at risk.
Cryptoasset investing is highly volatile and unregulated in some EU countries. No consumer protection. Tax on profits may apply.
eToro USA LLC does not offer CFDs and makes no representation and assumes no liability as to the accuracy or completeness of the content of this publication, which has been prepared by our partner utilizing publicly available non-entity specific information about eToro.
Summary
eToro is the biggest social trading platform by far, with over 10 million users and growing incredibly fast. If you're looking to learn how to trade, following other successful traders is an interesting approach to try out. eToro also gives you an easy way to gain exposure to multiple asset classes like stocks and also cryptocurrencies.
Pros
Biggest social trading platform
Social trading is a good way to learn by observing others
Offers exposure to a set of cryptocurrencies
Cons
All accounts denominated in USD, so you might face conversion fees.